Can a 4Runner Be Lifted?
This post may contain affiliate links. As an Amazon affiliate, I earn from qualifying purchases.
The Toyota 4Runner is one of the best off-roading vehicles on the market for people that love to drive through mud and dirt and over rocks.
But many serious off-roaders wonder if they can kick it up a notch and make their 4Runner even more adaptive to rough terrain.
Lift kits are a clever way to give almost any vehicle added height and improved suspension, depending on the lift style.
If you own a Toyota 4Runner, you may be wondering if one of these lift kits will work for you and your Toyota 4 Runner.
Can a 4Runner Be Lifted?
A Toyota 4Runner can be lifted using a myriad of lifting methods such as coil-overs, suspension lifts, upgraded shocks, body lifts, or spacer lifts. The lift style you choose to use will be determined by the purpose of your lift. You need to know what you'll be using the vehicle for.
If you've been considering adding some height to your Toyota 4Runner to get into some hardcore offroading or to get a better view from the driver's seat, we've got all the information you need on lifting 4Runners.
Keep reading to learn the types of lifts available for 4Runners and what the best lift style is for you.
Lifting a Toyota 4Runner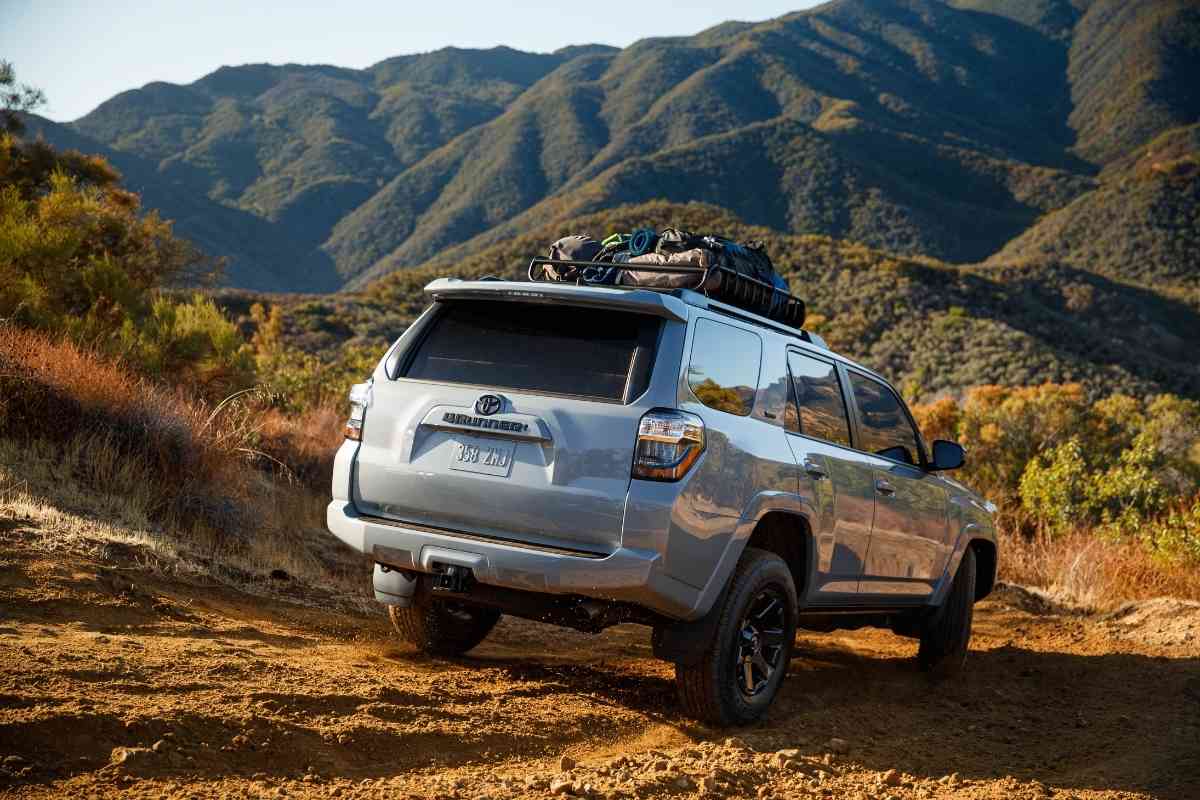 Before you lift your Toyota, you should understand what lifting a car means and the varying factors to consider when choosing a lift style.
What Is Lifting?
Lifting a car refers to adding a mechanism that makes the car ride higher.
There are many ways to accomplish this through varying lift styles, from coil-overs to dropdowns.
There are also many reasons someone may want to lift their 4Runner.
The added height allows people to fit larger tires and handle intense off-roading.
People that enjoy taking their car off the beaten path often get suspension lifts because it allows them to maneuver hills and avoid ground obstacles, so they don't get stuck.
Important Factors
Not every vehicle life is the same or done for the same reason.
When you plan to lift your Toyota 4Runner, you should keep these factors in mind, so you don't choose the wrong style for your purposes.
Price
The average cost of lifting a Toyota 4Runner is between $1,300 and $5,000 including all parts and labor.
The price varies depending on what kind of lift you want and what lift kit you use.
You may also attempt lifting the vehicle yourself to save money on labor costs.
Purpose
Knowing what you are adding the lifts for can help you decide on the best type and level.
Some people lift their vehicle so they can tow other vehicles, and others do it for off-roading purposes.
Lift Type
Several lift styles can work with a Toyota 4Runner.
Types of lifts you can add include ​​spacers, coil-overs, body lifts, upgraded shocks, long travel kits, and drop bracket lifts.
Different lifts have varying results, so it depends if you're looking for more suspension, higher tire clearance, a lifted front-end, or something else.
What lift style you opt for will likely depend on the purpose of your lift, whether for off-roading, high speeds, or impeccable steering.
Clearance Height
When lifting your 4Runner, it's important to know the height of places like your house garage, or work parking lot.
If you lift your vehicle too high, you won't clear these spaces safely.
Types of Lifts for a 4Runner
The first step to lifting your 4Runner is deciding which kind of lift is best for you.
Consider how much you are willing to spend and the purpose of your vehicle lift.
​​Spacer lift
A spacer lift is the simplest way to add a few inches to your car's overall height and tire clearance.
To install a spacer lift, you don't need to replace the suspension, which many other lift kits require.
Upgraded Shocks
Upgraded shocks add height to the front-end of your 4Runner.
This means the car will be lower in the back and higher in the front, ideal for off-roading in hilly areas.
These lifts are highly adjustable, so you can decide how high you want the front-end to sit.
Coil-overs
Coil-overs are one of the more expensive lift styles for a 4Runner, but we think they are well worth it.
Coil-overs are essentially a spring with a shock cover around them.
They improve suspension, steering, and even speed.
In general, coil-overs are the highest-quality lift option because they improve the overall comfort and handling of the vehicle.
For people that enjoy off-roading or racing, coil-overs are a saving grace that not only makes your driving experience better but will protect your car from wear and tear.
Body Lifts
Body lifts separate the body from the car frame, usually so the owner can use larger tires.
Larger tires may sound ideal for off-roading, but the separation of the frame makes it less stable when driving through difficult terrain.
Long Travel Kits
Long travel suspension kits are different.
They change the flexibility of your tires, allowing them to go up or down further than they could before.
The flexibility is immensely useful when off-roading in rough terrain with hills and rocks.
Drop Bracket Lifts
Probably the least common lift style, drop bracket lifts are mostly for aesthetics.
They lift the body, making the 4Runner taller, but don't add more ground clearance.
We also don't recommend using this on a 4Runner, but if you do, we suggest you use a kit designed for an ​​FJ Cruiser. As of now, there are no specific drop bracket lift kits for a 4Runner.
4 Best Lift Kits for a Toyota 4 Runner
To give you a jumping-off point, we've mentioned four of the top lift kits people use for their Toyota 4Runner.
Check out these kits to get your Toyota lift started or see what you should be looking at.
Icon Vehicle Dynamics Lift Kit
Last update on 2023-09-21 / If you click this affiliate link and make a purchase, we earn a commission at no additional cost to you.
This suspension lift kit is highly-rated by users and has some great features.
The kits use quality materials that will lift your 4Runner up to 3 inches and also improve suspension and handling. This kit will help off-roaders avoid obstacles and maneuver better through uneven terrain.
Fabtech Lift Kit
Last update on 2023-09-21 / If you click this affiliate link and make a purchase, we earn a commission at no additional cost to you.
The Fabtech kit is ideal for intense off-roaders. 
The kit designs improve off-road suspension and make space for larger tires if you desire.
This kit is high-quality and easy to use, resulting in a much better driving and riding experience in your 4Runner.
Old Man Emu Lift Kit
Last update on 2023-09-21 / If you click this affiliate link and make a purchase, we earn a commission at no additional cost to you.
The Old Man Emu kit design works for some of the toughest terrains, including the Australian Outback.
This kit provides excellent steering and suspension both on and off-road, so you enjoy your ride no matter where you explore.
Skyjacker Lift Kit
Last update on 2023-09-21 / If you click this affiliate link and make a purchase, we earn a commission at no additional cost to you.
The Skyjacker is the best budget lift kit for a 4Runner. 
They offer a moderate height lift along with improved control and tight handling.
These are great for off-roaders on a budget that isn't willing to spend thousands but still want a fun ride.
Bottom Line
Many people will lift a Toyota 4Runner to increase their off-roading capabilities.
Whether you want to add larger tires, have a higher vehicle, or want improved suspension and handling, a lift kit may be your answer.
Now you know that lifting a Toyota 4Runner is possible and that there is more than one way to do it.