How Big Of A Boat Can A Jeep Wrangler Tow?
Jeep Wranglers are just one of those vehicles that are so distinctive that you can never confuse them with any other vehicle on the market. They are great to take off-roading, you can remove the doors and the roof and they are great for towing. The question is, how great are they for towing though? As in, could a Jeep Wrangler tow a boat? If so, how big of a boat can a Jeep Wrangler tow?
How Big Of A Boat Can A Jeep Wrangler Tow?
A Jeep Wrangler can tow a boat and trailer with a combined weight ranging from 2,000 pounds to 3,500 pounds depending on the model and engine in the Jeep Wrangler.
How much Can a Jeep Wrangler Tow?
This depends on whether you are going with the two-door model or the four-door model.
If you are going with the Jeep Wrangler two-door model then you will be able to tow about 2,000 lbs. If you opt for the Jeep Wrangler four-door model then you will be able to tow about 3,500 lbs.
What are the Most Popular Boats?
The answer to "how big of a boat can a Jeep Wrangler tow" depends on what kind of boat you want to tow and what kind of Jeep Wrangler you have or are planning to get. Down below is a list of some of the most popular tow boats, check to see if yours is on the list.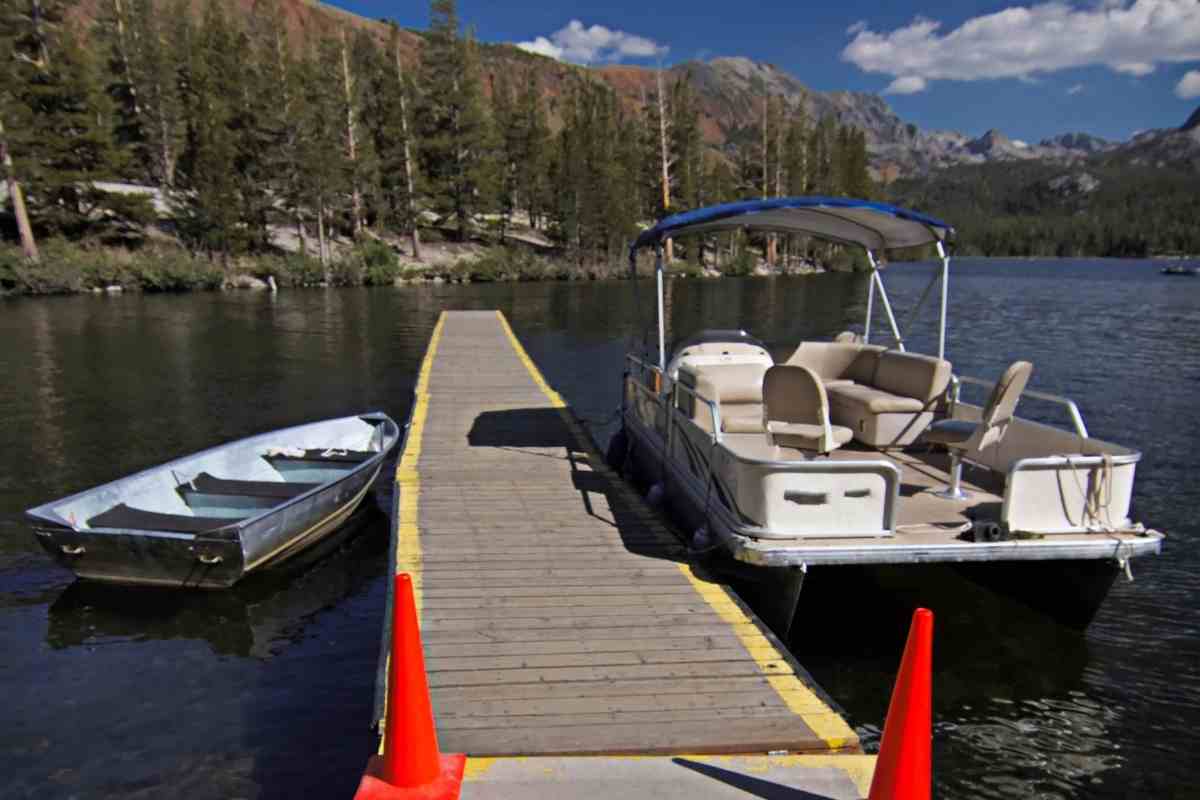 Aluminum fishing boats: 300 to 500 lbs
Aluminum fishing boats are quite popular. They are usually about 16 feet in length.
While all aluminum fishing boats may vary, the majority of them do contain: a set of bench chairs, center console (for steering) as well as the hull.
Your Jeep Wrangler can easily pull an aluminum fishing boat, even at its most heavy it is still only 500 lbs.
Skiff boats: 300 to 900 lbs
Skiff boats are next on our list.
Skiff boats are excellent for shallow waters and that is why so many fishermen love them.
These kinds of boats can either be used with a long pole or a small motor.
Sailboats (15 to 20 feet): 400 to 800 lbs
Sailboats are the kind of boats you would normally see in children's books. They are simply but they are also great.
Sailboats that range from 15 to 20 feet are normally called "day sailboats" because you have guessed it, they are normally taken out during the day.
Most people only take sailboats out on lakes or protect waters such as bays and inlets.
Fiberglass fishing boats: 1,500 to 2,500 lbs
Fiberglass fishing boats do weigh quite a bit but this weight is what makes them so sturdy and great for sailing out into the waters.
Although they will cost you a bit more, you can rest assured knowing that they will also last longer. As the saying goes, "you get what you pay for" and that is true when it comes to fiberglass fishing boats.
Bow rider: 3,000 to 3,500 lbs
Bow rider boats are great for short cruises and they also have very comfortable seating.
Most bow rider boats have an inboard motor at its rear. However, if you do not want an inboard motor at the rear of your bow rider boat then you can also have it installed with an outboard motor instead.
Cabin cruiser: 12,000 to 16,000 lbs
Cabin cruisers are often referred to as "small yachts." Smaller cabin cruisers are usually around 25 feet with medium sized cabin cruisers being from 26 feet to 44 feet. The biggest cabin cruisers are 45 feet.
Since they are called "small yachts" they can travel some distance with enough space for people, cargo and food.
Inside cabin cruisers are living quarters.
Cuddy Cabin: 3,000 to 5,000 lbs
Cuddy cabins are often called a hybrid between cabin cruisers and bowrider boats. This is because like cabin cruisers, they have enough space to carry people, cargo and food. They are similar to bowrider boats because they have short-term cruise capabilities.
Cuddy cabins are great if you want to spend a few long hours to a night's stay out in the water. However anything longer than that, is not advised with cubin cabins. For example, if you wanted to stay out on the water for an entire weekend, it is best to take a bigger boat or one that is capable of staying out for that long.
Deck boats: 3,000 to 5,000 lbs
Deck boats are great for that all day fun with a large group of people. The reason why they are called deck boats is because of the large room on the deck.
Deck boats are similar to pontoon boats because there is a lot of space to move around. You do not feel confined when you are on a deck boat.
One difference between deck boats and pontoon boats is that they are built with a traditional hull. This  means that if you are ever unlucky enough to be trapped in harsh waters, then being on a deck boat will give you more stability versus a pontoon boat.
Pontoon boats: 3,000 to 5,000 lbs
Speaking of pontoon boats, they are next on our list.
Sailboats (20 to 30 feet): 4,000 to 8,000 lbs
Larger sailboats are often called "day cruising boats."
Any sailboat that is larger than 30 feet would be considered a yacht.
If the boat is considered to be a yacht then you will not be able to tow it anyways, so be sure to check the dimensions.
Wake boats: 3,000 to 5,000 lbs
Wake boats are designed to make waves so wake surfers can surf behind them.
These boats are on the heavier side though but most surfers feel they are worth the weight because of how great they are.
What Kind of Boats Can a Jeep Wrangler Tow?
Whether you opt for the two-door model or the four-door model, that is the determining factor on what kind of boats your Jeep Wrangler will be able to tow.
If you want the Jeep Wrangler with the highest towing capacity then you will want to go for the 2019 Jeep Wrangler in the Unlimited Variant Model. The 2019 Jeep Wrangler in the Unlimited Variant Model can tow up to 3,500 lbs and that is quite impressive. This is because most motorboats weigh between 2,500 lbs to 3,000 lbs.
In Conclusion|Are Jeep Wranglers Right for You?
Jeep Wranglers are great cars and they do stand out from the crowd. If you are someone that loves off-roading and feeling the wind against you as you are riding down rough terrains, then the Jeep Wranglers are your kind of car.
If you want a Jeep Wrangler that can tow bigger boats, then go with the four door model. If you like the look of the two door model which most Jeep owners do, then you will have to sacrifice a bit of towing power.
Either way, if you are buying a Jeep Wrangler solely to tow, then you will need to decide what kind of boat you want to tow with and if your Jeep Wrangler of choice can handle it.