3 Amazing Campers You Can Tow With A Toyota FJ Cruiser!
This post may contain affiliate links. As an Amazon affiliate, I earn from qualifying purchases.
The FJ Cruiser is one of the most interesting vehicles on the marketplace right now. It has a style that is completely its own and has a lot of interesting strengths and weaknesses that make it a great choice for a certain kind of person. The FJ Cruiser is a stylish off-roading machine which makes it great for people who love the outdoors and want to go adventuring often, while bringing along with them a load of gear. However, one part of going outdoors is towing a camper behind your vehicle. Off-roading strength does not always correlate to towing strength. Does the Toyota FJ Cruiser have enough horsepower to tow a camper? How many pounds of gear can you haul?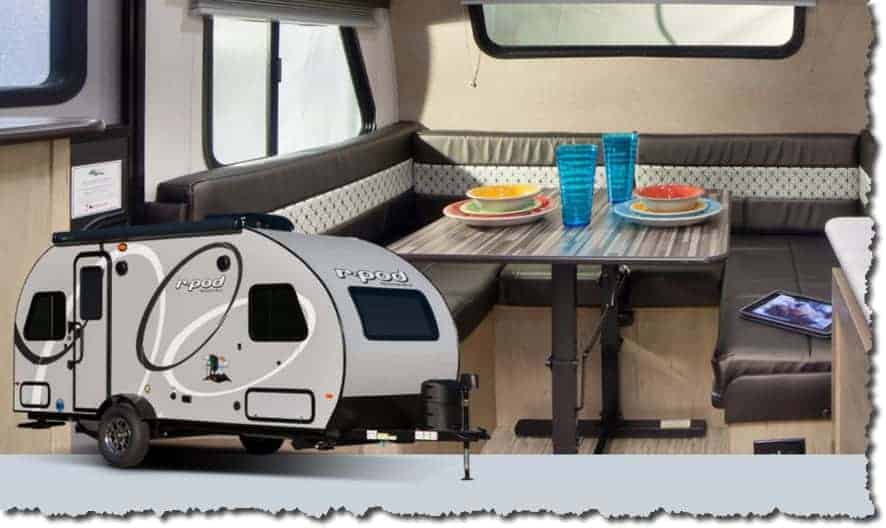 Table of Contents
Can an FJ Cruiser Tow a Camper?
So, can an FJ Cruiser tow a camper? You can tow a camper with the FJ Cruiser. The towing capacity of an FJ Cruiser ranges from 4,700 pounds to 5,000 pounds depending on the year of FJ Cruiser you own. In simple terms, this is enough to tow a camper, but there is a lot more you need to consider when towing a camper.
Here's the rest of the story…
We're going to break down the stats and help you decide if an FJ Cruiser is right for you based on its ability to tow a camper behind it. As always, you really should make sure that your individual set up works for you.
It's one thing to throw out numbers and theoretically make sure a towing set up works, it is another thing completely to make sure your personal set up is safe. The last thing you want to do is put yourself or any of your passengers (or fellow drivers on the roads) at any risk while cruising down the highway.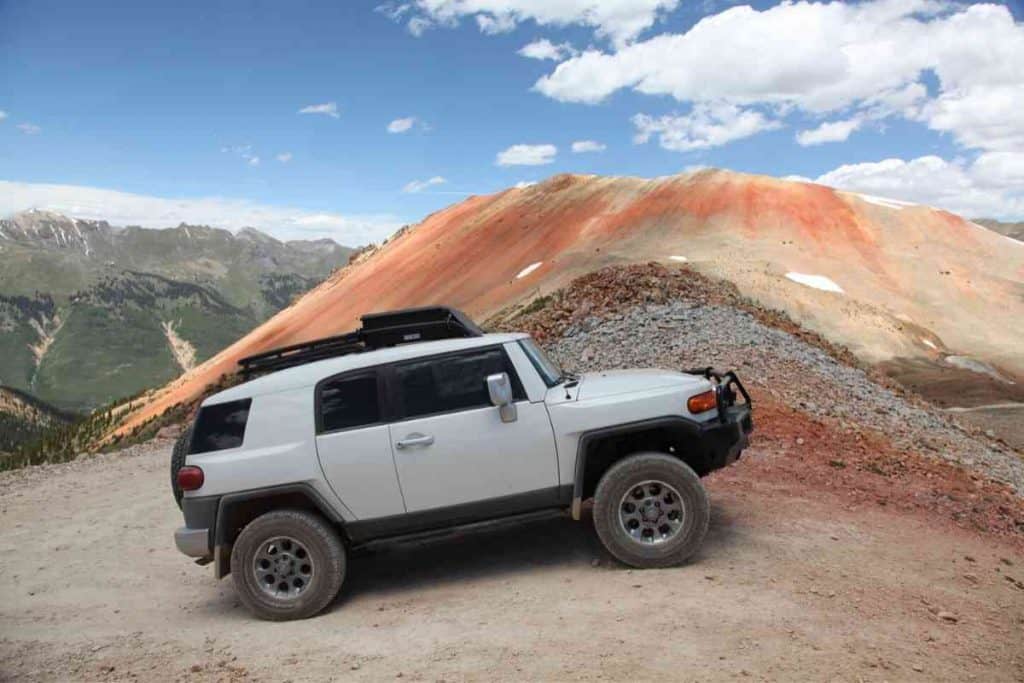 With that being said, let's dig into how much weight the FJ Cruiser can haul and see what this vehicle has to offer besides reliability. We've checked with a range of sources to make sure we give you the best possible info.
FJ Cruiser Towing Capacity
One of the problems with the FJ Cruiser is the fact that it has a short wheelbase. This makes it less fun than you might normally have to try and tow anything substantial behind the vehicle. Obviously, the unique design that the FJ Cruiser has can create some sight problems as well.
These sight problems are very important as you need to be able to see in all directions at all times to make sure that you are being safe when it comes to other drivers on the road.
It can be a challenge to pull a camper with a vehicle that was more designed for its off-road capabilities than its towing prowess. These are some of the challenges of a FJ Cruiser and these issues are well documented.

What's the Toyota FJ Cruiser Towing Capacity?
So, how much can the FJ Cruiser tow? Depending on what year and model FJ Cruiser you have, your maximum towing capacity will be rated at either 4,700 pounds or 5,000 pounds.
You should check your individual vehicle to make sure that is true for you and that you look at your own manufacturer's instructions as opposed to taking someone else's word for your situation. It's important to take ownership of this situation so that you are being safe.
Even at 5,000 pounds, you are going to be limited on what you can pull. You'll need to find campers that are a bit smaller in size and weight if you want to pull one successfully.
Another factor in the equation is the fact that this number accounts for everything as far as weight is concerned. You should not simply research a camper and find what the trailer's weight is and think that if that number is under 5,000, you're completely in the clear.
This 5,000 pound towing capacity that is offered on the FJ Cruiser includes everything that is being pulled by the vehicle. While that is obvious to some, others can forget this crucial piece of information and do math that doesn't quite work out.
If you are adding any kind of supplies or equipment to your camper, you need to factor that in. Most people don't weigh every individual item, but that can be a bit dangerous too because if your estimations are off, you are going to be in a potentially dangerous situation.
None of this information is provided to try and scare you. There are lots of campers out there that are less than 5,000 pounds – even some that exist under 3,000 pounds that can store a fair amount of things in a nice way.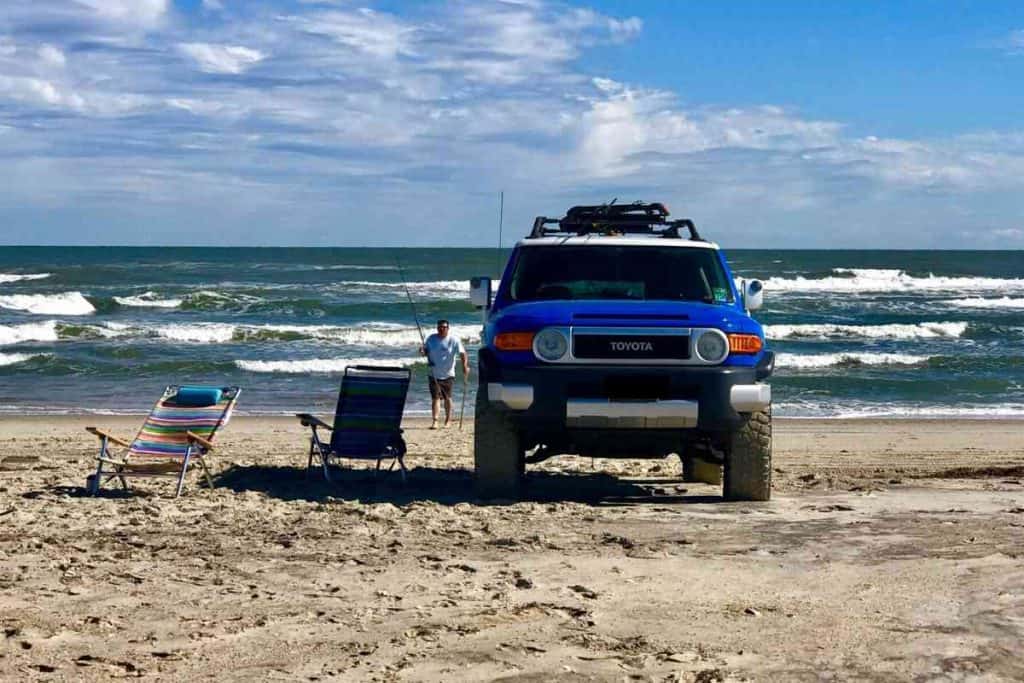 However, it is important to pay attention to the guidelines provided to you because pulling more weight than you should is problematic for two reasons.
First of all, you could be operating an unsafe motor vehicle which should speak for itself. Even driving a car regularly is a responsibility that should not be taken lightly, so adding campers to the mix really is not a game to play around with.
On top of the safety dilemma, you could also be damaging your vehicle if you are taking a long trip and you are trying to tow over the capacity of what your engine can handle.
Even if you are feeling pretty secure in your setup, towing weight over your limit will put extra wear and tear on your vehicle's engine that Toyota certainly didn't plan for.
While you might not see any ill effects right away, you could end up seeing this down the road in an engine problem, or a transmission problem that could have been prevented had you used good sense when towing earlier in your vehicle's life cycle. Exceeding the weight limit is a big no no.
So we know that towing a camper behind an FJ Cruiser is possible, as long as we take certain precautions. What should the next step be?
We'll need to find a camper that works. Obviously, there are tons of models out there, and you should find one that fits your personal style and needs when on the road.
These are some examples of campers that can be towed safely behind an FJ Cruiser and would get you started on your adventure in a positive way.
#1. Airstream Sport Travel Trailer
Airstream Sport is well known in the industry for making lightweight trailers due to their aluminum design. That helps keep the trailer light and makes it easier to tow for a vehicle like the FJ Cruiser.
Even though the outside has a look that is decades old, the inside is updated with the best of modern campers. The camper really feels cozy and functional as this thing is loaded to the brim with features.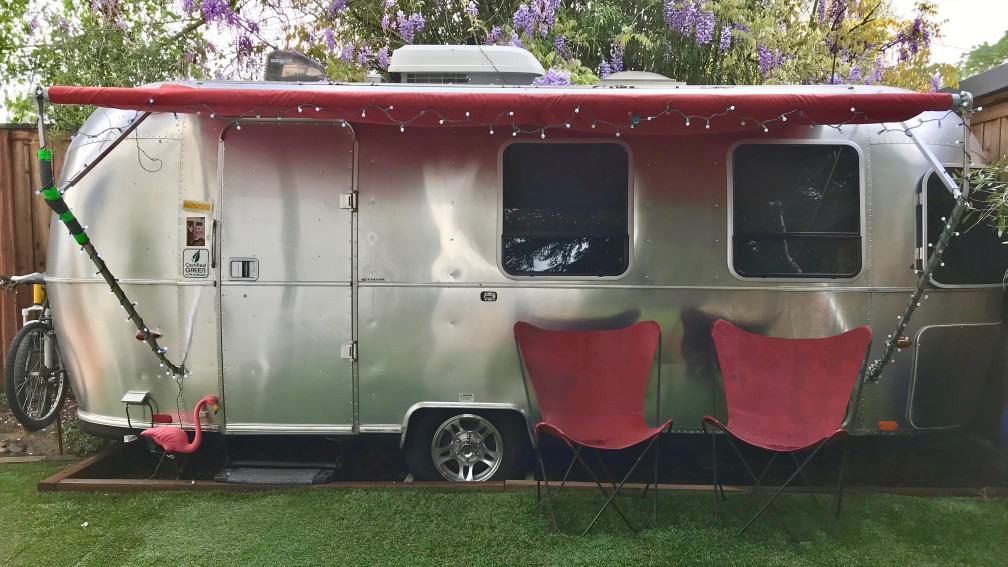 Airstream Sport has attached their camper with an exterior shower as well as charging ports inside the camper that can be utilized by USB devices or 110V variety as well. You also have air conditioning and heating for even more comfort and a retractable awning that can provide a nice little environment wherever you end up at.
The Airstream Sport is a great model that comes in around 3,000 lbs, so you should also have a bit of cargo room to add to things as you need.
#2. Jayco Hummingbird Teardrop Style Travel Trailer
Jayco is one of the best camper companies in the world to buy from and their Hummingbird is a great fit for someone looking for a lightweight trailer.
Even though Jayco makes a lot of bigger products, this one weighs in right around 1500-3000 pounds depending on the style that you pick and any features that you may opt-in for.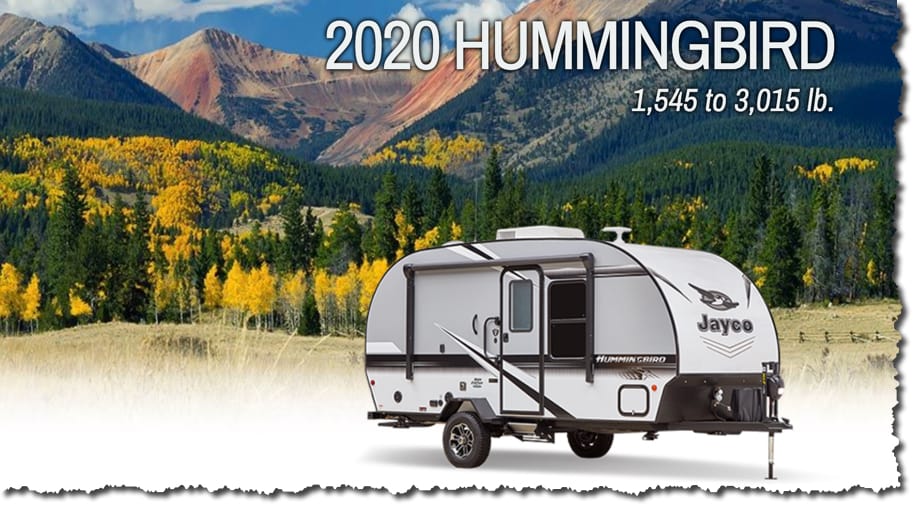 The trailer has got a nice design and feel to it, and the compromises that they have made to reduce in size don't feel bad. The one thing that was removed that will be a dealbreaker for many and a non-issue for many more is the lack of a bathroom.
Having no bathroom may either affect you greatly or not at all, so adapt to that information as you would like.
The rounded profile of the trailer should help when towing it and you should still have a comfortable ride as long as the options you choose keep your well under your towing capacity.
#3. Forest River R-Pod Travel Trailer
This trailer from Forest River is one of the heavier models on the list, so be careful when trying to tow it with an FJ Cruiser.
The weight of this model can be anywhere from 2,500 to 3,500 pounds which can start to lead it to a weight that is too heavy if you are packing it with lots of equipment.
The R-Pod comes with a whopping 9 different floor plans which is great for those trying to be careful about weight because you can customize things exactly the way you need.
That level of flexibility is quite rare in campers that are this light. There are even features in this trailer that allow for pet food bowls so that your family pets can make the adventure with you.
There's a lot to like about this model including the fact that you can sleep 2-4 according to Forest River. While that may get on the cramped side with 4 people, it may be perfect for small families or those with young children.
Conclusion
Towing a camper with an FJ Cruiser may seem like a problem that is hard to solve, however there are many campers on the marketplace that can help you get the job done.
It's important to be careful to make sure that you are not going over your individual vehicle's towing capacity because you could be putting yourself in a dangerous situation or you may be putting too much workload on your engine.
That wear and tear could cause problems down the road – so be sure your set up works for your FJ Cruiser.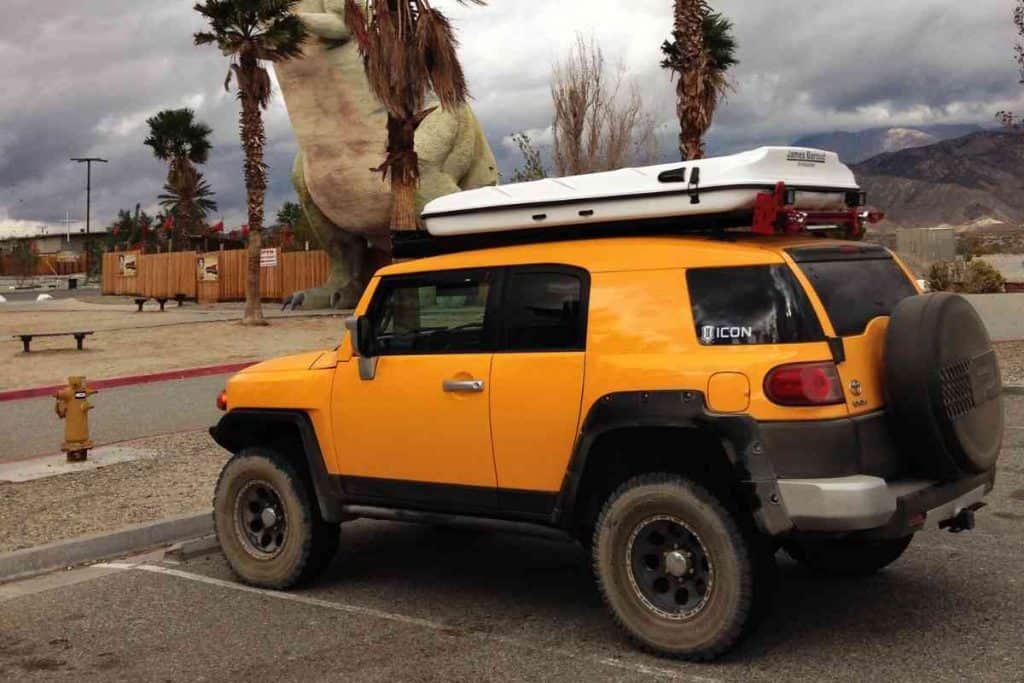 FJ Cruiser Accessories
Last update on 2023-09-15 / If you click this affiliate link and make a purchase, we earn a commission at no additional cost to you.