Can A Jeep Wrangler Be Towed Behind an RV?
This post may contain affiliate links. As an Amazon affiliate, I earn from qualifying purchases.
If you've got an RV, you most likely want to bring a vehicle along when you travel. It's not efficient to drive your RV to the store or to tourist sites. It's best to have a vehicle for travel after you've parked your motorhome.
Before you head out for your next RV vacation, consider the vehicle you are towing. How much flexibility does it have? Are you limited to paved roads? Does the top come off? If your towed vehicle doesn't allow you to have some fun, then you aren't bringing the best vehicle.
Can A Jeep Wrangler Be Towed Behind an RV?
The answer is yes. It is one of the most popular choices for flat towing behind an RV because it offers so much fun and flexibility. If you aren't towing a Jeep Wrangler behind your RV, it might be time to look at buying one. 
It doesn't matter if you have an automatic or a manual transmission; they can all be flat towed.
You do need the appropriate accessories so you do not damage your Jeep or RV. It is also important to correctly hook up your Jeep. 
Why You Should Flat Tow a Vehicle Behind Your RV
Even though it adds several more feet behind your RV, you should flat tow a vehicle with you as you travel on vacation.
When you have a car, truck, or SUV, you can leave your motorhome in one spot. Otherwise, you have to pack it up and drive it to all of the small destinations you want to see. 
RVs get terrible gas mileage; there is no arguing this fact. When you flat tow a vehicle, like a Jeep Wrangler, behind it, you can use the vehicle to get around town, thus saving money on gas.
Having a vehicle makes for quick and easy drives to the grocery store, pharmacy, beach, mountains, or wherever you want to go while your RV sits in the resort. 
Another good reason to bring a vehicle with you is the added storage. Having a vehicle gives you a trunk, bed, and seats that you can fill with extra groceries, outdoor gear, or whatever you can't fit in the RV.
The benefits certainly outweigh any negatives.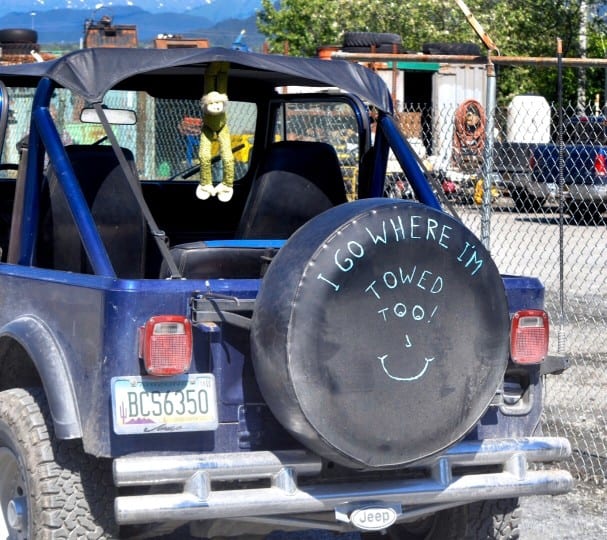 Can All Vehicles Be Flat Towed?
No. Not all vehicles have the capabilities of being flat towed behind an RV. The key to being flat towed is that all four wheels stay on the ground. Generally, the process involves two important parts.
The first is that RV must be strong enough to tow a vehicle. The second is the vehicle being towed as the transmission capabilities that let it happen. Not every car, truck, or SUV can be flat towed. This is what makes the Jeep Wrangler option so perfect. 
Along with Jeep Wranglers, any vehicle that has a manual transmission can be flat towed. The downside is that barely anyone drives vehicles with manual transmissions anymore.
Now that vehicles have complicated transmissions, many are no longer able to be flat towed, especially if they have front-wheel drive and an automatic transmission. Several four-wheel-drive trucks are not capable of being flat-towed either. 
The best place to determine whether or not your vehicle can be flat towed is to check the owner's manual. There might be steps you can take, but they may be costly. 
Why the Jeep Wrangler is the Perfect Choice
If you want to flat tow a vehicle, the Jeep Wrangler is the perfect choice. Whether you choose the two-door model or the Unlimited, they are all good choices for vacations.
What makes them so perfect is the fact that you can take off the doors and the top and really enjoy the beautiful weather. You can take your Jeep off-roading – if that's something you enjoy. 
Another bonus feature is the amount of space on the inside. If you need room for outdoor gear, your Jeep can hold it.
You can add accessories to the top and back for things like kayaks and bikes. There are so many things you can do with your Jeep to fulfill your vacationing needs. 
How To Flat Tow Your Jeep Wrangler Behind an RV
You cannot just attach your Jeep Wrangler to an RV and get going. There are a few steps you have to take.
Before you attach your Wrangler to the RV, you have to find a flat spot to do it. Once you've got that spot, drive your Jeep up to the rear of your RV and park it there. Stop the vehicle, then put it into neutral, engage the parking brake, and stop the car turning off the engine. 
Then you should put the transfer case into neutral. Start the engine and test the Jeep to see if it is on flat ground by putting it into reverse and releasing the brake.
If your Jeep rolls, then you need to find flat ground and repeat this process. If your Jeep does not roll, then you can move on to the next step. 
To prevent transmission fluid from moving through your vehicle, you will want to put your automatic Jeep into park.
But, if you have a manual, put it into second or third gear. Since the transfer case is in neutral, the wheels will remain free.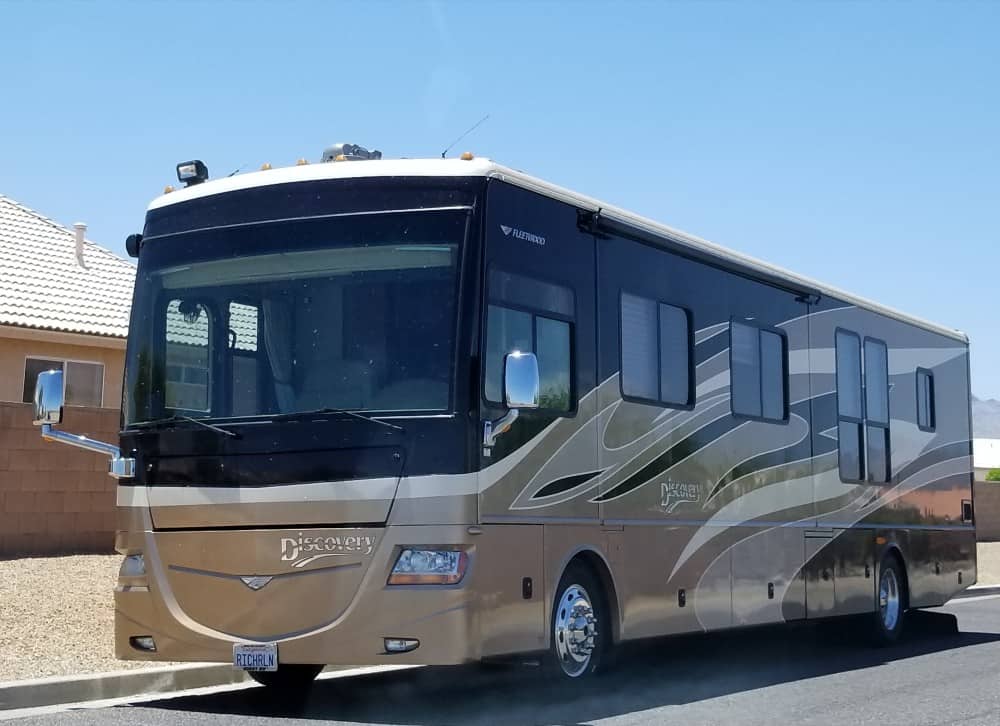 Can You Dolly Tow A Jeep Wrangler?
While flat towing a Jeep Wrangler is perfect safe, using a dolly to tow a Jeep is not. When you use a dolly to tow a Jeep you take two wheels off of the ground. Doing this can cause damage to the four-wheel drive system.
Will Miles Accrue on a Jeep Wrangler While Being Towed?
The quick answer is no. Jeep Wranglers in flat-tow will not accrue miles, as the odometer is electric so they only add up when the car is running.
But, you should still keep track of the mileage, as the tires are still spinning. 
Your Jeep Has Some Towing Gear Already
If you already have a Jeep Wrangler, you know how special these vehicles are. They are prepared for nearly anything, including being flat towed.
While you still need some of the gear to flat tow properly, your Jeep does have the hitch receiver so you can attach towing lights to it. This saves you money and time, over buying extra lights and wiring. 
If you do want to hook up extra gear, it is easy to put cargo gear in the hitch receiver and rely on those lights. Run the cable to the RV, and brake lights should work seamlessly.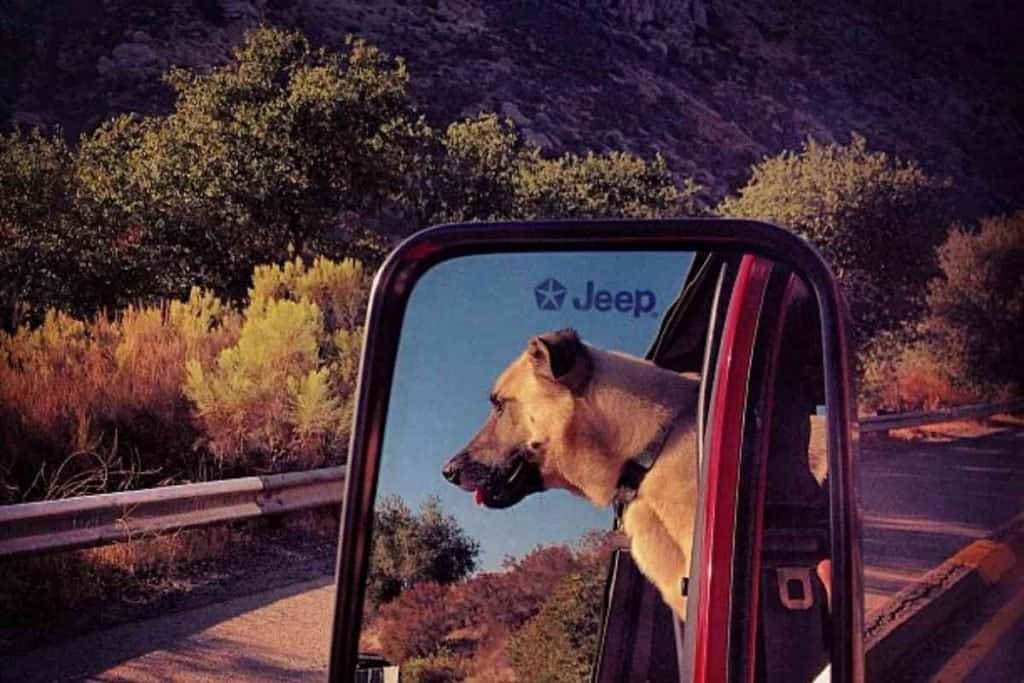 Necessary Flat Towing Gear for Your Jeep Wrangler
You cannot just hook up your Jeep to the back of any RV. The process is easy, but not that easy. You will need a few extra things:
Base plate kit
Tow bar
Safety cables
Tail light wiring harness
Supplemental braking system
You can find these items at your local Jeep or RV dealership, or you can buy them from your favorite after-market products store.
Some older Jeeps might need brake-light relays or switches for stopping. If you have the skills, you can install these items yourself. Otherwise, hire out the installation to a licensed professional. 
Many Jeep owners also like to purchase protective gear. For example a tow-bar cover protects that item while you are driving around after you've arrived at your destination.
Many also buy a protective screen that sits parallel to the ground between your RV and Jeep.
If you've ever had to replace a Jeep windshield, this protective piece makes sense as it blocks stones and other debris from being kicked up by your RV onto your Jeep. After you've parked your RV, you can roll up the screen to get it out of the way. 
By the time you have purchased everything to flat tow your Jeep, you could spend between $3000 and $5000 depending on the gear you choose and cost of installation.
Many experts recommend buying your gear from the same manufacturer, but that is not a requirement.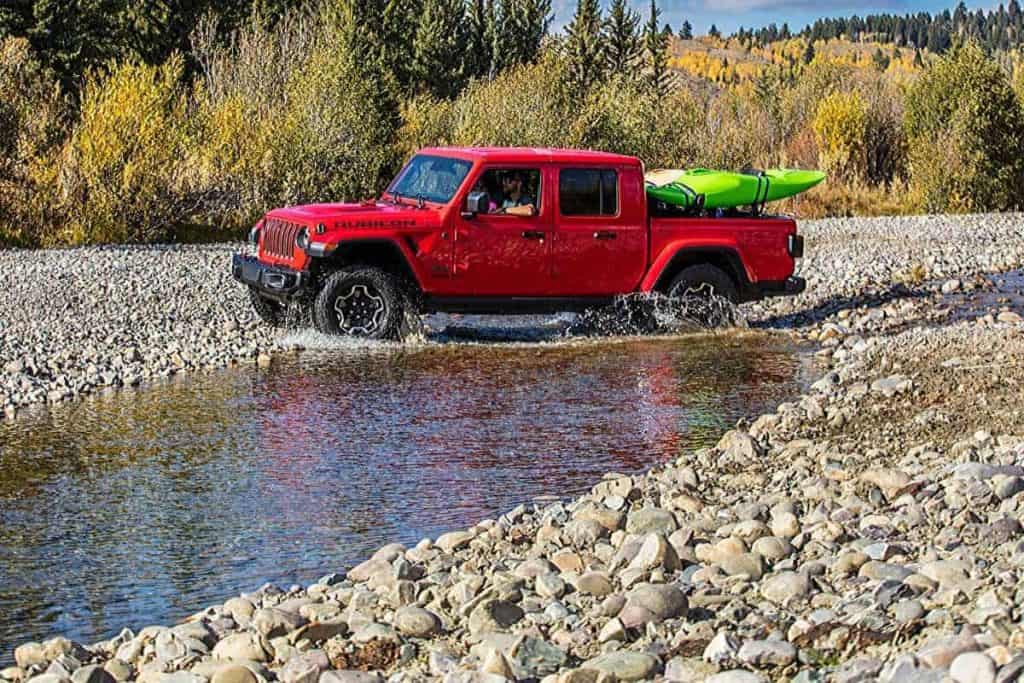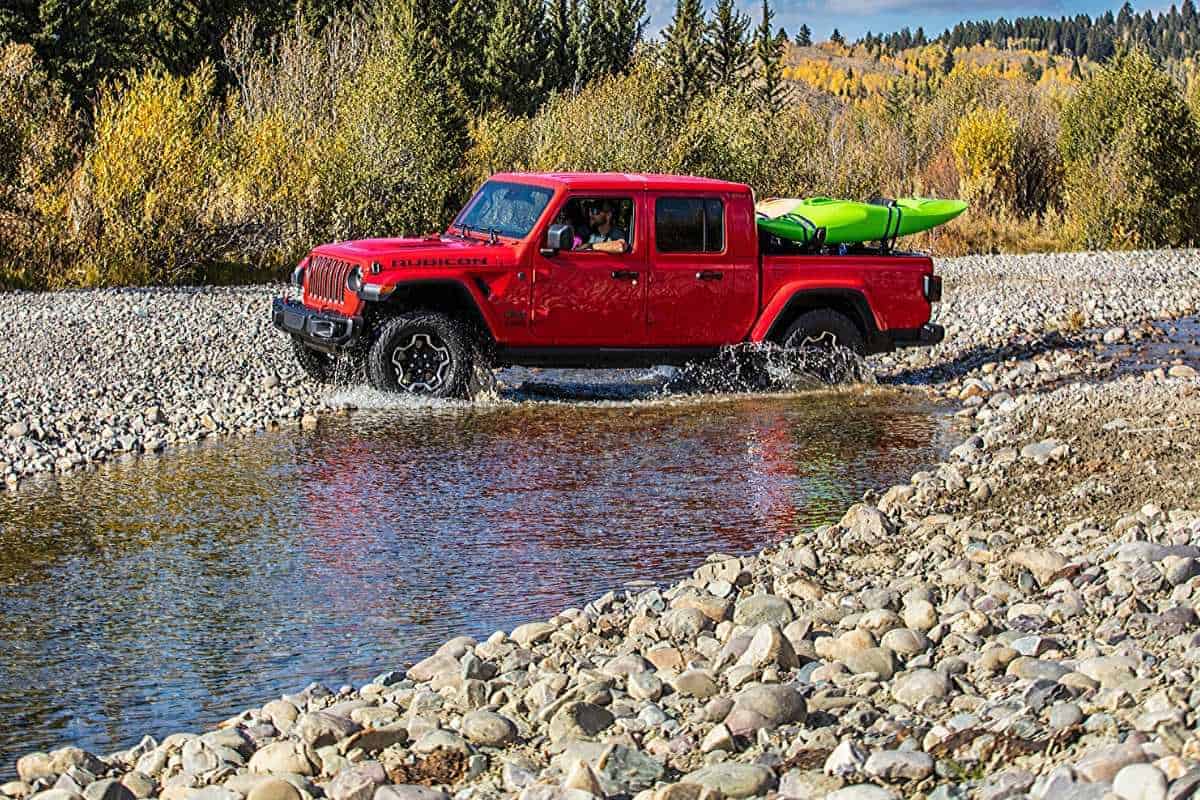 What About the Jeep Gladiator
For nearly 20 years, the Jeep Wrangler has been the most popular vehicle for RVers to flat tow.
If you own a Wrangler, you know why the Jeep is so popular: it's so much fun to drive and you can take it on adventures. But, another reason is because it is so easy to set it up for the journey. 
Now that Jeep has made the Gladiator, Jeep aficionados have another option. For the most part, the same gear you would use for flat towing a Wrangler applies to the Gladiator, too.
Of course, there are differences between the model years, so double check before you move gear from an older Wrangler to a new Gladiator. 
With the added space in the truck bed of the Gladiator, you can bring even more adventurous gear along for the ride.
For added fun, you can even buy a grill that attaches to the hitch on the back of a Gladiator!
Best Selling Tailgate/Trailer Hitch Grills
Last update on 2023-09-15 / If you click this affiliate link and make a purchase, we earn a commission at no additional cost to you.