What Size Truck Do I Need to Pull a Pontoon Boat?
Pontoon boats are great for cruising, fishing, water skiing, or just enjoying a day out on the lake. But before you can enjoy any of that, first you've got to get it to the water. What kind of truck do you need to accomplish this?
Trucks like the Chevy Colorado, Ford Ranger, and Nissan Frontier could all pull a pontoon boat. However, larger boats require larger trucks. Be sure to calculate the weight of the boat and make sure it doesn't exceed the towing capacity of the truck.
Not quite sure how to do all that? Don't worry! We've gathered some tools, tips, and tricks that will help you find the perfect truck to tow your pontoon boat.
Trucks, Pontoons, and Trailers
As mentioned already, you will need to take the size and weight of both the pontoon boat and boat trailer into account before going anywhere. That's a pretty big load and you definitely do not want to put an unhealthy strain on your truck. Overloading your truck doesn't get you anywhere (literally!)
Basically, you are going to need a vehicle whose towing capacity is larger than the weight of the load itself. For helpful reference, here are some guides to give you an idea of what kind of truck you need.
| | |
| --- | --- |
| Trucks | Towing Capacity |
| Toyota Tacoma | 3,500-6,800 lbs. |
| Chevy Colorado/GMC Canyon | 3,500-7,700 lbs. |
| Toyota Tundra | 6,000-10,500 lbs. |
| Ram 1500 | 4,150-10,800 lbs. |
| Chevy Silverado/GMC Sierra | 5,600-12,000 lbs. |
| Ford F-150 | 5,000-11,100 lbs. |
| Nissan Titan XD | 11,000-12,314 lbs. |
| Ram 2500/3500 | 11,000-31,200 lbs. |
Models and Towing Capacity
Many popular brands of pontoon boats will not weigh anything close to the towing limits of each of these trucks, so you should be safe.
Next, let's talk about boats! There are varying kinds of pontoon boats with varying prices. Below, I've collected just a few popular models with some fancy features. These models are listed from less expensive to more expensive.
The Pinecraft Vectra 21 RL. This 21-foot boat is available in three colors and has plenty of fun features! These features include a ski tow bar and stainless steel boarding ladder. There is plenty of storage space (including a nice ice chest) underneath the lounge deck. The lounge area is equipped with rotocast furniture bases, a large table, a bimini top, and easy-to-clean upholstery. Her passenger limit is 10 persons and her dry weight is 1,747 lbs.
The Crestliner 240 Dally DX. This boat comes with a nice lounge area on deck that includes bow and stern pillow top chaise lounge furniture, abundant storage space, a bimini top, a woodgrain table (equipped with cupholders), and a stainless steel boarding ladder. This boat can be configured for a day on the lake with friends, a fishing trip with your buddies, or quality family time. Her passenger limit is 15 persons and her dry weight is 3,400 lbs.
The Lowe SS 210 CL. Though this vessel is on the smaller side, it has some great features of its own. These features include stainless steel safety rails, a Bluetooth audio system, a bimini top, a storage room, and a four-cupholder table. It also has the option of a ski tow bar. The passenger capacity is 11 persons and the dry weight is 2,230 lbs.
The Sunchaser Geneva 22 LR PSB. This boat has two facing lounges by the bow and a foldup table. There is, of course, a bimini top and an optional ski tow bar beneath the deck. There is also a stereo and Bluetooth system along with a pop-up changing room. Not a bad collection of features! Her passenger limit is 11 persons and her dry weight is 2,061 lbs.
The Starcraft SLS 5 DC. Like the Sunchaser, the Starcraft has two facing lounges both by the bow. It also has rotocast seat bases, lots of below-seat storage, integrated drains, a bimini top of course, and a changing room. It also has a stereo and Bluetooth system. Her passenger limit is 14 persons and her dry weight is 2,590 lbs.
Almost all the aforementioned truck models could easily tow any one of these boats. As long as you make sure your trailer and boat combined fit within the truck's towing capacity, you'll be okay. Most boat trailers don't weigh more than 600 pounds by themselves, so this should not be a big issue.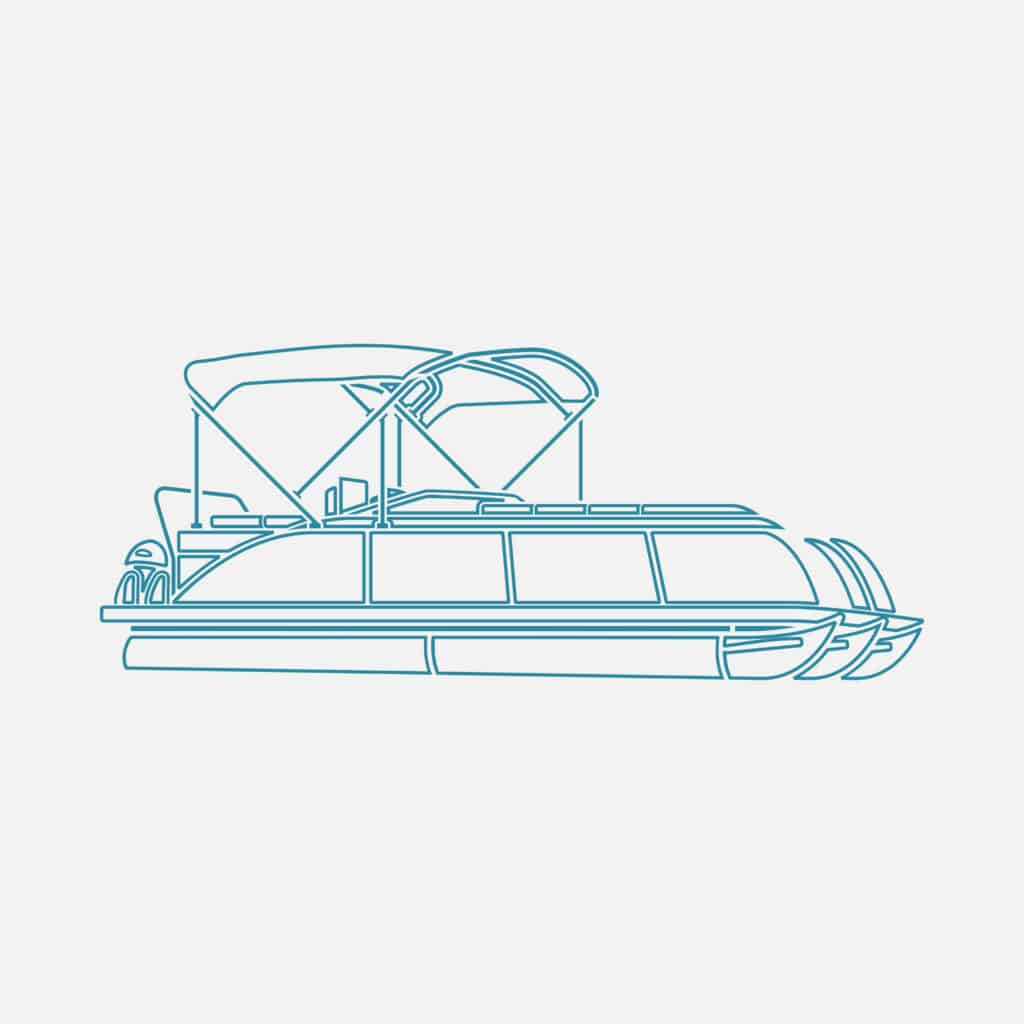 Hauling Safely
If you're anything like me, you get nervous when riding in a vehicle that's towing something behind it. A multiplicity of things could go wrong: the hitch could break, you could lose your cargo, or the trailer might catch fire. Who knows? Even if you don't get nervous about these, there are a few safety tips one should always follow when hauling a pontoon boat (or anything else for that matter!).
It is always a good idea to check your car, boat, and trailer before going on a trip. This should be standard procedure before hitting the road. First, check your tires. Make sure they are in good repair and strong enough to get you from point A to point B. If you're not sure if they are up for the job, get them checked and, if necessary, change them out. Tires with too much wear and tear could potentially cause you a LOT of problems.
Checking your lights is also a vital step. Normally this wouldn't be as big of a deal, but you're towing a trailer with a great big boat on it. If your blinker is not working properly on the trailer, the cars behind you might be in danger because they are never going to know what you are planning to do.
Last but not least, check your trailer hitch. Nobody wants to arrive at their destination without the pontoon boat, do they? A broken or jammed hitch could cause several safety issues and that's the last thing that needs to happen. If the hitch is broken, it could disconnect from your car mid-drive and that might not only be dangerous to you and other drivers, but it will most certainly cause damage to your vehicle or the trailer. Additionally, don't forget to strap your boat to the trailer. Make sure your tie-downs are in good shape, check, and recheck that the boat is secure. It's always better to be safe than sorry, right?
You already know this, but make sure your boat and trailer weights are under your truck's towing capacity. If your haul is too heavy you will put some unhealthy strain on your truck. The engine could easily overheat, the frame will experience undue stress, and can even damage your braking system. That kind of damage is not as easily repairable as a flat tire so take care to make sure you don't break something!
Boat Care
It's important to keep your boat in good shape as well! If everything is clean and well-maintained, you'll have an easier time on the water and on the road.
Clean your boat inside and out after each use. This means cleaning the propellers, upholstery, cabinets, and every other nook and cranny. Depending on where you live and the climate, you might also need to take measures to reduce moisture inside the boat. These problems can be fixed by adding a dehumidifier to prevent mold.
Dump excess water. Sometimes boats can contain invasive species, such as zebra mussels. These invade water systems and boat owners can get into a lot of trouble if they bring them from one place to another! Make sure your boat is high and dry before you move it anywhere else.
Next, turn over with the engine and change the oil. The engine is one of the most important parts of your boat and is one of the most crucial things to take care of. You need to start your inspections with the basic oil level check. After every 50 to 100 running hours, your boat's oil needs to be changed as well. Also make sure you are checking for leaks to guarantee you aren't running low on oil.
Cover your boat. You want the best for your boat so it's important to find the best upholstery. You do not want a covering that uses abrasive material that could hurt your boat when it's exposed. Look for boat covers using cotton, acrylic, polyester, or vinyl.
Manage your gel coat with the right materials. The gel coat on your boat is responsible for protecting it and while it is strong and reliable, using the wrong cleaners on it can dissolve the stain or even stain the boat itself. Picking the right cleaner is crucial.
How To Clean Pontoons
Other Cleaning Tips
When attempting to restore aluminum boats, you first want to wash the pontoons to remove any build-up. Then, you can apply a cleaner of your choice and follow the direction on the packaging to ensure proper cleansing before rinsing the product off.
You want to use a buffing tool or hand buffer to shine up and polish the pontoon, working in neat circles to prevent streaking. Wool makes for a fantastic hand polisher and an s-pattern is good to prevent streaks, as well.
Once your pontoon is polished, use the cleaner for a second time and then rinse. This will remove any residue from the buffing and ensure your nice, shiny finish is well protected. Lastly, apply a protectant seal of your choice to lock everything in and you are all set! Polishing an aluminum pontoon is much less complex than it seems.