Is Dodge Durango Good Off-Road?
Through an urban city, down suburban roads, up an unpaved mountain, and off-road through the woods, The Dodge Durango feels right at home wherever you drive it. This vehicle is named after the city of Durango, found in Colorado, Mexico, and Iowa. Dodge launched its Durango in 1998 as mid-sized SUV's began flooding the market.
Is Dodge Durango Good Off-Road?
Is Dodge Durango good off-road? The Dodge Durango is an average off-road vehicle. The Durango is best known for its on-road performance and lacks some of the off-road protection you find on a Jeep. The Durango is better suited to light overland driving vs. hard offroad challenges.
Why is the Dodge Durango Good for Off-road driving?
The Dodge Durango holds a very welcomed solidity and confidence, which is perfect for both speeding down the highway and climbing up off-road terrain and mountains.
Even the Dodge Durango' steering wheel, which is known to be the weakest part of most SUV's and trucks, has a taunt and clear responsiveness with excellent road feedback—making it easier to navigate almost any road.
The Dodge Durango's ride feels smooth and steady, even when traveling over uneven streets, potholes, and even off the road on unpaved terrains. This quality of drive is usually not expected in this type of vehicle and is the reason that the Dodge Durango overperforms most delightfully for its class.
What is Off-road Driving?
Off-road, driving is as simple as it sounds. Off-road driving is when you drive your vehicle off of the standard smooth and paved road and onto an exciting unpaved trail for a fantastic adventure.
For this activity, the Dodge Durango falls at the top of its class. The Dodge Durango features off-road capabilities with its 4-wheel drive setup.
The Dodge Durango does not fall in the full sized nor midsized vehicle category, but somewhere in between. Not only is the Dodge Durango incredible for navigating through urban settings, but it is also phenomenal when it comes to navigating through off-road locations.
Off-road driving can be an exciting way to shake up your routine, and the Dodge Durango is the perfect way to do it. If you live near the mountains or close to nature terrains, take your Dodge Durango on a well-deserved drive.
Off-road driving will often take you through the scenic route, allowing you to contact breathtaking views and the overwhelming beauty found in nature. Even more so, off-road driving will teach you exciting new ways to maximize your vehicle to the fullest of its capabilities.
The truth is, most 4-wheel drive on the road cars today spend their entire existence on the road. For the quintessential driver, the 4×4 option that their vehicle may carry is only used to preserve resale value and also to be able to trek out in the snow to get groceries.
If you have a vehicle with off-road capabilities, it is time to test it out on rougher pastures to enjoy your car to its fullest capacity.
Dodge Durango Specs
When driving the Dodge Durango, there is a plethora of combinations the driver can make to maximize the ability to drive off-road. This includes rear-, four-, or all-wheel drive.
The driver can also select between a 190-horsepower, 3.6-liter V-6 put together with a five-speed automatic transmission, or even a 5.7-liter V-8, which is incredible for a 360 horsepower with six-speed automatic.
More than just a roomy vehicle for the whole family, the Dodge Durango is packed with incredible muscle power under the hood. This allows the Dodge Durango to perform with extreme force.
The Dodge Durango's refreshing design and style also allow this vehicle to stand out wherever you take it.
Given that this vehicle offers a very strong pickup truck's towing abilities, the Dodge Durango can handle almost any situation, especially when lugging gear and equipment for an adventurous off-road drive.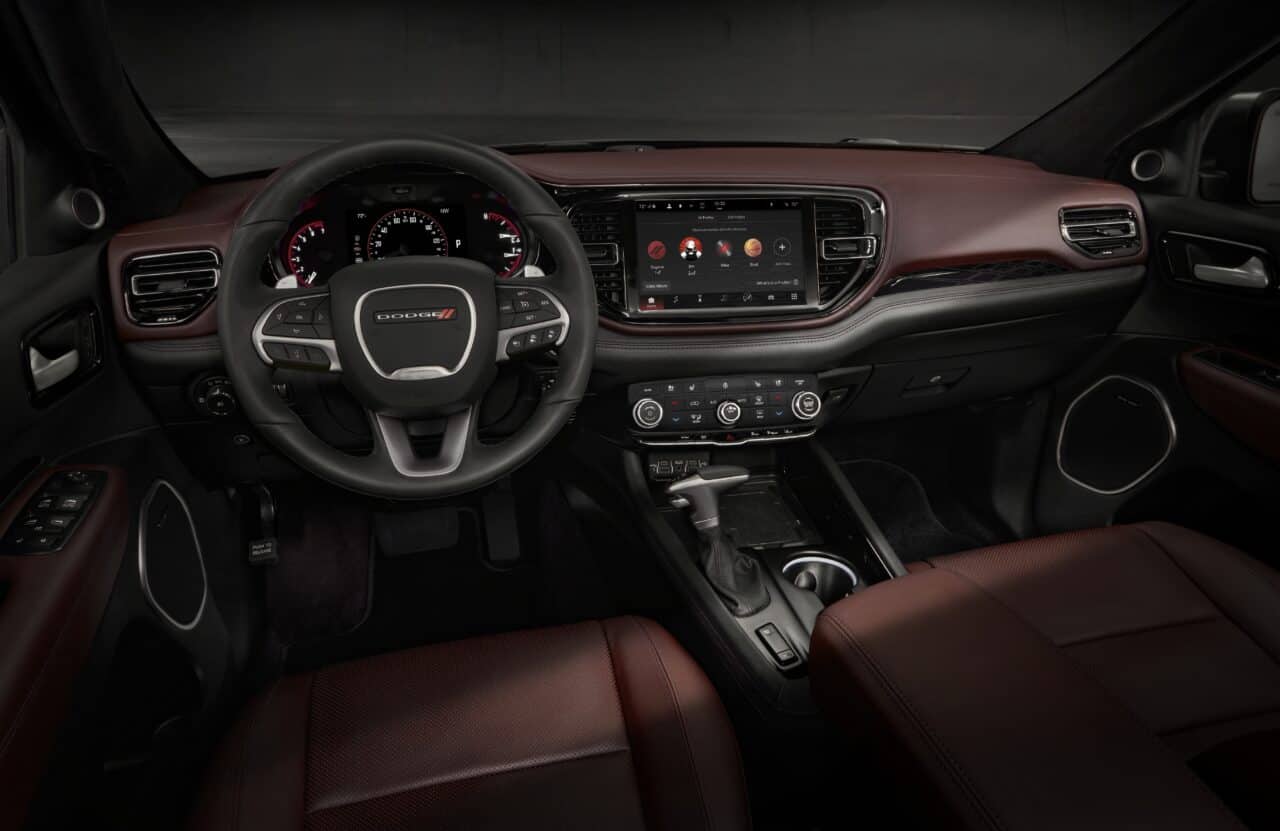 This high towing capacity makes the Durango great for transporting heavy cargo and navigating harsh road conditions when taking this vehicle to unexpected terrains.
When properly equipped, the Dodge Durango can tow almost 10,000 pounds. Even the V6-powered version of the Dodge Durango can haul up to 6,000 pounds.
Its lower-leveling rear suspension is excellent for trekking necessities and makes sure that the Dodge Durango is very well equipped to tackle any road.
Dodge Durango Engine
The Dodge Durango also features efficient and exceptionally powerful engines.You can upgrade your Dodge Durango up until the most potent Hemi V8 engine for maximum power.
However, the cost of fuel for this engine does soar pretty high. This engine works very well for serious drives, but if you plan on enjoying your Dodge Durango every day, you might like the V6's engine a bit more.
The V6 engine has an EPA-estimated highway fuel economy rating of 26 miles per gallon. To put it simply, this means that the Dodge Durango's V6 engine is fantastic for challenging any open road.
More so, the 195-horsepower of the Dodge Durango guarantees strong acceleration whenever you need it.
Dodge Durango's Off-road Performance
The Dodge Durango has capable off-road performance. With a stable ground clearing of 8.1 inches, the Dodge Durango can take on dirt, muddy, and rocky trails with ease.
You can also opt for a dual-range transfer case on your Dodge Durango to enhance the traction through mud, snow, and many other conditions.
When it comes to taking your car out on the open, unpaved road, you can rest assured the Dodge Durango has got you covered.
Street Racing Technology
Almost as exciting as its off-road capabilities, the Dodge Durango offers a beautiful SRT Trim. The Dodge Durango's SRT matches up to the beauty of driving a luxury sports car.
Since the Dodge Durango is designed to tackle any road, it is equipped with scorch proof tires and one of the most reliable and most effective powertrains in the mid SUV class.
The Dodge Durango's huge 6.4-liter Hemi V8 engine produces an astonishing horsepower and 470 pound-feet of torque.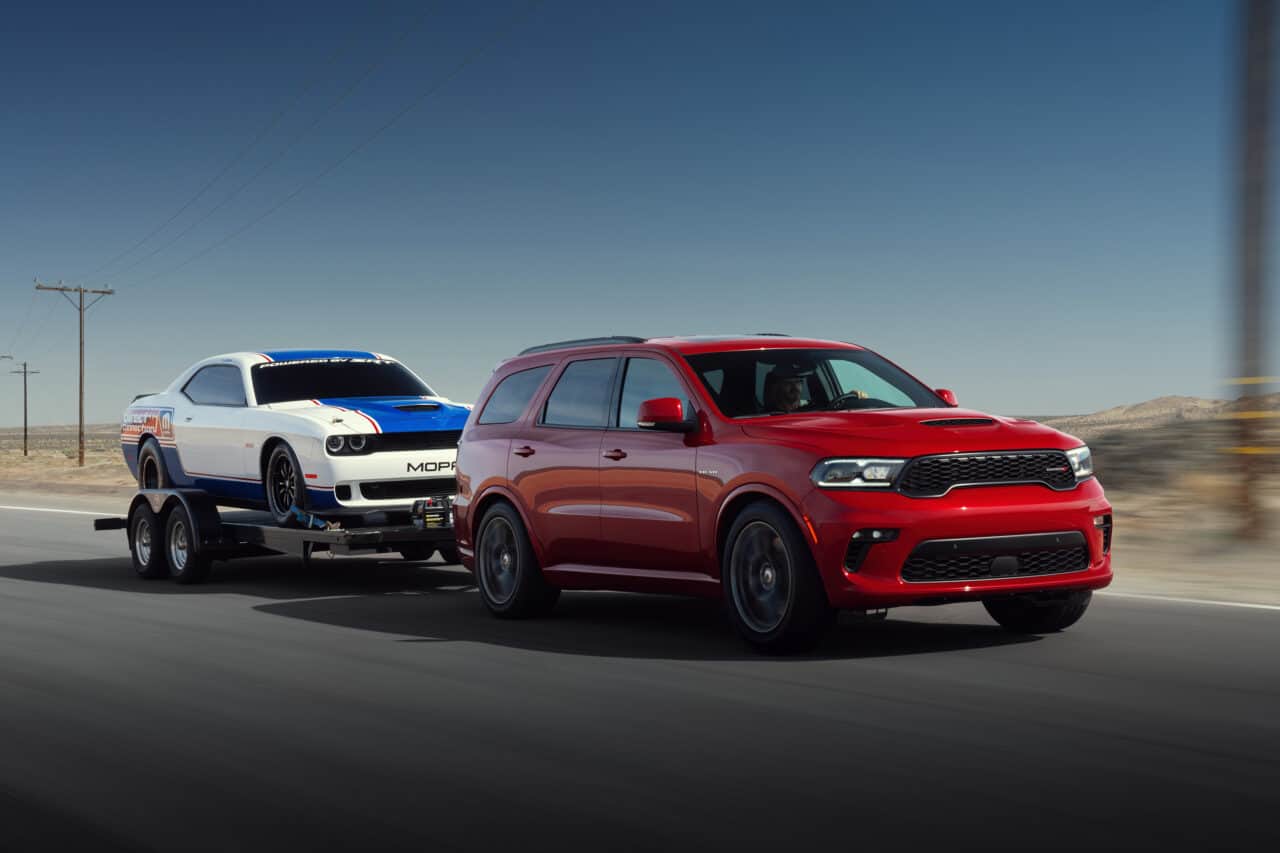 This means that when the Dodge Durango is fired up at a standstill, this vehicle can get to 60 miles per hour in under 5 seconds with a loud exhaust, making it very fun to power up and get through any trail.
Better Brake Pads
Also, the most up to date Dodge Durango features an incredible amount of safety features to keep passengers calm and out of harm's way.
Due to the fact that Dodge removed water from the Durango's brake pad, this vehicle maintains high stopping power through all weather and in any road conditions.
Technology Package
The Dodge Durango also offers a Technology Package to enhance vehicular safety.
This feature adds adaptive cruise control, automatic panic braking, lane departure warning, and blind-spot monitoring—all incredible features for taking your car off-road.
Off-road Driving Tips
Here are some tips for taking your Dodge Durango off-road.
1. Know Your Car
Make sure you know every single feature of your Dodge Durango to properly enjoy it when you go off road.
2. Plan Ahead
Make sure your Dodge's tires are in tip top shape to go off-road. Tires are what ensure traction between your car and the road.
3. Think Through the Worst-case Scenario
Be ready for anything that may come up on your journey. Pack a first-aid kit and other basic supplies as a seatbelt cutter, glass breaker, and a fire extinguisher for an emergency.
As mentioned throughout this article, the Dodge Durango is an excellent vehicle for navigating through daily life and an exceptional choice for taking your car off-road.
To successfully navigate the off-road terrains with your Dodge Durango, follow these instructions and drive confidently.
Next time you hop into your Dodge Durango, consider taking off-road for an exciting spin.
With its horsepower, SRT Trim, safety features, and impressive engine, the Dodge Durango will wow you on any off (and on) road adventure.