What Are The SUVs With The Highest Towing Capacity?
This post may contain affiliate links. As an Amazon affiliate, I earn from qualifying purchases.
If you are a person who likes to have the best things, you will want your SUV to have a high towing capacity.
There are so many SUVs out there, so picking the one that can get the job done effortlessly is essential.
What Are The SUVs With The Highest Towing Capacity?
Here is a list of the SUVs with the highest towing capacity sorted from highest to lowest.
Ford Expedition
Lincoln Navigator
Dodge Durango
Infiniti QX80
Toyota Sequoia
GMC Yukon
Chevrolet Suburban
Cadillac Escalade
Land Rover Discovery
Each of these vehicles have a high towing capacity that doesn't compromise the safety of your vehicle or your passengers.
Towing capacity is important because it allows you to tow something like a boat or trailer without worrying about whether your vehicle can handle the load.
It's a huge convenience for families who enjoy spending time outdoors.
All of the SUVs listed above are made by car manufacturers known to make high-quality vehicles. The only downside is that they're also costly.
However, getting a car that's reliable and ready for anything is worth it.
Some people use their SUVs as work vehicles, so ensuring that they have a high towing capacity is equally important.
If you are unsure of your vehicle's towing capacity, check your owner's manual.
It should provide information on how much weight your car can handle.
These vehicles are built with safety in mind, so if you plan on using them as work vehicles or for heavy-duty activities, you can still tow without worrying about damaging your car or creating an unsafe environment for you and your family.
One thing to make sure of is that you are not towing something behind your SUV that weighs more than what your vehicle can handle.
This will put excess weight on the car, which could cause it to break down or become unsafe for driving.
I know this may sound cliche, but be mindful of the combined weight of you and your passengers as well.
If you are transporting six people over 150 pounds and their luggage on top of already reaching your towing capacity, you put your family at risk of a safety hazard.
Let's look at each of the SUVs that made our list for the highest towing capacity.
Ford Expedition
The Ford Expedition has a towing capacity of 9,300 pounds. Its towing capacity rivals the biggest trucks out there.
This SUV is built for towing large boats or trailers safely without any problems.
Its safety features are also unmatched when compared with other SUVs.
The Expedition offers LED lights, a camera system, automatic braking, and many others, including a rearview camera that shows you what's behind your vehicle when you're in reverse.
Lincoln Navigator
The Lincoln Navigator has a towing capacity of 8,700 pounds, which is relatively close to the Expedition when it comes to weight.
It lacks some of the safety features offered with the Ford expedition, but its impressive luxury is second to none.
The Lincoln is also known for having an excellent resale value, which means you can resell it at a high price without losing too much money on depreciation.
Dodge Durango
The Dodge Durango has a towing capacity of 8,700 pounds.
It matches that of the Lincoln Navigator but differs in luxury and comfort.
However, some may prefer the ruggedness of the Durango over the luxury of the Navigator.
The Dodge Durango is very spacious inside.
It can fit up to 7 people comfortably without having any issues.
The vehicle also has added storage compartments that don't compromise the car's space.
For example, it has a compartment for storing luggage underneath the car that's easy to access.
Infiniti QX80
The Infiniti QX80 is built to tow 8,500 pounds. Believe it or not, it's not as luxurious as one would think.
However, it has 400 horsepower and gets up to speed effortlessly, which is a big perk when towing a heavy load.
This vehicle is ideal for those who love to take long road trips.
The seats are extra comfortable and spacious for all-day riding.
These SUVs are also known to last up to 300,000 miles, making them dependable and ready for anything.
The GMC Yukon can tow up to 8,400 pounds, making it suitable for heavy jobs if it's needed.
It has many safety features that are very useful, especially because it may be used as a work vehicle.
Two of those awesome features are lane assist and backup camera.
The GMC Yukon is made with high-quality materials, so you won't have to worry about not getting your money's worth when purchasing one.
It's definitely worth considering if you are looking for a vehicle that will last you five to ten years.
Toyota Sequoia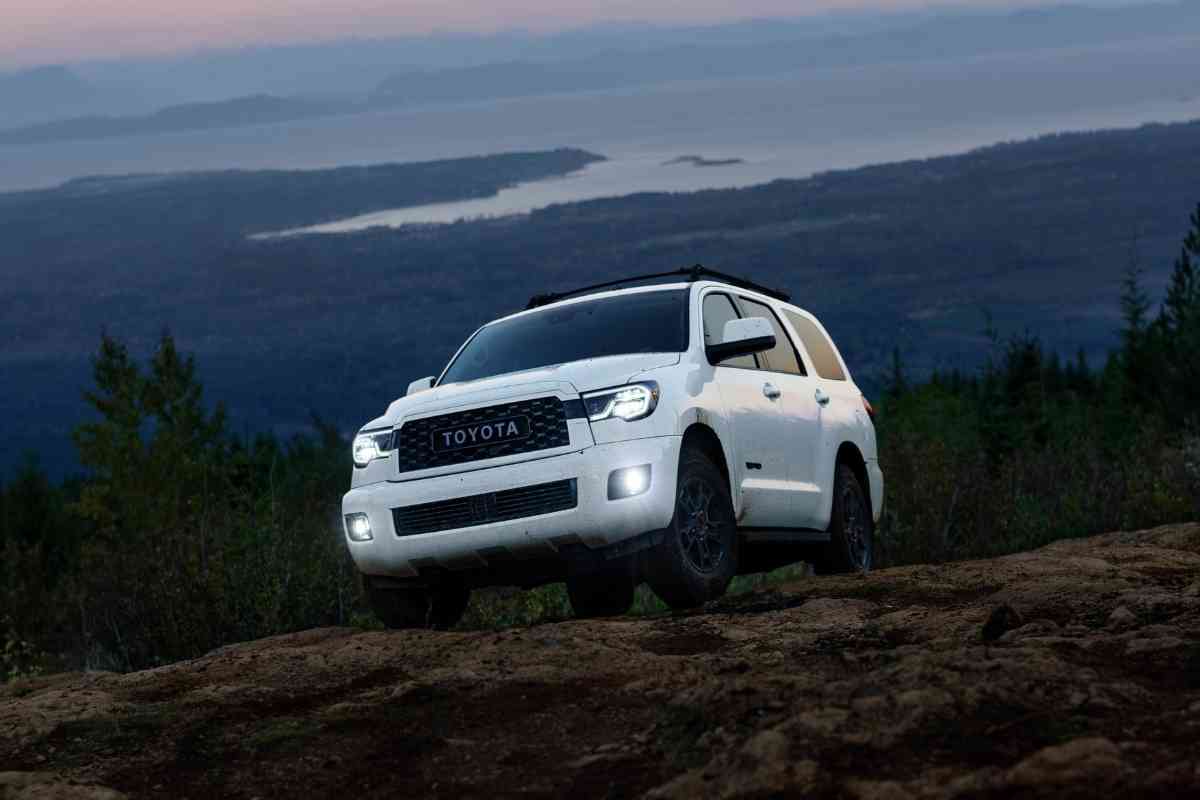 The Toyota Sequoia can tow up to 8,400 pounds, which is impressive for an SUV of its size.
It comes with the Toyota Safety Sense package.
The package includes pedestrian alerts, automatic high beams, and lane departure alerts.
This SUV is one of the most reliable vehicles on this list, because it has been around for a long time and has some great reviews from customers who have owned it.
It's worth considering if you're looking for a new SUV that won't cause many maintenance problems in the meantime.
The Chevrolet Suburban is an old classic for many chevy enthusiasts that can tow up to 8,300 pounds.
It ranks four out of five in crash test ratings.
Other safety features include forward collision alert and following distance indicator.
The Suburban has a nice spacious interior that can fit up to 7 people but lacks when it comes to cargo space as well as exterior design.
It's a solid choice for those who are searching for an SUV that is built more on function than luxury.
The Cadillac Escalade has a towing capacity of 8,200 pounds, which is impressive for its size.
It has all of the standard safety features combined with all the bells and whistles that come with any vehicle of the Cadillac brand.
The Cadillac Escalade is built very well, so it can be safe to ride in if you ever get into an accident. Along with good quality build materials, it has lots of interior space and can comfortably fit up to 7 people.
Land Rover Discovery
The Land Rover Discovery is an excellent option if you're looking for a high towing capacity SUV that's relatively cheap.
It can tow up to 8,200 pounds. It has many impressive features that make it perfect for families and those who spend most of their time outdoors.
The Land Rover Discovery is built very well and gives owners a comfortable ride even though it's capable of off-roading adventures as well.
Let's not forget to mention that the Discovery is powered by a turbocharged engine that gets up to 300 horsepower.
Wrapping Up
If you're searching for a strong SUV that can tow more than 8000 pounds, then these nine vehicles should definitely be considered.
Some of them have various limitations, so it's essential to do your research before making a final decision.
These vehicles are generally a good choice because they come from reputable companies and have been around for many years, so their quality is reliable. As always, enjoy life on the road.