What Mid Size SUV Has The Highest Towing Capacity?
This post may contain affiliate links. As an Amazon affiliate, I earn from qualifying purchases.
The mid-size SUV represents the compromise in features in performance between SUV enthusiasts.
Between off-roaders, families needing passenger space, luxurious vehicle owners, and performance junkies, they are all coming to the mid-size SUV with individual needs.
In terms of towing capacity, mid-size SUVs can boast the best towing capacity with the sacrifices they have to make to appeal to all these other groups and their diverse interests attention.
Which Mid Size SUV can best accomplish this feat?
What Mid Size SUV Has The Highest Towing Capacity?
The mid-size SUV with the highest towing capacity is the 2021 Dodge Durango. While it lacks behind its peers in certain areas, it more than makes up for its strengths, one of which is the best capacity for towing in its class.
In what ways does the Dodge Durango lack? Could there be a better combination of towing capacity and valuable https://fourwheeltrends.com/what-are-the-suvs-with-the-highest-towing-capacity-2/
features?
Read along with me as I go under the hood of these popular market-defining SUV choices.
2021 Dodge Durango: Ultimate Towing Capacity With a Cost
I have seen a lot of excitement over the innovation in the SUV field lately.
Consumer enthusiasm for SUVs has been palpable, returning to normal and consumer demand rising after the pandemic.
The 2021 Dodge Durango is the ultimate modern towing champion and an excellent generalist vehicle.
Starting with the least expensive tread option, it can tow approximately 6,200 pounds, but this amount can go up to an unbelievable 8,700 pounds with Hellcat Durango.
This ability is awe-inspiring for a mid-size vehicle because this amount of towing capacity beats most vehicles in the full-size class, a whole weight class ahead of it.
The Dodge Durango accomplishes this feat without sacrificing what makes it a mid-sized SUV as well.
It can accelerate quickly while still pulling the heaviest loads, focusing its attributes primarily on on-road driving.
The downside of the Dodge Durango being a generalist vehicle focusing on towing capacity is that it sacrifices its off-roading ability and safety features to accomplish this feat.
For the price range, there are other competitors for the off-road spot, and towing is a feature that is extremely useful in an off-roading context.
I can imagine the irony in a Dodge Durango getting stuck in an offroad situation that it would try to pull another vehicle out of.
Still, the Dodge Durango is not a terrible off-roading vehicle. It just isn't as exceptionally rugged and optimized for this purpose.
It can still handle adverse on-road conditions like snow and mud just fine, and it does feature an impressive 8.1 inches of ground clearance.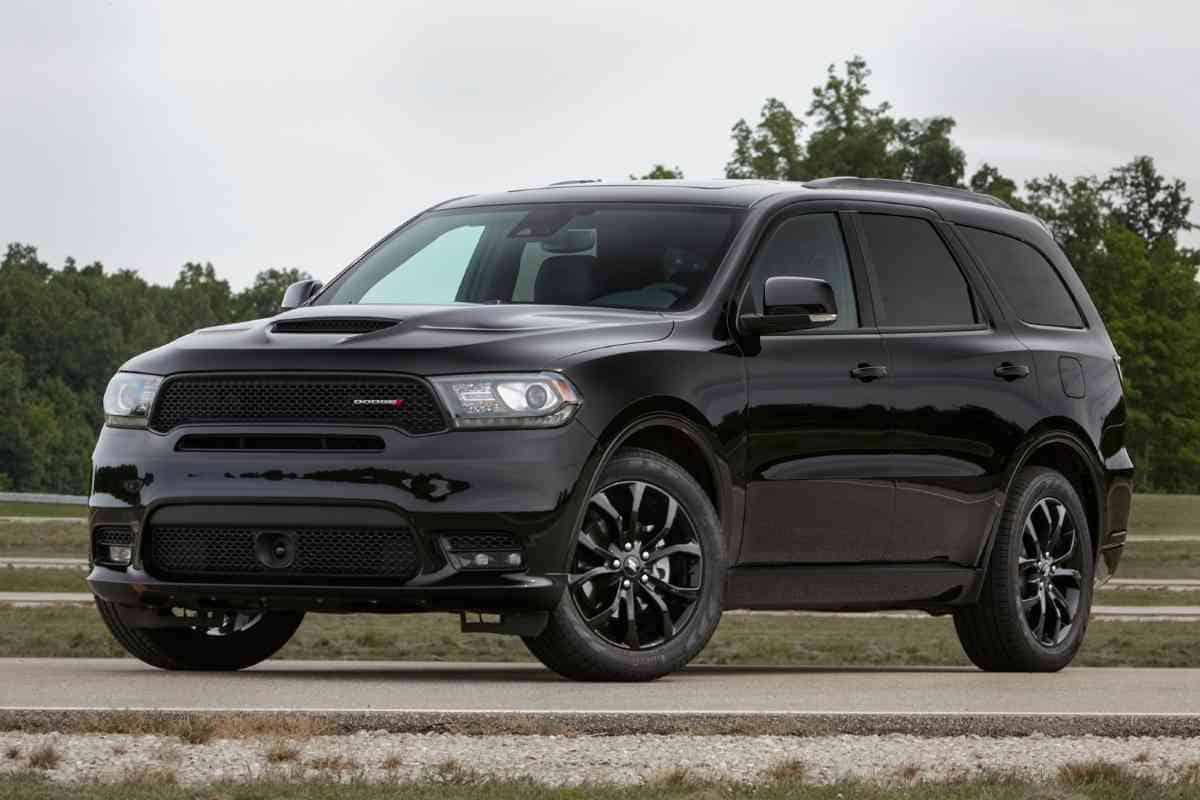 Safety
As mentioned earlier, to excel at towing capacity, the Dodge Durango had to give up its claim to a high safety score.
It received a four-star rating from the National Highway Traffic Safety Administration (NHTSA), which, while it is a good rating, is a little disappointing.
For the extra bump in sticker price to get the towing capacity, you would want to pay for something that has modern advanced safety technologies.
A car company can fit only so many features into the sticker price to sell to the public.
Dodge couldn't find the room to put the safety technology necessary to make the Dodge Durango a 5-star offer like its competitors were able to.
For example, it would be nice to get blind-spot monitoring and active braking and lane departure warning.
Even if you aren't going to be using your Dodge Durango for off-roading, these would be nice things to have for on-road travel as well.
Low Fuel Efficiency
Another trade-off for this impressive towing capacity is that it will burn a lot of energy and fuel for the engine to output that kind of power.
If you use the Dodge Durango in the city especially, you will see 14 mpg.
Using the Hellcat model with the ultimate towing efficiency, it will get down to 11 mpg, which is relatively low for a mid-sized SUV.
This fact is especially problematic given the Dodge Durangos ineffectual off-roading capabilities.
If the Dodge Durango excels at a smooth on-road ride, then the fuel efficiency will hurt city-dwellers hoping to use its towing capacity for on-road trailer pulling.
Handling
A famous superhero quote almost goes, "With great power comes great difficulty handling." Because the Dodge Durango is focused on punching above its weight class in towing capacity, it will have trouble handling its power at times.
Owners of the Dodge Durango have described the steering system as more truck-like than SUV- like.
This phrase means that your agility and control over your vehicle on the road will be remarkably diminished compared to other SUVs in its class.
Runnerup SUVs That Can Compete With the Dodge Durango
If you are pushing everything away to get that highest towing capacity number next to your name is your thing, then the Dodge Durango is for you.
However, everyone's SUV needs are different, so it is worth considering the runner-up towers that close the Dodge Durango to see if their disadvantages vs. the Dodge Durango's disadvantages make a difference for your situation.
2021 Land Rover Defender
The 2021 Land Rover Defender comes in second place with a maximum towing capacity of 8,201 pounds.
The Dodge Durango can accomplish this feat with an upgrade to the engine and an optional $1,850 towing package.
Interestingly, at base sticker price, it is rated for 7,716 pounds of towing capacity which is considerably better than the Dodge Durango's initial towing capacity of 6,200 pounds.
If you are looking to save money and get the most towing pounds per dollar, it might be worth it to save a bit of money on upgrades to get the Land Rover Defender instead.
It also has a 5-star safety rating from the NHTSA, so you don't have to sacrifice safety for towing capacity either.
2021 Lincoln Aviator
With a third-place finish, we have the Lincoln Aviator with a maximum towing capacity of 6,700 pounds, a significantly lower finish than the winner and second-place finishers.
Compared to its competitors, it lacks towing power, which it makes up for in passenger space.
It has a 3-row interior with a very classy interior aesthetic.
Unfortunately, at its base model, the towing capacity is only 5,600 pounds, which, while respectable for its class, doesn't make it an absolute monster like the other two participants before it.
This lack in towing capacity does come with some benefits in that it can have an upscale and chic design that has plenty of room for passengers and storage.
As expected from a luxury, mid-size SUV, it comes with several amenities that make it worth buying.
It also doesn't have to skimp with any safety features, earning it a 5-star rating from the NHTSA.
Another benefit it has is that it is one of the only other vehicles in its class capable of being a hybrid and maintaining its impressive towing capacity.
It can travel up to 18 miles in its pure electric mode and will put money back into your pocket to make up for its competitors' high sticker tag and increased gas consumption.
Overall, the Lincoln Aviator earns its spot on the finals podium alongside the Dodge Durango and the Landrover Defender.