Which Ram 2500 Model Features 33-Inch Tires?
This post may contain affiliate links. As an Amazon affiliate, I earn from qualifying purchases.
33-inch tires are a unique need for some off-roaders. Finding a truck that both fits 33-inch tires and comes with them involves looking at RAM trucks. RAM trucks are known for offering a variety of platforms and modifications for every truck driver's needs. In the case of RAM, one of their 2500 trim models does come with 33-inch tires.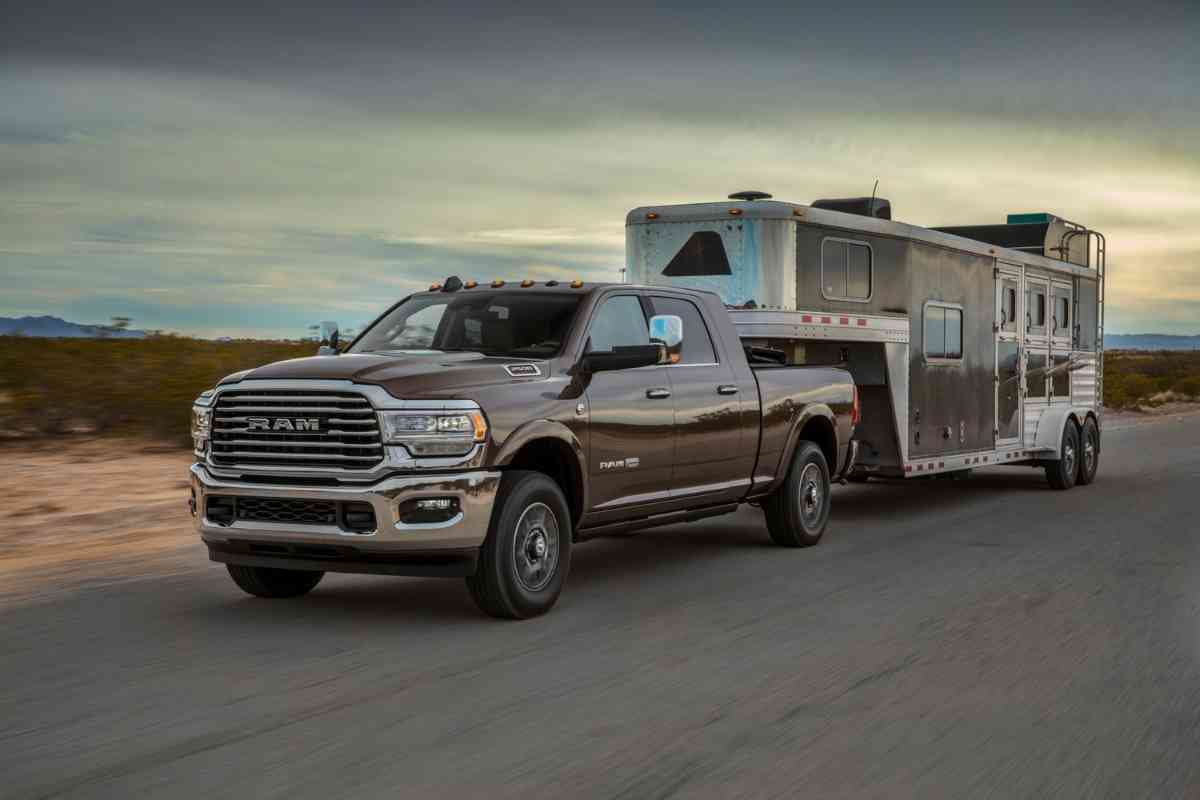 Table of Contents
What models of Ram 2500 have 33-inch tires?
The RAM 2500 Power Wagon does come with 33" tires. RAM made the Power Wagon for off-road driving and towing, which it does well with the extra-large tires. One of the benefits of purchasing a Power Wagon with larger tires is not needing to switch tires or modify a vehicle to fit taller, wider tires.
Truck manufacturers like RAM make trucks for all sorts of purposes. We'll dig into what is on the Power Wagon that makes it special, and why it would need 33" tires or larger.
We'll use sources from RAM as well as its dealers. We have plenty of experience talking about tires and the practical – and sometimes unique applications of larger tires on vehicles.
Why does the Power Wagon have 33" tires?
The Power Wagon is overall designed to go off-road and get traction when other trucks or SUVs might struggle. There are a couple of reasons to have larger tires on a truck.
Higher ride height
The ground clearance of the Power Wagon is about 14 inches. The average ground clearance for a truck is just about one foot, which gives the Power Wagon an advantage when it comes to driving on uneven surfaces or over rocks. An extra couple of inches helps prevent damage to the undercarriage and keeps the Power Wagon from potentially getting stuck.
Better Traction
The Power Wagon also comes with unique 33" Goodyear all-terrain tires with an extra aggressive tread. In addition to having a larger footprint with a 33" tire, the aggressive tread helps dig into mud and dirt.
What else does the Power Wagon have?
The Power Wagon doesn't stop at 33" tires. RAM uniquely includes a 12,000 lbs winch to the vehicle with a 90-foot steel cable. The purpose of the winch is to tow other equipment, vehicles, or whatever you can add a hook to – especially if it's stuck or difficult to move without additional horsepower.
You'll also get a locking rear differential. To those unfamiliar with vehicles and 4WD, this means that the Power Wagon can let you choose to separate the power sent to your front and rear wheels so that you can get out of almost any situation.
Even the sway bar can be electronically disconnected, giving drivers the option to get a bit more clearance.
You'll still get some amenities, including a dampened tailgate, 12-way adjustable power driver's seat, and LED headlights so you can see just about anywhere.
Can I fit 33" tires on a truck?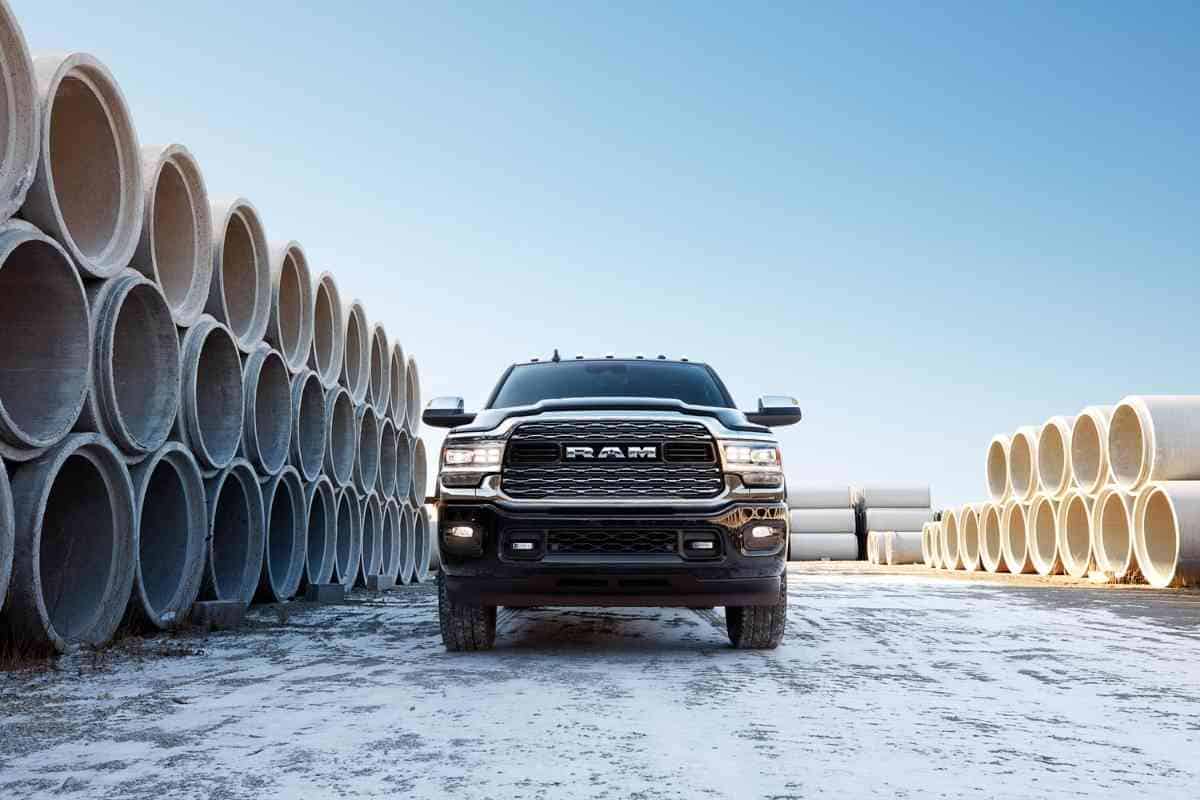 A RAM 1500 can natively fit 33" tires, actually going up to 35". In the case of a typical RAM 1500, they don't come with 33" tires. Adding tires to a typical RAM would also mean spending more money on additional tires and likely storing a set of tires for when they aren't needed.
Putting larger tires on a RAM might also require some additional assistance, as the speedometer and mile gauges might be off – as they are based on the number of rotations a tire does per minute or second, and a larger tire does fewer rotations.
Some trucks with smaller suspensions might require spacers within the wheel wells, or a lifted suspension to avoid having the edges of a larger tire clip in the interior of the vehicle. One thing to note: the height of the tire isn't a problem, it's the width when the tire is installed that might go outside of the allowed capacity of a tire.
How is the Power Wagon different from other RAM models?
The Power Wagon offers a bit less for frills – and more for utility. Tim levels like the Longhorn and Limited Longhorn add a bit more comfort and flash with available leather and even vinyl barnwood available for the touchscreen dashboard and steering wheel. These trim levels also have more automatic features, including auto-folding running boards and a more robust 10-speaker audio system. You can explore the upper tier of RAM models here too.
Instead, the Power Wagon is more likely to be cloth and focuses on power with a 6.4 liter 8-cylinder HEMI engine for maximum horsepower and payload. It still looks pretty though – and has a Power Wagon symbol in the interior fabric – complete with a pattern of tire treads.
How well do the Power Wagon's tires rate?
The Power Wagon comes with Goodyear Wrangler DuraTrac tires. On TireRack. The DuraTrac's rate well, especially in off-road and on snow.
The wet and dry ratings are a "Good" 8.5 across the broad, meaning that the tires stop, accelerate, and feel fairly comfortable on the highway, but aren't as comfy as traditional all-season tires – reflected in a 7.9 comfort rating. The purpose though is for drivers who spend significant time off the beaten path – whether working on their farm or at a construction site that might be difficult to get to.
Goodyear does outperform competitors, including Cooper and Bridgestone, within the same category.
Do bigger 33" tires impact gas mileage?
Compared to smaller tires, bigger tires will impact gas mileage with the engine's need to rotate heavier, wider tires. With that said, the difference in gas mileage is something most Power Wagon owners can acknowledge, but realize it's worth it for the extra ability to avoid road obstacles and get the extra grip needed in any situation.
Bigger tires can actually help gas mileage on rough terrain.
Another SUV or pickup truck without aggressive treads might struggle and waste gas while going slow or churning its wheels into dirt and mud. A Power Wagon should cruise through the same obstacles, resulting in better overall gas mileage.
Do bigger tires make a Power Wagon less stable?
Not necessarily. You might feel a little wobbly at high speed, but larger tires still mean more surface area touching the road. The overall weight of the vehicle also makes it unlikely to experience any issues or flip unless the driver has an incorrectly attached trailer.
Can I find a Power Wagon used?
Probably! Power Wagons come with the HEMi 8-cylinder engine, which tends to last quite a while. So don't be too afraid of higher mileage trucks – at least those with paperwork indicating that they had routine maintenance.
How much is a new Power Wagon
A new 2022 RAM Power Wagon can run from around $61,000 to $81,570 when fully equipped.