Will a RZR Fit in the Back of a Truck?
This post may contain affiliate links. As an Amazon affiliate, I earn from qualifying purchases.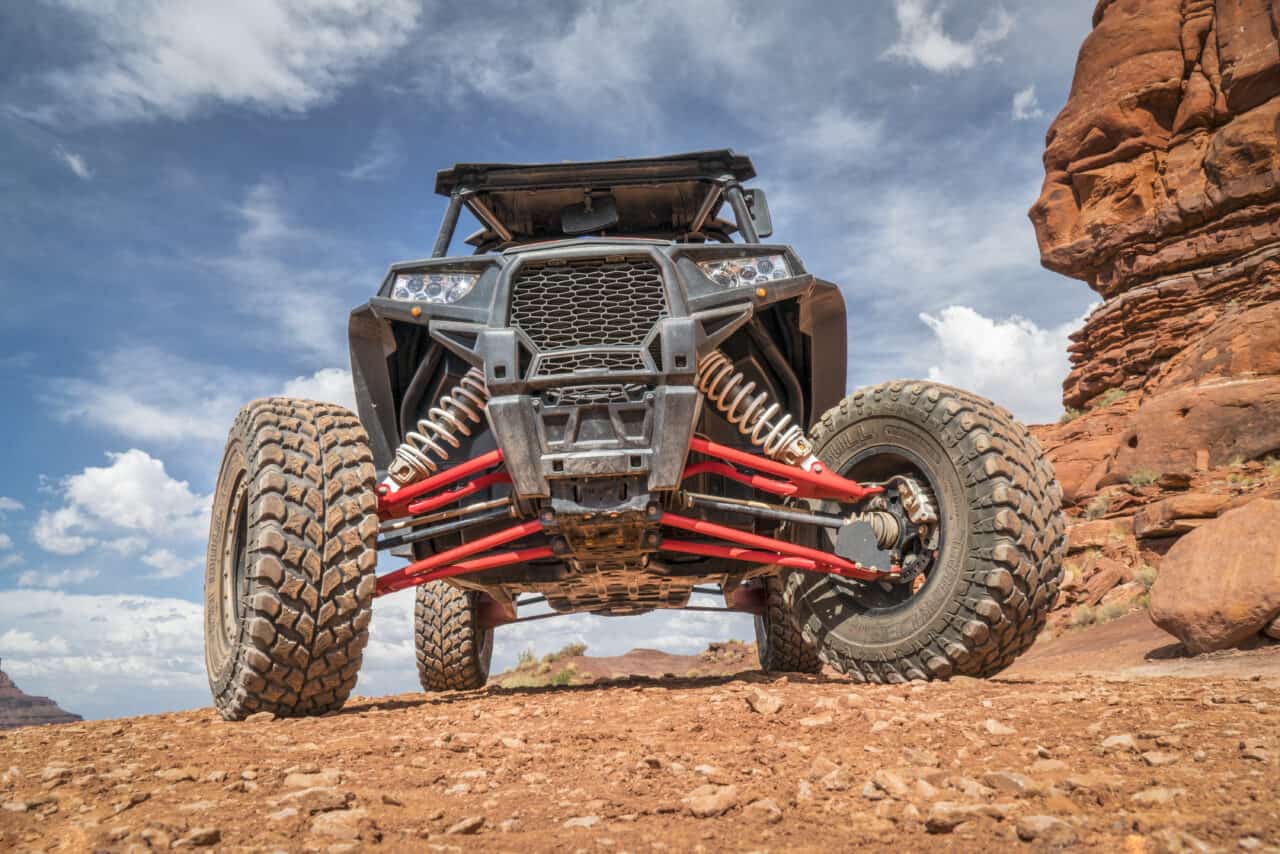 Everybody loves a ride in the good old RZR. The question is, does your truck have what it takes to haul one?
There are several truck models such as the 2006 Silverado that can carry a RZR, however, not all trucks can. Before hauling, it is necessary to assess the sizes of both the truck and the RZR. If the RZR does not fit safely, a trailer may be required.
Now you are probably wondering which trucks and which RZRs will fit? Here is what you need to know!
Notable RZR Models
Several RZRs can fit into a truck bed, the only variables being the size of RZR and length of the truck bed. You can fit different models in different trucks; here are a few of the best models of RZR.
For Short Beds:
If loaded correctly these models can fit in a short bed truck:
The Polaris RZR 570
Polaris RZR 800
Polaris Ranger 500
Polaris Ranger 570 Mid-Size
Kawasaki Mule SX
However, a truck with a short bed is not typically recommended to haul a RZR because of how limited the options are. Most short bed trucks only have about 67-70 inches to work with, unless you count the tailgate which could potentially bump it up to about 92 inches of space.
The Chevrolet Silverado 1500 short bed is one model with 70 inches of space whereas the Ford F-150 and Dodge Ram 1500 short beds only have about 67 inches to work with. While the aforementioned RZRs can fit, it will still most likely be a bit of a tight squeeze anyway.
Since you will most likely have to use the tailgate to accommodate the side-by-side, purchasing additional tailgate support is advisable. The last thing you need is for the RZR's weight to bust your truck bed.
For Standard Beds:
Considerable options for almost any standard size truck bed:
The Polaris Ranger 570 Full-Size
Polaris Ranger 800
Polaris Ranger XP 900
Polaris RZR 900
Polaris RZR S 1000
Yamaha Wolverine X2
Yamaha Wolverine X4
The standard truck bed size can be measured at about 79 inches or 101 inches with an additional 22 from the tailgate. The Yamaha Wolverine X2 and X4 both measure up to 61 inches which will definitely make it a little bit of a tight squeeze.
However, anything from the short bed list will fit in a standard size as well. The Dodge Ram 1500 standard comes in at 76 (a few inches shorter), but the Chevrolet Silverado 1500 and Ford F-150 standards measurements are matched here.
For Long Beds:
All vehicles from the short bed and standard bed lists can fit, as well as the:
Can-Am Maverick Trail
Can-Am Maverick Sport
Polaris Ranger Crew 570-4
Polaris Ranger Crew 570-6
Kawasaki Teryx
Kawasaki Teryx 4
Long beds usually measure up to 98 inches and with an additional 22 from the tailgate, 120 inches of usable space, matching both the Chevy Silverado 1500 and Ford F-150.
The Dodge Ram is just slightly smaller, measuring in at 96 inches (not much of a difference). Depending on how rough you intend to ride you may want to invest in a model that is heavier duty than the ones listed, however, you might not be able to haul those in your truck as they are usually bigger and bulkier.
Notable Truck Models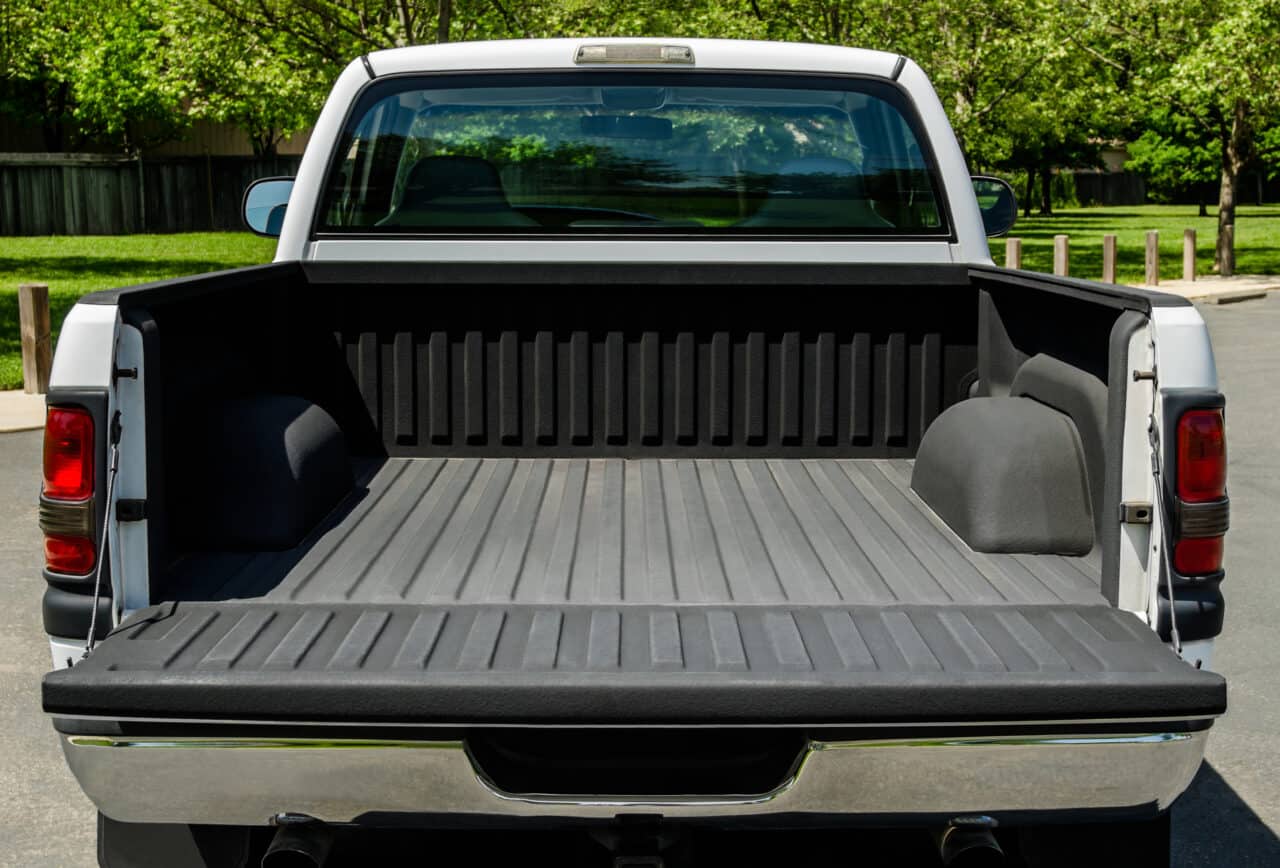 In all honesty, almost any good truck can haul the right size of UTV. There are, however, some good models that you might consider giving a try.
The Chevy Silverado or GMC Sierra. These two trucks are similar enough that they can be grouped. They both come in three different sizes (short, standard, and long) and can haul any UTV that measures up to 60 inches wide, although you might have to account for the wheel wells. The long beds can haul almost any model of UTV, the exception being the extra-long ones.
The Chevy S10/GMC Sonoma. These models both come with long beds but are only mid-sized as far as long beds go. They can fit anything around 48 inches wide. They can sometimes haul sports models and even youth UTVs unless they are too long for the truck bed. You may also have to accommodate bulky wheel wells and provide extra protection for your rear window as well.
The Chevy Colorado. You can haul a youth-sized UTV with a standard size colorado, but a Crew Cab model probably will not get you very far. There are not as many options with this model, but it is sturdy enough.
The Dodge Ram. This truck model comes in both a long and short bed size. The long bed can accommodate any UTV that measures up to 62 inches unless it is extra long. The short bed will not accommodate anything bigger than a youth-sized UTV.
Ford Light Duty (F-150, etc.). Ford does offer extra small beds (like the Lincoln Mark LT and Super Crew) that are not going to fit any RZRs without special equipment. However, the Heritage Edition, Flareside, and short-bed models will accommodate youth-sized RZRs. The regular and extended cab models will usually fit most vehicles that are 62 inches wide.
Ford Super Duty (F250, F350, etc.) These are similar to the Ford Light Duty models, the only difference being that they offer an additional inch or two in length and even four inches in width. This will allow you to fit just about any two-seat RZR in the truck bed. Not bad for only a few inches more of space!
The Nissan Titan. This truck actually offers 4 different sizes of truck beds (though the smallest will not haul anything on its own). The 6.5-foot truck bed can haul youth-sized RZRs while the 7 and 8-foot ones can haul most 48-inch wide RZRs.
Tips on Hauling Safely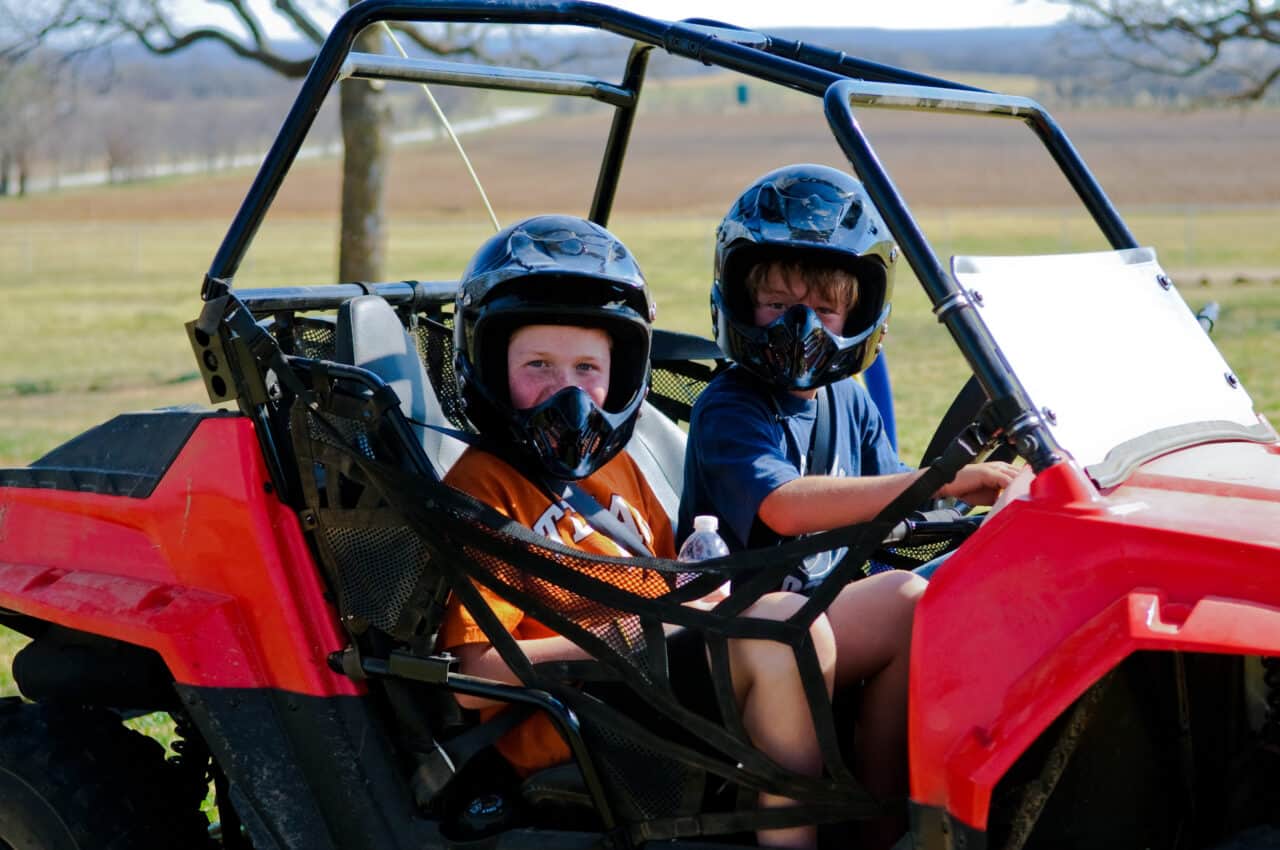 Make no mistake, hauling your RZR in your truck bed is probably one of the cheapest ways to haul an ATV.
However, it does come with a few risks that you ought to be aware of. First of all, it is a bit tricky to load up. If you have ramps, it might seem like everything is fine and good, but the last thing you want to do is get cocky. Driving your ATV up the ramp takes practice and precision. The tiniest oversight could mean you slip your wheels off the ramp and before you know what has happened, your RZR is tipped sideways on the driveway.
Practice driving up and down your ramps a few times before taking off just to make sure you've really got it down.
As a general rule, you can haul any RZR 54 inches wide or smaller in any full-size truck bed. The largest thing you will have to worry about is the amount of weight you are going to have to rest on your tailgate because obviously, the last thing you want is a broken truck. Tailgates are usually up higher than most trailers which means loading is slightly more difficult because you have to drive up and down steeper ramps.
You also need to protect your truck's rear window; you do not want your RZR's bumper to break the glass (this is a somewhat common mistake that people make when loading an ATV so be glad you're hearing about it now!).
As mentioned before, most models 54 inches or smaller can fit into a full-size (or larger) truck bed. This means that all you have to do is purchase ramps to drive the ATV up into the truck. To accommodate the entire vehicle, you may have to leave your tailgate down to provide enough space.
However, just leaving the tailgate down and calling it good is a bad idea. Extra weight from the ATV could cause strain on the tailgate, in fact, it might even break it off completely. To avoid this, you can purchase tailgate supports at most auto care or hardware stores and online as well. The product you will want to look for is typically called a GateSaver. Using your truck's hitch, it supports the rear tires of your ATV so the tailgate does not have to.
Tie downs and supports: you can't have too many! Some drivers might opt to skimp on the number of securers they have tied to their ATV, but it is always better to be safe than sorry. These things are your friends. Whether the ATV is actually in the truck bed or on a metal rack, take the necessary measures to keep your truck, your RZR, and most importantly, yourself safe.
Take the time to not only secure the RZR but also the ramps. If they are not tied down, your ramps could easily slip out of the truck bed (especially if the tailgate is down) and that is not something you need. Keep the ramps as safe and secure as you would want to keep your ATV.
As long as you have done your research, adequately prepared, have the right size ATV and truck, and take every precaution, you will do great.