What SUVs Can Carry a 4×8 Sheet of Plywood?
Shopping for SUVs is an extremely difficult process. You have to worry about a variety of factors that can vary wildly in different vehicles. It's a major investment so you need to be sure that you are getting a good deal and that whatever SUV you buy makes sense for you in the short term as well as the long term.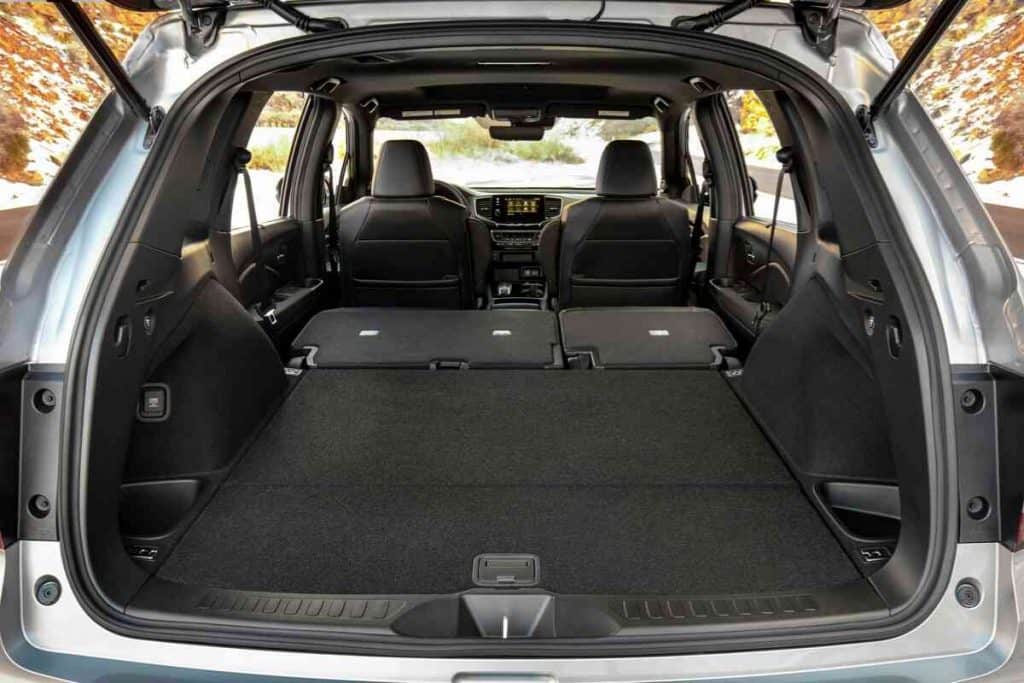 One factor that can play a big role is the functionality of an SUV. Many people use SUVs to help them do work on various projects while still having a vehicle that can function as their day-to-day vehicle. If you're planning on using your vehicle in both of these forms, the cargo hold can be a big factor.
Many people need sheets of plywood regularly in their work projects or even for certain jobs that they do. We are going to break down a lot of different SUVs that can carry sheets of plywood so that you can get the perfect SUV that will help you with all of those tough and fulfilling projects that you have on deck.
What SUV's Can Carry a 4×8 Sheet of Plywood?
There are a lot of vehicles that can haul a sheet of plywood.
Each model will depend on certain qualities, such as you may need to put some seats down for it to fit, or something like that. You also have the ability to haul plywood in a light trailer that you could tow or you should consider using a roof rack to carry supplies that may not fit into your cargo hold. There are also a lot of minivans that can hold plywood.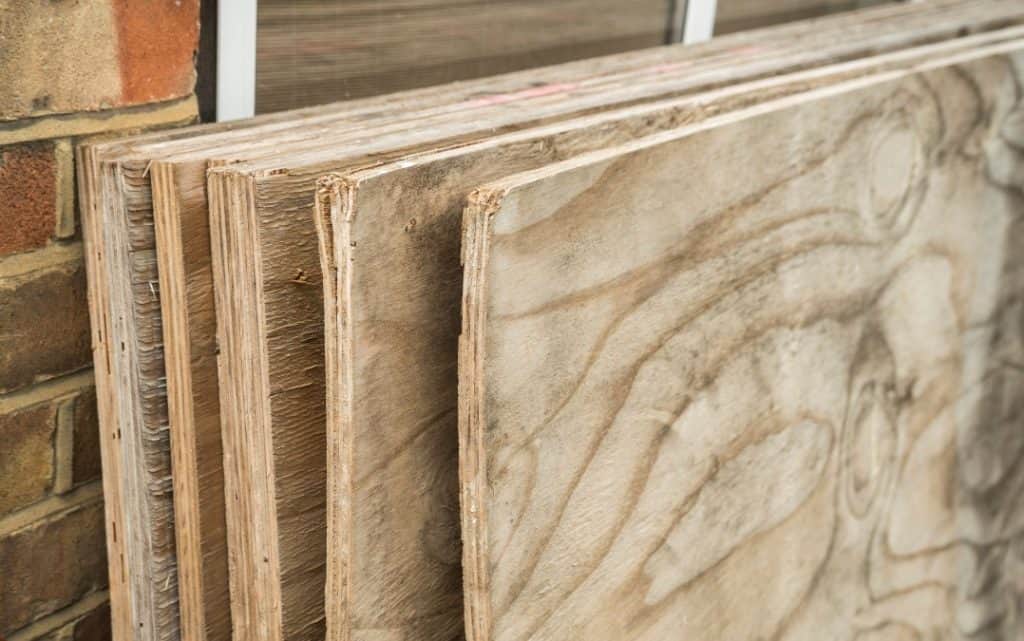 Chevy Suburban
The Chevy Suburban is a monster of an SUV that can carry up to 9 passengers and tow over 8,000 pounds. The Suburban benefits from its huge engine and all of this power and space are going to make it great for contributing to work projects like hauling plywood around.
The 2024 Chevy Suburban can easily carry a sheet of plywood thanks to its massive cargo area. With a cargo box width of 49.4 inches and a maximum cargo area length of 105 inches, with the two seats folded down, this SUV does the job with ease.
The newest versions of the Suburban come with a lot of flexibility so you can play around with package options to get a vehicle that will be a great fit for you and your family.
There are some things that the Suburban could do better in regards to its ride quality, however, if you need a monster that is either going to haul a ton of people or a ton of stuff, the Suburban really is a great choice.
The Suburban is obviously a very heavy vehicle, which can affect the way it drives down the road. Some people want to take it off-roading, however, it's so big that it may have the limited ability on the trails.
Most people feel like they have a ton of room when riding in a Suburban. However, for a vehicle that is the size that this ride is, the third row of seating can be a bit uncomfortable.
You would think that the design would call for some more comfortable seating in the back because most people plan on utilizing all of the space of a big SUV like this one.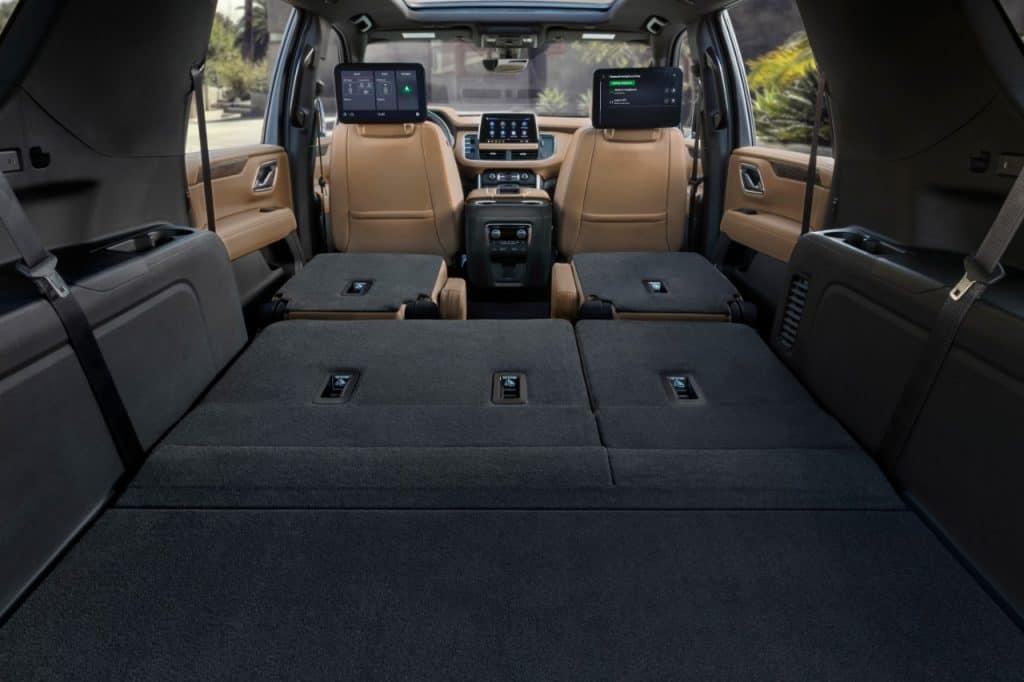 The technical aspect of the Suburban is kind of hit and miss. The Suburban has great features when it comes to the driver controls. Apple Car Play and Android Auto make the system easy to use and there are all kinds of charger ports for your family to take advantage of.
On the downside, some of the safety controls are not executed to the best design, for example, the backup camera doesn't have great quality or resolution and that is kind of a drag considering that with a vehicle this big, backing up can always be a bit of a treacherous proposition.
As mentioned, the Suburban has a ton of cargo space whether you are looking to haul some plywood or take any other kind of supplies with you.
That cargo space gets a boost when you take a look at the Suburban's power-folding second and third row seating. That's an amazing feature that will help you switch between passengers and cargo quite seamlessly.
The towing capacity of the Suburban stands out as one of the best features about the SUV. You won't see ratings and towing capacity numbers that are this high on anything that isn't a heavy-duty pickup truck. The Suburban can truly carry its weight and then some.
The fuel mileage is somewhat acceptable for a beast of this size, it comes in around 18 miles per gallon when you consider the combined number. That's not half bad, although obviously smaller vehicles are going to be able to get a better number.
It's a vehicle that is a workhorse and has some comfort designs to help you keep everyone happy as you move down the road.
Ford Explorer
The Ford Explorer used to be a trend-setter in the SUV market. Before the Explorer debuted, there really was no thing as a family SUV. However, the Ford Explorer did come along and now almost all of the car companies try to produce SUV's that can be marketed to families.
The 2024 Ford Explorer comes with some changes, most notably a slimmer body. Plus, they are now rear-wheel drive vehicles that handle tremendously well.
At the same time, the fact that it's slimmer raises the question of whether you can fit a 4×8 sheet of plywood in a Ford Explorer.
The 2024 Ford Explorer has cargo area width of 48.1 inches and a length of 83.9 inches with the two back rows folded. As a result, you can fit a 4×8 sheet of plywood, however it will not fit flat.
The reality is that this switch has made the Explorer easier to use for drivers of all kinds. They've also received a boost when it comes to their towing reliability, and the space inside of the vehicle was actually able to grow as a result of some of the changes that Ford has made.
If you are looking for a three row SUV that handles well, the Ford Explorer should be on the top of your list. It's actually got a sporty feel to it when you are driving and the grip and traction receive good marks as well.
The engine found inside the Explorer is the reason for these positive remarks as it has a ton of power to keep you moving wherever you need to go.
The Explorer allows for a pretty comfortable ride. The seats closer to the front of the vehicle are certainly more comfortable than the ones in the third row, but overall the ride comfort was good, but not great.
You'll hear a fair amount of noise when travelling in the Explorer which takes away from some of the comfort that the cabin provides.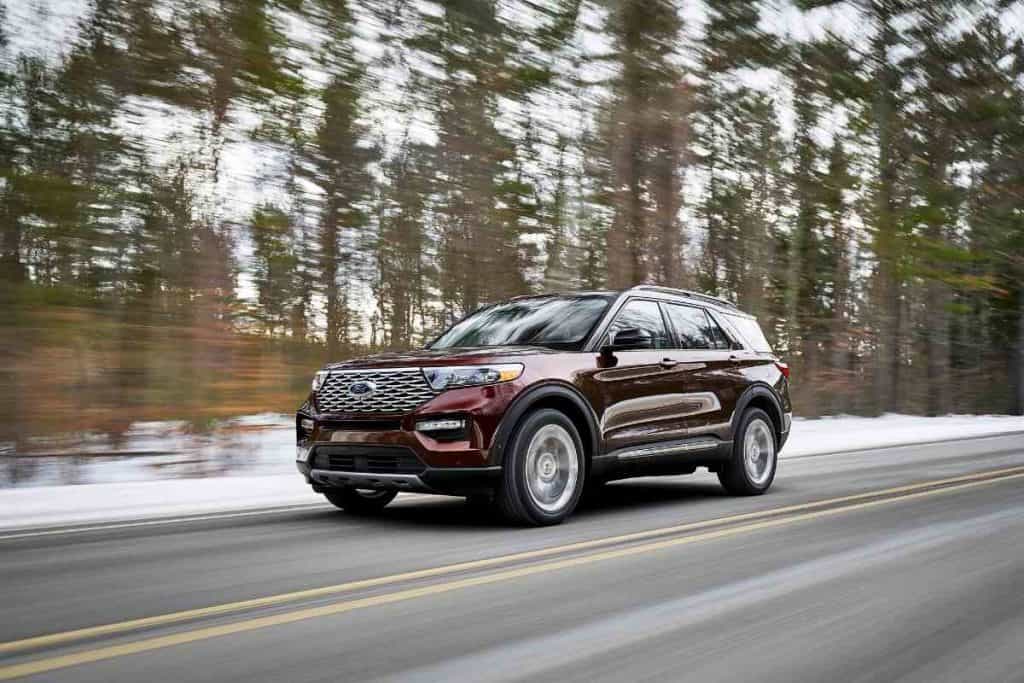 As a driver in the front row, your sightlines are great and the front row of seats generally have a lot of comfort and space to keep things comfortable.
As you move backwards, you'll see that the passengers here are less taken care of. The middle row seems to lose out especially if you compare the Explorer to other vehicles that are a similar size. Folding up your third row of seats is quite easy with the power-folding functionality.
The Explorer works quite well with its basic 8-inch touchscreen displays using Apple Car Play and Android Auto.
The navigation system that is built in to the vehicle is also strong enough to use and the premium audio system sounds fantastic. Another great point for the Explorer here is that with its newer models, you are going to receive access to a lot of safety assistance.
The Explorer has auto emergency braking, blind spot monitoring, and automatic high beams for when you are in a dark and changing environment. All of the safety features listed work pretty well and can help you stay safe when you are among other drivers.
The Explorer is a great option if you need an SUV with a lot of storage. The rear cargo hold can hold a lot of items like sheets of plywood or simply a ton of suitcases.
One unexpected area where the Explorer shines is with some of its cargo areas located in the front of the vehicle. The Explorer is great with holding things all around.
Article Suggestion: Curious about how many sheets of plywood can an F150 hold!
Ford Escape
The Ford Escape is a smaller SUV that has a powerful engine and some nice handling that allows it to drive as well as a smaller vehicle.
If you fold down the rear seats, you'll have 65.4 cubic feet of storage which is an awesome number and is great to use for a smaller SUV that can still handle a lot of work projects.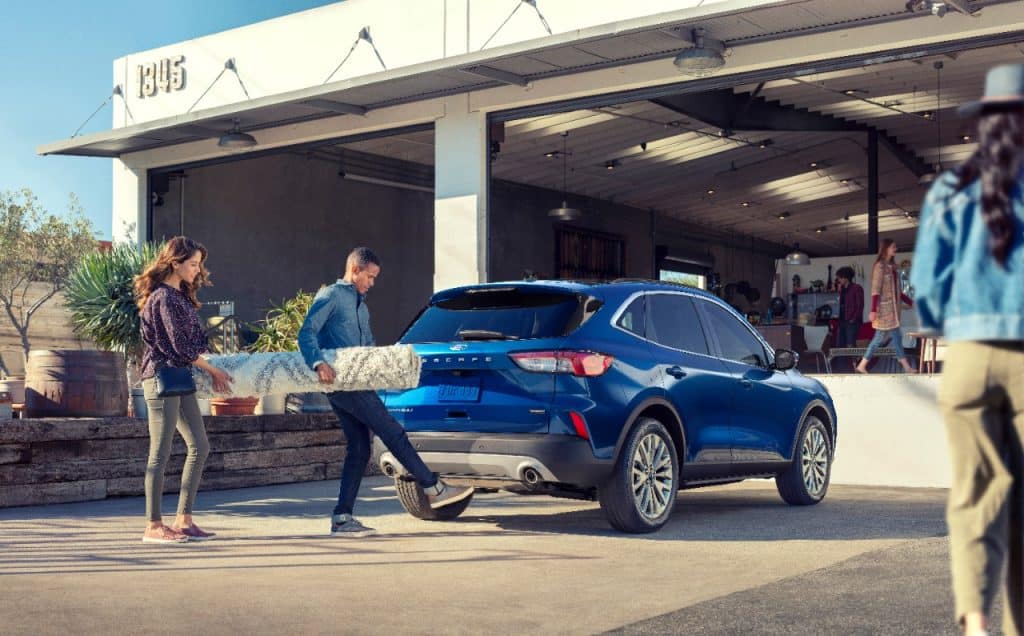 The technical aspects of the Ford Escape are of solid quality. The touchscreen and the safety aids work well together to make sure that the driver of the vehicle stays focus and has all of the information they need to make adjustments easily.
Some of those safety aids really add to the entire package including a useful rearview camera.
Ford Expedition
The Ford Expedition is a great model that was redesigned in 2018. The 2024 Expedition stands out in the full size SUV class as one of the best options, and may even be the very best among these vehicles.
You have your option of a standard wheelbase and the "Max" version which will be nice if you need more room for work projects and hauling different materials like plywood.
The engine is quite powerful and allows for the Expedition to be the size it is while driving with a sporty feel. The Expedition loses some off-roading capability, especially with the longer "Max" package; however it is a capable vehicle that can do a lot of hauling whether your goal is to carry passengers or cargo.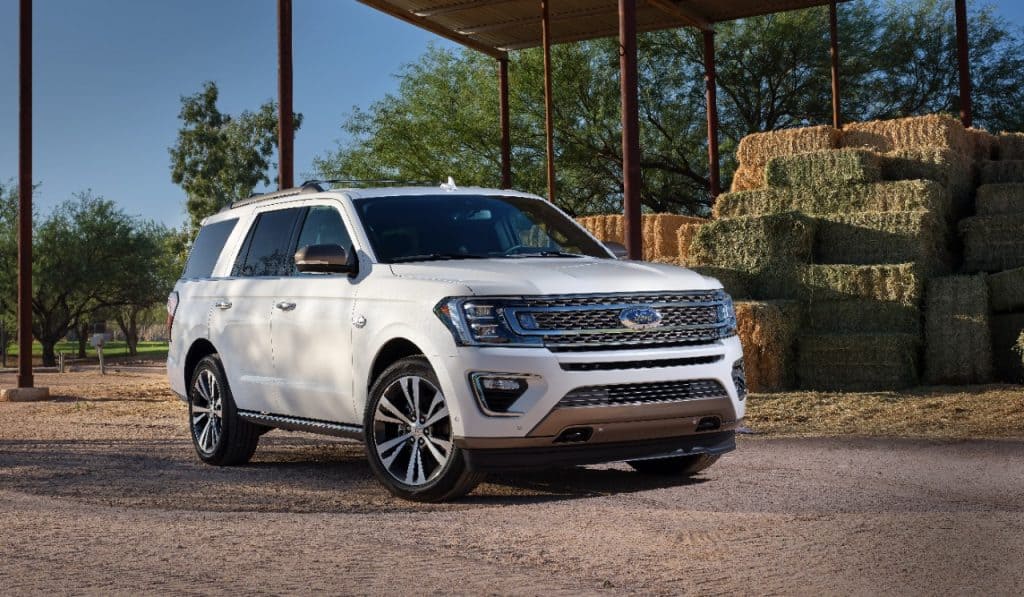 One of the biggest benefits of the Expedition is that it allows people to get to all of the seating areas easily. Many SUV's that are this size will cause people problems when trying to get to the back third row of seating, however this model does a nice job and most adults will feel comfortable "climbing" into the back.
It's easier to drive the new Expedition due to the backup camera and the 360 degree camera that let you see behind your vehicle even though it feels quite far away when driving. The 12 speaker audio system is a nice touch that allows all of your passengers to hear the audio clearly no matter where they are sitting.
If you are looking for a nice SUV that can bring a lot of cargo or passengers, the Expedition is a nice choice. There's no doubt that it can fit a 4×8 sheet of plywood.
Toyota Sequoia
The 2024 Toyota Sequoia comes with a complete redesign, which is a positive aspect, as it used to feel outdated. With a new engine, and an upgraded interior, the new Toyota Sequoia is sure to surprise SUV fans.
One of the most critical aspects of the new Sequoia is the inclusion of a new powerplant. Toyota ditched the 5.7L V8 and opted for a 3.4L V6 hybrid putting out 437 hp.
Fordunately, this new Sequoia gives lot of people what they are looking for in a three row full sized SUV. The Sequoia has five trim packages available, so you should be able to customize this vehicle to fit your needs.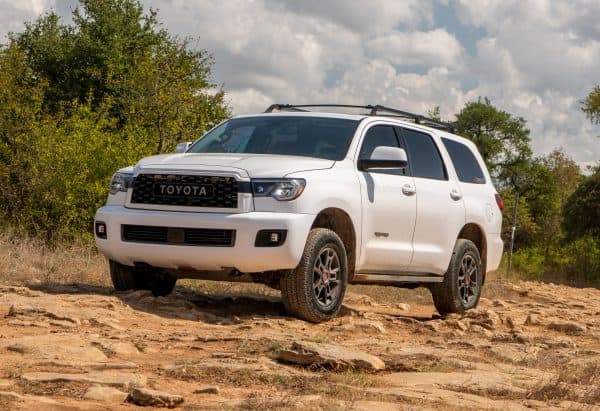 It's also got a lot of space so those work projects where you need to bring bigger items should be fine as well. However, the 2024 Sequoia has one big drawback.
While its hybrid engine improves your miles per gallon, the batteries are in the way of more cargo. So, whenever you're trying to load up on stuff, you will notice a smaller space in the back.
Overall, the Sequoia offers a comfortable ride and actually has some decent off-roading chops, so it makes sense as an all-around vehicle that does some things right and will give a lot of consumers the size that they are looking for.
Honda Pilot
The Honda Pilot is a vehicle that has a roomy interior with a lot of important cargo space in the back. It also offers an extremely smooth ride that will keep passengers comfortable.
It's got some nice fuel mileage numbers that keep it friendly towards those trying to keep their budget down, and the storage that is found in the Pilot can be optimized to allow for a lot more space than it should hold.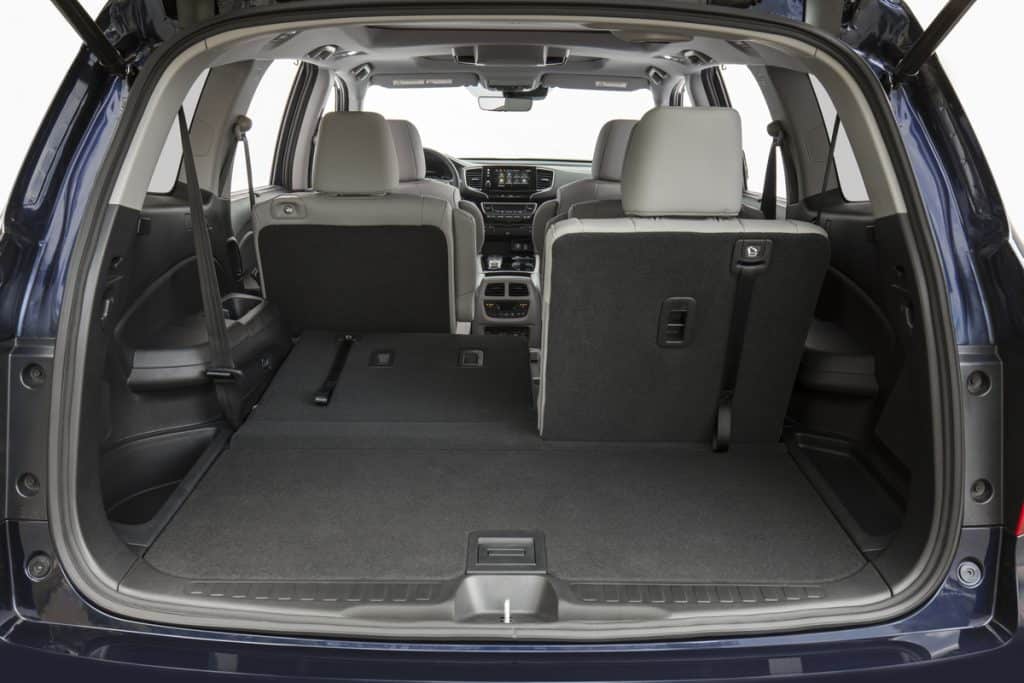 It can be a bit hard to get back to the third row of seats, however the Pilot is a solid offering overall. So, for the 2024 Honda Pilot, 4×8 plywood sheets shouldn't be a problem.
The Pilot's biggest selling point is its comfort during a trip. It's a very quiet ride, even with a V6 engine at the front and the climate control works very well to combine for a vehicle that feels good in all conditions.
There are worse options if you were to look at other Midsize SUV's, especially when consider three row models.
Honda Odyssey
While the Honda Odyssey is a minivan, it could definitely appeal to people who need to complete work projects or haul plywood. The extra space means that you'll be able to get supplies into it easier.
The safety and tech features stand out on the Odyssey to give consumers a true modern driving experience that makes them feel like they are almost in the future.
Toyota Sienna
The Sienna is another minivan option that may be interesting to those looking to carry bigger supplies like plywood.
It's got a strong engine that makes it faster than most minivans. It's also got all-wheel drive which is a huge boost to driver who are concerned about driving a minivan like this in adverse conditions.
Honda Ridgeline
The Honda Ridgeline is actually a pickup truck, but because it has some SUV tendencies, it gets included here.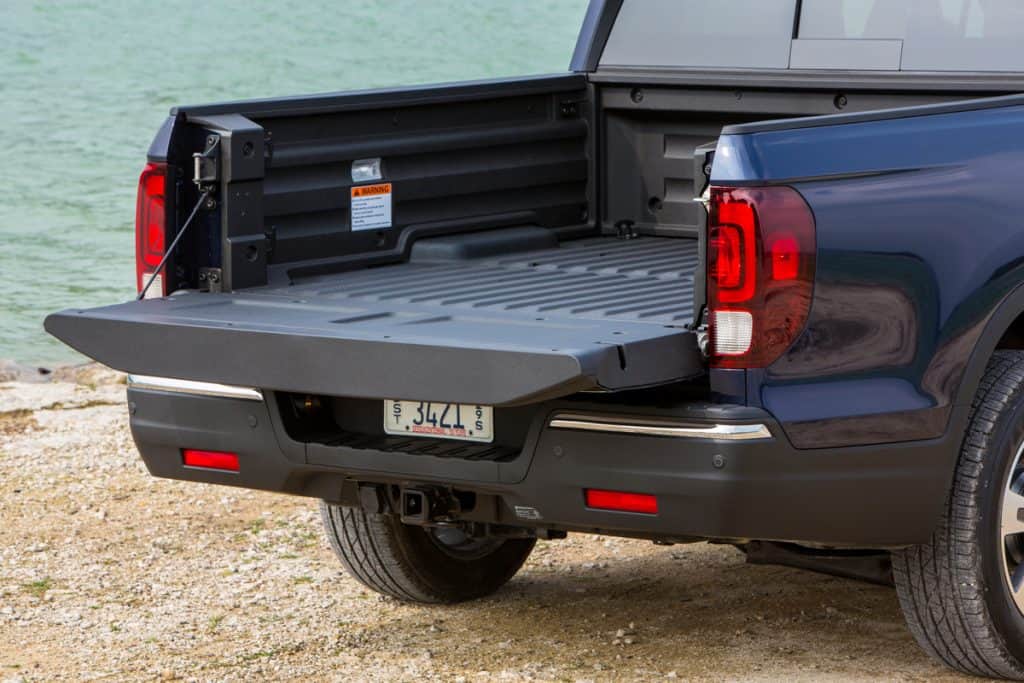 This is just an idea that you may want to consider because it will be so much easier to haul work supplies around in.
The handling and the all-wheel drive found here are top of the line, so you get a truck that handles quite well.
More Reading: Can you fit a 4×8 sheet of plywood in a Dodge Durango?
FAQ
Will a 4×8 sheet of plywood fit in a Tahoe?
There are models of the Tahoe that plywood does not fit into, so you should probably be careful if attempting to do this and take a tape measure to your vehicle to get an exact measurement.
Will a sheet of plywood fit in a Ford Explorer?
Yes, the new models of the Ford Explorer should be able to carry a sheet of plywood without too many problems. The Ford Explorer has got a lot of solid qualities that make it a good option for those needing to carry both passengers and cargo frequently.
Can you fit a sheet of plywood in a Ford Escape?
Generally speaking, the Escape can carry a sheet of plywood although you may have to use a diagonal fit. It would also be much easier to use a roof rack or hauler to help make the job easier for yourself.
Will a Toyota Highlander take 4×8 plywood?
Some models of a Toyota Highlander will have trouble with sheets of plywood, so you should measure your exact model.
Will a Toyota RAV4 take 4×8 plywood?
Since it's so popular, it's common for people to ask: can you fit a 4×8 sheet of plywood in a Toyota RAV4? The fit may be a bit tight with the Toyota RAV4. You should consider your exact model and make sure that the length is long enough as that might give you problems.
Will a Honda CRV take 4×8 plywood?
Generally speaking, no you will probably need a roof rack or other hauling item to be able to haul sheets of plywood with a CRV.
What SUVS Can Carry a 4×8 Sheet of Plywood?