Toyota 4Runner Towing Capacity | Campers, Boats, Trailers
This post may contain affiliate links. As an Amazon affiliate, I earn from qualifying purchases.
If you own a Toyota 4Runner or are thinking about buying one, you probably want to know what kind of towing capacity it has. One of the great features of a Toyota 4Runner is its ability to go off-roading, which gives you the power to go on some amazing adventures throughout all the beautiful national parks our country offers.
But, when going on grand adventures, sometimes it is nice to bring along a camper, boat, or trailer, so that you may really take full advantage of everything the great outdoors has to offer. So, what is the Toyota 4runner towing capacity?
What is the towing capacity of a 4Runner?
What is the towing capacity of a 4Runner? A Toyota 4Runner has a towing capacity of at least 5,000 pounds depending on your trim package and year.
Now, you may be wondering, "what all can I tow with that capacity. And, what all do I need to consider when choosing the right camper, boat, or trailer to bring along?"
If you need to know more about Toyota 4Runner towing capacity, keep on reading. We are going to tell you all about 4Runner towing capacity and what you need to know to do it safely.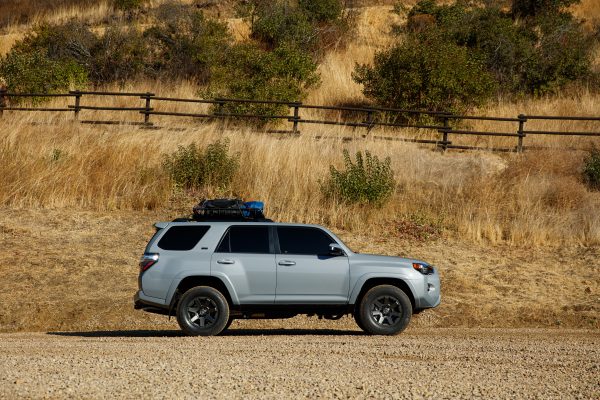 What Can a 4Runner Tow?
A Toyota 4Runner is a great vehicle for bringing what you need for your next great adventure. You can bring up to 4 passengers and a driver, making it the perfect vehicle for a family of 5.
It has plenty of storage space, and a standard V6 engine can tow up to 5,000 pounds. Better yet, the Toyota 4Runner V8 towing capacity is up to 7,300 pounds.
With this amount of 4Runner towing capacity, you should be able to tow small boats, campers, and trailers with ease.
What Campers Can A Toyota 4Runner Tow?
A standard Toyota 4Runner with a V6 engine is able to tow small campers. Campers that are lightweight enough include Airstreams. A Toyota 4Runner with a V8 engine is able to tow larger trailers, including some 5-wheel models.
You will need to consider the dry weight of the trailer vs the weight of the gear you are planning on towing inside.
The gear should weigh more than a few hundred pounds, but if the dry weight is exactly 5,000 pounds, it is going to be too heavy to tow with a V6 engine.
You should also make sure to factor in the weight of water, for instance, if your Camper comes with a well for freshwater.
A good rule of thumb is to add 1,500 pounds to the dry weight of your trailer to estimate the wet weight. You will have lots of wiggle room with that amount of added weight.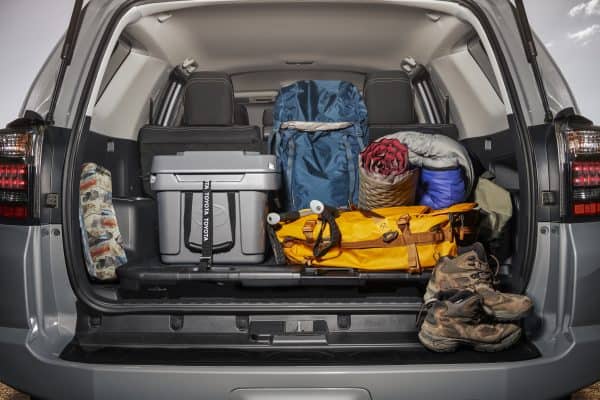 Best Camper For a V6 Engine
Mantis Camper
The mantis camper is a great little camper for a family. It has a full-size bed on one side, and bunk beds on the other side, making it a good fit for a family with two kids.
The dry weight is 2,800 pounds, so you won't need to worry about towing it behind a Toyota 4Runner with a V6 engine.
This camper trailer is 18 feet long and is inspired by NASA, so you can bet the use of space is extremely efficient.
It has both integrated plumbing and electrical systems, so you will have all the comforts of home while you're taking a break between hiking and mountain climbing.
Best Camper For a V8 Engine
Grand Design Imagine
With floorplans starting at 5,000 pounds dry weight, the Grand Design Imagine camper trailers are a great fit for a Toyota 4Runner with a V8 engine.
These luxurious camper trailers are lit with LED lights and even have motion sensors. Pretty cool, right? This camper really has it all.
There's even a pullout storage area for your pet's food and water bowls.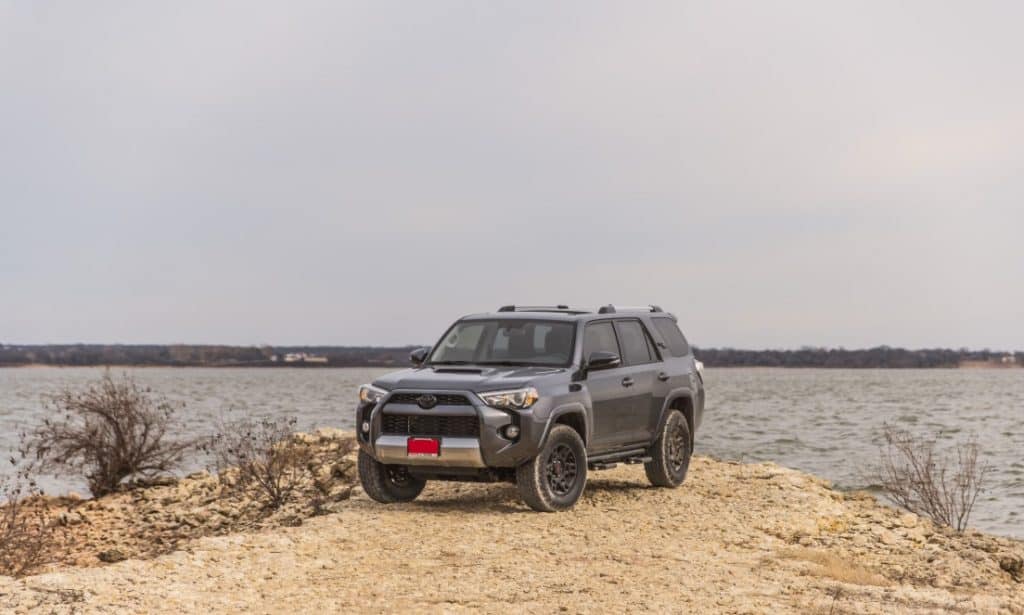 What Boats Can A Toyota 4Runner Tow?
As with campers, a Toyota 4Runner V6 can tow a small boat, whereas one with a V8 is able to tow a slightly larger boat. You do need to be concerned with dry weight here, as well.
With boats, you will need to factor in the weight of the trailer the boat sits on top of, the weight of the full for the boat, as well as any gear and water that is going to be stored on the boat.
It is safe to use the 1,500 pounds of additional weight rule here, as well.
Best Boat For a V6 Engine
Boston Whaler Montauk
This boat is a classic deck boat with a lot of style. With the engine, it clocks in at a little under 3,000 pounds dry weight, which means your Toyota 4Runner won't have a problem towing it with a V6 engine. This boat holds a win from the Best of Boats International Awards.
The Boston Whaler has four rod-holders for fishing trips with the family, hydraulic steering, and plenty of storage.
It really is a great and classic little boat that will bring your family years of fun when maintained properly.
Best Boat For a V8 Engine
Stingray 250CS Mid-Cabin Cruiser
With the extra towing capacity of a V8 engine, you can easily tow a nice cabin cruiser behind your Toyota 4Runner.
The Stingray 250CS is a great model to start with.
This 24-foot boat has a 66-gallon fuel tank and can fit up to 10 people! You can load up a whole other 4Runner and fit everyone on this boat. Pretty cool, right?
With a dry weight just under 5,000 pounds, your 4Runner won't have a problem towing this beautiful boat.
What Travel Trailers Can A Toyota 4Runner Tow?
If you are simply looking for a trailer to tow extra gear and don't need all of the luxuries of a full-blown camper, there are plenty of travel trailers that will be light enough to store a lot of gear and still get you where you need to go.
Travel trailers may not be as flashy as campers, but they are certainly capable of being more rugged, which may be exactly what you're looking for when you're the owner of a Toyota 4Runner
Best Travel Trailer For a V6 Engine
Taxa Tiger Moth
With a dry weight just a little under 1400 pounds, the Taxa Tiger Moth will let you haul a whole lot of gear while also giving you a no-frills refuge from the elements when you need it.
If you are looking to hit the trails and travel far off the grid, and you need a travel trailer that can keep up with your Toyota 4Runner, this is the travel trailer for you.
Best Travel Trailer For a V8 Engine
Camplite CL16DBS
With a dry weight of just over 3,000 pounds, the Camplite is an easy fit for your V8 engine.
This trailer is outfitted with a sleek design, bright colors, and durable materials, so you won't have to worry if you get into rugged terrain. This trailer has a toilet, a shower, plenty of storage space, two stovetop burners, a refrigerator, and more.
There is plenty of space to store your gear inside while you drive, and optional outdoor spaces to really make your trailer feel like home while you're on the go.
If you and your partner are wanting to spend more time together outdoors, this trailer has an ultra-comfortable and roomy queen-sized bed, a luxury most travel trailers do not have.
If you have kids, you can convert the dining area to extra sleeping space if you need to on a particularly rainy night where they aren't wanting to sleep in the tent you set up for them.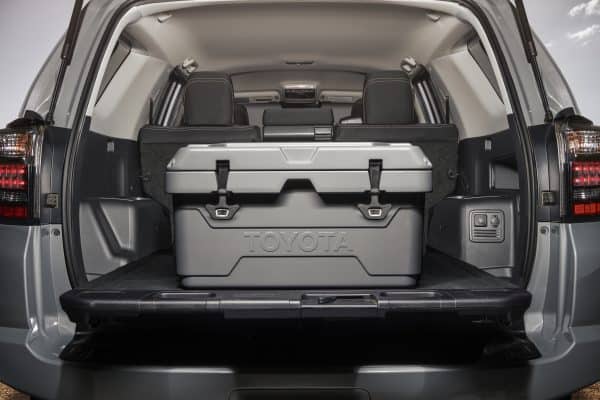 What Do I Need To Know To Tow Safely Behind My Toyota 4Runner?
Towing behind any vehicle carry's it's risks, so it is always important to ensure that you are towing your camper, boat, or trailer behind your Toyota 4Runner safely. If you follow these tips, you will be well on your way to towing behind your Toyota 4Runner without running into any issues, whether you have a V6 engine or a V8 engine.
Carry a spare tire for your trailer.

While most of us off-roaders carry a spare tire for our Toyota 4Runner, we may forget that something could befall one of the tires on our trailer, as well. Whether it is for a camper, a trailer, or for your boat trailer, having a spare tire is always a good idea.

Install safety chains under the hitch in case it ever disconnects.
Try to keep your speed below 55 mph in order to have more control.
Inspect your brakes.
Set your tongue weight.

Your tongue weight should be set to 10 to 15 percent of the total weight of what you are towing.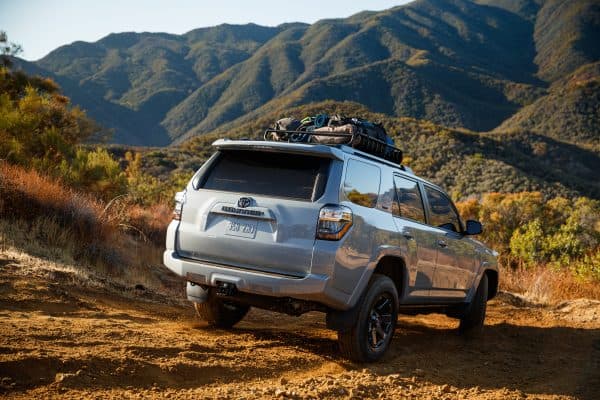 Popular 4Runner Accessories
Last update on 2023-09-20 / If you click this affiliate link and make a purchase, we earn a commission at no additional cost to you.