10 Reasons Why Toyota Tacomas Are So Expensive!
This post may contain affiliate links. As an Amazon affiliate, I earn from qualifying purchases.
Toyota has been known for producing cost-effective vehicles over the years, however, this cannot be said for the Toyota Tacoma, whose price would cause a dent in your finances. Their pricing is solely dependent on Toyota's marketing strategy that targets car enthusiasts with a love for off-roading.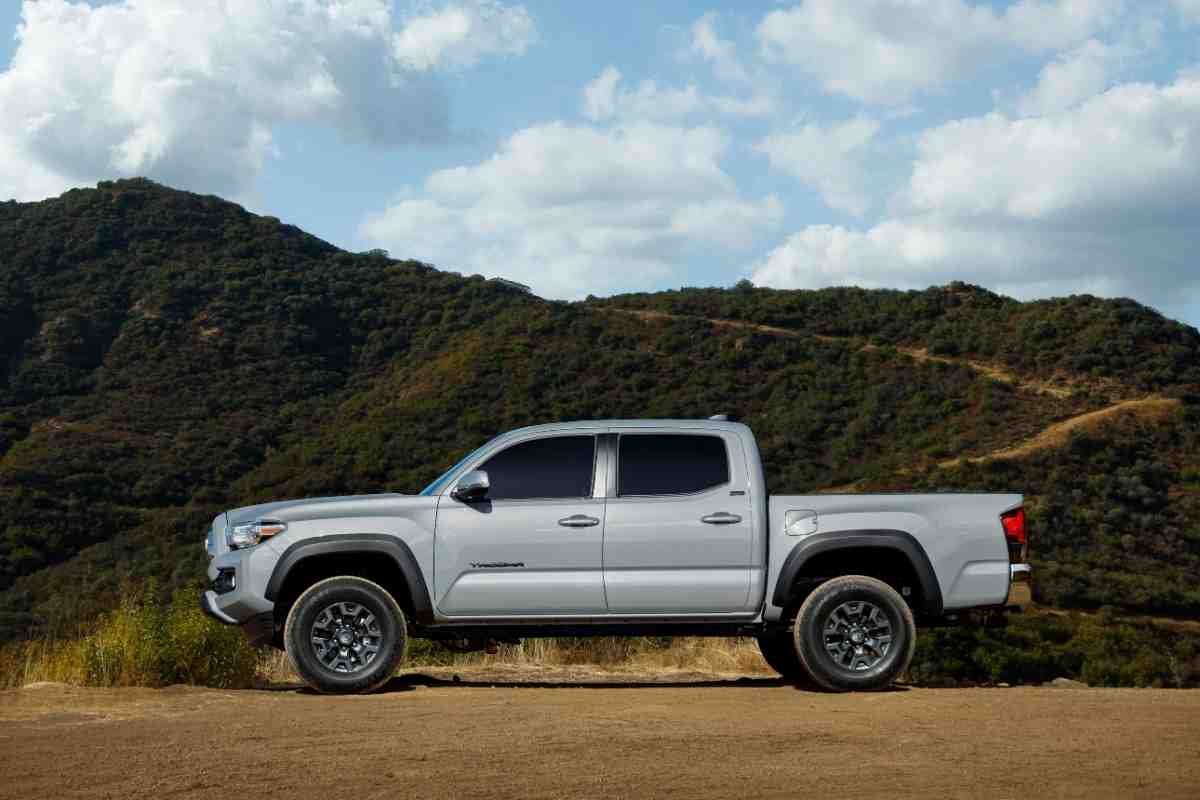 Table of Contents
Why are Toyota Tacomas So Expensive?
Toyota Tacomas pickup trucks are so expensive because they last. Tacomas are known for providing their owners with years of low maintenance reliability. As a result, Tacomas hold their value and have created a passionate owner base over the years.
Tacoma's high prices are closely attached to owner enthusiasm associated with driving this Mexican-American made pickup truck. Tacoma's were originally rolled out as compact pickups in 1995, receiving high ratings within the consumer market over the consequent years. Built for off-road trips, the vehicle also boasts modern and advanced infotainment and safety systems, further increasing its price.
The 2021 Toyota Tacoma has received a large welcoming in the car world, receiving an overall rating of 7.2 against 10. Ranking third place among its compact pickup peers. Tacoma also has a high consumer rating on performance, safety, and interior averaging 6.4/10.
This off-road machine comes with an exceptional towing capacity of up to 6800 kg and a maximum curb weight of 4550pounds attached to a high-performance auto transmission V6 engine to back it up. This power comes in handy when looking to attach your trailer or caravan for that long-awaited weekend getaway. This vehicle's market dominance is solely based on Toyota's reputation to produce high-performance heavy-duty vehicles.
Below you'll read about some history, the reviews, and tons about the Tacoma performance rates. We believe you'll begin to understand the price range once you've had all of the information presented to you, so let's dive right in.
#1 – Toyota Tacoma Price Range & Warranty
Anyone looking to buy a car looks for a cost-effective vehicle, a machine that is worth paying for. The Tacoma is a cost-efficient vehicle starting at $26,150, with the high-end versions going up to $44,075. The American market has several dealers; hence there is a constant shift in the price range, this being said, check for price listings offered by multiple deals to get the best deal.
Every vehicle by law needs to have an insurance policy. Taking insurance out on your Tacoma is no different from every other vehicle and has factors influencing the rates charged. The most basic is the level of coverage you want, total deductible income, and insurance type. The Tacoma offers two different warranty deals for their customers. The 3-year-36000-mile basic warranty and the 5-year-60000-mile powertrain.
In this section, we need to dig deeper into Tacoma to understand what sets this vehicle from others in its category, what makes it the logical choice, and what makes it so expensive.
#2 – Toyota Tacoma Performance
Engine – For the full experience, most customers have a partial preference for the intelligent six transmissions 3.5-liter V6 engine. This version beats the 2.7-liter four-cylinder version with its 278 horsepower against its competitors 159. This engine gives the Tacoma more accelerating speed and power.
Fuel Economy – Tacoma versions with the standard engine cover a maximum of 20 miles per gallon within the city and 23 miles per gallon on the open road. Compared to the standard engine, V6 engines consume more gas covering only 19 miles per gallon within city roads and 24 miles per gallon on the open highway. 
#3 – Toyota Tacoma Reliability 
It takes a lot to earn the ranking for the most reliable midsize truck in the US, and getting second place is also worthy of recognition. In the latest iSeeCars study, the Toyota Tacoma ranked the second-most reliable midsize truck in the US, trailing only the Honda Ridgeline. However, while the Ridgeline is a dependable truck, the Tacoma has the upper hand regarding offroading ability and clearance.
That study isn't the only one where the Tacoma ranks high in reliability. Reputable websites such as Consumer Reports have recommended Tacomas for several years, including 2021, 2020, and 2018 all the way back to 2005. As you can see, reliability has been at the Tacoma's core, and a reliable vehicle is often expensive.
#4 – Toyota Tacoma Resale Value
If there ever is a brand that can boast about its reputation, it's Toyota. Be it the Tacoma or practically all the other models, people associate the Japanese automaker with an excellent track record in reliability. This, at the same time, means that people are willing to pay more for them, even if they're used.
The Toyota Tacoma will depreciate 32% within five years, while the average new car loses 50% of its value. That's a whopping difference that's hard to beat, and, on top of it all, it's not a secret. Dealers and individual sellers know this truck can command a high resale value. So, those looking to buy one must be ready to pay more.
#5 – Older Toyota Tacomas Are More Reliable
In a seemingly contradicting behavior, it's common for older Toyota Tacomas to be more expensive than the newer models. How come? It's all due to a critical generational change with the 2016 model.
While aspects such as the frame and suspension remained practically the same, vital components such as the engine saw significant redesigns. Plus, the bodywork had gone through changes as well. The result was a decline in reliability that has been steady and consistent throughout the years.
In fact, the latest Toyota Tacoma is one of the lowest rated ever by Consumer Reports. So we are at a critical point when it comes to Toyota. It can work hard to fix these issues, or it could face damaging the Tacoma's reputation, one that has held firm for the past decade, or even more.
#6 – Toyota Tacoma Spares and Repairs Are Not Expensive
A vehicle is reliable, but that doesn't necessarily mean that spares will be cheap. Some brands have excellent reliability, but a single spare part, or repair, can set owners back thousands. Fortunately, in the case of the Toyota Tacoma, this isn't a reality.
Some studies show that the Toyota Tacoma is cheaper to maintain than the average midsize truck by a wide margin. So while prices have increased in recent times, you can still find the maintenance for a Tacoma to be $200 cheaper than its competitors, on average, per year. So, it has many things in its favor. First, it's a very reliable truck, then, spares are cheap. So, this only means one thing: prices increase with ease.
#7 – Toyota Tacoma Off-Road Performance & Handling
Tacoma has a smooth and responsive steering system that is easy to handle. The TRD Off-road and the TRD Pro trim are the best choices for the rugged terrain. This is due to customized suspension and shock absorbers, a locking rear differential with skid plates. These features help you have a smooth and thrilling ride.
One of the main reasons why people love Tacomas is because they can go anywhere. Well, almost anywhere. With excellent ground clearance, angle of attack, and a powerful engine, the Toyota Tacoma is as versatile off-road as it is on the highway. Plus, if you opt for packages such as the TRD or TRD Pro, you can get more features to help you tackle the most challenging terrain.
There's also an added benefit to the Tacoma's reputation, and it's that you will find many big names, such as ARB or TJM, that have designed an assortment of mods for it. So, it's easy to fit newer components to make it even more capable. All the while, you know it's a reliable platform to work with.
#8 – Toyota Tacoma Towing Capacity
Toyota Tacoma's strength speaks for itself when it comes to towing capacity. This incredible machine outshines its peers with a towing capacity of 6800 pounds and a maximum payload of 1685 pounds.
#9 – Toyota Tacoma Interior Features
Cargo space – The Tacoma series comes with two-bed versions, a 6-foot-1-inch or a 5-foot-1-inch bed. Both versions are fitted with a standard inner bed with adjustable tie-downs.
Passenger seating – Access Cab versions have a maximum seating capacity of four, while the double cabin can hold up to five passengers. The standard power-adjustable driver's seat allows the driver to find a suitable driving position.
Infotainment system navigation guide – The friendly infotainment system is fitted to all Tacoma versions. This system comes with a 7-inch display touch screen that displays the applications featured on the vehicle. The vehicle comes with modern navigation software linking the driver's smartphone to the display touch screen for better navigation.
#10 – Toyota Tacoma Safety Features
The Toyota Tacoma has one of the highest safety ratings receiving an average of four stars out of five from the National Highway Traffic Safety Administration. The 2020 Tacoma has received the highest ratings of Good in the IIHS crash safety test.
The vehicle is fitted with standard modern safety technology like:
Pedestrian detection system
Forward collision warning
The automatic forward emergency braking system
Cruise control system
Rear sensors for cross-traffic and parking
360-degree monitoring cameras.
When shopping for your Tacoma, we suggest the Access Cab SR with a V6 engine, rear-wheel drive, and a maximum tow capacity. Of all the Tacoma models, this is by far a feature of the Tacoma series's best qualities.
The Toyota Tacoma series is a good choice and definitely worth the hype. With new and improved features, the vehicle can meet your off the road and towing needs as you relax comfortably with an advanced infotainment system. Speaking about it is not enough to give you a deeper insight into the vehicle's specs.
Schedule a test drive with your local Toyota dealer to try out the various features the Tacoma has to offer. Technology has developed virtual test drives that give you a chance to experience different models in a short time before even getting into any vehicle. Schedule an online test drive for the different models under the Tacoma to get a full overview as to which model best fits your needs.
Toyota Tacoma Reviews
Most car manufacturers depend on market research and reviews to determine their vehicles' performance on the market. This can be said about Toyota who has established an elaborate system to help collect data and reviews from consumers. It is not enough to gauge your performance alone but to equate your graph to similar category vehicles on the market.
Toyota has collected and analyzed reviews on all models released at par with the Tacoma to effectively market their vehicle. The company has released the market ratings and reviews on the Tacoma to all potential buyers in line with transparency. This information on the vehicle's performance, dimensions, fuel economy, interior, and features allows the consumer to make an informed choice.
Tacoma's Journey
Since its remodeling in 2016, the vehicle has been undergoing a tremendous transformation with every new release. These added features can also be a reason why the model has been able to retain its price range.
Here are some of the features that have morphed the vehicle into the beast it is today:

With new technological advancement in the motor world in 2018, Toyota adopted several software and features to aid drivers for the Tacoma, making them standard to all the Tacoma models.
2020 came with a hefty gift bag for the Toyota Tacoma series with several upgrades. The model gained features like; Apple CarPlay, Amazon Alexa, Android Auto, and a 7″ touch screen for the upgraded infotainment system. The driver's seat got a tune-up featuring a 10-way-power-adjustable seat. With a multi-terrain monitor, the vehicle boosts the driver's confidence regardless of navigating the terrain.
Things to look for when buying a Toyota Tacoma
While the Toyota Tacoma is a reliable truck, it's not perfect. Some issues have plagued multiple generations, and some are particular to a specific one. For example, some older models, especially those from the late nineties, suffer from extreme corrosion. So, if you're in the market for one of these, perform a rigorous inspection; any sign of rust is a major warning sign.
Then, there are other general issues. For example, with high-mileage vehicles, the transmission can shift roughly or not shift at all.
Whenever buying older Tacomas, check the transmission for smooth shifting and engage the 4WD to see if there are any noises.
Tacomas are known for having throttle position sensor problems. These can cause erratic acceleration and sluggish driving. Check service records to find if they have been replaced and, if so, when.
Fortunately, as we've seen, most of the repairs are manageable. In fact, some of them are common with older vehicles. Plus, many mechanics love working on Toyotas because they're easy and noble. So, don't fear repairs, but at the same, don't buy one with the confidence that it'll go for miles without the proper checkup beforehand.
Closing thoughts:
The Toyota Tacoma is a popular midsize truck that has been with us for decades. It's rugged, reliable, and somewhat basic, but it makes up for the crudeness with the extreme offroad ability and a reputation to boot.
At the same time, this reputation has caused the Toyota Tacoma's value to increase considerably. So much so that it's one of the most expensive used trucks out there. It also holds its value the best, losing only 32% within five years, while the competition averages 50%. Older models are bound to become even more valuable as Toyota goes through a rough patch in its reliability.
There are plenty of reasons Toyota Tacomas are expensive, and we've explained the five most common. These work excellently as guidance when buying your next used Tacoma. We hope that they provide the information you need to make the best purchase for you.
At the same time, you have to be ready to dish out big bucks for one, but when you do, you'll have one of the most reliable trucks out there, and that's priceless.