Can You Fit 33 Inch Tires On a Stock Toyota Tacoma Truck?
This post may contain affiliate links. As an Amazon affiliate, I earn from qualifying purchases.
The Toyota Tacoma is a part of the growing midsize pickup truck market. As a matter of fact, the Tacoma is one of the leaders in this segment of the industry. Toyota has done a great job while offering a lot of variants of the Tacoma which range from a basic work truck to off-road specialized monsters.
Whatever you're looking for, the Tacoma is one of the best well-rounded pickups that is out there on the marketplace today. Toyota has made a lot of improvements in technology and in their new automatic transmission, as well as adding some downward facing cameras.
However, some people are always going to want to improve on the model offered by the car manufacturers.
One popular custom upgrade is increasing the size of the tires on your pickup truck. Whether it's a cool new look or simply improved performance from their wheels, people have their different reasons for trying to make sure these upgrades will work the right way.
So, will 33 inch tires fit on to the stock Toyota Tacoma? Let's find out:
Can You Fit 33s on a Stock Tacoma?
You are going to have to make some modifications if you want to fit 33-inch tires on to a stock Toyota Tacoma. You would probably be able to get away with a 275/70/17, which is slightly smaller than a 33-inch tire because it is a more narrow tire. However, trying to bump up that 33-inch size is going to require some trim work or some kind of modification to the front and rear fender.
Technically, it is possible but it would be questionable if the effort would be worth the result, especially since you are able to get fairly close to the 33 inch size desired.
Tire Sizes That Fit a Stock Toyota Tacoma Truck
There are a ton of different Toyota Tacoma trucks out on the marketplace, but these are the most common size tires that fit onto the stock Toyota Tacoma trucks:
TIRE SIZES THAT FIT A STOCK TOYOTA TACOMA TRUCK215/70 R15245/75 R16265/70 R16265/65 R17255/45 R18
Generally speaking, that list ranges from 27 inch tires to 30 inch tires. Those are the stock sizes, and you may be able to increase them slightly depending on your model, but if your tires extend too far you are going to be looking at a lot more effort to try and trim the surrounding areas of your truck down.
If the issue of tires has been on your mind when you are thinking about purchasing a Toyota Tacoma, looking over some other information may be able to help persuade you. Keep reading on to learn more about the performance of the car, how it drives, how it is able to tackle off-road obstacles, and so much more!
Driving the Toyota Tacoma
The Tacoma is honestly a pleasure to drive. The steering and handling both perform up to expectations and it is pretty easy to drive in general. The brakes are the exception here, they can be a bit touchy.
The V6 engine found inside the Tacoma is strong enough, but has some room for improvement. The transmission supports the engine and keeps everything running smoothly.
As far as its competition, the off-roading aspect is where the Tacoma is able to stand out and impress consumers. It has great ground clearance that keeps it moving in any environment and the gearing and traction to not get stuck in any kind of terrain.
When moving at low speeds, the brakes and throttle work well together to give you a ton of control and keep you at the helm when you are hitting the trails.
When you look at the inside of the Tacoma, you'll see a model that shows continued improvement in the comfort aspect. The driver's seat is able to be adjusted 10 ways and the seat should keep you comfortable no matter what size or shape you happen to be.
When driving on the highway, the new Tacoma has less wind noise than previous models. It's not the most quiet truck on the marketplace, but it shouldn't leave you dissatisfied.
You could say the same thing about the comfort as far as riding long distances in the Tacoma. It's not as smooth as some other competitors, but it isn't terrible by any means. The controls for the climate system are easy to adjust and should keep you warm and/or cool as necessary.
Inside the Toyota Tacoma
If the Tacoma interior has a cardinal sin, it would be its tall step-in height. If you can get past that issue, or that won't be an issue due to who is riding in your truck, then everything else is going to be quite pleasant for you.
When it comes to the driver's seat, all of the controls are easy to find and intuitive to use. The infotainment screen looks great and almost makes driving easier compared to older vehicles.
The driver's power seat offers a nice level of control as you are able to position it more so than previous models. If you are the one that has to worry about the sight views from that driver's position, you should be pleased with what the Tacoma offers.
You are going to be able to see quite well out over the windshield and through the side windows. On top of that excellent vision rating, you also have a side camera system that is huge when trying to navigate tight spaces or simply get some extra intel when you are on the trail.
When continuing to look at the interior of the Tacoma, you will come to the tech features next. As mentioned, the infotainment system looks great, but you also will get to use Apple Car Play and Android Auto with newcomer Amazon Alexa being built in for the newest models.
These features make it easier to connect devices, and with the reality that many of us need to stay connected even on trips, these systems are honestly necessary for driving in our modern society. An optional feature that is highly recommended is upgrading to include built-in navigation as it just makes it one step easier to get around, especially on roads you aren't too familiar with.
Toyota has always been committed to passenger safety, and this Tacoma comes with some of the best safety features. They have everything that you could hope for in a modern vehicle, from lane departure warnings, to automatic emergency braking, and adaptive cruise control.
They even offer automatic high-beam control which could be seen as more of a convenience than a safety feature, but either way it is going to keep you safer in the long run.
The fact that they offer all of these safety features are a big deal because when you put them all together, you significantly lower the risk of an accident happening. While no one wants to think about worst-case scenarios, it is a good idea to lessen the risk of something bad happening.
Moving to the rest of the truck, we see that the interior has plenty of storage area for smaller items. If you fold the rear seats down, you are going to get better storage space than almost all of the other competitors in the industry. It's easy to install child seats, although larger seats may give you storage problems – that is to be somewhat expected.
The truck bed that the Tacoma has is awesome, to be frank. It's made from a composite material that eliminates the need for a bedliner. It's a combination of fixed and adjustable tie-downs that seems to work intuitively. It's easy to load the Tacoma with a tailgate that opens pretty low. While the 6,800 pound towing capacity isn't as high as others, it should handle most of the trailers that those other "big boys" can handle.
Other Toyota Tacoma Information
The Tacoma has a V6 engine and an automatic transmission that averages 20 miles per gallon with 4 wheel drive and 21 miles per gallon with real wheel drive. Those ratings aren't too shabby for a vehicle that has the usability that the Tacoma offers.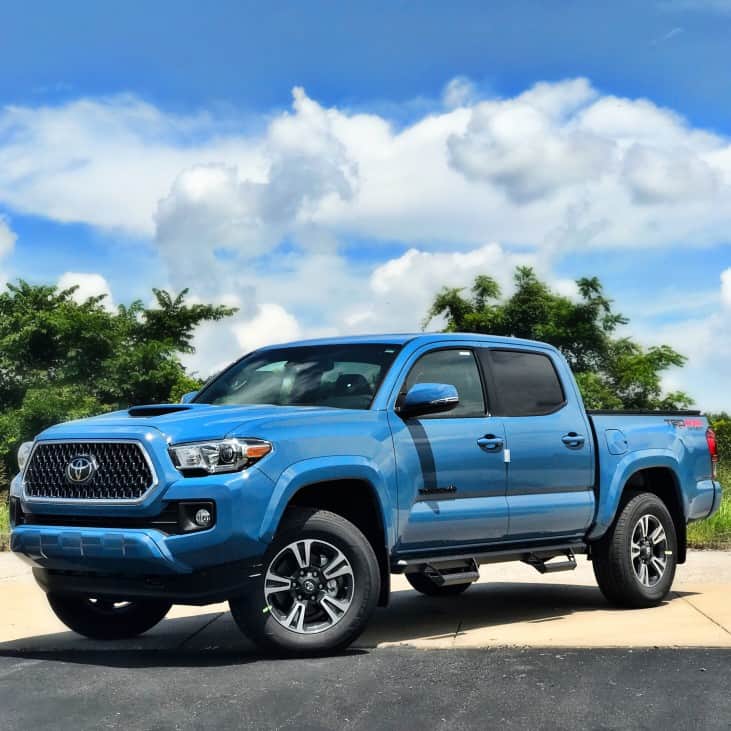 The Toyota Tacoma has six different trim packages that are available. They start with the baseline "SR" package and end with the TRD Pro. These packages are:
SR
SR5
TRD Sport
Limited
TRD Pro
The SR and SR5 are the basic work truck models, the TRD Sport and Off-Road add in some features that let you keep moving when the going gets rocky, and the Limited and TRD Pro are top-of-the line packages.
The Tacoma is going to be great for people who are looking for a quality-made truck that keeps you safe and is able to handle cargo on a working and regular basis.
It's also a vehicle that holds its value quite well because Toyota has been known for their durability over the last few years. The warranty may be lacking behind some competitors, but getting two years of maintenance for free is a nice bonus.
The Tacoma is a great midsize truck for a lot of people. It's one of those pickup trucks that is "not too big, not too small, but just right". It's got some trim packages that offer real off-roading chops and the consumers who buy the Toyota Tacoma tend to become fairly loyal fans.
The truck is a big target for aftermarket sellers because many people want to customize this truck as mentioned above with the tires. It does support a pretty big range of tire sizes, and can even fit 33 inch tires if you are looking to trim back your vehicle a bit.
It's also a dependable and safe truck, so even if you're buying it more "for looks" than for putting it through the hard work each and every day, you'll be able to show it off and when you need to put your truck to the test, you can be sure that a Tacoma will be able to stand up to the test just as well as any midsize truck out there.