Can You Put a Truck Camper on a Chevy Colorado?
This post may contain affiliate links. As an Amazon affiliate, I earn from qualifying purchases.
The Chevy Colorado is an awesome option for drivers who don't need the size or capability of a full sized pickup truck. For a midsize truck, the Chevy Colorado can get a lot done, even carrying a truck camper when it needs to.
One of the great things about the Colorado is that it has a lot of trim packages so that you can decide which features and which options are important to you. While you may not be able to tow quite as much with a Chevy Colorado as you can with a full size pickup; you will be able to maneuver a lot easier with this vehicle.
Can You Put a Truck Camper on a Chevy Colorado?
A truck camper does work with the Chevy Colorado pickup truck as long as the weight limits of your truck and camper work together.
The Chevy Colorado can tow around 7,000 – 8,000 pounds depending on the engine and the trim package that you opt for. While that number isn't quite as high as some other trucks on the marketplace; you can still tow a truck camper with that towing capability.
Read on to find about some of the facts about finding an appropriate truck camper as well as some different models that will work with a Chevy Colorado.
What is a Truck Camper?
A truck camper is basically a trailer that fits on top of the back of your pickup truck. It's essentially a room with a sleeping area that sits over the cab of your truck.
These are RV's that are smaller than most other ones available; however that can be to your advantage if you are driving a midsize pickup truck like a Chevy Colorado. There are a lot of different models available so you should find one that fits your needs for whoever is going to be camping with you.
One beneficial feature to watch for would be with slide-outs and pop-ups. While these features are seen on other RV's from time to time, they are great features if your truck can handle them in a truck camper. These features are going to maximize the space that you have, so you are maximizing space when still driving a truck that can get around anywhere you need it to.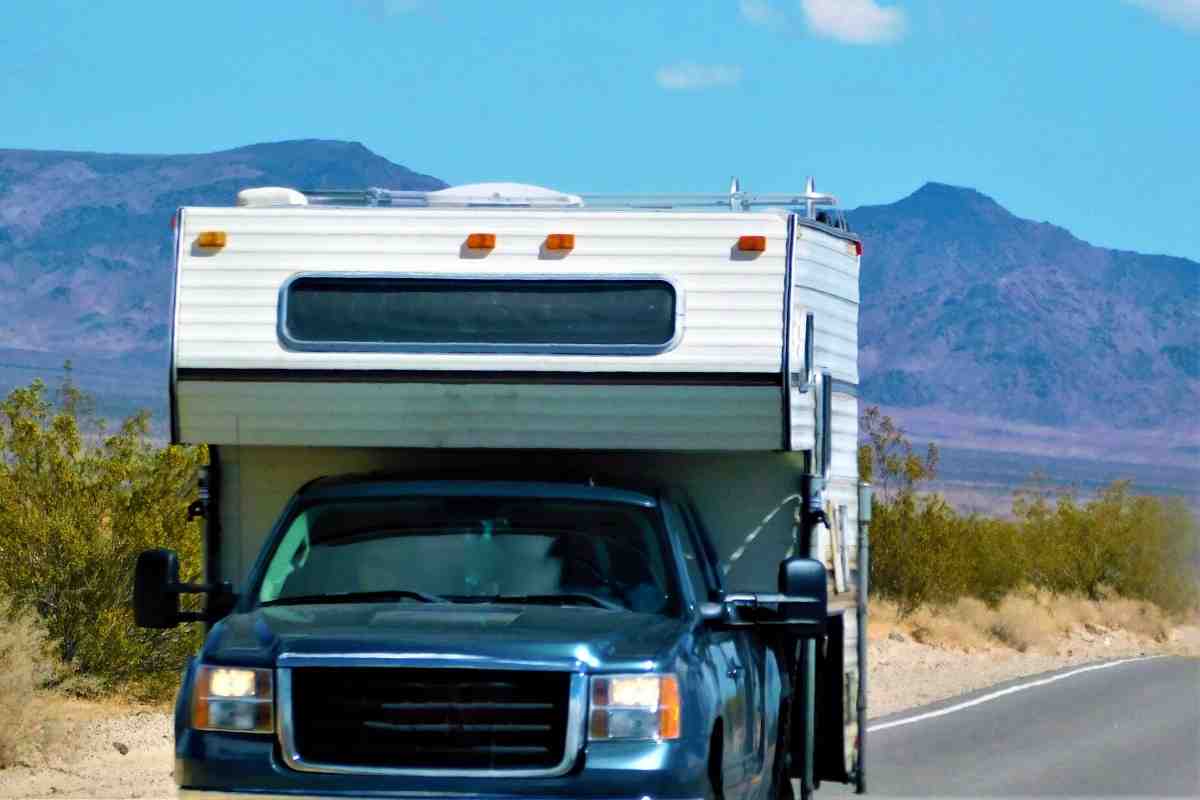 Pop-up truck campers have some kind of soft side so that they are able to expand when parked. Regardless of whether you buy a hard sided model or one that is soft sided, you simply want to find a truck camper that has the right amount of space for you and your needs.
When thinking about size and your truck camper, you should also make sure that you are factoring cargo and equipment into the equation. If your truck camper fits only the people with you inside of it, but you don't have anywhere to put your camping supplies; you are going to be a very sad camper.
How Much to Spend on a Truck Camper?
There is good news for you if you are considering a truck camper for your Chevy Colorado. Truck campers can often be easier to afford than some other RV models on the marketplace.
One big difference in price will be determined by the fact of whether you are buying a new model or a used model.
If you buy a new truck camper, you are going to find models that are usually in the $10,000 range. However, not all models will fit into that price range. Most truck campers feature a double bed along with an extra sleeping area or two.
They'll usually have somewhere to eat and some kind of small kitchen. There is definitely limited space to work with in a truck camper, so you need to know going in to your purchasing decision if the kitchen matters to you, if extra sleeping spaces are important, etc.
If you are looking for the best truck camper that money can buy, you will find a lot of luxury models out on the marketplace. While they may cost up to $50,000, these premium models are the best of the best and they have way more space than other lesser models will have.
When purchasing a truck camper, you should be aware that new models are just like cars in the way that their depreciation starts as soon as you purchase one; meaning it will be worth less as soon as you get it from the dealer. That's just something to be aware of for those trying to plan years ahead.
This idea can lead you to find a great truck camper if you are looking at models that are a few years old, but are taken care of in excellent condition.
If you are buying a new truck camper, you should check it regularly and perform maintenance on it so that your resale value will always be high if you do decide to sell the camper down the road.
Finding the Right Truck Camper
Finding the right truck camper for your Chevy Colorado isn't easy. Here are some great models that should fit with your needs and are awesome offerings from the marketplace.
Four Wheel Camper Fleet
This model is great for adventurers and those looking to spend a lot of time outdoors. The kitchenette area and the queen sized bed are great for those looking to live in comfort when they are out on the trail. On top of that, you also get some options that can modify how these things are laid out inside of your camper.
This model really gets its level of praise when it comes to the ability to add amenities like a porta pottie or an outdoor shower option. These features are so huge for people who want to spend a lot of time out in nature; these features can really extend your stay in the outdoors.
It should be noted that this works best on the extended version of the Chevy Colorado, so you should look into that option if you haven't purchased your vehicle yet.
Phoenix Mini Max
This is a unique truck camper because it features a wet bath. A wet bath means that everything in the shower is going to get wet, so everything is designed to be in one place. For those familiar with campers, these wet baths can actually be fairly convenient when compared to other options (or not including a bath).
Phoenix has a long track record of producing quality campers for people who love adventure, and the Mini Max does a nice job of delivering on that history. The cage frame is aluminum so that the whole model stays as light as possible.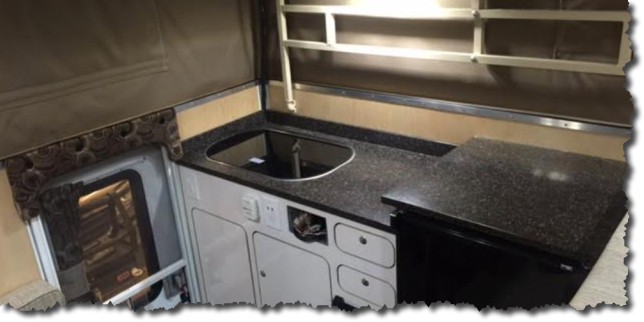 There are a ton of options here which is great for a buyer who is looking to customize their trailer as much as possible.
They even offer the service to paint your camper for you to match your truck if that's something that you desire.
These small attention to details and the vast number of options that they offer can really put the Mini Max ahead of many others for a lot of consumers.
Northstar 600
Northstar is another famous RV model that offers a ton of different varieties on their showroom floor. The Northstar 600 has a relatively large 17-gallon fresh water holding tank that should keep you happy for longer trips.
The model has a queen size bed and comes with a refrigerator that has 3.7 cubic feet of storage. All of that fridge space is important because keeping food fresh out in the wilderness can be quite a problem.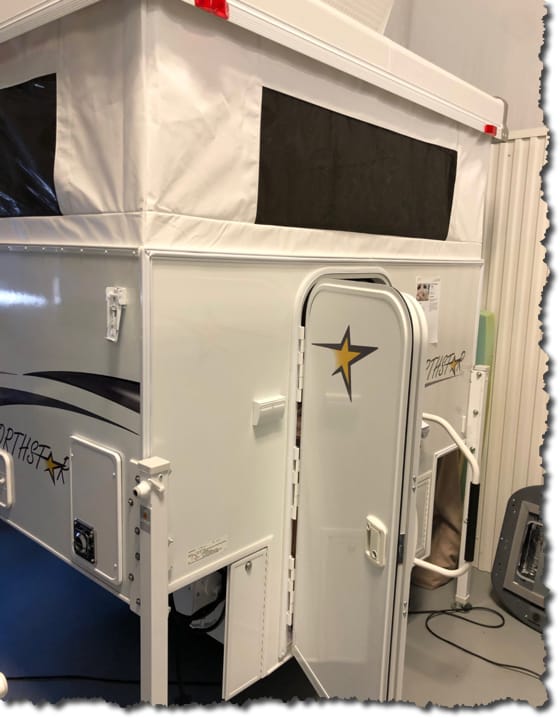 Many people who order the Northstar 600 love the mattress quality found inside of this truck camper. It is definitely a nicer version than some offer, it's a memory foam mattress that feels great to sleep on and should put this model high on your list if you are worried about your sleeping comfort.
For those looking to camp in cold weather, there is also a "Sub Zero Package" that will allow you to have a bit more insulation from the brutal cold. It insulates your wall, your window, and the sleeping tent.
It's a great model, especially for those in colder climates, that measures out to be just over 6 feet which should allow Chevy Colorado owners to use it comfortably.
Putting a Truck Camper on a Chevy Colorado
You should be cautious when buying a truck camper to make sure that your purchase both fits your Colorado and fits your needs and your budget.
Consumers should definitely pay attention to their truck's payload and towing capacity ratings when deciding on an RV to buy because that will affect which models you can successfully take down the road and which ones will become dangerous for you.
At the end of the day, you need to make a purchasing decision that you are comfortable with, so be sure to look at as many options as possible and try to find a model that works for you, with a lot of great options, just like one of the ones listed above.