What Truck Camper Fits a Toyota Tacoma?
The Toyota Tacoma is one of consumers' favorite midsize trucks. While there are a lot of trim packages that can customize the Tacoma, no matter what variation you have, you probably have thought about putting a truck camper onto your truck.
If that's the case, you need to find a model that fits for you. Not all models are right for everyone, and you'll need to look for the model that fits you and whatever outdoor adventures you are headed for appropriately.
The Toyota Tacoma has a similar payload to most other trucks that are around its size, it can hold between 1,100 pounds and 1,600 pounds depending on the model that you have and what trim package you have.
What Truck Camper Fits a Toyota Tacoma?
There are a lot of awesome truck camper models that fit the Toyota Tacoma. Here are some of our favorites:
Bobcat by ATC
Go Fast Campers (GFC)
Bundutec Topi
Four Wheel Camper Fleet
Outfitter Caribou Lite 6.5
Northstar 600
Phoenix Mini Max
While these are models that can definitely work with a midsize pickup truck like the Toyota Tacoma; you should do in-depth research to ensure that both your truck camper and your truck are good fits for your hauling setup.
You definitely want to be on the safe side when creating your Tacoma's truck camper rig. Let's break down these 5 models and see what you have to look forward to!
Bobcat by ATC
The Bobcat is the smallest trailer that ATC makes. One great thing about the Bobcat for Tacoma owners is that it weighs in with a fairly low dry weight at around 800 pounds.
While you will still have to do the math for your own setup, this should put you in range that keeps you safe.
The floorplan has a nice design with a kitchenette on the driver side and a flip out sofa on the right side of the truck.
The Bobcat is a nice model for people because it has a lot of standard features to keep you comfortable.
It's got a stainless steel sink and a two-burner stove which makes you feel a bit closer to home on the road.
The build is made from aluminum which helps to keep it durable but also leads to a lightweight design that should keep your Tacoma maneuvering fairly easily.
The Bobcat also comes with a 5 year warranty so you know you are buying something that the manufacturers at ATC have a lot of faith in.
Go Fast Campers (GFC)
This is probably the most unique truck camper on the marketplace right now for midsize truck owners.
It really puts a different spin on what to expect from a truck camper. For some people, that will be a turn-off, but others may be drawn to the unique design.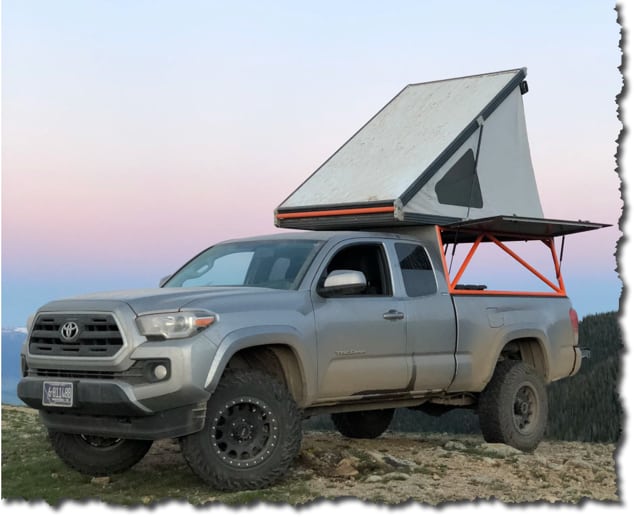 The design is actually modeled to feel like a cabana which adds a feeling of space to wherever you are.
Many campers can have a claustrophobic feeling, but the GFC fights against that by having an open-concept kind of idea in their camper.
However, when you need to take shelter from a storm or you need your privacy, the GFC handles those needs as well. You don't necessarily have to be out in the open all of the time.
When using the GFC, you don't limit your truck to being something that's incapable of doing work or getting around.
It's the lightest camper on our list, so you should be able to take this anywhere even if you are looking to get on an off-road trail.
The GFC can weigh as little as 275 pounds which is quite amazing, especially when you compare that to other numbers on this list. The design won't be for everyone, but for a certain kind of customer this is a very intriguing option.
Bundutec Topi
On the other hand, the Bundutec Topi is one of the biggest truck campers on our list, weighing in at a very heavy 1,380 pounds.
While your truck may be able to handle this, it will definitely depend on what trim package you have and you may even need some more aftermarket support to make the Topi work for your needs.
That doesn't have to be an immediate dealbreaker though, because the Topi comes with a solid wood frame with aluminum exterior that is probably one of the best looking on the marketplace and certainly one of the better put together campers.
You also have a wet bath with the Topi, which is an awesome feature that many will be looking for when it comes to campers for long trips.
When you combine that with a north-south mattress that has storage underneath it and a huge number of options in other areas as well, you will find a fairly well-equipped camper here for a reasonable price as well.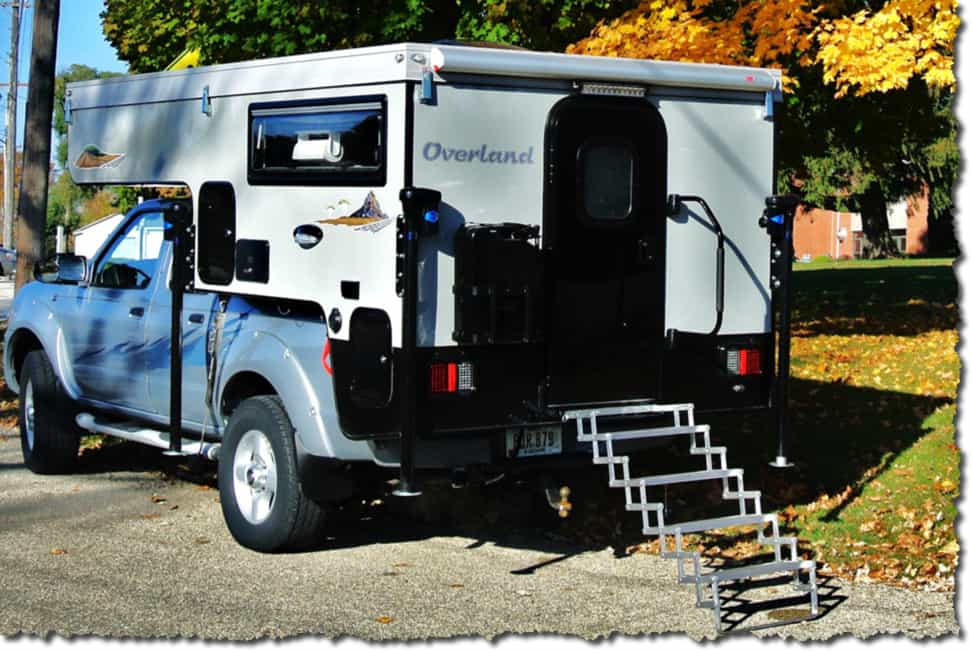 The only downside is its considerable weight, which definitely needs to be taken into account when thinking about what camper you want to buy. If your truck can support it, it will be in play for many consumers.
Four Wheel Camper Fleet
This is a great all-around camper that you will definitely want to consider if you have a Toyota Tacoma.
It weighs in just over 1,000 pounds which is reasonable, but is a considerable weight so you do need to do some math if you are looking to go with this model.
One of the biggest benefits of this camper is its fresh water tank which can hold up to 20 gallons of water. You do also have a porta pottie set up, which is a must-have for some adventurers as well.
One great thing about the Four Wheel Camper Fleet is that it has 4 available floor plans, so for those people buying new you are going to be able to customize your camper to your needs, or at least the plan that you like the best.
Another big positive with the Four Wheel Camper Fleet is the tie-down system that it uses to attach to your truck.
It's only going to be found on a Four Wheel model and it keeps your truck setup looking clean while also providing a high level of quality when trying to take it off-roading or out into the wilderness.
Outfitter Caribou Lite 6.5
This is another great truck camper that comes in with a low weight that should be very suitable for almost any Toyota Tacoma. The Caribou Lite 6.5 comes in at 850 pounds as a "dry weight" which means that you should have some room to add on cargo & supplies.
This model is one that has a very low profile, so it may be appealing to some people where as some of the other truck campers tend to raise up from the pickup truck a bit more.
It's got a really big fresh water tank; coming in at 24 gallons and it has a 1.9 cubic foot fridge along with a 45-amp converter charger. Those things should help make your life easier when you're facing the wilderness alone or with a partner.
It's got a lifetime structural warranty which is a big plus for buyers who need to be concerned about the finances of their purchase – you won't be stuck buying another camper years down the road.
Northstar 600
The Northstar 600 is another heavier model that comes with a lot of features with it. However, the dry weight of 1,258 pounds could be a dealbreaker for many consumers.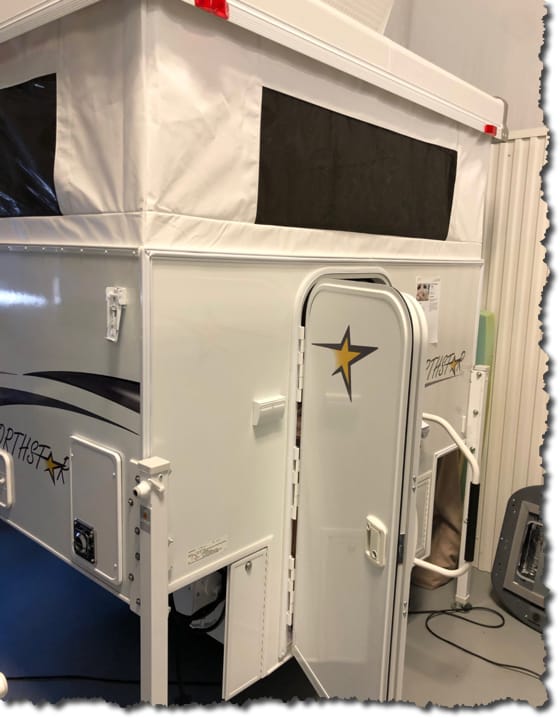 What you do get for all that weight is pretty considerable, however. You'll have a 60×80 queen size bed which is huge for people who are going to be camping with a significant other.
You definitely need your space during the night, and a queen size bed should help you do that effectively.
The "Suresleep" memory foam mattress means that this is a great model if you are focused on the quality of sleep you're going to be receiving out on adventures.
No matter what you face, you should always wake up feeling well rested with the 600.
Phoenix Mini Max
This is an interesting model that also features a 60×80 bed along with a wet bath. There are a lot of extra options here that include roof racks, a rear ladder, and even a low profile air conditioner which is an interesting idea.
While you can modify the Mini Max to your liking, a lot of people are going to simply be excited about the 7 foot floor length that is offered here with the Mini Max.
You're going to have to make sure it fits on your version of the Tacoma, but if it does you could have a very tempting purchase here.
Weighing in at 1,180 pounds, the Mini Max does have a lot of weight to it, so this one will only be for the Tacoma owners who are ready to haul a high payload.
What Truck Camper Fits a Toyota Tacoma?