The Toyota 4Runner Wheel Buyers Guide: Bolt Pattern, TRD, Limited, SR5, Factory, and Aftermarket
This post may contain affiliate links. As an Amazon affiliate, I earn from qualifying purchases.
The wheels on your 4Runner are as important as the shoes on your feet. While it is tempting to just buy a cheap pair when you can, you will realize what a mistake that is down the line. Wheels and shoes, although they are on the bottom, do make a significant difference in performance. This is why it is so important to research and look into wheel buyer guides.
For example, the Toyota 4Runner is a very popular model for many reasons. This is why there is such a demand for information on its wheel buyer's guide. Which wheel is right for the Toyota 4Runner you ask? Well, keep on reading and you will find out.
Why Wheels Are Important?
As we had mentioned briefly in the introduction, there are so many more to wheel/rim choices than meets the eye. Have you noticed that bigger vehicles such as trucks and SUVs have bigger and thicker wheels compared to a midsize sedan? This is not just for looks, although they do look pretty nice, they are also for practicality reasons as well.
A good set of wheels or rims will enhance your 4Runner's performance in more ways than one. For example, providing a more comfortable and smoother ride. If you have a heavier SUV such as a truck, then having thinner or smaller wheels simply does not make sense. That is like buying shoes that you know are one or two sizes too small for you.
It is also important to note that if you want to buy used wheels, look at how worn out they are. Some shops will sell tires that are in relatively good condition but others will sell wheels that are on their last leg, lasting you maybe another 200 miles.
If you commute to and from work and drive at least 25 miles per day, then this would not be a good deal for you. However, if you normally take public transportation and only use your SUV in emergency-like situations then 200 miles could last you a while.
However, this is only important if you are considering used wheels.
Please do keep in mind that if you do decide to go for bigger or smaller wheels, that it will impact certain aspects of your vehicles such as:
Acceleration
Calibration of the speedometer
Handling
Alignment
Braking
This may sound redundant but it is important to say once again, how important proper fit is when it comes to wheels. You do not want to "force" the wheels into your Toyota 4Runner.
Having wheels that are too big or too small is a guarantee problem, even if you like the look of it. It will only cause problems in the long run, and it is not worth the risk. You could damage your car greatly if you do not buy wheels that fit your SUV.
Luckily, many aftermarket manufacturers make great wheels for the Toyota 4Runner. While there are many options for the newer models, 2020-2018, there are still some options if you own or are thinking of buying an older model as well.
The Toyota 4Rnner Wheel Buyer Guide
Bolt Pattern:
The bolt pattern on your Toyota 4Runner may not seem like there is much significance to it but there actually is, and it is important to know as well.
The bolt pattern is shown through the number of lugs by the diameter of your wheel's "circle" formed in the center.
This is important because your wheel's bolt pattern has to match with the pattern on the axle hub.
If these two do not match, even by a little, then it will cause your wheel to be off-center which is very dangerous.
A good mechanic will be able to get the job done for you since he/she is used to doing this for a living; however, you can also easily do this yourself if you choose. It is important to note that you cannot throw any wheels onto your SUV just because you like the look.
For the fifth-generation Toyota 4Runner, the bolt pattern is: (5th Gen = 6×139.7mm(5.5″) or 6×5.5).
Here is a quick and easy way to measure your bolt pattern on your rims:
Remove your existing wheel- you can choose whichever wheel you would like, but the rule of thumb is to remove the rear wheel because it is usually the easiest. This is because the hub would not stand in your way.
From the middle of one stud to the outside of the other, measure the distance while skipping a stud.
The number you then see will be the actual measurement of the bolt pattern. Usually for Toyotas and Toyota 4Runners especially though, the bolt pattern is a 5 lug bolt pattern but if you are not sure, it is best to do a simple check.
If you are not too sure about your bolt pattern, then be sure to ask your mechanic. He or she will be able to let you know right away.
This information may seem insignificant but knowing it will definitely do you more good than not, especially if you are looking into switching wheels. Most people leave their wheels alone but if you are into racing or do not like the look of your factory wheels, then you will need to know the bolt pattern if you are looking into getting aftermarket wheels. 
TRD:
TRD stands for Toyota Racing Development.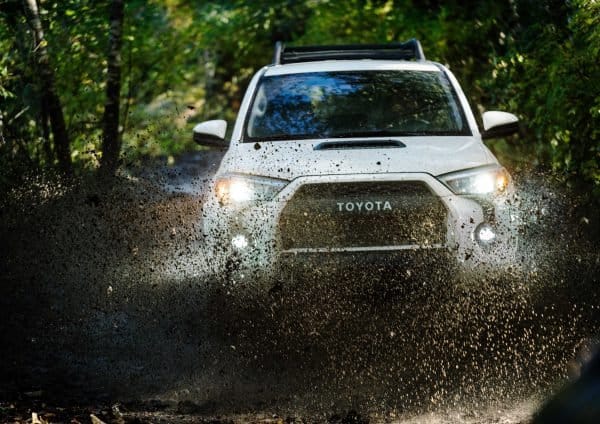 Toyota Racing Development. Toyota Racing Development is Toyota's in-house tuning shop for Toyota, Lexus, and Scion. Unfortunately, Scion is no longer available.
Toyota Racing Development is responsible for improving the streetcars for better performance and supporting Toyota's racing interest worldwide.
Toyota Racing Development believes that rim designs are important so important as a matter of fact, that they believe it can make or break the appearance of your vehicle.
Toyota wants to emphasize that not all-wheel and wheel designs are created equal.
For example, if you opt for steel wheels then know that these steel wheels can be made fancier with a set of hubcaps. Steel Wheels are usually the stock wheels in many vehicles because they are one, easy to produce, and secondly, quite inexpensive. There is nothing wrong with steel wheels however and they work quite fine.
Secondly, you have aluminum alloy wheels and these are great because they are lighter and dissipate heat better.
For the Toyota 4Runner, there are two Toyota Racing Developments that are the most recommended: the TRD SEMA and the TRD Beadlock.
These are both great because they were designed for great heat dissipation, maximum stability on corners, great for braking, and lastly, being lightweight which is crucial for better performance.
Toyota Racing Development wheels are great because they take into account brakes, backspace, weight and offset of your vehicles.
Toyota promises that when you choose to go with their Toyota Racing Development Pro Wheels, you are not making a mistake. You will be getting a master's design and a commitment to great quality and service. Most people know Toyota Racing Development wheels for their exceptional appearance on the road but the quality goes beyond the mere superficial.
Toyota Racing Development wheels use CAD design in order to design and create the optimal wheel for your Toyota 4Runner.
Also, since the Toyota Racing Development wheels are created by Toyota, you can rest assured that they know what they are doing when it comes to your 4Runner.
Limited
Bolt Pattern: 6×5.5
Wheel Size: 20×7″
Wheel offset: +15
Wheel backspace: 4.5″
Since the wheel size is not too big, 20×7", then you can stick with the standard stock wheels that come with the Toyota Limited 4Runner.
For alloy wheels, you get three options: forged, billet, and cast.
Forged and cast wheels are both aluminum wheels. Although they are made from the same material, the method to produce forged wheels and cast wheels are quite different.
For example, forged aluminum wheels are stronger and weigh less than cast alloy wheels. This could be something you would be interested in for your Toyota Limited 4Runner because forged aluminum wheels are stronger than most cast alloy wheels.
The important takeaway from this is that both cast and forged manufactured wheels are very similar to one another and they both get the job done. You basically will not go wrong with either one of these wheels.
SR5
For the Toyota 4Runner SR5, if you are looking at the 2020 model of the SR5 then we would suggest the TRD 17-In. Matte Black – Alloy Wheel.
With these alloy wheels, you will be making a statement whether you want to or not. They are 17 inches x 17 inches cast-aluminum wheels that come with a six lug nut pattern.
They are great because they incorporate the proper offset, weight, and brake clearance. This ensures that they offer the proper fit, finish, and reliability.
The diameters of the wheels are 17 inches
They have a beautiful matte black finish-although these do have a nice look to them, please be warned that because it has a matte finish it is very prone to scratches and marks. If this is something that will bother you, then we suggest you look for other wheel options that have a gloss finish.
Its offset is 4 mm
Wheel width is 7 inches
It is compatible with TPMS
It does come with the TRD Center Cap
To learn more about the TRD 17 Inch Matte Black Alloy Wheels, please consider reading more about it on Toyota's website.
Although the TRD 17 Inch Matte Black Alloy Wheels does fit the 2020 Toyota 4Runner it is also important to note that it also is a fit for 35 different vehicle variants. So if you have older Toyota 4Runner models and you like the look of the TRD 17 Inch Matte Black Alloy Wheels, then you might be in luck.
● Factory Wheels/OEM (Original Equipment Manufacturer) Wheels
Factor wheels are also known as OEM wheels. OEM stands for "original equipment manufacturer" and just like the name suggests, these are the wheels that come from the original equipment manufacturer.
When you buy your car brand new, the wheels that come standard with your car are called factory wheels. Most base models or lower trim levels do not come with fancy wheels and rims, but the ones they do come with are still pretty great.
However, if you do decide to upgrade, then you will be met with bigger rims.
For the Toyota 4Runner, they usually come with aluminum alloy wheels. How big or what size does depend on the model year and the trim level.
For example, the 2016 Toyota 4Runner comes with the transwheel Aluminum Wheel, Rim 20×7, 6×5.5 Bolt Pattern, 6 Double Spoke – 69561.
Factory wheels are a bit trickier to buy because you are supposed to only be able to get them from, like the name pimples, the original equipment manufacturer. Which means, if you want Toyota stock wheels then you need to buy them from Toyota and Toyota alone. If you do want them used, you can check out the many reputable online websites to see if you can get a good deal.
Aftermarket Wheels
In the above section, we learned that factory wheels or OEM (original equipment manufacturer" wheels are wheels that were made by the original manufacturer.
Aftermarket wheels are basically any wheels that were not made by the original equipment manufacturer.
Aftermarket wheels are made by independent shops and manufacturers. These wheels are great because they are made to fit multiple vehicles.
Most cars that you see on the street with unique looking rims probably got them custom made or bought them from independent manufacturers. Most people like to buy the base model of their desired cars, and customize it by adding aftermarket wheels and parts.
That way, the extra thousands they saved from going up one or a few trim levels could be pocketed and used for aftermarket parts.
For the Toyota 4Runner, we would suggest these aftermarket wheels: Method Race Wheels, RRW, FN Wheels, and Black Rhino Black Alloys.
It is also important to note that if you are considering aftermarket wheels or any aftermarket parts, that the original car company might not want to work on your vehicle.
For example, if your engine has trouble and you decide to get an aftermarket engine from an independent manufacturer instead of going to your Toyota dealer.
However a few months later the engine starts to give you trouble, and you decide to return to your dealership auto mechanic shop, do know that they might not want to work on your vehicle.
One of the reasons is because they are not used to these aftermarket parts and do not know if the problem is because of their manufacturer parts or if it is due to the aftermarket part.
Another reason is for the insurance-they cannot replace the aftermarket part with one of their original ones.
With wheels, however, it might not be as big of a deal but do know that they could refuse to work on your car.
For a list of more aftermarket wheels, please check out this article for more information.
The Takeaway | Why it Matters and Why you Should Care
If you have the right wheels for your SUV and it looks good as well, then it can make you feel pretty good. Not all wheels have to be costly in order to do their job but if you are looking to stand out on the road, then you will need to pay a bit more.
It is important to always test your wheels before you take it out on the road. While some wheels may look good it does not mean that they are compatible with your SUV.
It is best advised to take your 4Runner for a quick spin around the block before you take it out on the highway. This is especially true if you are putting in new wheels yourself, and it is not done by a professional.
While appearances do matter, it does not mean that you always need to pay top prices for nice wheels. Factory wheels or OEM wheels are just as great and they are designed for particular trim levels.
However, if you want to spruce your wheels up a bit then do know that the aftermarket companies are there. While custom wheels and rims are expensive, they can be worth it depending on the person who is driving it.
Happy driving and do keep in mind that the main purpose of tires is to be functional first and to look nice, second. In order to keep your Toyota 4Runner in the best shape possible, pick the wheels that fit it the best and is the most functional as well.