What Are Jeep Rock Rails (And Why You Need Them)
Rock rails otherwise known as rock sliders are a popular modification/addition to off-roading vehicles such as Jeeps. If you are looking for more information on Jeep rock rails for yourself or a friend, this handy guide can help.
We will give you a complete overview of Jeep rock rails and why you need them. This article includes the answer to such frequently asked questions about Jeep rock rails such as what they are, where to find the best ones, what the different kinds of Jeeps rock rails are, and how to install Jeep rock rails.
What Are Jeep Rock Rails
Jeep rock rails are a modification that is added onto the Jeep to make it more powerful for off-roading activities. When driving through the woods, rocky terrain, or mud there is a good chance that you could hit rocks with your Jeep that cause damage along the bottom of the Jeep.
Even though Jeeps are made out of some of the sturdiest metals, they can still damage with constant wear and tear from off-roading and using Jeep rock rails can help to prevent damage. Jeep rock rails can be called side steps, rock sliders, or running boards.
Typically Jeep rock rails are made out of black coated steel and they are attached to the Jeep's rocker panels at the bottom of the car to prevent damage to the body and paintwork. The rocker panels are the section of the Jeep that runs from below the door to between the back and the front tires.
The Jeep rock rails work as an extension of the existing rocker panels. With the addition of Jeep rock rails you can enjoy more off-roading activities with less damage to the underside of the vehicle and the paint job.
What Are the Benefits of Installing Jeep Rock Rails
Gives You a Step Up
If you are a tall man, you may not think about getting in and out of your Jeep. But if your Jeep or another vehicle has been "lifted" or is high off the ground, it may be hard for women, children, and the eldelry to get in and out.
To prevent awkward moments, you should make some provisions to help people get in and out of your truck, Jeep, or other lifted vehicle and that is where side steps, nerf bars, and rock rails come in. They are bars of steel or another sturdy metal attached below the door between the tires that help to give you a step up.
Protects the Paint Job
The body and the paint job of the car can become damaged by stones and obstacles during off-roading. Rock sliders or rock rails will prevent damage from occurring to the body of the Jeep itself.
The rock rails will absorb the impact from rocks and other obstacles so that there are not dents and scratches left all over the bottom of the Jeep. It will aesthetically help you maintain a beautiful looking Jeep even after off-roading adventures in dirt, snow, mud, and rocks.
Protects the Body and Engine (Most Important)
Rocks and other obstacles colliding with the body of the Jeep and the parts of the engine which are exposed on the bottom can be really bad for it both in terms of looks and function.
Rock rails will offer a bumper between rocks and obstacles and the car itself so that you do not damage the body or the engine. Jeeps are far from delicate to begin with, and adding Rock Rails is one way to protect it even further.
What Are the Best Jeep Rock Rails
The side steps on Jeeps are not just there to help you get up into the car, they are also there to provide a bumper between the soft metal underbelly of the car and the rocks, sticks, and other obstacles your Jeep will encounter while off-roading.
The best Jeep rock rails are easy to install, made from heavy gauge steel, as well as having a slightly rounded aerodynamic design for sliding off of rocks smoothly and easily. An offset angle will help the Jeep to deflect off of obstacles to prevent damage.
Features to Consider When Shopping for the Best Jeep Rock Rails
If you are looking for the best Jeep rock rails for your Jeep you should consider the following factors. If you are looking for just a side-step for your Jeep you do not need a heavy-duty expensive rock rail like you would if you were buying it for off-roading purposes. Likewise, there are several other factors you should consider when shopping for Jeep rock rails.
Materials
When shopping for the best Jeep rock rails for your Jeep Wrangler, Jeep Cherokee, or another model of Jeep, you should take into consideration what kind of materials are used in the construction.
You do not want to buy cheap, knock-off rock rails that are made out of flimsy metals that will easily become bent or bend under pressure. The best rock rails for Jeeps are made out of heavy steel that will not be affected by the impact of rocks or other obstacles while off-roading.
Color
While most of the rock rails on the market focus on the performance rather than the look, and come only in black colors, there are some Jeep rock rails that come in unique colors.
If your Jeep has a specific color scheme, you may be able to find Jeep rock rails that come in a matching color. Reflective strips on the rock rails may also be handy for preventing accidents.
Price
The price of the rock rails will depend on a variety of factors. Different types of Jeeps may require different sizes and shapes of rock rails, and the newer Jeeps could be easier to modify and find parts for than the older Jeeps. The brand and the materials of the rock rails themselves will also affect the price.
If you want a certain style or brand to match your Jeep you may expect to spend more. The materials used should be high-quality enough to withstand the impact of rocks and other obstacles or else there would be no point to them.
How Much Do Jeep Rock Rails Cost?
Jeep rock rails can cost anywhere from $200-$2000 depending on the quality and brand. On average they are about $300-$500 for a mid to high-quality set.
Brand & Warranty
When shopping for any parts for your Jeep you should always consider what warranty options are available. If there is a warranty on the rock rails it will guarantee that they will function as promised or your money back. If there are any defects in the parts, they will replace them or give you your money back.
A good warranty will pay for itself many times over in terms of repairs and parts, which is why it is important to think about this when buying a home or car of any kind. Calling the customer service department of the manufacturer when purchasing is the best way to get the most out of the warranty options that are available to you.
What Are the Different Types of Jeep Rock Rails
There are a few different types of Jeep rock rails that are available on the market. If you are not sure of what kind of Jeep rock rail you want for your Jeep Wrangler, Cherokee, or another model of Jeep, our guides can help.
Here is a list of the different types of Jeep rock rails that you should be considering.
Step-Up Only Rock Rails
If you are only looking for a Jeep rock rail for the purpose of adding an extra step-up, you may want to look at less expensive models than the ones that are made for heavy-duty offroading.
Smaller people such as women, children, and the elderly may have difficulty getting in and out of a lifted jeep, and adding rock rails can help add that extra boost that they need.
Step-ups are made to give you a lift up into the Jeep and should have a grip on the surface so you do not slip. They can also give you a little bit of protection against damage on that part of the car.
"Nerf Bars"
A nerf bar is a type of rock rail for Jeeps that is commonly used. It is super simple and is just a tubular piece of steel or other metal that is attached under the car below the door and in between the back and front wheel.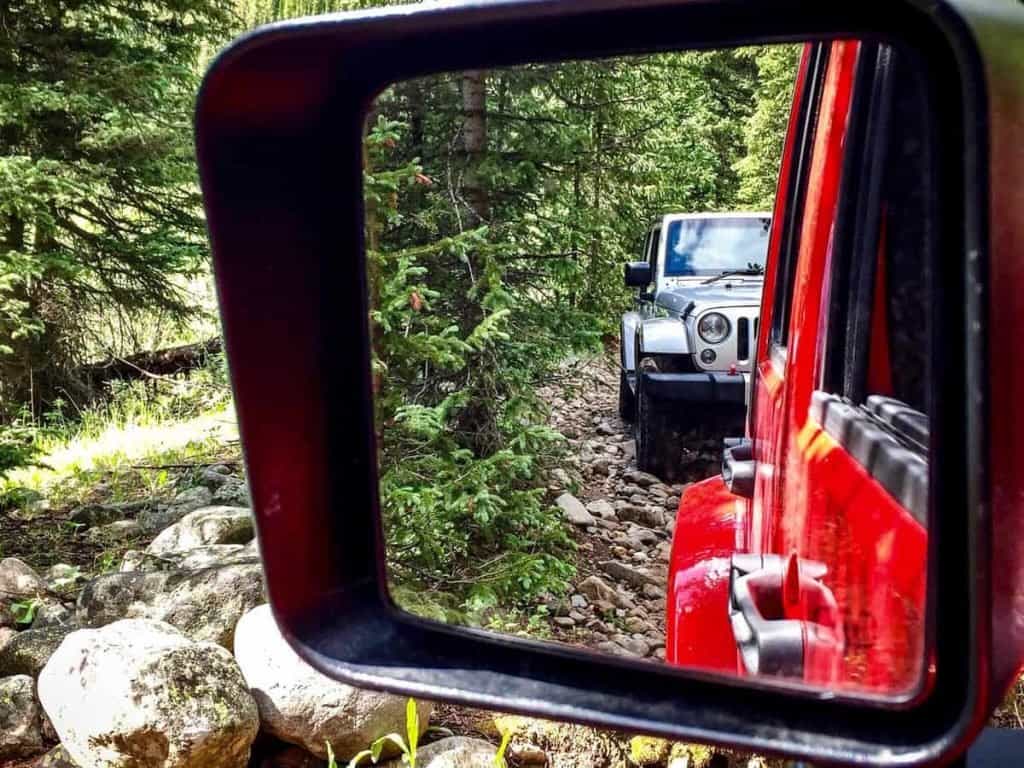 A nerf bar is a cheap and effective solution to getting a step-up into a Jeep or another lifted vehicle and it offers a little protection to the body of the car as well. Some nerf bars are completely smooth which could be slippery, whereas others have been innovated to have some grip for your feet so you never slip getting up into the Jeep.
This is a nice addition for your passengers even if you yourself have no problem getting in and out of the car.
Rock Sliders
Rock sliders or rock rails are made out of heavy-duty steel. They are made with a rounded design that is meant to "slide" off of rocks and other obstacles.
Every time the rock sliders make impact, they are protecting your Jeep from expensive damage to the body and paint job. Rock sliders should be used for off-roading to protect the underbelly of the Jeep from obstacles such as rocks which can cause expensive damage.
Which Type of Rock Rail is Right For You?
If you are not sure of which type of rock rail is best for you, consider what you will be using it for. If you simply need the rock rails as a step up into a lifted vehicle you are best off going with a budget friendly option such as a "nerf bar".
However, if you are planning on going off-roading with your Jeep, you have more to consider as you shop for the best Jeep rock rail for your Jeep.
You want to select a Jeep rock rail that is made with aerodynamics in mind. The metals should be curved so that the Jeep literally slides off of the rocks instead of making a hard impact.
It should also be made out of super high quality and heavy stainless steel that will not dent or damage, or at least will absorb the damage without allowing it to affect the vehicle. The brand who manufacturers the parts should be reputable and preferably a parts warranty will be included with the purchase of the rock rails.
How to Install Jeep Rock Rails
The installation of many rock rails is fairly simple. It can be done at home or at your local trusted mechanic. If you are doing a DIY installation make sure that you take the necessary safety precautions.
You may need a jack, jack stand, and some other car tools when installing the Jeep rock rails so you will need to keep this in mind as well. For the best installation results, you should leave it up to the professionals.
However, some Jeep rock rails installation requires very little work once you have the car jacked up because you can simply unscrew some of the bolts and fix the new rock rails on before reattaching the bolts.
This will vary depending on what model of Jeep you have and what type of rails you are attaching, but it is generally easy and fast customization to make to your jeep that can have lasting benefits when it comes to protecting your body and paint job during off-road activities.
Conclusion
In this handy article, we have given an overview of everything you need to know about Jeep rock rails. If you are looking for Jeep rock rails to give you a boost up into a lifted Jeep Wrangler, or you need to install Jeep rock rails on another model of Jeep for off-roading adventures, our handy Jeep rock rails buying guide can help.
We hope that after reading out lists of features to look for when shopping for Jeep rock rails and the different types of Jeep rock rails that you have a better idea of what to look for when finding the best sliders or rails for your own Jeep.