Jeep vehicles are known for the amount of customization that is possible when hitting the road in these popular rides. Do you want to drive with a hard top or a soft top? That's perfectly fine! Do you want to drive with your windshield out? As long as it's not against the local laws, that works too. Many drivers have become accustomed to doing things however they want, whenever they want.
Ford is another brand that has been known for doing things the right way just like Jeep has. Both brands are known for their rugged spirit, which may be where many people get the idea of swapping Jeep wheels onto a Ford. Wherever the idea came from, it is certainly popular and many people try to find the answer.
Do Jeep Wheels Fit a Ford?
Will Jeep wheels fit on a Ford? Yes, some wheels will fit on a Ford if they provide the right five-lug pattern and proper wheel offset to work. This is truly one of those "it depends" type answers. Keep reading for the details…
This answer will depend on the make and model of both your Jeep and Ford. It is definitely more common in older models, and less common in newer models.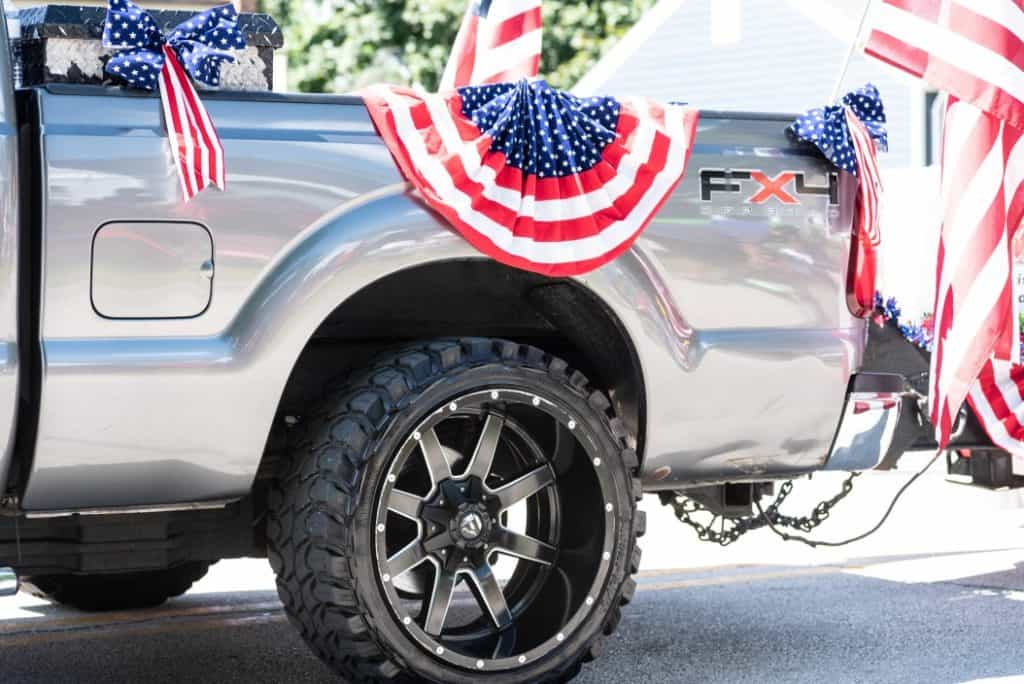 However, there are many models that are compatible with each other. Your wheels need to have similar bolt patterns as well as the same wheel dimension. Those are the two most important factors when trying to swap a wheel, however there are some other factors that can affect this process as well.
Jeep Bolt Patterns
Your bolt pattern is going to be one of the first things you want to look at to help determine if your Jeep's wheels are a compatible fit with your Ford vehicle. This bolt pattern is what attaches and mounts the rim to the wheel hub.
It's one of the most important things to check because if you have a bolt pattern that doesn't match, you're not going to be able to attach the wheels safely and if you try to rig together something that isn't a good fit, you are going to have a lot of problems when it comes to safety as well as performance.
There are some different Jeep bolt patterns out there, however, some of the most common are 5 x 4.5, 5 x 5, 5 x 5.5, and 6 x 5.5. You'll need to check one of the wheels on the Jeep to see what bolt pattern it uses and to figure out if the two wheels are a good match.
The first number of the "A x B" pattern indicates how many bolts that are around the wheel. That should be an easy enough task to simply count those up.
If the first number (A) is an even number, it is quite easy to measure the diameter by simply measuring center to center of two lugs that are across from each other.
If the first number (A) is an odd number, it becomes a bit harder but still should not be too much of a problem. In the odd situation, you will need to measure from the center of one lug to the outside edge of a hole that is diagonally across from it.
One thing to note is that if you are struggling with the basic measurement of a bolt pattern, it may not make a ton of sense to be trying to attach wheels from one model of vehicle to another, as you have a fairly difficult road ahead.
Wheel Dimension
This seems fairly obvious but people get in a rush and do not want to think about the wheel dimension of their vehicle.
If the wheel dimension doesn't fit, you are going to have tires that don't perform properly because they are the wrong shape. You can think of this scenario as trying to plug a square peg through a circular hole. It's not going to go well.
When looking at the wheel dimension, you need to consider four different measurements that could affect the performance of your tires when switching them from one vehicle to the other.
The first measurement is the one that we just discussed, your bolt pattern. At this point, you should already know whether your bolt pattern is going to be a good match or if it is impossible.
The next measurement is going to be the rim diameter. Again, this is a fairly precise measurement that you need to make with some care so that you get it right.
You should NOT measure the outer lip of the rim, but instead you should be focused on the diameter of the wheel where the tire bead seats. If these are a good match, you are one step closer to your Jeep wheels being on a Ford.
The third measurement related to wheel dimension is the rim width. Again, a precise measurement needs to be made and you should measure from the inside of the outer lip at the bead seating point.
The last measurement will tell you if you are on the correct path. From here, you need to measure the back spacing. This is important as your wheel needs to fit in every way, not just be the correct diameter or have bolts that can be attached to the vehicle itself.
To measure back spacing, you will need to measure from the inside of the wheel where it contacts the hub or brake drum to the inside lip of the wheel.
Again, any of these measurements being off is going to cause you problems that may not seem severe but could end up causing a lot of stress in certain areas down the road which could cause you a lot more money and hassle than you were looking to save by using your Jeep wheels.
One of the biggest problems when it comes to replacing a Ford wheel with a Jeep wheel is one that often gets overlooked. Because it is an invisible problem, it can be harder for some owners to think about it or bring it to mind, even though it is a fairly obvious situation that would cause problems.
Under no circumstances should you try to replace a wheel that doesn't match the car type of a different wheel. That means that if you have a four-wheel-drive Jeep tire, it should not replace a wheel that is on a rear-wheel-drive Ford.
It would work the other way as well, you should not use a rear-wheel drive wheel to replace a wheel that uses four-wheel drive. This can be a bit hard to catch in the moment because there may not be a measurement or a flashing light that says "Hey, not a good drive fit" however it is something that you need to think about.
The reason that you need to think about this is because it will cause problems down the road. These wheels are not meant to be interchangeable in that sense so you should take caution and you should not try to simply ignore instructions just to get a wheel on a vehicle that works, when in reality you are going to get further down the line and have bigger problems.
Your center bore should also be correct if you wish to replace the Ford wheel with those of a Jeep. Center bore relates to the hole in the wheel found in the middle that actually keeps the wheel centered on the hub.
This is probably going to be the easiest measurement to nail down because many different vehicle models use the same center bore. A lot of wheels get mass produced and manufacturers didn't find it necessary to switch between different sizes when it comes to the center bore. Obviously, you should still check yours before making any decisions about switching wheels.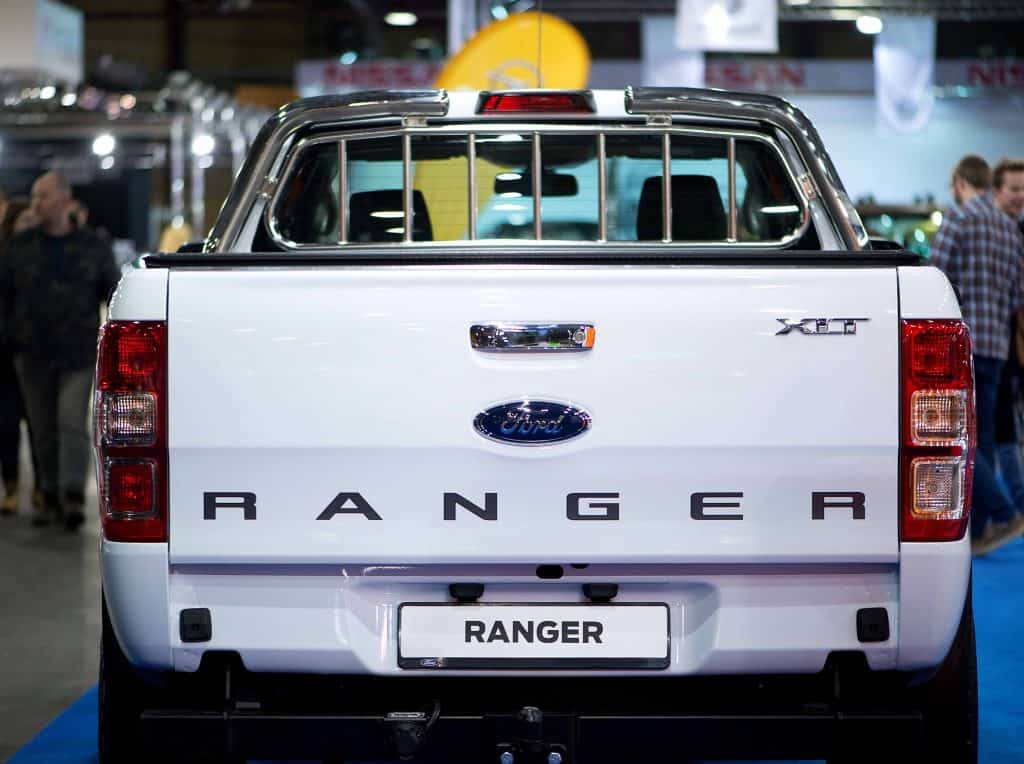 You can also use a hub ring to help the process related to center bore. A hub ring is going to adjust your wheel so that there is no vibration or no ill-fitting wheels that cause problems down the road. If you are trying to make a serious switch, it would be a good idea to add a hub ring on to your setup.
If you are trying to also change rims on a Jeep and a Ford, you need to think about the following qualities.
If the rims have a large weight difference, you are probably going to feel a noticeable difference when driving your vehicle and ideally they would be the same weight.
You'll also need to use rims that are basically the same size. Trying to add on larger rims may make you feel cooler, but manufacturers warn against this and again this will cause you some problems.
Finally, you need to make sure that the rims are the same width. This may not be the most serious problem out there, but you are definitely going to be driving a weird setup if your rims extend too far out from your wheel.
Conclusion
It's becoming more rare for a Jeep's wheels to be able to fit onto a Ford vehicle, however the situation can occur and it may make sense for you to make the switch. You'll need to make careful measurements and be deliberate about the process so that you can be sure you have a match that works.
Popular Ford Truck Accessories
$3.00
Bestseller No. 1
Xprite White Truck Pickup Bed Light Kit, 24 Led Cargo Rock Lighting Kits w/Switch for Van Off-Road Under Car, Side Marker, Foot Wells, Rail Lights - 8 PCS
★ FEATURES: Total of 8 Decorative Lighting Pods housing a total of 24 Ultra-Bright SMD LEDs. allowing you to work after dark without having to hold a flashlight or plug in a portable work light.
★ WEATHERPROOF: Waterproof Rate: IP67, shockproof, design to withstand harsh weather conditions.(Rain, Snow, etc).
★ UNIQUE DESIGN: Each rectangle lighting pod is small in size but provides plenty of light and only 0.25 of an inch thick makes them extremely easy to hide, unlike the competition which uses a larger pod that may hang below the bed rails.
★ EASY INSTALLATION: The reliable 3M adhesive can be quickly installed and can be fixed with screws to be more secure; In addition, includes with a switch so you can freely control your LED lighting pods , has 21 Feet of Wire per Strand (4 pods per strand), 2 Feet of Wire Between Each Pod.
★ APPLICATION: Can be used in a variety of interior and exterior applications including Under Car, Truck Beds, Foot Wells, Rock Lights, etc.. Compatible with most pickup such as Ford, Dodge Ram, Chevrolet, Toyota,trucks, RVs, SUVs, jeeps, boats etc.
Bestseller No. 2
Start-X Remote Start Starter For Ford F-150 2015-2020, Edge 16-19, Expedition 18-19, || Plugs in to OBD2 Port || No Installation Required || Will Not Work With Any Non Listed Vehicles
✅ START YOUR VEHICLE REMOTELY - Use the most complete Plug N Play Remote Starter KIT to warm or cool your F-150 15 - 20, Expedition 18-19, Edge 16-19. Works with both gas and diesel, Key Start and Push to Start vehicles. 🔴🔴 WILL ONLY WORK FOR THE LISTED VEHICLES/YEARS 🔴🔴 NO RESPONSIBILITY IS IMPLIED FOR NON LISTED VEHICLES/YEARS
✅ PLUG 'N PLAY REDEFINED – This starter takes plug n play to a new level. Simply plug in to your OBD2 port and you can start your vehicle remotely by pressing lock-unlock-lock on your factory key fob! ✅ NO NEED FOR EXTRA DEVICES - Start your vehicle with clicking LOCK UNLOCK LOCK on your factory remote. Press LOCK UNLOCK LOCK again and the Start-X Remote Starter will turn off your vehicle too.
✅ HOOD PIN REQUIRED - Your vehicle must have an OEM hood pin for the remote starter to work. Please ensure you have a hood pin before ordering. Open the hood and start the engine. If the vehicle has a hood pin an indicator will appear on the dash, that the hood is ajar.
✅ NOTE: The remote start options in the truck do not become enabled with this kit. Climate control is effectively set to auto. The level of AC/Heat is determined by the truck. Leaving AC on high will not have an effect on the AC.
✅ RANGE- The distance you can start your vehicle is the distance you can lock/unlock your vehicle from. You may want to test how far your key fob works to see if it will satisfy your remote start needs.
$7.84
Bestseller No. 3
DEE ZEE DZ43204 Tailgate Assist Shock
This tailgate assist fits 2015-current Ford F150.
NEW and IMPROVED – We have improved the hardware. You no longer have the little bottle of blue locktite to mess with. The hardware comes with locktite on it and ready to be installed. You do not have to worry about applying the locktite and getting it on your fingers, clothes, or your vehicle.
Easy to use. The Dee Zee tailgate assist makes the use of your tailgate an ease. By simply installing this on your truck will give you the ability to release the tailgate with one hand and not have to worry about that loud bang when it comes down. The smooth controlled drop allows your children to safely lower the tailgate.
By adding the heavy-duty tailgate assist to your truck will ease the strain on the cables and hinge point by not free falling. You also will no longer draw attention to yourself when everyone hears the bang as your tailgate slams down.
Installation is a breeze NO DRILLING required and the parts are all specific to the year, make, and model truck.