How Long Do Stock Jeep Tires Last?
Buying a new vehicle is expensive. A couple of months after your down payment, you have to begin your monthly car payments. While a vehicle is a great investment, especially a Jeep, it can be worrisome having to pay for extra items so soon after you bought your vehicle.
So, now that you have a new Jeep, or if you are considering buying one, you might be wondering, "How long do stock Jeep tires last?"
How Long Do Stock Jeep Tires Last?
How long do stock Jeep tires last? Stock Jeep tires from the factory last 30,000 miles, so you will get plenty of life with the set of OEM tires your Jeep comes with. Aftermarket replacement tires usually last much longer.
If you are wondering about Jeep tire sizes and how much they will set you back once you need new ones, this is the article for you! Keep on reading so you can learn what you need to know about Jeep tires.
What Are The Right Tires For My Jeep Wrangler?
If you recently bought a Jeep Wrangler, or are wanting to, you might be wondering about what the Jeep Wrangler stock tire size is, and how to replace or upgrade them.
If you are going off-roading or using your Jeep Wrangler as a daily driver, tires are obviously going to be a very important consideration. The size and type of tire you choose for you Jeep is going to affect its performance.
You also want to make sure that the integrity of your tires is always on-point so that you don't run into a costly and dangerous blow-out.
Furthermore, you need to think about the type of terrain you are planning on taking your Jeep. If you will be traversing over deserts, you are going to need a very different tire than if you are planning on taking your Jeep Wrangler over steep and rocky cliffs.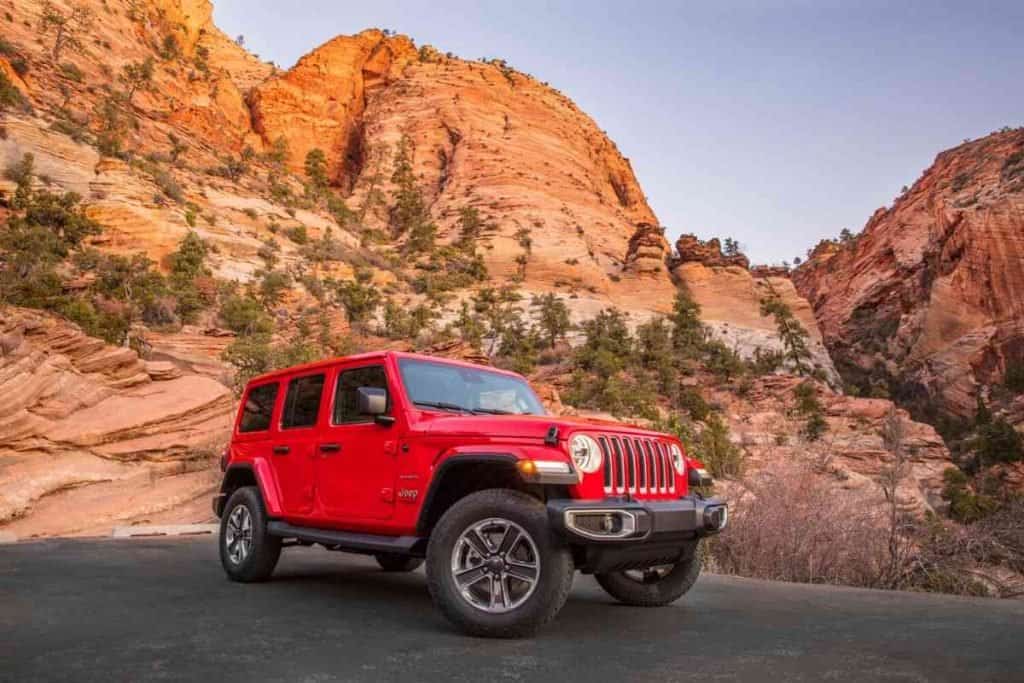 Tire Sizes For Jeep Wranglers: Explained
The standard stock tire size for your Jeep Wrangler is going to vary depending upon the trim and year, but the standard factory size will almost always range between 15' – 17".
So, what do all those numbers mean on each tire?
The first set of numbers before the backslash refers to the tire width. This is measured using the metric system in millimeters.
The next numbers immediately after the backslash are going to refer to the sidewall's aspect ratio. This number explains how narrow the sidewall is. This measurement is also done in millimeters.
The letter after that is going to explain the tire's internal construction. B means bias play, and R means radial.
The last two numbers are going to give you the tire's wheel diameter. This is measured in inches.
What Tire Can I Use On My Jeep Wrangler?
For any trim, model, or year of Jeep Wrangler, you can upgrade to larger tires due to the large wheel wells. You can improve your Jeep Wrangler's performance capability by upgrading to larger tires.
The performance is improved by increasing the ground clearance and improving traction. However, be aware, larger tires may decrease your Jeep Wrangler's fuel efficiency, depending on the tire.
What Size Tire Should I Get For My Jeep Wrangler?
Now that you know a bit about tire sizes and why you may want to replace the stock tires on your Jeep Wrangler for upgraded ones, let's look at this Jeep Wrangler tire size chart to find the best tires for you and your situation.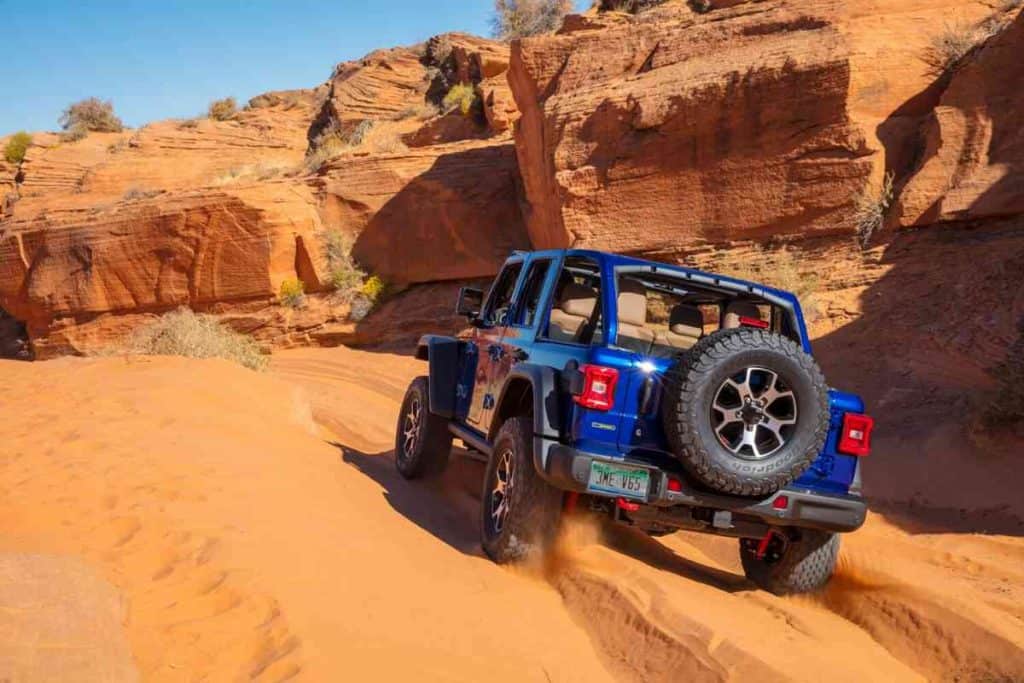 What Type of Tire Should I Get For My Jeep Wrangler?
There are two standard types of tires that you can get stock with a Jeep, and that are all-terrain tires and mud tires.
Knowing which type to get is going to take knowing where you plan on using your Jeep the most. Below, we will discuss what the different types of tires really are.
● Mud Tires
These tires are going to have deeper tread patterns. They are also going to have larger lugs. These tires are made to have much better gripping power than other types of tires.
They perform particularly well in snow and, as their name would suggest, mud. These tires tend to be more durable, as they have very thick sidewalls.
● All-Terrain Tires
These are the best tires to get for someone who is planning on using their Jeep Wrangler for both on and off-road use.
They usually come with a mileage warranty, which is nice and can help save you some money if you get a faulty tire. Some are also highly rated for winter driving, so be sure to get those if you live in a snowy climate.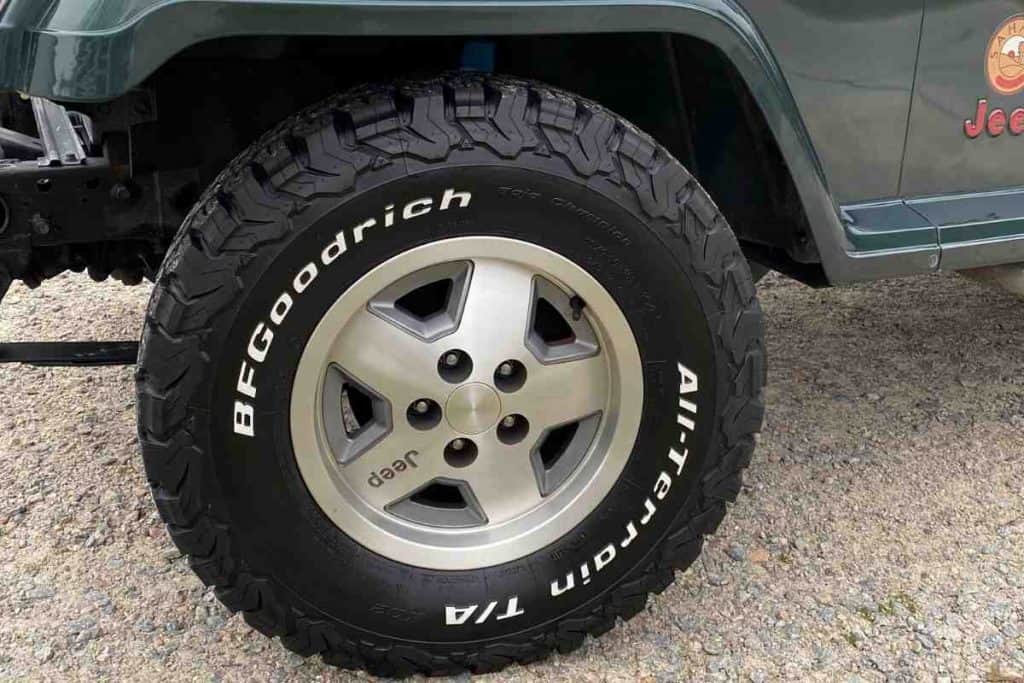 ● Winter Tires
If you have more than just a little snow every winter or are planning on going off-roading in snowy environments, winter tires may be your best bet. You can also switch your tires out for the season, as some are wont to do.
These tires are specifically designed to stay soft in below-freezing temperatures, so you won't have to worry about them cracking or becoming damaged when spending hours or days submerged in the white stuff.
● Sand Tires
If you aren't so worried about snow and are instead thinking about hitting up the dunes, these tires may be what's best for you.
The tread on these is designed to churn sand and give you much better traction.
How Long Will My Tires Last?
Like stock tires, the new tires for your Jeep Wrangler should last between 50,000 – 60,000 miles. If you are doing a lot of off-roading on some really rugged terrain, your mileage will greatly decrease.
Those who take it nice and easy on the freeway may have tires that last even longer than that.
The heavy tread on these tires gives them a lot more longevity than the ones used on smaller vehicles that don't have as much tread.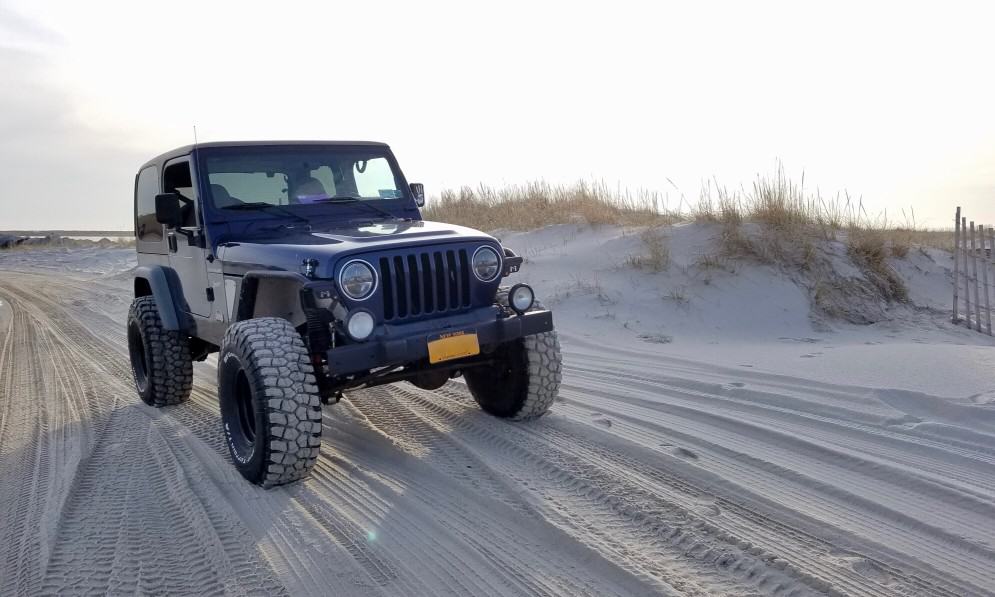 Why Is It Important To Replace My Jeep Tires?
While there's no need to replace your tires hastily if they are still in great shape, you should absolutely be checking your tires for signs of wear and tear and to see if they are still suitable for use.
If you keep driving with tires that aren't up to snuff, a whole myriad of issues can soon follow.
These issues include alignment problems, suspension issues, tire balance problems, or chipping when you are using your tires in off-road situations.
Tire Considerations For Other Jeeps
If you read this article and are thinking, "but what about Jeep Rubicon tire size?" Don't worry, we are going to go into considerations for other Jeeps, as well.
Jeep Wranglers are designed for off-roading, so buying large and heavily treaded off-roading tires makes sense for most Jeep Wrangler owners.
However, that simply isn't the case with many other Jeep models. Many Jeeps are more commuter-friendly and family-friendly than a Wrangler, and they should be treated as such.
The Rubicon can use the tire recommendations above fairly easily. The important difference is to ensure what size lift kit you will need if you are upgrading your tire size.
However, the tire sizes and types are still going to be good for the same use-cases whether you have a Wrangler or a Rubicon. The important thing here is to ensure that the tires will fit with your vehicle safely.
For commuter Jeeps, you will want to stick with the stock tire size supplied to you when you bought your vehicle. However, if you are someone who drives in wintery conditions, buying Winter tires is always a good idea.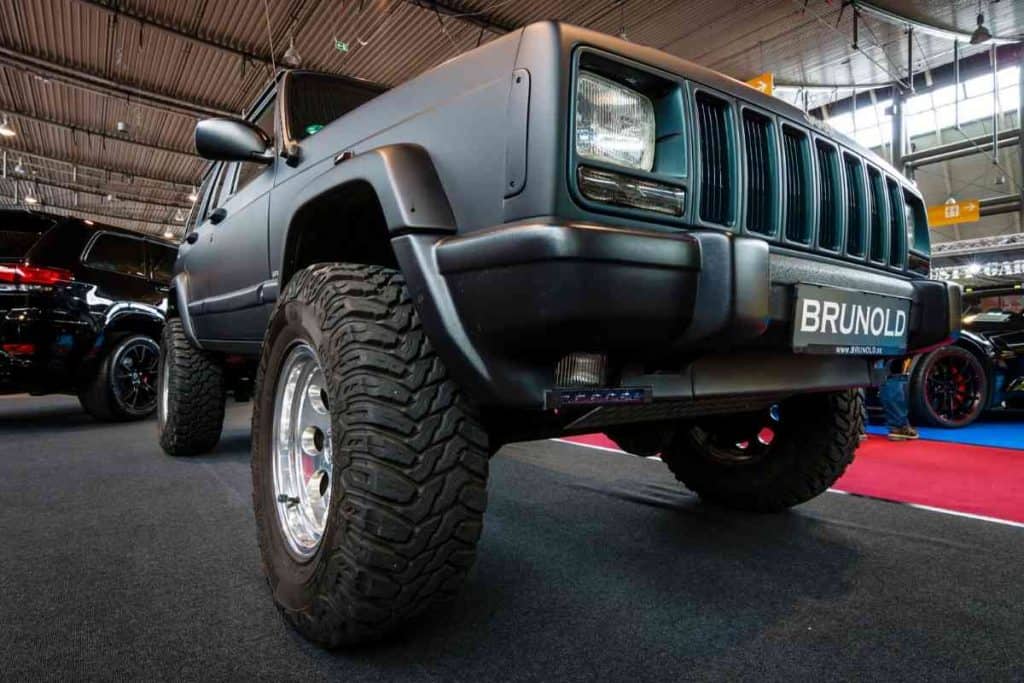 Tire Tips For Off-Roaders
Finally, let's talk about how to transition your tires from commuting to off-roading.
Obviously, you are going to have to commute to the trail, mountain, or sand dune you're tackling, and you probably aren't going to be taking a whole extra set of tires with you, right?
So, how do you transition between commuting and off-roading? You can do so by having a PSI gauge with you and adjusting the PSI of your tires before you hit the trails.
PSI stands for pounds per inch. Your tires need less pressure, or pounds per inch of pressure, to be able to easily go over sharp and bumpy terrain. This is as opposed to needing a lot of pressure when you are traveling at high-speeds on a soft surface.
So, when you get to your destination, you release some air and "air down" your tires. However, it is very important to refill your tires before heading back on the open road, so you need to be sure you have the capability to do so.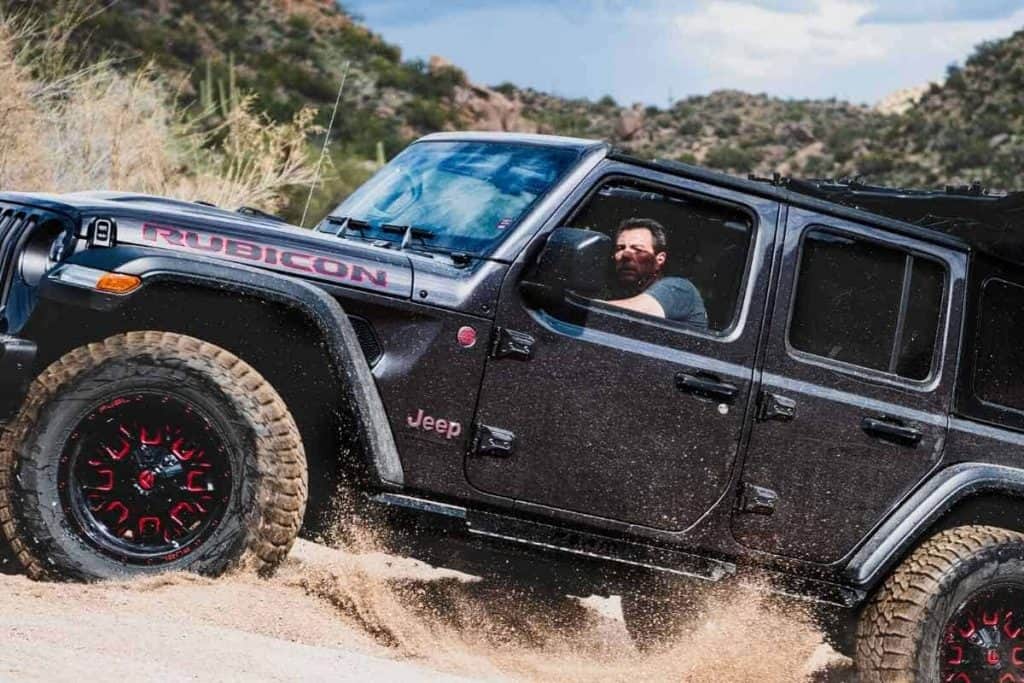 Popular Jeep Wrangler Tires
Last update on 2023-12-05 / If you click this affiliate link and make a purchase, we earn a commission at no additional cost to you.
Last update on 2023-12-05 / If you click this affiliate link and make a purchase, we earn a commission at no additional cost to you.
Last update on 2023-12-05 / If you click this affiliate link and make a purchase, we earn a commission at no additional cost to you.
Last update on 2023-12-05 / If you click this affiliate link and make a purchase, we earn a commission at no additional cost to you.