What Are the Pros and Cons of Owning a Toyota FJ Cruiser?
The Toyota FJ Cruiser definitely stands out when compared to the rest of the midsize SUV's on the road. It's got a distinct style that will help you stand out and the interior design is just as intriguing.
The Toyota FJ Cruiser is often described as being "funky" so you will have to decide if that fits your personality. It does have a sort of retro feel that you usually have to test drive to understand.
However, the Toyota FJ Cruiser is not simply about its intriguing style. There are some serious off-road chops that this vehicle has to offer which makes it a popular choice among those who are serious about hitting some trails. That also stands out against the rest of the midsize SUV's on the marketplace, it's definitely a rare find.
Some of the problems that have plagued the Toyota FJ Cruiser are related to its body design. For one thing, it is definitely hard to get in and out of the back seating area.
This is going to be a dealbreaker for a lot of people with small children because it doesn't seem feasible to be getting back there all the time. If you were using those seats occasionally, it would be one thing, however, the difficulty of daily use would make it a bit of a sore spot for that market.
Although it doesn't quite stand up to the Jeep Wrangler in terms of off-roading ability, it carves out a nice middle ground for people who want an off-roading vehicle but also want to be able to use a car that has a distinct style for the "real" road as well.
The FJ Cruiser actually out-performs the Wrangler when it comes to "regular" driving so there are reasons why someone would go with the Toyota model.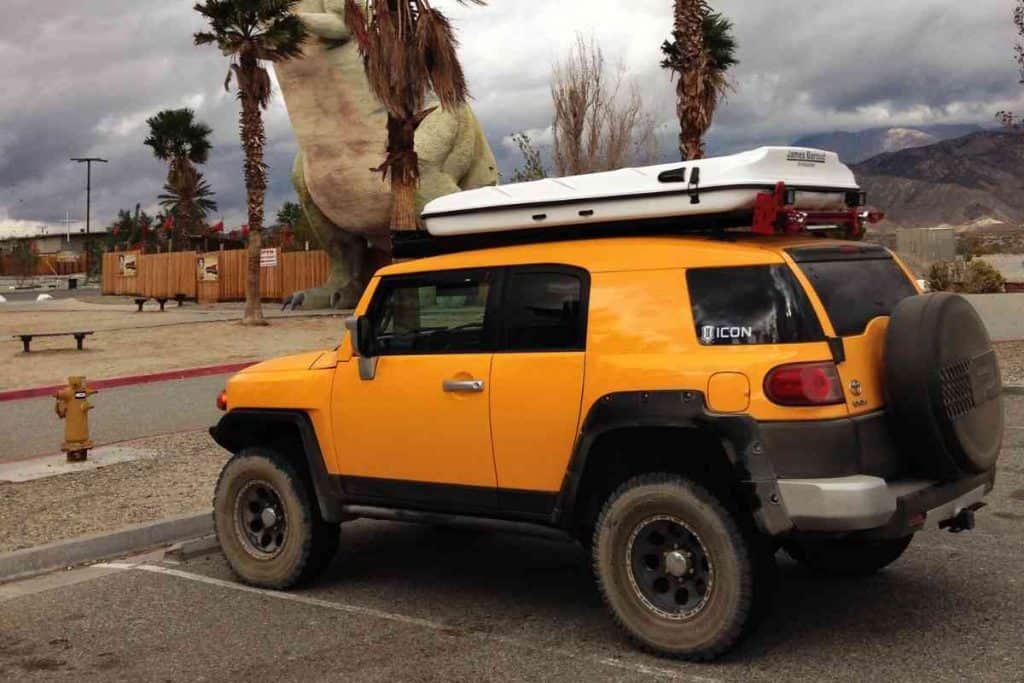 Another important note about the Toyota FJ Cruiser is that it only has one trim level. The package that you see is basically the one that you get.
That is a departure from what a lot of other companies are doing (especially some that offer 10+ trim levels on certain models) but it could be refreshing if you are not interested in customizing your vehicle.
The FJ Cruiser has standard 17-inch wheels which provide nice traction and grip. The Cruiser comes equipped with air conditioning and complete power controls for some nice convenience and comfort in the interior.
You'll get Bluetooth capability along with a CD player, an auxiliary radio jack, and satellite radio as well so most audio options will be able to be played in some capacity.
What the Cruiser lacks in trim levels, it does offer in packages. There are a lot of different packages here that will allow you to get the features that you want and skip the ones that you don't.
One example of a package that will be popular among many buyers is the Off-roading package. This adds some shock absorbers that will certainly be useful among those planning on heavy off-road use. It also adds on A-TRAC as well as an inclinometer and a compass for those who are natural explorers.
Of course, you see more standard packages as well such as the Convenience package that adds smaller features such as a rear wiper and cruise control, among other features.
While the convenience package may seem like less of a deal, we can also see a lot of buyers going for those as they want to be completely comfortable when driving the FJ Cruiser.
The engine is a solid 4.0 liter V6 that rates at 260 horsepower which should be pretty solid for this group of vehicles. There are a few different transmission options for the FJ Cruiser, but regardless of what you pick you will be averaging around 18 miles per gallon.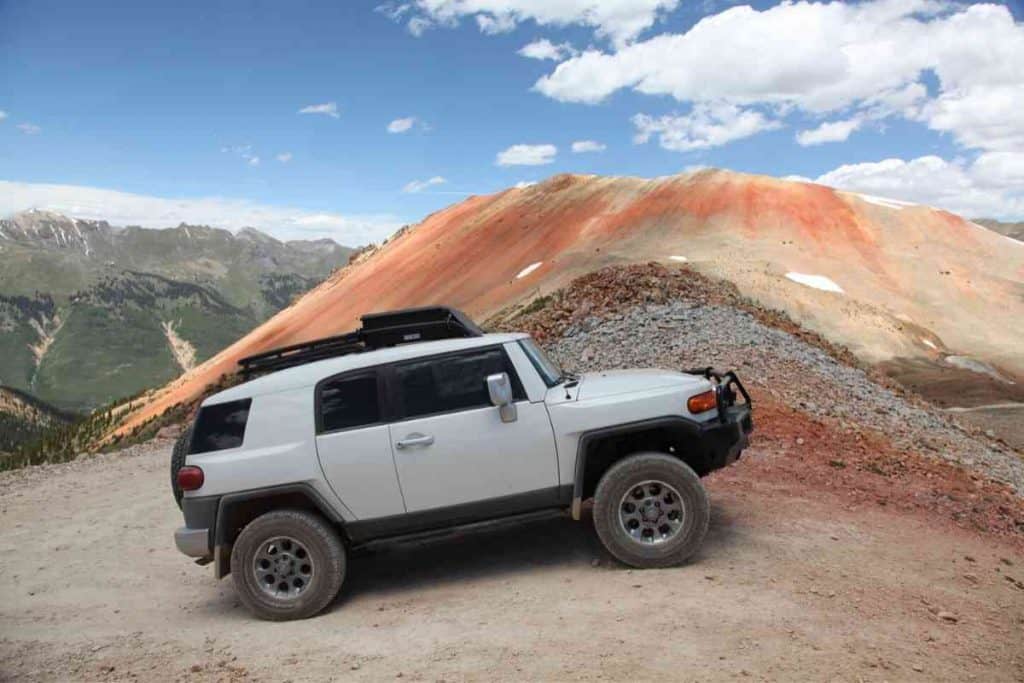 That's not a terrible number for a midsize SUV but it certainly doesn't stand out as a leader of the class by any means. If gas mileage is your first priority, you probably won't be sticking around in the showroom too long to see what the Cruiser has to offer.
When looking at safety features, the FJ Cruiser does a nice job to keep drivers safe. The FJ Cruiser received a "Good" rating (which is the highest rating given out) when being tested for front and side impact tests by the Insurance Institute for Highway Safety.
That will be a comfort to a lot of drivers who like to see excellent safety ratings before they buy a vehicle.
As mentioned, the Cruiser has some problems when it comes to the interior of the vehicle. The style that is found inside the Cruiser is fine, although it may be a bit "no frills" for some people. Everything seems fairly natural and there are no real design flaws outside of a few issues.
For one, the build of the car leads to a few blind spots that are bigger than normal and would be reduced if you were driving a different vehicle. That's a big negative for those who are looking for the safest ride possible, because blind spots can be a big danger to drivers.
The view to the front of the vehicle even has a bit more of a natural blind spot due to the shape of the dashboard and the hood.
Another design flaw comes with the rear seating area. You have to open the front doors before anyone gets in or out of the back, which is standard for the half rear doors but it does create a bit of a sticking point if you're going to be using the rear seats regularly.
The height of the vehicle can make it hard for some riders to get into the cabin, and squeezing three people into the backseat can be just that – a squeeze. However, if you are folding down the back seats and using the Cruiser to hold a lot of items, the cargo space is pretty decent when compared with its competitors.
Pro: Interesting Design
The design of the Toyota FJ Cruiser is definitely one of a kind. It's not often that you see a car that stands out as much as the Cruiser does, especially in the category of midsize SUV.
You really have to see it to understand what the fuss is about; but if you are looking to make a statement with your vehicle, doing so via a Cruiser is definitely an option.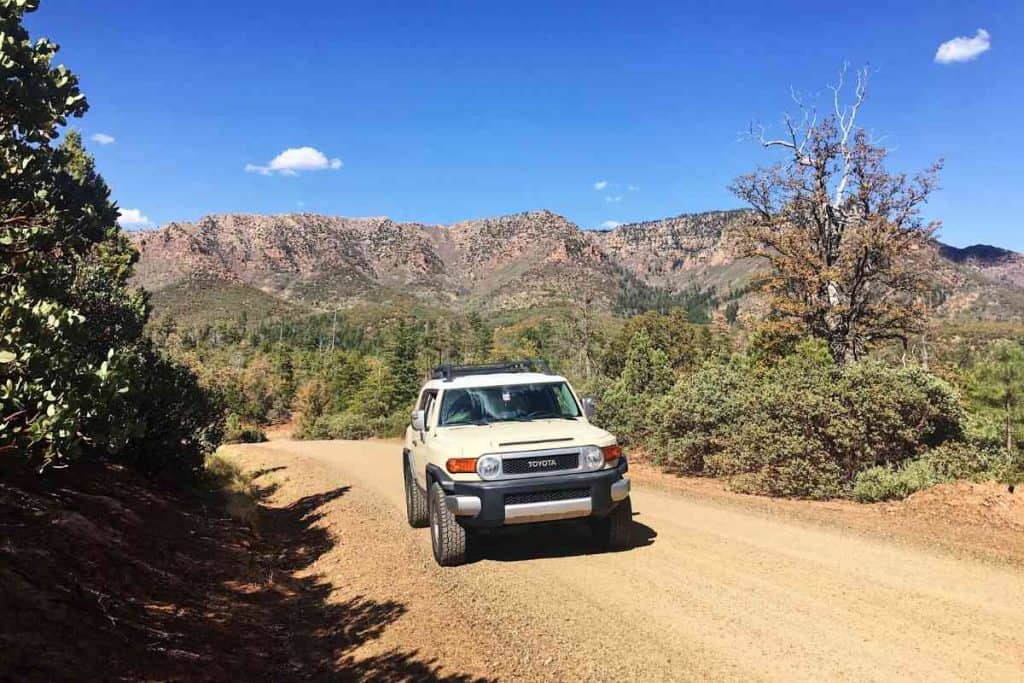 Pro: Off-Roading Does a Great Job
The FJ Cruiser is really meant to be an SUV that is taken off-roading fairly frequently. This is good news for owners who want to use it in their daily lives but also who want to hit the trails all Summer long.
The fact that this car has a few different packages that increase the off-roading capability speaks to how committed Toyota was to bringing the Cruiser up to speed when it comes to off-roading.
Even with the lack of different trim packages; the FJ Cruiser is able to compete with any vehicle in its category and fares well when fighting the "big boys" in the marketplace.
Pro: Comfortable Seats
Everyone wants to be comfortable while they're driving, right? The Toyota FJ Cruiser definitely passes the comfort test as far as their seating goes.
This is a big deal for drivers because the FJ Cruiser is going to be used on lots of long trips and adventures. If you're not comfortable in the seats, it's going to be a dealbreaker for a lot of people.
Pro: Easy Control System
The interior feels intuitive to the driver and is easy to navigate. That's important for drivers who are being tempted more and more to multi-task, however the Cruiser makes it easy to keep the climate control of the vehicle under control as well as setting up Bluetooth and other features.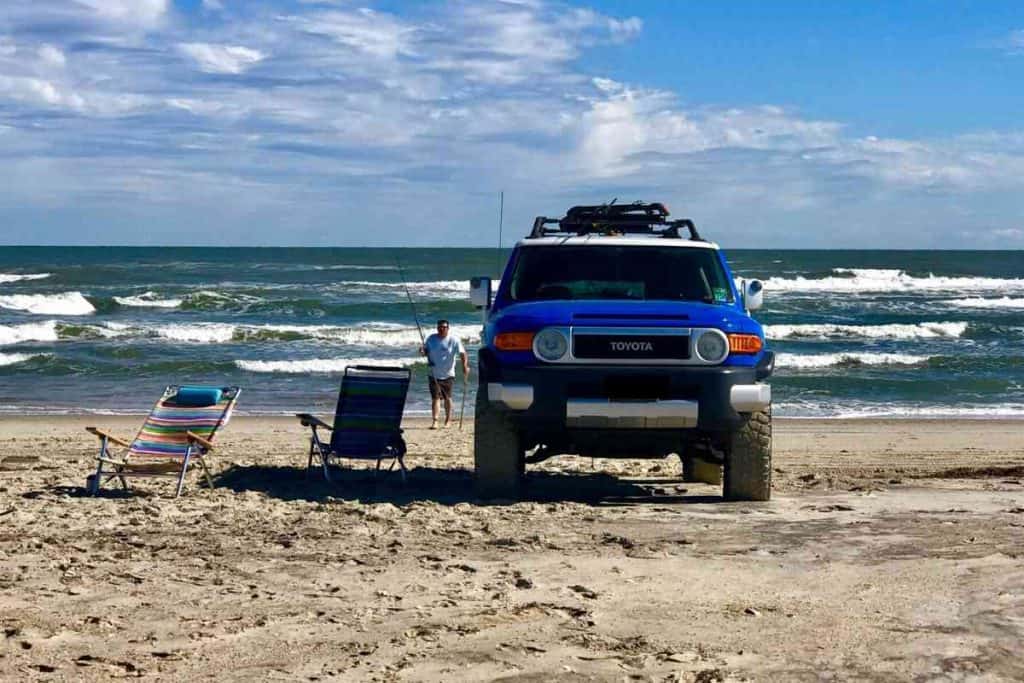 Con: Hard to See Out Of
One of the biggest problems that plagues the Cruiser is the fact that there are a lot of blind spots created by the vehicle's interesting design.
This is more than a matter of convenience, it actually can be a safety problem for drivers who may not be used to blind spots that are bigger than normal. The problem actually extends past the rear of the vehicle because there are even some blind spots that are seen in front of the vehicle as well.
This is going to be a dealbreaker for a lot of people and you should probably drive an FJ Cruiser before you buy based on this fact alone.
Con: Cramped Rear Seat
On top of the blind spots, the Cruiser also features a backseat area that is less than ideal.
The front doors have to be opened before the rear doors are able to be opened and the seating area becomes cramped quickly.
It's hard to get in and out of the back area and that will make it a no-go for parents who have kids that need in and out daily.