How To Carry Surfboards In a Jeep Wrangler
The Jeep Wrangler is an extremely popular vehicle for getting off the established road and finding yourself with a sense of adventure. But what about the beach?
The Jeep Wrangler can do a lot of things and some people want to take their Wrangler out for a day at the beach with their surfboards.
Surfboards are not the easiest thing to travel with as their large size makes it impossible or difficult for most vehicles to handle them with much ease.
Keep reading to find out if carrying a surfboard in your Jeep Wrangler is possible, and if it is – how should you get the job done?
Can You Fit a Surfboard In a Jeep Wrangler?
Yes, there are multiple ways that you can get your surfboard to fit into your Jeep Wrangler. You could simply purchase a rack as there are multiple models and designs to help you carry your board.
You could also try to remove either the top or the back and let the board "hang" out from the vehicle interior itself. If you are doing this, you will want to make sure the board is completely secured so that you don't put your vehicle or anyone else at risk.
Need to know a bit more about this situation and anything else about the Jeep Wrangler? We can help you decide if this is the vehicle that you want to be driving to the beach in.
Tips For Bringing Your Surfboard in a Wrangler
The Jeep Wrangler is a natural fit for surfers as it definitely fits their "go anywhere" attitude. Jeep has also been an official sponsor of surfing events like the World Surf League in the past, so this is definitely a match for a lot of people.
While taking your top off of your Wrangler will always be an option, many people want something more secure for their longer boards so they turn to a roof rack.
You should look on the marketplace for one of the highest-rated brands because there are so many different makers and models of roof racks out there.
Mopar is one of the more famous brands, but you don't have to go with them – just make sure whoever you buy from has a long brand of creating successful products.
Another idea to consider is that you may want to get a trailer hitch lock. Obviously, you're not going to want to take valuables into the water with you, and hiding your keys can be a risky proposition.
Consider getting an item that turns your trailer hitch into a miniature lock box. You can use a combination code and store your keys so that all of your possessions stay safe and sound.
If you don't want to get a roof rack, and really even if you do have one, you want to have some bungee cords and adjustable straps that are pretty strong so your surfboards aren't moving around in whatever set up that you have them in.
It doesn't really matter which set up you choose, but you should make sure that everything is secure so there's no risk of your boards falling while you are traveling, and there is no risk of any other kind of danger to your cargo as well.
Now, if you are still up in the air about buying a Jeep Wrangler, we're going to go over some of the features that people love the most to help you decide if a Wrangler is right for you!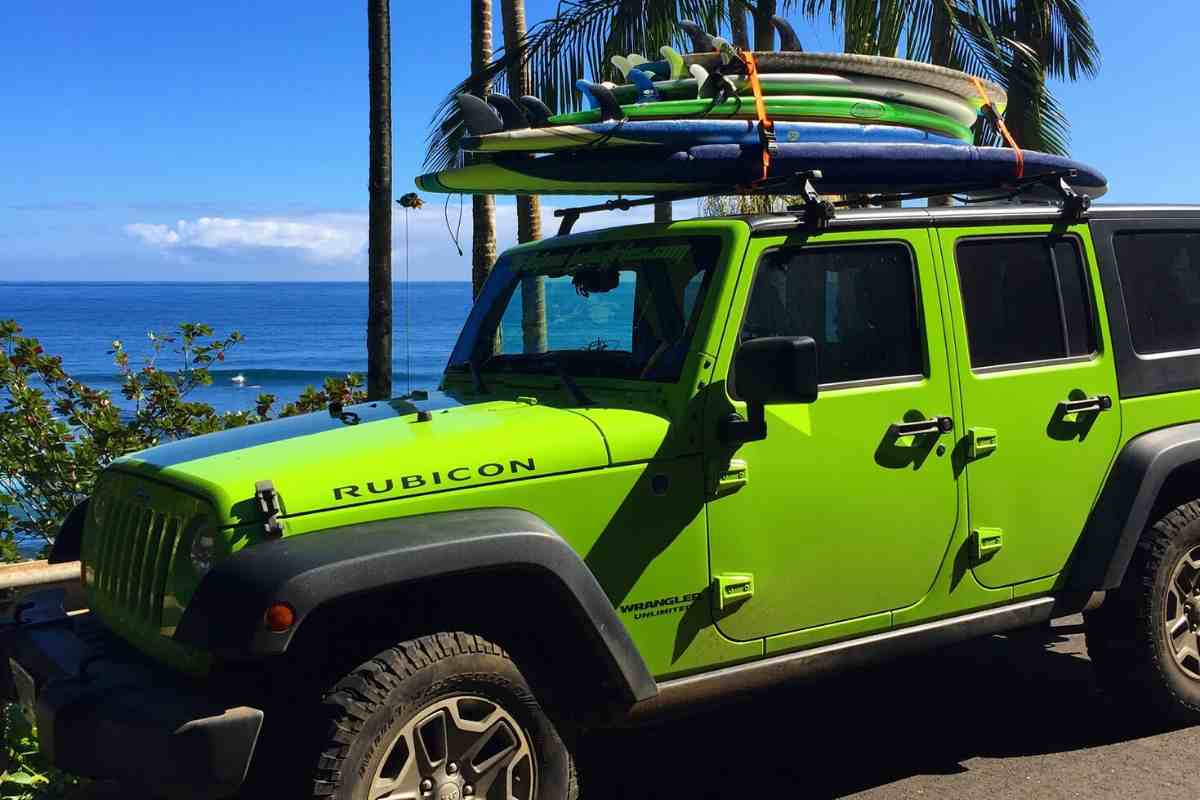 The Jeep Wrangler
The Wrangler is a vehicle that has tons of personality. It's absolutely fun to drive and can dominate off-road. However, the car doesn't have as much steering and handling quality as some other SUV's do on the marketplace.
However, the Wrangler has such a fun and modern feel that those problems don't plague it as much as they could.
Driving the Jeep Wrangler
If you are looking for an SUV that can tackle the off-roading better than anything else, the Wrangler is the way to go. The baseline package can handle off-roading, but even better is the Rubicon trim package that just simply dominates when it comes to trails.
When you upgrade your Wrangler with off-roading packages, you have to expect that your everyday steering will take a bit of a hit, however most people do not buy Wranglers to simply give them a comfy ride to and from work.
The Wrangler engine has plenty of power. It's a 3.6 liter V6 that gets the Wrangler up to 60 miles per hour in less than 8 seconds. That's a number that is pretty solid for this size vehicle.
The engine is boosted by the fact that it has an eight-speed automatic transmission that always feel great and like it's right in sync with what you need it to do.
Wrangler Passenger Comfort
As mentioned, comfort is one of the areas where the Wrangler doesn't really stand out. It doesn't try to be super comfortable, but it does a few things well.
It's got front seats that have a nice shape and the climate system does a great job of keeping everyone cool and warm in the respective seasons.
The construction of the Wrangler leads to some poor marks in ride comfort on regular highways, but as mentioned that's not usually the goal of the Wrangler.
It's got a big boxy design and large tires that make a lot of noise on the road, but that's what gives you all of that off-road skill.
Storage in the Jeep Wrangler
The Jeep has a narrow construction that allows it to dominate off-roading which in turn leads to a bit less cargo capacity at the maximum level.
However, the cargo that it does have is well laid out and allows for a fair number of things to be stored in the back.
The rear seats can go down into the floor if you need extra space. In the passenger area, it's going to be hard to store many small items as the door pockets are basically uselss.
The Wrangler is useful when doing some towing as it can reach a maximum of 3,500 pounds of towing capacity.
That's enough to tow a lot of smaller trailers or a small boat that is light enough, but you should be wary of anything large as it might start to put a lot of stress on the engine.
Inside the Wrangler
There are a lot of controls to look over as the driver of the Wrangler, but the layout still feels pretty easy to figure out.
There are no major problems with sightlines due to small pillars and windows that are square to help reduce blind spots. Depending on how you like to sit as a driver, it may be a bit too upright for you.
However, other people will like that. You can also make numerous adjustments to how the seat sits so you can eventually get it to somewhere comfortable.
The Wrangler does sit rather high compared to other SUV's, so some people may struggle to get inside the vehicle including children and older adults.
There's not a ton of space on the inside either – this is definitely a vehicle that works best for adults who don't have any trouble navigating on their own two feet.
Conclusion
The Jeep Wrangler is definitely capable of carrying your surfboards and other gear, although you may need to get a bit creative if you don't buy a roof rack.
Whatever you do, just make sure that you tie everything down and attach your gear to your vehicle appropriately.
The Wrangler is a fun vehicle that many people buy because they love its off-roading ability and its modern vibe, which will make it a great match for a lot of surfers.