This is Why Jeep Wranglers Ride So Rough
Jeeps are one of the toughest and nicest vehicles on the market today. While they make a wide variety of models, a favorite amongst the outdoorsmen of the world is the Jeep Wrangler. These vehicles are great for off-road driving and rock climbing, but many question their ability to ride on the highway.
This is Why Jeep Wranglers Ride So Rough
This leads to the question of why are Jeep Wranglers so rough to ride? The main answer to this question is that Jeep Wranglers were not designed to be driven long distances on the highway. These vehicles were created for the outdoor enthusiast and to be mainly driven off-road.
The newer models of the Wrangler are better driving on the highway, but some do still feel that they drive too rough on longer trips.
Many feel this way because the suspension of the Jeep was designed to work well on rougher terrain.
Also, these vehicles do not feature many of the amenities that traditionally SUVs will feature.
Why Do Jeep Wranglers Ride So Rough?
Before purchasing a Wrangler, you want to learn more about the ins and outs of the vehicles. Though newer models are created with a more comfortable ride, older models will be rough on the highway.
We will later discuss how models made in 2018 and later tend to be a smoother ride, but for now, we will focus on what makes these older models so rough.
The Jeep Wranglers come equipped with Goodrich All-Terrain tires, that are made to perfectly work off-roading.
While these tires do not directly affect the performance on the highway, the suspension used does make a drastic difference. The older models of Wranglers have leaf springs, and newer models have coil springs.
The springs used for Wranglers are designed to absorb vertical impacts. This is ideal because there is a vertical impact when a vehicle goes over a bump or hole.
The shock will regulate and dampen the vertical impact. This stops the vehicle from constantly bouncing up and down.
There are different coil spring firmness rates available now, and most Jeep Wranglers come with a firm spring. But most factory springs are not the highest quality. Though this does help during off-roading, it can lead to a rougher ride on highways.
While newer models are much better on the highway, all models of the Wrangler are able to navigate the great outdoors amazingly well. This makes them a top choice if this is what you are interested in.
One unique thing about the Wrangler is the way that they navigate rough terrain. Unlike other Jeep models, the Wrangler has no way to switch settings for the terrain you are navigating.
However, these models do feature a full-time four-wheel-drive mode that will send power to both axles as needed.
This will let drivers set the four-wheel drive and forget it, which can be useful for those who want extra traction.
However, the part-time four-wheel-drive cannot be used on dry pavement as it can mess up the vehicle.
Can You Make a Jeep Ride Smoother?
If you have purchased a Jeep Wrangler for either off-road or on highway use and do not love how it performs on the highway, there are some ways that you can change this.
While you may not want to do much work if you are using the vehicle primarily outdoors, for dual purpose driving, you will want a smoother ride. Some basic ways you can make the ride a little smoother are:
Change the Springs
If you have an older model Wrangler, you will want to change out the leaf springs to newer coil springs.
While newer models already feature coil springs, leaf springs in older models are not as good at absorbing vertical impacts. When the vehicle hits a bump, the springs are not as good at handling the impact, and a coil spring is much more effective.
You can replace the springs relatively easily, and it should help reduce the impact and make the ride much smoother as a whole.
Also, newer coil springs have firmness ratings that you can choose between to fit your needs. These different firmness levels will react differently depending on the pressure.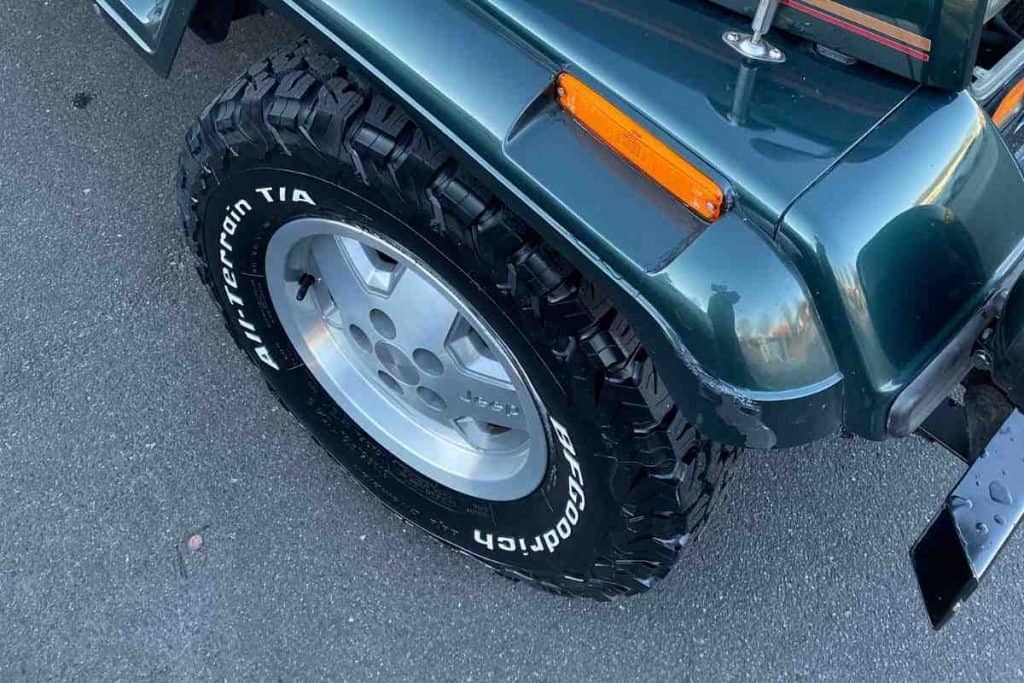 Replace Your Tires
The tires that come on most Wranglers are designed for traction, which means all wheels have a firm grip on the road's surface.
While this is great for off-road driving, this may not be ideal for highway driving and can lead to a rougher ride. If you want to make the vehicle smoother, you will want to replace the old tires with new lower-profile tires.
Lowering the traction can help generate less friction when driving on highways.
Switch Out the Shock Dampeners
As mentioned, the shock used on the vehicle works with the springs to regulate the force. This stops the vehicle from regularly bouncing up and down after passing over bumps.
Older shock or dampeners are the reason that many Wranglers ride rougher, and they often need to be replaced.
The one thing to keep in mind is that a stiffer shock can also mean a harsher ride. The shock and dampeners help with energy absorption, but those used on the Wrangler are designed to handle off-road driving.
You can replace these shocks with more road-friendly options for a softer ride.
Try Installing a Camber Kit
One way that many who own a Jeep Wrangler have made their rides smoother have installed a camber kit, which can reduce the impact of the bumpy road.
Installing this kit will make the rides smoother and can straighten the tire tracks. The wheels might be at differing angles to the surface after lowering the vehicle, which means using the camber kit will help reduce the shock.
Make Sure Everything is Aligned
One reason that many Jeep Wranglers are rougher riding is that they are not aligned properly, which can easily happen when used off-roading.
If you feel that the wheels are not in the right angle, you need to take your Jeep to a professional for an alignment. Getting your tires aligned on the vehicle will help improve the ride substantially.
Also, if you do not get your tire aligned properly, it can become dangerous over time.
Increase the Weight of Your Vehicle
Adding more weight to your Jeep Wrangler can actually keep the ride smoother. Some with these models that want a smoother ride should install a hardtop roof and doors, which will increase the weight.
Adding more weight can lessen the impact of road bumps, which can be more noticeable when you have canvas rooftops.
Also, if the Jeep is lifted too high, it can make the ride rougher and require even more weight, lowering it closer to manufactured height can make it smoother with this added heaviness.
Control Your Speed
While this is not necessarily a modification to the Wrangler, lowering your speed is a great way to decrease the roughness of the ride.
If you lower your speed and take your moves more smoothly, it can make the ride less bumpy.
When you drive more aggressively, it can require your vehicle to jump into gear roughly and make the ride choppy.
When driving on major highways, controlling speed throughout and especially on turns can lead to a smoother ride.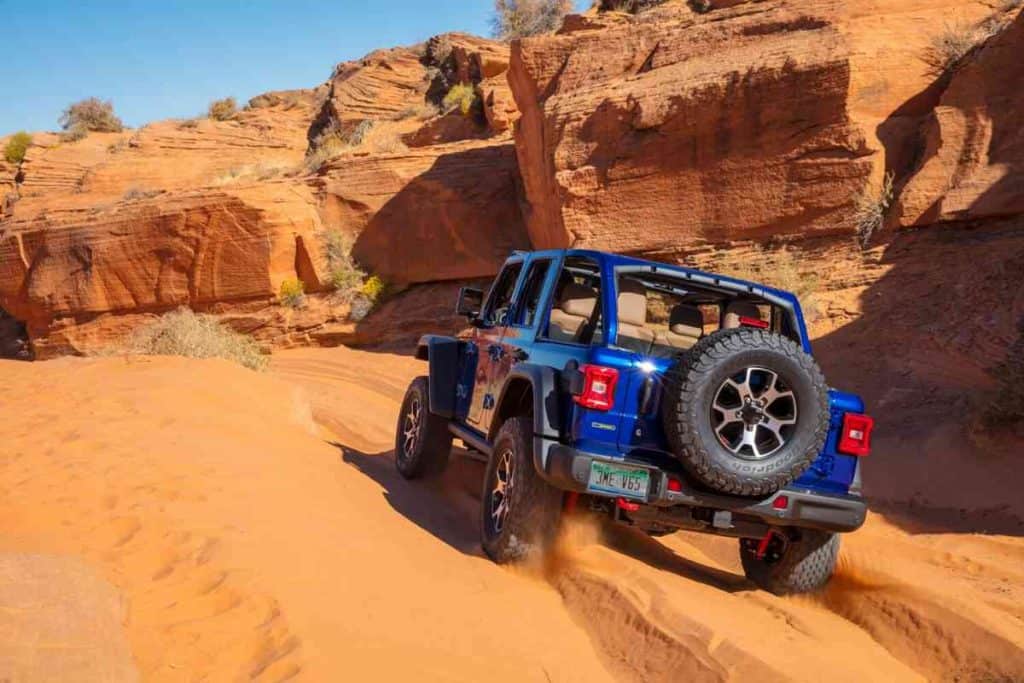 Features on New Jeep Wranglers
Older Jeep Wranglers are known for their rough riding on main highways, but newer Jeep Wrangler JL models made after 2018 are much smoother.
These vehicles have many updates that make them work well for traditional driving and can be used both on-highway and off-roading.
While these models have advancements that make them work well for driving highways, they still have amazing power off-road.
Including the new and improved riding abilities, the newer Wranglers have advanced technology and new safety features.
They have the capability to connect with smart devices, and some even have DVD players attached. Overall, these models are far more advanced than older options.