Best Shocks For A Smooth Riding Stock Jeep Wrangler [YJ, TJ, JK, and JL]
This post may contain affiliate links. As an Amazon affiliate, I earn from qualifying purchases.
Shocks are an integral component of any vehicle when it comes to the enjoyment of a smooth ride. For most Jeep owners, it is assumed that the stock shocks that come with the purchase of your vehicle are good enough for day-to-day use. However, those who own Wranglers often want to level up any experience they can get and are looking for the best shocks they can find for this SUV.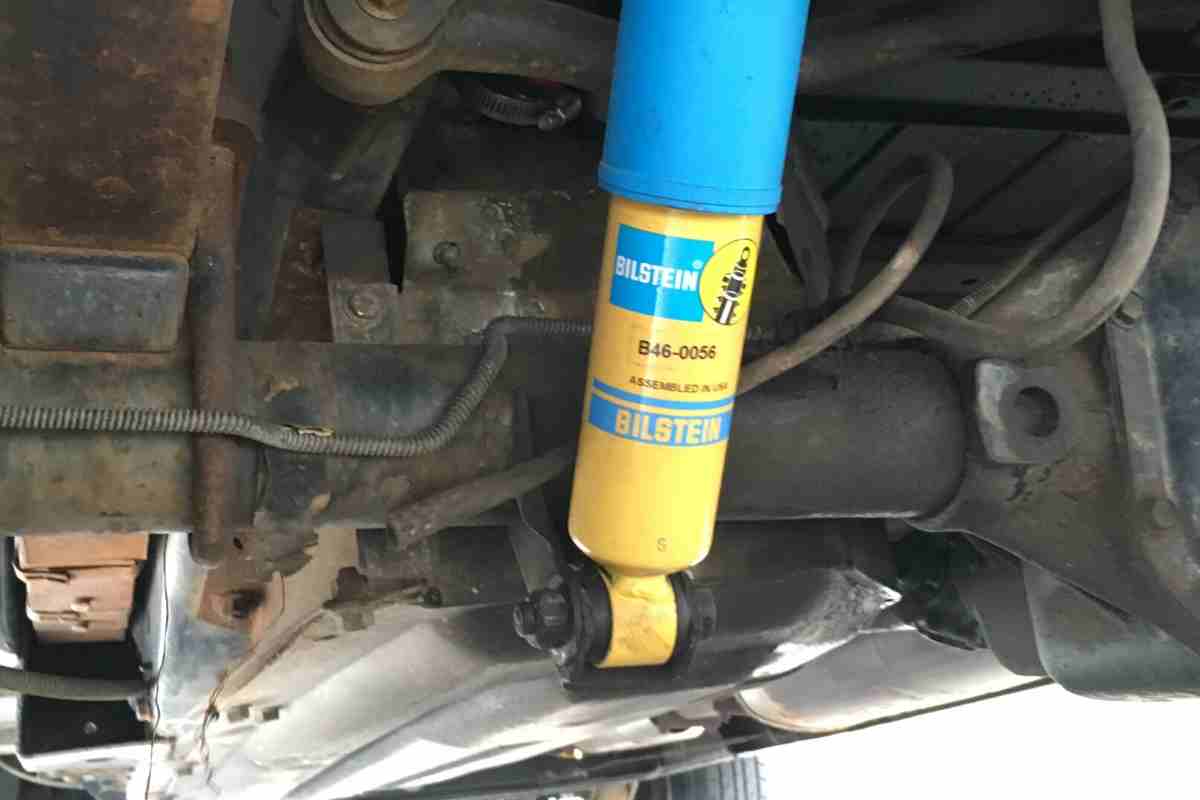 Table of Contents
What Are The Best Jeep Shocks For A Smooth Ride (No Lift Kit!)
The best shocks for a stock Jeep Wrangler depend on your trim level:
Wrangler YJ: Bilstein 4600, Rancho RS5000 Series & Skyjacker H7000 Hydroshocks.
Wrangler TJ: Bilstein 4600, Custom Valved Fox Shocks & Old Man Emu Nitrocharger Sport.
Wrangler JK: Rancho RS9000XL Adjustable Shocks, Falcon Shocks by Teraflex & Bilsteins 5100.
Wrangler JL: Fox 2.0, Teraflex 9550 & Kings Shocks.
There are many factors that will influence what makes each of these brands one of the finest on the market. I have researched top shocks for each model of the Wrangler and taken into consideration the many components that matter most to Jeep Wrangler owners.
Below I will explore all of my top recommendations and will explain why each one of them made this exclusive list.
Best Riding Shocks For Jeep Wranglers (By Model)
When I was researching (either through experience or otherwise) various shocks for different Wrangler models,
I wanted to remove the bias and stick to what is truly going to offer the smoothest ride and the most stability with the least amount of vibrations (for the cost). While there is some overlap in this list, it is very minimal.
As I see it, my job is not to sell you a particular shock but to provide you with details about my experience and allow you to make the decision that is best for you, your vehicle, and your budget.
The Best Shocks For A Wrangler YJ
The best types of shocks for a smooth-riding stock Jeep Wrangler YJ are the Bilstein 4600, Rancho RS5000 Series, and the Skyjacker H7000 Hydroschocks.
Here are the details below:
Bilstein 4600
For smooth riding shocks, the Bilstein 4600 model is going to be one of my top picks every time. One of the first things you will notice when installing Bilstein's is an immediate improvement in cornering.
Of course, you should notice an all-around smoother ride, but where I really saw improvements was in the turns. This will hold true even on highways and at high speed, which is important for those of you who plan to use your Jeep Wrangler YJ for longer adventures (or en route to your off-roading extravaganza). 
These should definitely be in the contending for your choice shocks for a stock Jeep Wrangler YJ.
Not only do they offer improvements in absorbing the bumps on turns, but they offer so many other great features for SUVs and trucks as well.
One additional feature they boast is an optimal performance for handling including the grip and lane control.
This will be important as you navigate at higher speeds as mentioned above or in the case of your vehicle traveling over large height differentials.
Another bragging right for the Bilstein 4600 is the high gas pressure which simply means that a more harsh or difficult ride will feel much more smooth than a standard shock is able to offer. There really are great gas shocks.
If you are planning on doing anything on rough terrain in the Wrangler YJ, this will be super important.
When towing or pulling anything like a trailer, this model will offer you a longer lifespan.
When you are considering overall costs of installation, the lifespan will obviously play a large role in this as you will not have to replace them frequently- even with lots of "wear and tear".
Speaking of cost, the final component that I will mention for this model is that it does not require a spring change.
This means that the cost of installation will remain low- a huge bonus for your budget.
As another perk to no spring change, this will also make your installation less taxing. Enjoy the ease and comfort of the ride with the easy, inexpensive installation of the Bilstein 4600 shocks on your Wrangler YJ.
Oh… and they come with a lifetime warranty!
Rancho RS5000 Series
Coming in at a similar price as the Bilstein's, the Rancho RS5000 series (available on Amazon) is going to be a great option to consider for your Jeep Wrangler YJ.
One of the aesthetic benefits of this brand is a more mild color scheme compared to the Bilstein's competition.
When you are considering the overall look and appeal of your vehicle, this is often something that many people do care about.
Another feature that I like about the Rancho RS5000 series is that it has 10 different stages for velocity specific valving.
This means that your vehicle will be able to respond to all types of road terrain and conditions making your Jeep Wrangler YJ suitable for the highway or off-roading adventure of your dreams.
Additionally, the self-lubricating seal helps to retain gas and oil saving you significant amounts of oil lost otherwise. Further, since it is low friction, there will be no worry about overheating to this element.
Finally, the durability of this shock series is something to brag about. This model has a gas-filled fluon piston, so the shocks are great for off-roading and large terrain variances.
Keep in mind, though, that gas-filled shocks are not as great with a slower-pace due to how "hard" they can feel.
If you plan to do most of your trips at a slow pace or on the pavement, this may not be the right choice for you. But who buys a Wrangler to stay on pavement, right?
The Rancho RS5000 series shocks can make a great set for your Wrangler YJ. These combined with a new set of tires can have you feeling like your Wrangler is decades newer.
You will be ready to take on any terrain with the thrill of the rush and the comfort of the shock-absorption offered by this model.
Skyjacker H7000 Hydroshocks
The Skyjacker Hydroshocks are another great, affordable option. They come with a lifetime warranty and they are leaps and bounds above the stock parts when it comes to a smooth ride.
One thing I noticed is that they are very easy to install because everything fits very nicely when working with these.
Another bonus to this brand is that the valving is velocity-sensitive. This means that a ride in a Jeep Wrangler with the Skyjacker H7000s will be enjoyable regardless of the speed you are going.
A slow-paced cruise or a high-speed thrill will both be enjoyable with this feature.
Similar to the Bilstein 4600s, this model offers better handling for your vehicle. Considering you will likely be navigating some more "difficult" or "adventurous" terrain in your Wrangler, having the ability to control your vehicle will be important to it, you, and your passengers.
The twin tube construction that helps with handling also aids in the durability of your shocks.
Of course, we all know that durability is important not only for the rides that may be a little rougher but for the long-term endurance of your shocks.
I am assuming you do not want to have to replace these often (think time and effort), so consider the durability that this brand offers as a part of the overall cost.
The Best Shocks For A Wrangler TJ
The best shocks for a smooth-riding stock Jeep Wrangler TJ are the Bilstein 4600, Custom Valved Fox Shocks, and Old Man Emu Nitrocharger Sport. Here are the details:
Bilstein 4600
While I will not go into detail again about why this brand is killer, just trust me- it is. Similar to use with the Wrangler YJ, the Bilstein 4600's are going to be my top choice (again) for the Wrangler TJ. These shocks are just the best quality for their price point and have always been reliable. See the above description under the Wrangler YJ model for some of the reasons that I love this brand.
Custom Valved Fox Shocks

If money is no object, Custom Fox shocks are absolutely a top of the line product. While they are two to four times more expensive than most of their competitors, these shocks can be tweaked by most sellers to fit your Jeep's weight and terrain. This is going to be a top pick for anyone who is serious about having the absolute smoothest ride possible.
A few of the components that make this an above and beyond brand are the pistons that have been race-developed (so you can enjoy the perks of moving FAST) and advanced suspension fluid.
This feature helps to make sure that your vehicle operates well at a wide range of temperatures.
Another reason that I like this brand is that the ride is going to be predictable. You are going to know, without a doubt, that you can count on a quality ride in your Wrangler TJ with this brand of shocks.
Finally, something that will aid in the long-term value of this brand is the aluminum body.
The material being made of aluminum means that it will never rust and will also aid in the cooling process for your shocks.
Instead of worrying if the money was worth it for this brand, you can rest assured that this model will be the best shock absorbers you can find.
Old Man Emu Nitrocharger Sport
It is hard for me to put this as number "3" under this Jeep. Despite this position, the Old Man Emu (OME) Nitrocharger Sport shocks are an absolutely amazing piece of technology. One thing to note is that these are best suited for a Jeep with a 3.5" – 5" lift.
The OMEs come with a 3-year Warranty which is honestly pretty great for shocks.
When you consider the number of adventures you are likely to have within three years, it is pretty evident that this is a long time for something to "go wrong" and you to be able to have them replaced.
It's unlikely that you will need to do this anyway, but the warranty adds peace of mind.
This brand can definitely "take a beating" on off-road adventures. They are made to last and to stand up to the most difficult of tests (even laboratory standards which they have been proven to withstand).
Finally, this model sports a medium difficulty in installation. If you are not prepared to install these yourself, you can take them to a professional.
However, many of the components make them about average for installation if you are comfortable and familiar with working on a Jeep Wrangler (or another vehicle).
The Best Shocks For A Wrangler JK
The best shocks for a smooth-riding stock Jeep Wrangler JK are the Rancho RS9000XL Adjustable Shocks, Falcon Shocks by Teraflex, and Bilsteins 5000. Here are the details below:
Rancho RS9000XL Adjustable Shocks
So you already know that I am a fan of the Rancho brand for many reasons. This brand is reliable, affordable, and offers a great product. For the Jeep JK, the Rancho RS9000XL Adjustable Shocks have got to be one of the best brands you can find- they clearly make the top 3 for this Wrangler model.
This brand offers a lifetime warranty and even includes a 90-day free trial. What's to lose in the case that you can try these out with no risk if they do not suit your needs or style? The peace of mind is a definite bonus.
Additionally, these have additional protection for the shock rod and oil seal and are also proven to reduce oil leakage.
This, along with the gas pressurization of the shock that limits the air mixing with the oil will help to make sure that your shocks perform at the highest rate possible.
Finally, I really like that this has a rebound bumper. This aids in road conditions that are a little more difficult or harsh such as driving over large rocks or down a mountain or hill.
Since you are bound to go on off-roading adventures in your Wrangler JK, having something that helps control the rebound motion is a must.
Falcon Shocks by Teraflex
Falcons are newer to the game and have brought a new dimension to fitting on vehicles. If you remember, the Fox shocks can be fine-tuned to fit your vehicle more precisely. This is where Falcon's excel – instead of needing to be customized, the Falcons are built with one vehicle in mind. 
This vehicle is the Wrangler JK/JKU. This will be an easy installation because of how well they will fit, and these are fine-tuned to meet every need your Wrangler JK could possibly have.
Tossing on the steering stabilizers at the same time will give you one of the smoothest possible rides you could ask for.
On top of the quality and custom features, Falcons come with a 3-year warranty – so you know you will get good use out of them and can always return them if they (for whatever reason) do not live up to your expectations.
Bilsteins 5100
Similar to the 4600 model, I have to toss these in the mix. The 5100s are another great Bilstein option. Can you tell that I like Bilsteins? Though they are slightly more pricey than the 4600 (which you can still get for the JK), these are still an incredible find. In my opinion, they have a slightly easier fit, and I like that they are silver/chrome instead of the bright yellow.

Other features that make this a competitive model include the self-adjusting and deflecting disc valving, nitrogen charging, and a limited lifetime warranty. This, along with the other features that I already described regarding Bilsteins make this model a top competitor without a doubt.
The Best Shocks For A Wrangler JL
The best shocks for a smooth-riding stock Jeep Wrangler JL are the Fox 2.0, Teraflex 9550, and Kings Shocks. Here are the details below:
Fox 2.0
Similar to my TJ suggestion, the Fox 2.0 is a great choice for the JL. These are not the same custom shocks I suggested above (though, that still stands if you have the money). Instead, these are top of the line shocks off the shelf that fit the JL well. 
The Fox 2.0s provide a smooth and predictable experience for on and off the road and are super versatile. I have never known anyone who installed these and not seen a massive improvement in the smoothness of their ride.
Teraflex 9550
These Teraflex shocks can be purchased to fit a variety of lift sizes for the Wrangler JK, though they are popular for no lift or 2.5" lift. Additionally, this is a relatively affordable option, so you should be about the middle of the road. I have described a few reasons that I like this brand above, so I will not go into further details here.
Still, this brand is a top choice, and this particular model is unique. It features an internal travel stop limiter which means you can limit the travel suspension as needed.
These shocks are some of the best at minimizing road impacts that I have seen for the JK model. So, if you are looking for shocks that are going to be reliable and predictable, this is a great option for you.
Kings Shocks
If you are not concerned with money and have a low (or no) lift, the Kings are some of the nicest shocks you can find. These include an easy bolt-on installation to make it easier for the user. Easy installation is a must for those who plan on working with the shocks themselves.
Another factor that makes these a top choice is that you can fine-tune these with 20 different knob clicks to get each shock perfect for what you want.
Additionally, these are zinc plated outside and have aluminum finned reservoirs – they will keep a good temperature and be resistant to rust.
When you purchase, you get the Jeep JL King shocks and they are valve-specific to the vehicle which means you get an easier installation – and more importantly, max performance and comfort.
Finally, another great feature that comes with this brand is that these are able to be rebuilt and reserviced making them less expensive to replace in the future.
You will experience a smooth ride and a true-to-the-test performance for a long time to come. No need to dodge potholes!