Rear License Plate Bottle Opener for Your Jeep
This post may contain affiliate links. As an Amazon affiliate, I earn from qualifying purchases.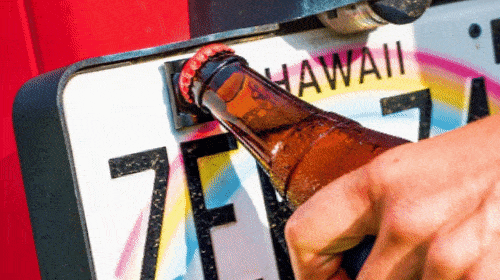 Product Review Disclosures
Have you ever been at a tailgate party with a cooler full of longnecks only to realize no one brought a bottle opener?
I mean, sure, you could toss it to your buddy Chad who says he can open bottles with his teeth, but no one wants to pay his dental bills when things get a little crazy.
Photo by Phil Coffman on Unsplash
So, what's the solution?
Well, one innovative startup seems to have come up with a pretty good solution.
Meet the rear license plate bottle opener.
Yes, this is as cool as it sounds.
I can't tell you how frustrating it is to get to where I'm going, whether that's camping, tailgating, or just out for a picnic only to realize I'm missing something. And if I'm drinking beer or Cheerwine in a bottle (For all my NC Friends), it's a horror story if I don't have a bottle opener.
The good news is, this super simple and convenient jeep accessory prevents that from ever happening again.
About The License Plate Mounted Bottle Opener Jeep Accessory
This super flexible bottle opener that's known to fit the Jeep Wrangler JK, TJ, and Ford Raptor (F-150) models as well as most cars.
It's pretty easy to install, you just use M5/M6 screws to adjust it into your vehicle, which is a plus since no one wants to spend hours installing a simple bottle opener license plate.
Once it's on, it's surprisingly sturdy. To use it, just put your bottle underneath the opener, pull and your top pops off (No Wrangler Pun intended).
No more stressing over finding a bottle opener. You'll always have one attached to your jeep ready to go whenever you are.
And your buddies will like it too since they know they never have to wait to find a bottle opener.
Photo by Wil Stewart on Unsplash
Here's Why I'd Buy It
I'm a "gadget guy". My hiking and camping buddies once gave me the nickname "Go-Go Gadget" for a reason. I believe that you can never be too prepared. Especially if you like your beer in a bottle, but even if you aren't a beer drinker, you can use this license plate bottle opener to open any kind of bottled beverage.
Check out this cool gadget here and see if it's something you want to add to your growing list of Jeep accessories, I might just be doing the same for mine.