Can a Lexus GX 460 Tow a Camper?
Just because you love to rough it in the great outdoors does not mean you don't like to get there in style. Many luxury SUVs are capable of towing campers and trailers, but few are quite as capable as a Lexus GX 460.
All models of the Lexus GX 460 have a 6,500-pound towing capacity, which means they are able to tow the average camper. If you are planning on towing with your Lexus, make sure you have the proper equipment to attach your camper or trailer and confirm the weight that you are attempting to tow.
Not only is the GX 460 a capable vehicle with towing and off-road capacities, but it is also a luxurious vehicle with many other attractive qualities. Learn all about them below!
Towing With Your Lexus
The Lexus GX 460 is completely capable in terms of towing, but it does have a comparatively small towing capacity. In its lifetime, GX 460s have been expertly constructed on the same frame as the Toyota Land Cruiser. This means that both the GX 460 and the Land Cruiser are built on truck chassis, giving them durability and structure similar to that of a pickup truck.
Compared to trucks that are commonly used for towing, such as a Ford F250 or Ram 2500, the Lexus is smaller and less powerful, though it is not small or weak by any means. But because of this, a Ford, Ram, or Chevrolet is a better option for towing larger trailers and campers, such as horse trailers or a 4+ person toy hauler.
There are three trims available on the 2021 GX 460: the GX 460, the GX 460 Premium, and the GX 460 Luxury. Each of these trims is designed to be capable of towing up to 6,500-pounds.
Towing Essentials
Thanks to the popularity of these vehicles, it should be easy to round up all the proper equipment for towing with your GX 460.
All GX 460s come able to tow. If you are purchasing your Lexus from a dealership or ordering it custom-made, then you can include a tow hitch receiver or ball with your purchase. If you are buying a used Lexus that is not already equipped with towing gear, you can buy it aftermarket from an auto part store or aftermarket retailer. The tow hitch is crucial in your towing experience because it is how you connect your camper or trailer to your car. You are nothing without it.
Next, you'll need an electronics connector. When towing a camper or enclosed trailer, you'll need to sync your vehicle's brake lights and turn signals with your cargo. In addition to the connector, you'll need a bracket to secure the wires to the back of your vehicle. The bracket will fit near your hitch on the rear bumper and make for a clean-looking and efficient connection between your vehicle and your trailer.
The last thing you will undoubtedly need to tow with your GX is a brake controller. Like with your lights, your trailer must be in sync with your vehicle. This is crucial for safe towing! Without it, you risk disaster if your trailer does not stop when your car does or if it does not take turns smoothly.
These are just three essentials with towing, though there are many other options to secure or improve the quality of your tow. What's more, there are many versions of these three tools that are not compatible with all kinds of vehicles. You'll need to make sure you are buying products that will work with your Lexus. Sites like etrailer.com have a comprehensive database of products, as well as expert tips on choosing and installing equipment.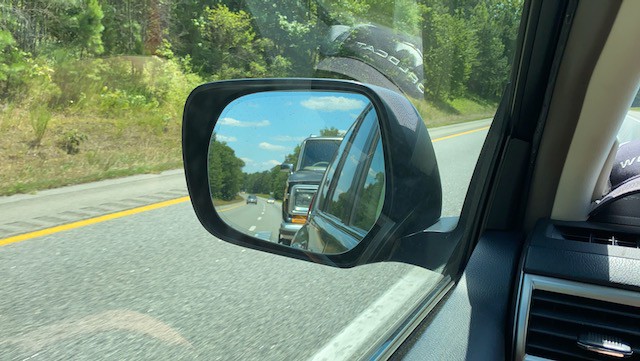 Powerful Engine
Each Lexus GX model since 2013 has been equipped with a 4.6 liter 8 cylinder engine, which is to say the engine is big. And a big engine is a powerful one. This is what gives the GX the power to tow three and a half tons of gear.
The first-generation of the GX 460, which was produced from 2003 to 2009 and was called the GX 470, had a 4.7-liter V8 engine. If you already own or are considering the purchase of a first-generation GX, you are still able to tow over 6,000 pounds.
But as good as a big engine is and as appealing hundreds of horsepower can be, the torque output is the most important aspect determining towing capacity. Take these two trucks as reference:
A Chevrolet Silverado 1500 Trail Boss with a 5.3-liter V8 engine puts out 383 pound-feet at 4100 RPM. The Silverado 1500 has a towing capacity of 13,300-pounds.
The Ford Super Duty line is built with 7.3- and 6.7-liter V8 engines, in gas and diesel configurations respectively. The gas V8 puts forth 475 pound-feet of torque and has a towing capacity of 21,000-pounds. The diesel V8 produces 1,050 pound-feet of torque and has a conventional towing capacity of 24,200-pounds.
By comparison, the GX 460's 4.7L V8 puts out 329 pound-feet of torque at 3,500 RPM, which contributes to its smaller towing capacity.
This is not a slight on the Lexus. It is still a high-performing vehicle that is much easier to drive than a Ford F350 Super Duty ever will be.
A step up from the GX, however, is the Lexus LX 570, which is built with a 5.7-liter V8 engine that puts out 403 pound-feet of torque per 3,000 RPM with a 7,000-pound towing capacity. The LX 570 is significantly more expensive than the GX, with a 2021 model starting at $86,000. Though it is slightly bigger and has a heightened luxuriousness to it, the LX does not have many major differences from the GX.
Excellent Pedigree
Lexus and Toyota are sister companies. Because of this, the power, efficiency, and capability of Toyota SUVs are translated into the Lexus GX 460, as well as the Lexus LX 570.
The Toyota and Lexus SUVs form a quartet of highly capable off-roading vehicles. They are all built on the same frame and with the same intent. The Lexus GX 460 and Toyota Sequoia are in direct competition with each other, while the LX 570 and Land Cruiser do compete with each other. While the two Lexus SUVs are closely related to the Toyota SUVs, they still are more expensive and designed more intentionally to achieve a higher level of luxury.
Luxury in Spades
Lexus is to luxury as Toyota is to consumer pleasure. As a result, the GX 460 comes standard with some of the finest details on the market (The 6,500-pound towing capacity also comes standard in the GX 460). Some of those details include:
Leather seats and accent trim
Heated and ventilated front seats
Reclining second-row seats
Heated side-view mirrors
Power moonroof
In addition to their proclivity for luxury features, Lexus also boasts a wide array of safety features that ensure the safety of passengers and pedestrians alike. Some of those safety features are:
Lexus Safety System+: Pre-Collision System with Pedestrian Detection
Lexus Safety System+: Lane Departure Alert
Lexus Safety System+: High-Speed Dynamic Radar Cruise Control
Blind Spot Monitor with Rear Cross-Traffic Alert
Trailer Sway Control
As you can imagine, the Trailer Sway Control is perfect for towing! Lexus says, "Trailer Sway Control (TSC) is an electronic system designed to help the driver maintain vehicle control under adverse conditions." Some of these adverse conditions include road conditions and weather, though the responsibility still remains primarily on the drive. The Trailer Sway Control system is meant to aid the driver in their travel.
The high-class appeal is also evident in the price and its low depreciation: The 2021 Lexus GX 460s start at $53,250. A used 2018 GX runs for about $48,000. A GX with low mileage will be more expensive because of its gentle use, but a 2015 GX with 120,000 miles on the odometer can still go for about $30,000. The surge in popularity for these vehicles, their capability, and their luxuriousness gives this high-value car high prices.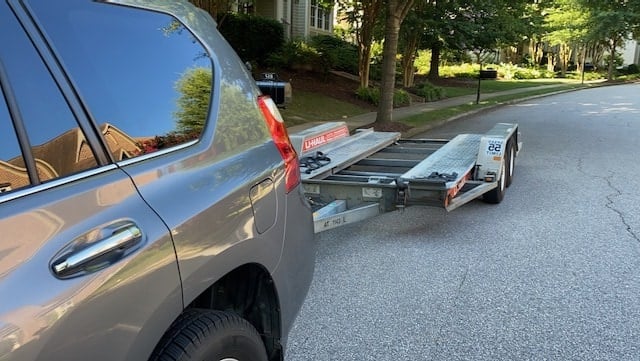 Power Off-Road
Because the Lexus is so closely related to the Toyota brand, it makes for an excellent off-roading vehicle.
One Toyota feature the GX 460 has that makes it such a formidable overland vehicle is the Toyota Crawl Control, or, as it's known off-road, CRAWL. CRAWL is a feature that oscillates between five low-speed gears for climbing and descending over almost any kind of terrain.
The CRAWL is designed to automatically adjust throttle and braking mechanisms so that the driver only has to focus on steering. CRAWL also increases the driver's sense of stability and control while overlanding. On newer models of the GX 460, the CRAWL feature is integrated with the vehicle's 360-degree cameras so that you can see what obstacles surround your tires. The "Panoramic View with Multi-Terrain Monitor" can also be useful in towing, as you get a sense of what is happening around and underneath your SUV while you are setting up a camper or backing a boat into a lake.
This feature on the GX 460 complements the "Full-time four-wheel drive with Active Traction Control" in that the GX is constantly aware of the traction it has, the hazards of its immediate terrain, and it monitors the slipping potential of your vehicle where ever it goes. Like CRAWL, Active Traction Control automatically senses when to apply and when to release the breaks on an individual wheel during motion. This is a standard feature on all GX models.