Can You Fit Skis or Snowboards In a Jeep Wrangler?
The Jeep Wrangler is one of the most famous vehicles in America, especially for a certain segment of the population. The Jeep Wrangler stands for a "do anything" vehicle that is great for adventuring, whether you're heading to the beach, off-roading, or taking it up to the mountains.
Today, our focus is going to be on the mountain path as we look at skis, snowboards, and their compatibility with the Jeep Wrangler. It's never easy to deal with this storage issue, especially when you have smaller vehicles that can cause people to be crammed in next to their friends or family.
So, will this precarious situation work?
Can You Fit Skis In a Jeep Wrangler? Can You Fit Snowboards in a Jeep Wrangler?
Skis and snowboards do fit into a Jeep Wrangler, but you may need extra equipment or prefer to use a ski or snowboard rack to expand your cargo carrying capacity.
One of the best ways to carry skis or snowboards in a Jeep Wrangler is to use a ski rack.
That may not always be possible if you are renting a Jeep Wrangler; but for the most part companies should offer that option to you. Some people don't want to use a ski rack, and that's where this can get complicated.
Obviously, it will be easier to fit your skis in a 4 Door Wrangler than it would be in a 2 Door Wrangler. The extra length of the vehicle is quite helpful in that regard.
However, even still, depending on how many passengers you have and how many sets of skis or snowboards that you have, you may still end up in a tricky spot.
It's best to know your situation going forward, so if you are making a purchase you should measure carefully between your equipment and your car interior and make an informed decision.
You should also have some kind of system in place to prevent the skis and snowboards from bouncing around when you are driving.
If you are renting a Wrangler, there are a lot more unknowns in the situation. The best plan will be to make arrangements to have a ski rack waiting for you.
If you're unable to secure a rack, then you will need to know that things may get a little bit creative, and with a large party you may be facing a very difficult problem.
2 Door Wrangler vs. 4 Door Wrangler
When it comes to packing up your equipment for an adventure, you may be trying to decide between a 2 Door Wrangler and a 4 Door Wrangler. This isn't an easy choice, and some people don't even know the differences between the vehicles.
Generally speaking, the 4 Door Wrangler is the more expensive vehicle. If you are making a purchasing decision, you should be aware that buying the larger 4 Door model is going to cost you a bit more.
When you consider the life of the vehicle, that's probably not a decision that should bother you too much; especially when you are trying to think about bringing along a lot of cargo (or at least cargo that is fairly large like skis and snowboards).
The 4 Door Wrangler comes with a higher maximum towing capacity depending on the trim package of the vehicle, so again be prepared to do your research if towing is going to play a factor in what you do.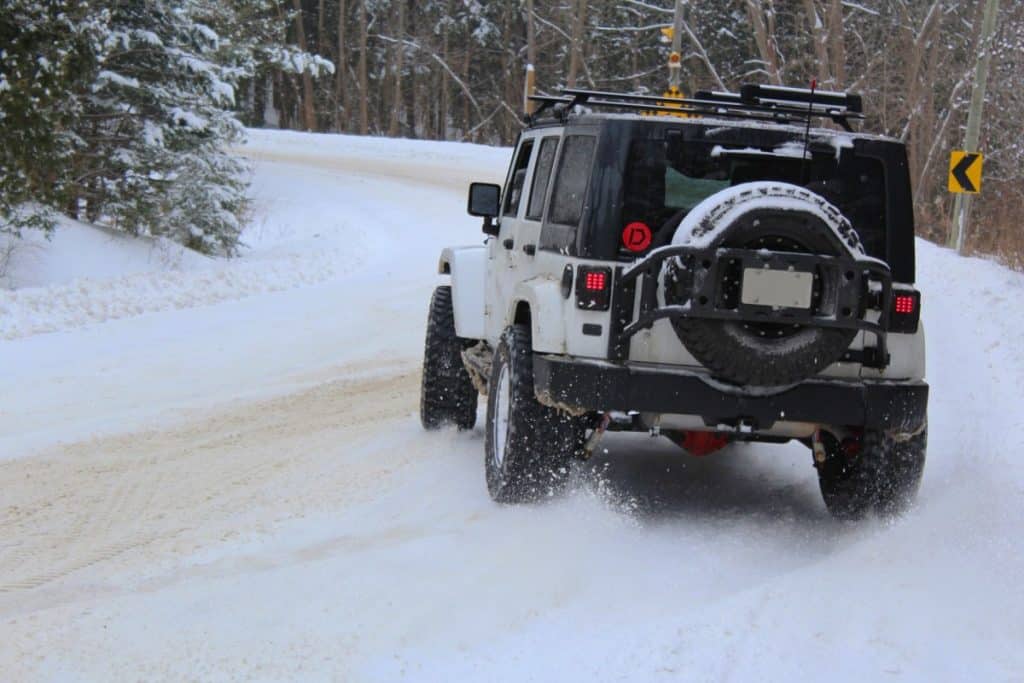 When it's not Winter time, a lot of people like to tow small boats or smaller trailers with their Jeep Wrangler, and getting a version that has a higher towing capacity can help you do that with ease.
The 4 Door Wrangler also has room for a 5th passenger where as the 2 Door Wrangler can only hold 4 people. Usually, that's not too much of an issue for some people, but if you've got a party of 5 headed for a camping trip, you had definitely better not rent a 2 Door Wrangler.
Regardless of how many people you have coming, you probably want to get a larger vehicle if you all have skis or you all have a fair amount of equipment to bring along for the trip.
If you aren't sold yet on the Jeep Wrangler, we're going to take you on a trip to discuss everything about these vehicles to see if it's a good fit for you to rent or buy a Jeep Wrangler for yourself.
The Jeep Wrangler
Everybody knows about the Jeep Wrangler… but is it right for you?
Whether you're renting a vehicle for your next vacation in the mountains, or buying an SUV that can drive you to work and take you off the beaten path, here are some factors that should help you decide!
How's It Drive?
Obviously, the Wrangler is more than competent when it comes to off-roading. There is no SUV on the marketplace that can hang with the Wrangler's Rubicon trim due to its massive tires and its differentials.
However, this can affect the everyday steering that is found in the Wrangler.
The way the vehicle was constructed simply maximizes some of the more difficult things that the Wrangler can do; and that hurts it when it comes to every day driving.
If you are simply renting this vehicle to get a little dirty and get up a mountain, you really shouldn't face any big problems at all because you aren't going to see those "small" problems over time. If you are purchasing, you just want to make sure that what you buy isn't simply a toy if you need it to be a reliable vehicle.
The engine that is found in the Jeep Wrangler has a lot of power, and the transmission feels smooth. Again, if you're renting or buying – there really shouldn't be any problems or concerns with the engine or the transmission areas whatsoever.
Is It Comfortable?
While Jeep is known for making high-quality vehicles, they are definitely not all luxurious vehicles. Of course, some are as you get up into the higher levels of trim packages, and don't take that statement the wrong way. Jeep vehicles are extremely nicely made.
However, there is just not an emphasis on passenger comfort that you get in other brands that are focused on other things. You should feel comfortable though going on long trips in the front seats. The rear air vents found in a Wrangler these days are quite convenient as well.
However, the things that make the Wrangler amazing when off-roading can hurt it when it comes to ride comfort. If the road isn't completely smooth, it can be almost a brittle experience riding in a Jeep Wrangler. It's also quite loud due to the shape of the Wrangler.
Most people don't rent or buy a Wrangler looking for peace and quiet after all though. If noise does bother you, you should go with the hard top model as it is a lot quieter than its soft top counterpart.
Inside the Wrangler
The Wrangler has a lot going on, but it still feels natural to sit in the driver's seat. One great thing about the Wrangler is the fact that it has cut down on a lot of blind spots that previous models used to have.
That's great for those concerned about the safety of their vehicle. The driving position doesn't feel super comfortable right away, however you can adjust it and try to improve on the situation.
If you are looking to remove your soft top, you should be able to do so easier than you would have in the past, thanks to the Wrangler's new design. That's a big deal because so many Jeep buyers have been asking for this as they want to be able to make modifications on the fly.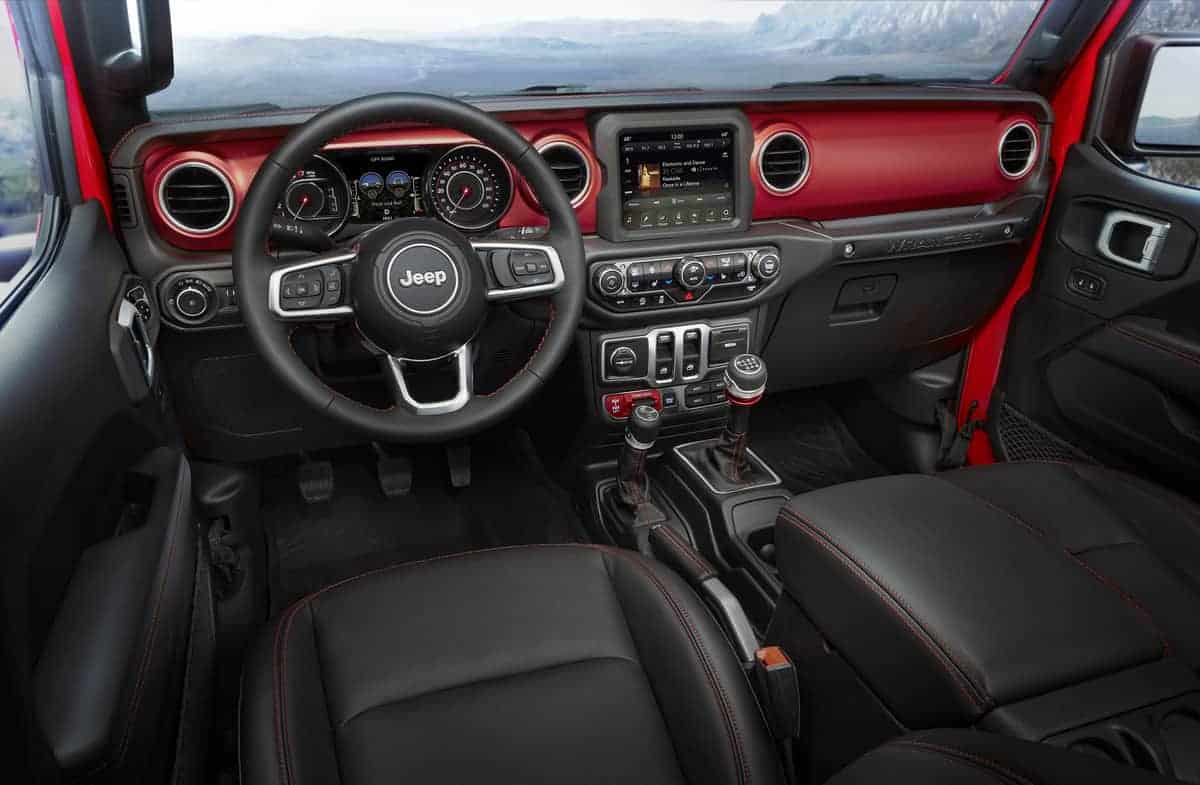 It's not necessarily super easy to get into a Jeep Wrangler, although, again we assume that most people know what they are getting into when they rent or buy a Wrangler.
There are grab handles if you need a bit of assistance though. The inside of the Wrangler doesn't feel all that roomy, especially when compared to other SUV's this size.
However, when it comes to technology, the Wrangler does a nice job. Your smartphone is going to integrate with the vehicle very easily, and the Uconnect system works quite well with excellent graphics and just an all-around great presentation.
You also have a lot of charging ports for USB outlets available which is key in today's society. Apple Car Play and Android Auto are included so you know your devices will be easy to hook in to.
The Jeep Wrangler is not the right vehicle for someone looking for all of the latest and greatest advanced safety features.
Unfortunately, the Wrangler doesn't have anything like auto brakes or lane assist. It does come with some blind spot monitoring, but that's about all you'll get in that aspect of the vehicle.
Jeep Wrangler Storage Space
Because the Jeep is quite narrow, it doesn't match up to some cargo possibilities of other vehicles.
That's not to say that the cargo space is bad, because there's a fair amount of it, but other competitors have been able to do better in this area. You probably can't take those competitors on the same trails that the Wrangler goes on though.
The rear seats do fold down fairly easily and they go neatly into the floor, so if you need the extra space you can definitely make that happen. The storage areas in the front seating spaces of the vehicle really aren't great.
Conclusion
The Jeep Wrangler may make it difficult to carry skis and snowboards, especially in the 2 Door Version. It's highly recommended to get a ski rack if you need to carry your gear so that you can do so somewhat easily.
However, if you get all of your equipment onboard successfully, you would be getting access to a beast of a vehicle that can attack a lot of different environments and do an awesome job when driving off-road.
There are some faults that the Wrangler has, but there's not many SUV's that can match what it does well either.
5 Popular Jeep Wrangler Ski Racks!
Last update on 2023-11-19 / If you click this affiliate link and make a purchase, we earn a commission at no additional cost to you.
Can You Fit Skis or Snowboards In a Jeep Wrangler?