Skis and Snowboards: Will They Fit In a Ford Escape?
The Ford Escape is a crossover SUV that does a great job when it comes to combining performance and the ability to get things done as well.
It's got a nice engine that helps it to drive like a sedan while having all of the usefulness that an SUV brings to the table, which is not an easy combination to find.
The Ford Escape is a common rental vehicle for those looking for an SUV due to its size, and many people want to know if this is the right vehicle for them when it comes to bringing a lot of gear.
Specifically today, we are looking at skiing equipment and snowboarding equipment. The unique size of these items means that many cars can have trouble getting them up the mountain, so let's explore everything about the Ford Escape to see how it does.
Will Skis Fit In a Ford Escape?
Yes, your skis will fit into your Ford Escape. This isn't the biggest SUV on the marketplace, so you should be aware that if you are trying to fit 4 adults with a lot of gear and skis or snowboards that you are going to be very cramped.
However, with that being said, if you have a few less people or you don't have a vehicle that is jam-packed with equipment, you should probably be able to figure out a configuration that works for you.
A Ford Escape is a common vehicle that people think about renting when they have a getaway trip to the mountains or hillsides for skiing or snowboarding. However, the simple storage of your skis shouldn't be the only factor when you rent (or buy) a vehicle.
Keep reading as you can get some of the best information about the Ford Escape including what to expect from the power of the vehicle, the interior, towing capacity, and much more!
Looking at the Ford Escape
When you look at the Ford Escape, you see a vehicle that is really quite rare in the marketplace today.
It's got a nice ability both behind the wheel when driving and you get a level of utility that isn't often mixed with that. The Ford Escape does a nice job mixing both areas quite well.
It's got the appropriate level of handling with an extremely powerful engine – both factors that make the Escape much easier to drive than a normal SUV. It combines the best of both areas of a sedan and an SUV.
On top of that, you get a ton of cargo space with the Escape, along with a vehicle that can offer all-wheel drive on its trim packages. Front-wheel drive is standard, however.
Any engine option that you pick is going to give a fair amount of power for a nice price, and that comes with a six-speed automatic transmission that seems to complement things quite nicely.
There are some negatives to the Escape, of course. The design is getting to be fairly old with the Ford Escape and there are some safety features that other SUV's offer standard which come optional here.
The interior doesn't really stand out in any way, but with the positives in other areas, it's possible that the Ford Escape would still be a nice rental or purchase for you.
Driving the Ford Escape
The Ford Escape is actually one of the best SUV's to drive on the marketplace. The engine has plenty of power and the braking and handling is quite good as well. It almost truly doesn't feel like an SUV when you're behind the wheel.
However, some of that driving power eliminates some of the comfort that you could feel as a passenger. The transmission is probably average at best, which eliminates some of the advantages that the power gives the Escape.
Accelerating in the Ford Escape isn't the best feeling. It's fairly slow, clocking in at over 9 seconds to get to 60 mph. However, at higher speeds it does feel a bit responsive.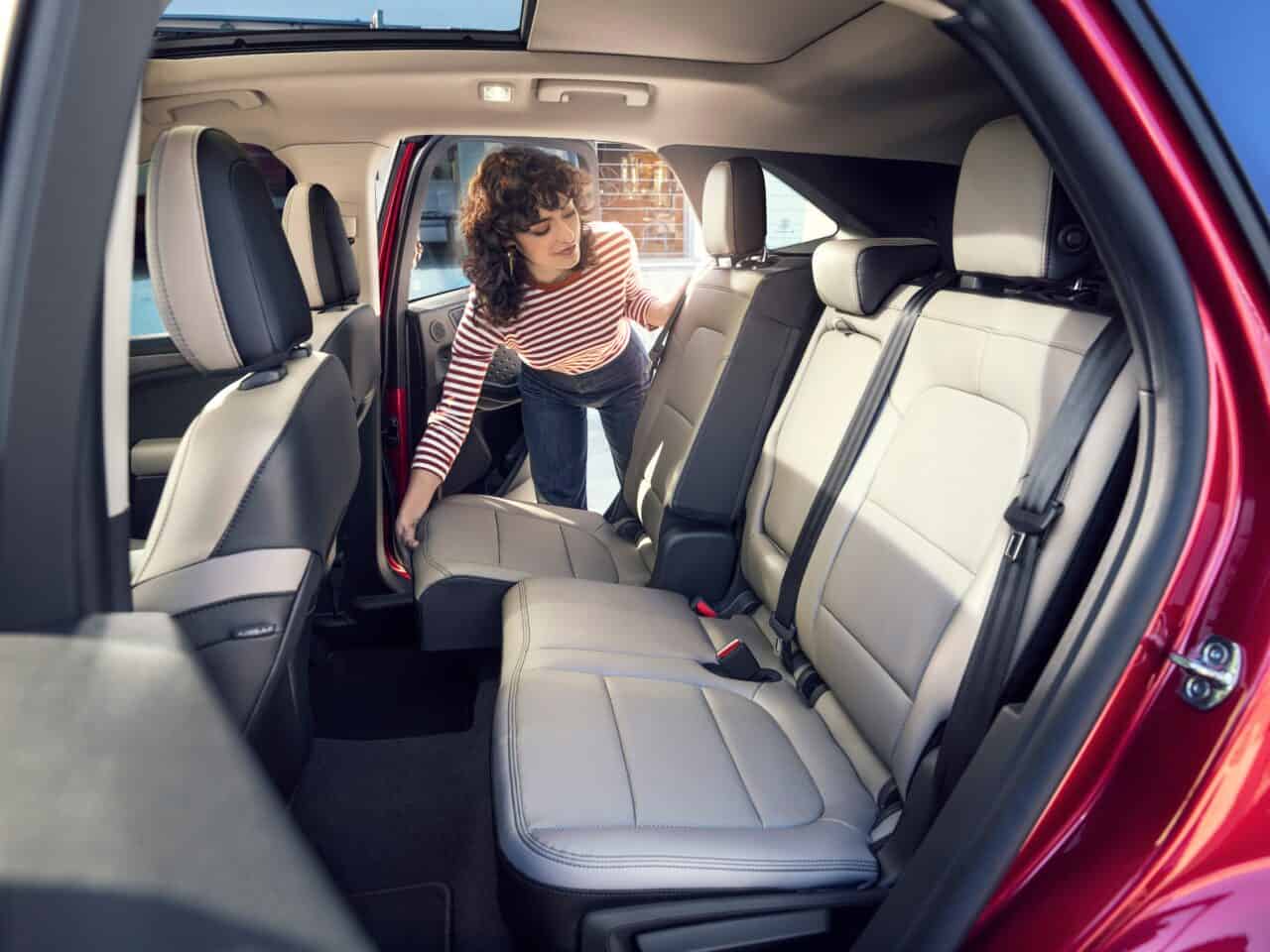 On the flip side, the brakes do a great job though. The pedal feels natural to the touch and the results from recent braking tests are quite positive in the Escape's favor.
Steering is another win/lose spot for the Escape. It's not terrible by any means and it won't remind you of some of the "boats" that are out on the road today, but it's also not as sharp as it could be for a vehicle that has the intentions that it clearly does of being sporty.
If you are looking to go off-roading, you'll be pleasantly surprised with the ground clearance that the Ford Escape has to offer.
If you have an Escape with all-season tires, which is common, you may be limited as far as what trails you can get to. Even if you have the optional all-wheel drive, it is still a package that is better designed for wet pavement as opposed to brutal trails.
Is It Comfortable?
For some people, ride comfort is one of the most important aspects of a vehicle. The Escape does some things right when it comes to comfort – including the fact that the seats are very supportive. On top of that, the engine is fairly quiet and it's easy to control the climate in the vehicle.
The cloth seats that are found in most Ford Escape models do offer a nice level of comfort and adjustments for the front seats. If you are a slightly bigger person, you may not fit well with the cushions and seatbacks found in the vehicle, but the rear seats are also not terrible when it comes to comfort.
The suspension that is in the Ford Escape is not the best by any means. It's rather firm and that means a bumpy ride for passengers, even when the road surface isn't all that bad. For simple highway commutes, it really isn't all that comfortable.
It will blend in more when you are expecting the road to be bad. There are a lot of other SUV's out there that do a better job of making sure you have a smooth ride when getting from Point A to Point B.
As mentioned, the engine runs at a fairly quiet level. However, there are problems with tire and wind noise which feels like it can be coming into the cabin completely unopposed at times.
The climate control system does its job as well as you could ask from a vehicle like this. Some of the controls are a little wonky and the vents seem to be placed in positions that aren't the best, however it is able to overcome some of those complaints to do a good job.
Inside the Ford Escape
The Escape's design feels somewhat dated, although that allows it to have controls that may be easier to spot than some newer complicated models. Some of the buttons are placed in ways that may bring up complaints from drivers who expect them to be closer or more conveniently placed.
The seats do feel natural where they are placed. You don't have to bend down to get inside the vehicle and it's not a huge drop to your seat either. Most people that have a Ford Escape have had no issues whatsoever when trying to get in or get out of their vehicle.
For the driver's seat, you get a lot of different adjustments that can be made including a telescoping steering wheel which should make it easy to find a great spot to be in while you drive. Regardless of whether you prefer a high or low position, the Escape makes it easy to get to where you want to be.
If you are riding in an Escape, you probably feel like you would in any other SUV of this size – it doesn't really stand out in that regard. There does seem to be ample head and legroom for your passengers if you have up to 4 adults, and the interior's design is fine.
From the driver's seat, you have a great view looking forward through the large windshield. When looking to the sides, you should be able to see at an average level, but the back definitely has some problems.
If you think you might even remotely want it, you should probably go for the option of getting parking sensors.
The last thing to be said about the interior of the Escape is that everything does appear to be built fairly solidly. Everything in the interior makes sense for it to be a car that is a nice vehicle to rent, but you shouldn't be terrified of getting a bit of dirt on the inside either.
Usefulness of a Ford Escape
The Ford Escape is a very useful vehicle. While it doesn't have a ton of smaller storage spaces, it does have a nice cargo area that holds up to 68 cubic feet of equipment or luggage. That's a lot of space and it's a nice number for the level that it's at.
The Escape features fold-flat 60/40 split rear seats that are going to be great for people who need to carry along some unusual items like skis or snowboarding equipment. You can also go as far as getting rid of the headrests and folding seats to get yourself more room if you need it inside an Escape.
If you upgrade your vehicle to get the optional trailer towing package, your Ford Escape can tow up to 2,000 pounds. That's not very much, so you may want to be careful if you're trying to do any kind of serious hauling with the Escape.
Conclusion
The Ford Escape is an SUV that can do some things quite well. It's got an acceptable level of power and it uses its large cargo areas well to be able to hold things like skiing or snowboarding gear.
It has some downsides as well like ride comfort and some of the noise that reaches the cabin from wind or tires.
If you're looking at an Escape as a rental for a mountain trip, it certainly would not be the worst SUV you could get, it has a lot of potential in that area.