Will Skis or Snowboards Fit In a Grand Cherokee?
Jeep is a brand well-known for adventure, and the Grand Cherokee definitely provides a nice level of performance.
The Grand Cherokee is one of the best when it comes to towing capacity and off-roading ability in the midsize SUV segment. That makes them extremely popular for people who love to get off the beaten path and either hit trails or get up in the mountains.
Today, we're examining the ability to bring along your skis and snowboards in a Grand Cherokee. Regardless of whether you are considering purchasing a Grand Cherokee for your vehicle to go on a lot of trips, or you are simply renting a vehicle for a trip up to the mountains, the ability to carry all of your snowboarding or skiing gear is a big deal.
Do Skis Fit In a Grand Cherokee?
Skis and snowboards will fit in a Grand Cherokee. If you are bringing 4 people then you will probably get into some pretty awkward positions or have difficulty with all of your other gear. One great thing to consider is getting a ski rack to help keep your gear in a convenient spot.
One of the great things about Jeep is that they are synonymous with the outdoors and adventure, so you know that if you purchase or rent a Grand Cherokee, you are getting a vehicle that can handle whatever you put it up against.
While you should be creative enough to make things a fit, that is not always a guarantee that you have the right vehicle selected for you. There are lots of things that people don't think about when they purchase or rent a vehicle, from the interior design of the SUV or the capabilities of the vehicle when it starts to snow.
Keep reading to get all of the information about the Grand Cherokee and see if it's a suitable rental for your next vacation trip — or maybe your next new vehicle purchase!
The Grand Cherokee Overall
The design of the Grand Cherokee is getting a bit older. It hasn't been replaced for ten years, but it holds up much better than any other 10 year old design. The positives about the Grand Cherokee remain – it is a very reliable and powerful SUV that can get the job done towing and off-roading.
That being said, the "standard" engine is a bit weaker than you might prefer, so you'll probably want to upgrade to one of the V8 options. Most consumers won't feel comfortable driving the baseline trim packages either – there's a lot to be said for spending the extra money and upgrading to something like the Trailhawk version; especially if you are going to be outdoors & off the road a lot.
Driving the Grand Cherokee
One of the biggest complains about the Grand Cherokee is its standard V6 engine. Obviously, if you're making a purchase you could pay extra and avoid this, but it's definitely something to be aware of if you are renting this SUV.
It just doesn't seem to have enough power to match the whole size and tempo of the vehicle. On the flip side of things, the brakes are quite strong and shouldn't give you any problems at all.
It's hard to find a balance between power and size in SUV's, but the weight of the Grand Cherokee seems to affect the way it drives and slows it acceleration and makes handling a little bit more difficult.
The steering really doesn't grip the road quite the way you'd want it to 100% of the time. It feels a bit heavy and slow on the roads, but it makes up for it by being a beast in all things off-road.
It's a trade off that is seen as more than fair by a lot of people in the industry, just be aware of this if you have a driver who isn't so confident on the road.
Is the Grand Cherokee Comfortable?
As far as Jeep vehicles go, the Grand Cherokee provides a pretty solid ride quality. If you do go with the baseline V6, you get an engine that is fairly quiet until you get in the upper ranges of using power. The upgraded engine runs similarly fine.
To keep people comfortable on the inside of the vehicle, Jeep has made sure that the seats offer plenty of support & that both air conditioning and heating systems work effectively.
Unfortunately, when combining the two you get an underwhelming effect with the heated and ventilated seats not working quite as well as you'd like.
The Grand Cherokee gives a bit of a mixed feeling when driving along the road. While you would expect to be ready for a few bumps if you're riding in a Jeep vehicle, the suspension really doesn't do a great job of absorbing any imperfections in the road.
It's not so much that it's a true problem, it's just not the best quality we've seen from SUV's of this size.
Inside the Grand Cherokee
The Grand Cherokee has a lot of space for its passengers and even taller adults should feel comfortable with more headroom and legroom than most other vehicles can offer.
The driver has an excellent position which features visibility to all rear and side areas of the vehicle, and the controls are laid out in an intuitive manner.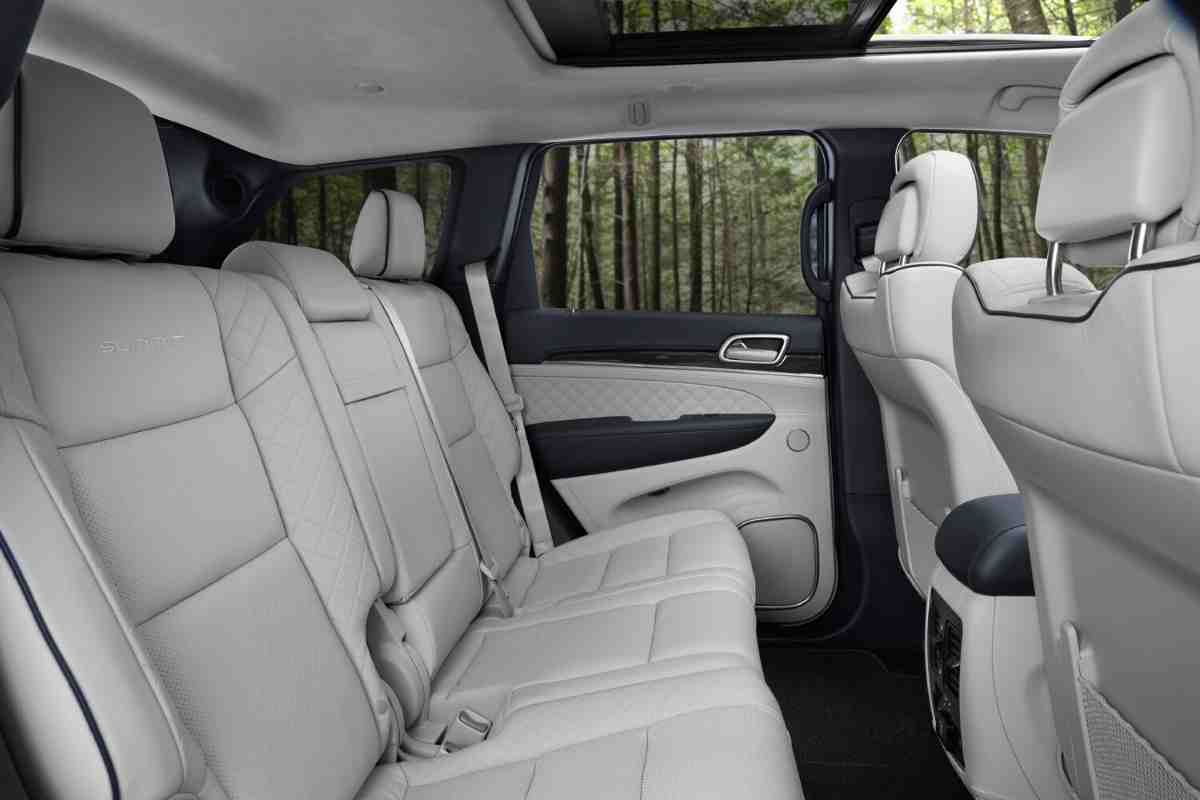 You can also make a large number of adjustments to the seat or the steering wheel if you are the driver, so no one should have problems driving the Grand Cherokee.
The only complaint from the inside would be the windshield pillars which can somewhat block your view if you are going through a turn.
Technology
As is standard with most modern vehicles, the Grand Cherokee comes with a Uconnect interface that does allow for Apple Car Play and Android Auto hook-ups.
The voice recognition does an above-average job of understanding what you are saying to it, which is a nice side note. Many consumers will note that there are a lot of charging stations for people in the front and back which could save families on long road trips.
Jeep has definitely fallen behind some of its competitors when it comes to safety features. While there are some included here with the Jeep Grand Cherokee, it doesn't seem like the adaptive cruise control or blind-spot systems are effective in sorting out when there is danger and when there isn't.
A safety feature that doesn't quite deliver on when it's actually protecting you and when it's simply annoying you is one that can easily become a big negative for drivers.
Storage Inside the Grand Cherokee
As mentioned, the Grand Cherokee has a reasonable amount of storage space for an SUV this size.
It only has 36 cubic feet of cargo space behind the rear seats, so it's not a class leader in that regard. One thing that takes this storage space away is its focus on off-roading success.
On top of that, you also get a full-size spare under the rear floor with a Cherokee, so there's just less room for other things, although having a spare could be a positive in its own right.
When you look at the other areas of the cabin, you're going to find that it may not be super convenient to have a lot of small items in a Grand Cherokee.
One thing that's good about the design though is that it should be easy to install any kind of child seats, and you do have a lot of room for the child seats in the back.
Economics
The Grand Cherokee gets about 21 miles per gallon when driving as a combined number.
That's not a number that stands out among this size of SUV competition, however when you consider all of the things that the Grand Cherokee can do off-road, it actually becomes a much better number. When you compare to a Toyota 4Runner, you would find the Grand Cherokee comes out much farther ahead.
The Grand Cherokee is a well-made vehicle. As you increase the price by upgrading to certain trim packages, you will see upgraded materials as well. These upgraded versions of the Grand Cherokee can get pretty expensive pretty quickly, and at that point you may want to look at other models of vehicles.
Some of the best value in the Grand Cherokee comes from its Limited trim package or its Trailhawk trim package, depending on what you are looking for to be the strength of your vehicle. (On road or off-road)
As far as warranties go, the Grand Cherokee has an average offering. You'll typically get 5 years and 60,000 miles of coverage and roadside assistance is certainly a nice thing to have as well, if not already covered by your insurance.
Trim Packages
The Jeep Grand Cherokee is available in 7 trim levels. They are:
Laredo
Limited
Trailhawk
Overland
Summit
SRT
Trackhawk
The Laredo is the baseline package and may be a bit lacking for some consumers. The Limited is definitely more popular than the Laredo due to the different engine options that you'll see available.
The Trailhawk is the first off-roading package that is available, meaning that it is the least expensive model that can still be an absolute beast off the road. That will also make it very popular and for good reason.
The Overland is a more road-focused middle of the line package for the Grand Cherokee, and the Summit improves upon the Overland with a bit more of a luxury feel to it.
At the top of the line, you have the SRT and the Trackhawk packages. The Trackhawk is almost silly due to its strength and ability, the SRT is simply one of the best on the road.
Conclusion
The Grand Cherokee is an interesting vehicle that does a lot of things well. You should be able to find a way to get your skis and snowboards on board, although you may be a bit more comfortable if you utilize a ski rack for your trip.
The Grand Cherokee remains one of the best midsize SUV's for someone looking to get outdoors.
Jeep Grand Cherokee Ski Racks
Last update on 2023-11-19 / If you click this affiliate link and make a purchase, we earn a commission at no additional cost to you.