How Much Weight Can A Ford F-150 Carry?
It's popular, rugged, and a staple in the US truck sector. The F-150 has been with us for decades and continues to sell impressive numbers. As Ford looks forward to a greener future, the company has included smaller, more efficient engines. But, the F-150 is still a working man's truck. So, let's find out how many pounds it hauls.
How much can an F-150 haul?
The Ford F-150 can carry a maximum of 3325 pounds in the 5.0L V8; the lowest available power comes from the 3.0L V6 Powerstroke, Turbo-Diesel, with 1840 lbs in payload capacity. To get these numbers, customers have to order the F-150 with a regular cab, the largest bed (8′ in length), and two packages: the Trailer Tow and Heavy-Duty Payload.
The Ford F-150's payload capacity changes according to the transmission and engine configurations. All F-150s come with a 10-speed automatic transmission with electronic assistance. Users can choose between 4×2 or 4×4 variants, which affects the vehicle's capabilities.
The Ford F-150 comes in several trims and with multiple engine options. Here's a small table explaining them.
F-150 Trim Level
| | | |
| --- | --- | --- |
| Trim | Available drivetrains | Most common bed sizes |
| XL | RWD and 4WD | 5.5', 6.5' and 8' |
| XLT | RWD and 4WD | 5.5', 6.5' and 8' |
| Platinum | RWD and 4WD | 5.5' and 6.5' |
| Limited | RWD and 4WD | 5.5' |
| Lariat | RWD and 4WD | 5.5', 6.5' and 8' |
| King Ranch | RWD and 4WD | 5.5' and 6.5' |
The Ford F-150 family has always earned recognition as a class-leading truck for payload and towing. So, suppose you want to be on top of your hauling game.
In that case, the configuration you need is the 4×2, 5.0 L Ti-VCT V8, Regular Cab with an 8-feet bed, and the Heavy-Duty Package. With these options, you will be able to haul 3,325 lbs.
We've written before on the added value of these packages. Check out our article on the Max Towing Package.
Just behind the V8 option, the 3.5L EcoBoost V6 offers an excellent 3,250 lbs of hauling capacity, with the same configuration as we mentioned before.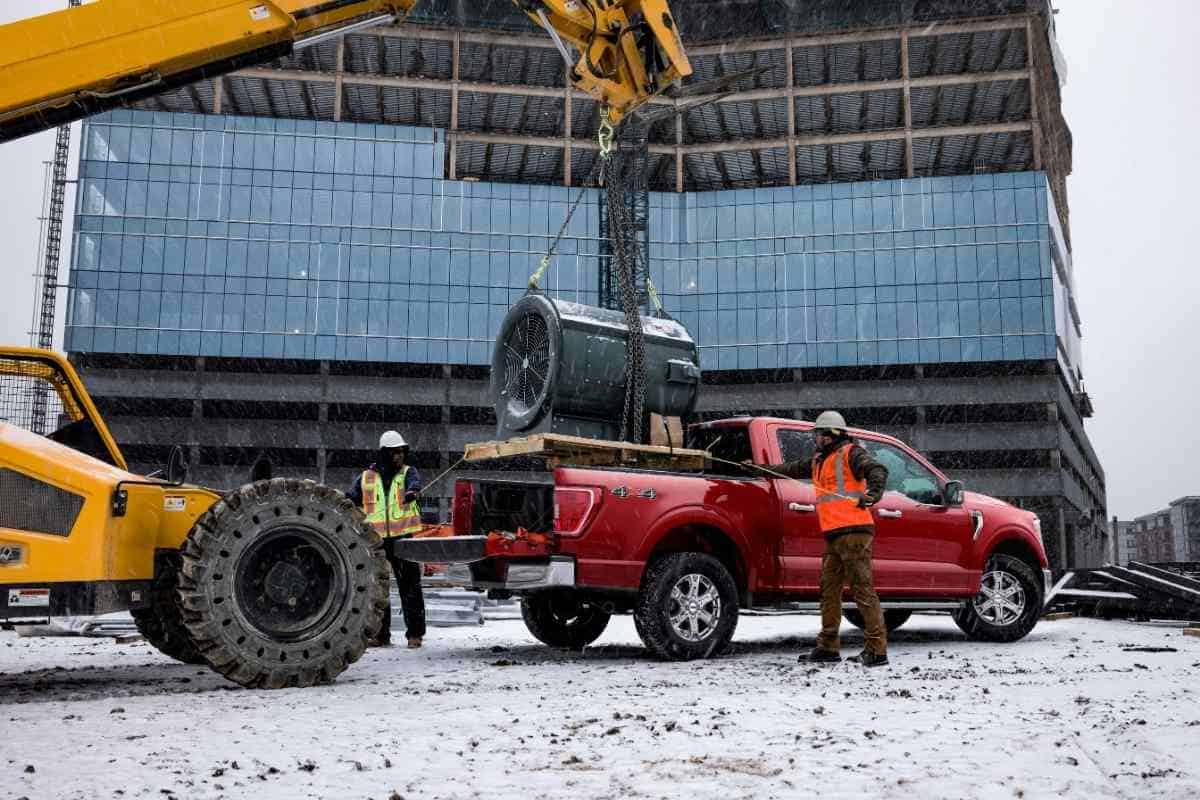 So, you might be wondering why the 4×2 configuration hauls more than the 4×4. It's important to understand these differences and how they can affect your pickup's performance.
Which F-150 configuration is the best for hauling?
As we have read, the F-150 5.0L V8, with 4×2, Regular Cab, and the Heavy-Duty optional Package, offers the most payload. But why?
To answer this question, let's talk about the F-150's engines. The three most powerful engines in the lineup are as follows:
| | | |
| --- | --- | --- |
| Engine | Horsepower (hp@rpm) | Torque (lb-ft@rpm) |
| 5.0L Ti-VCT V8 | 400 @ 6000 | 410 @ 4250 |
| 3.5L EcoBoost V6 | 400 @ 6000 | 500 @ 3100 |
| 3.5L PowerBoost Full Hybrid V6 | 430 @ 6000+ | 570 @ 3000+ |
So, you might be scratching your head. If the 3.5L PowerBoost Full Hybrid is the most powerful, why isn't this the option with the most payload?
Currently, the F-150 Hybrid is only available with the SuperCrew configuration, with a 6.5-ft bed and 4×4. All of these options add a lot of weight to the truck. In fact, it weighs a hefty 5540 lbs.
You might then be wondering about the 3.5L EcoBoost, with this very respectable 400 hp and impressive 500 lb-ft. But, when we get into the details, we see that this powerplant is heavier than the V8.
A Regular Cab F-150 with the 3.5L EcoBoost V6 weighs 4428 lbs, while the V8 version weighs 4396 lbs. So, if you want to squeeze the most out of your truck, now you know which engine to choose.
But, it's worth highlighting that both the 3.5L EcoBoost and the 5.0L V8 have similar performance figures. In fact, there was much hype about the latest F-150, as fans and experts alike were keen to see how the EcoBoost performed.
Now that we know which powerplant is ideal for towing, we can talk about whether 4×2 or 4×4 is better for towing. Since a 4×2 pickup sends all the power to the rear wheels, it only has to divide the power and torque between those two wheels.
With fewer wheels moving, there's less friction to deal with. In 4×4, the power divides between four wheels, and the engine has to deal with more resistance from the road.
Plus, a 4×4 transmission is heavier, as it has more components, which makes any 4×4 pickup heavier than its 4×2 counterpart.
So, we can aim for an impressive 3325 lbs. of payload in an F-150. So, what can we fit in our pickup?
What can I carry in my Ford F-150?
To answer this question, we'll use the 8-feet bed and factor in the payload capacity. The F-150 offers 77.4 cubic feet of cargo volume.
Let's turn these numbers into real-life situations. Let's say that you want to carry some 2 x 4's. These items are a great example of how versatile the 8-feet bed is, as a standard 2 x 4 fits just right.
In theory, we could fit 196 units of 2 x 4 lumber. And this is one of the few instances in which the volume and the payload are very similar. If you consider weight, you will see that those 196 units weigh 3136 lbs., 190 lbs. below the truck's maximum capacity.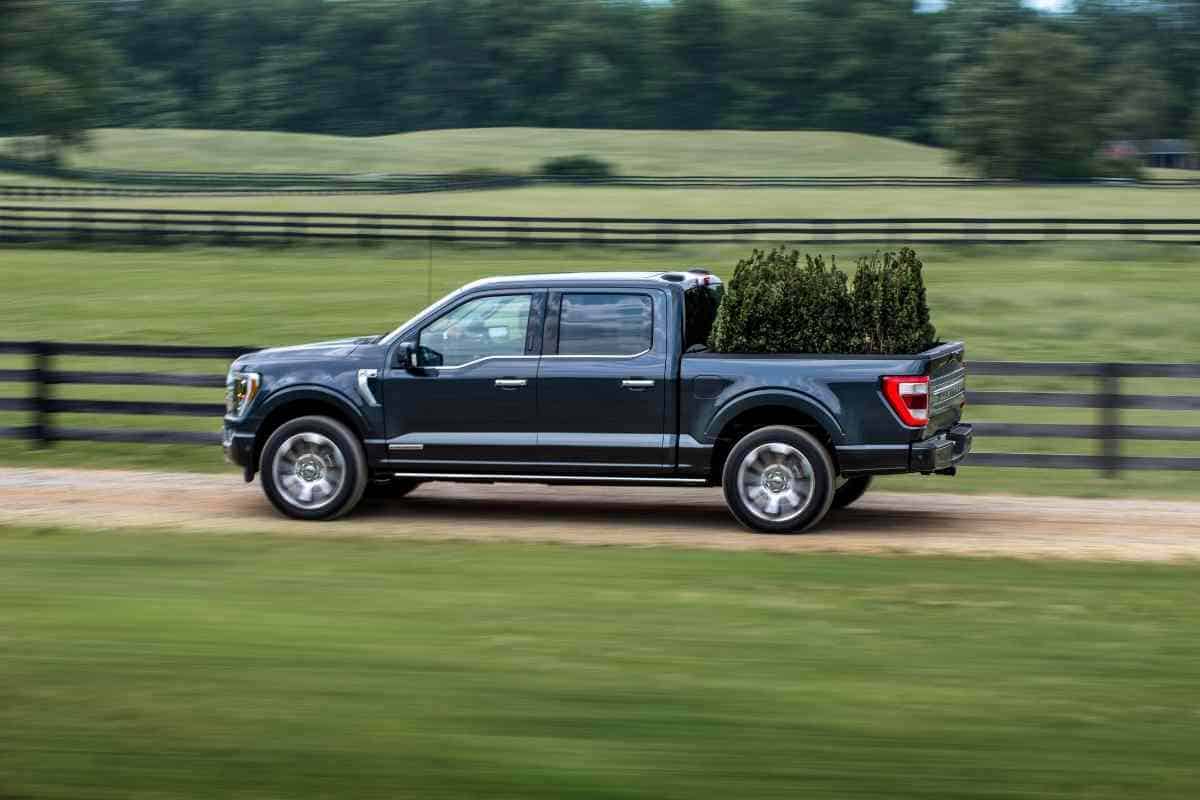 Here are other things that you can fit in your F-150 Regular Cab, with an 8-feet bed and Heavy-Duty Package. These numbers represent the maximum amount of safely secured cargo:
| | |
| --- | --- |
| Cement (50 kg bags) | 24 |
| Topsoil (cubic feet) | 33,25 |
| Topsoil (pounds) | 3325 |
| Mulch (cubic feet) | 77,4 |
| Mulch (pounds) | 2006 |
| Gravel (cubic feet) | 39,6 |
| Gravel (pounds) | 3325 |
| 12-ounce can | 7300 |
As you can see, the F-150 has outstanding hauling capabilities. But we haven't talked about the tailgate and how much weight it holds. Tailgate specifications are somewhat tricky as some manufacturers prefer not to emit criteria to avoid accidents.
After all, the tailgate is, in theory, designed to contain and hold, in some cases but, since it has hinges, resting heavy loads on it can result in damage. There are sources on the web that give estimates, mostly from users and third-party magazines.
In these, most agree that the F-150 tailgate holds 600 lbs safely.
It's no secret that the F-150 has exemplary towing and hauling capacity, which is why, as we've written before, it's the best-selling truck in the US.
Those of you who love performance trucks might have noticed that we haven't spoken about the F-150 Raptor. So, let's go over the number this special version provides.
How much can the F-150 Raptor haul?
The Ford Raptor stands in a different class than the normal F-150, as it is geared towards a fun-loving, off-roading crowd. Raptor buyers might not be very interested in hauling workloads day in and day out.
Having said this, the Raptor posts impressive numbers. Its twin-turbo 3.5L V6 produces an impressive 450 horsepower. Its lengthened suspension, four-wheel-drive system, and increased ride height make it a Baja truck with a license plate.
But all these options, plus a smaller bed and a bulky body, hinder the Raptor's hauling capacity, as it can only haul 1400 pounds.
We've seen that the F-150 has outstanding cargo figures. But, it isn't the only truck in the market. So, how does it compete with the other pickups in the market?
Does the F-150 haul the most cargo in its class?
The F-150 has to compete with other mainstays in the truck sector, so how does it fair? In the past, we've written that Ford is always up there when it comes to hauling and towing.
So, let's find out how the most recent models perform, considering that the Ford F-150 starts at $30,635. Here are some examples of the competition:
Dodge Ram 1500: Starting at $30,395, the Ram is one of the F-150's direct competitors, but it holds less cargo volume, with a total of 61.5 cubic feet and a maximum of 2300 lbs. in weight.
GMC Sierra 1500: Starting at $29,695, the Sierra 1500 is another tough competitor, but this pickup holds the upper hand when it comes to cargo volume, with an impressive 89.1 cubic feet. The Sierra carries less, with a maximum of 2400 lbs. of payload.
Chevrolet Silverado 1500: with a $28,595 price tag, the Silverado is one of the cheaper trucks in this sector. Its cargo volume is 62.9 cubic feet, placing ahead of the Ram but behind the F-150 and Sierra. Chevrolet's offer is one of the least capable, with only 2280 lbs. of payload.
Toyota Tundra: With a $35,420 price tag, it's one of the most expensive in the market. Thanks to its roomy passenger seats, the Tundra hauls the least amount of cargo, with a total payload of 1730 pounds and 81 cubic feet of volume.
Closing thoughts:
This article wanted to find out how much cargo the Ford F-150 haul can handle. As we've seen, the Ford F-150 can haul up to 3325 lbs. when using the 5.0L V8 and 4×2 drivetrain.
The F-150 is one of the leaders in its class regarding cargo volume and payload capabilities. The 4×2 version is ideal for hauling in urban and highway conditions. The truck's 8-feet bed makes it versatile and capable of carrying pretty much anything you want.
When it comes to price, the F-150 sits right in the middle, duking it out with Ram and slightly ahead of GMC and Chevrolet, but well below the Tundra. With so many options and trim levels, the F-150 can fit most budgets. It's definitely an attractive choice for a workhorse pickup.