No matter what state you live in, car insurance is a necessity. While the idea behind car insurance is good and noble, the prices can be outrageous. But, if you don't get into accidents or make too many claims, your insurance costs can stay at a minimum.

When insurance companies develop their prices, they look at how expensive cars are to fix and how often drivers need repairs. Interestingly, over the years the Jeep Wrangler has been one of the least expensive cars to insure because drivers have so few claims when compared to other vehicles.

This might come as a surprise to Jeep Wrangler owners, especially if they have had to replace or repair their windshields. But, compared to other car parts, windshields aren't outrageously expensive. They can be repaired in a parking lot and they do not need to be prepped and painted.
What Does it Cost To Insure a Jeep?
The short answer is that it depends on where you live and the year and model of your Jeep. You could spend as little as $300 per year or as much as $4000 per year. Older Jeeps like the YJ or the TJ will be less expensive to insure than the JK or JL models. On average, Jeep drivers pay around $1800 annually for insurance.
There are so many factors that affect the price of insurance. If you live in a major city where crime is common, your costs increase. Drivers who live in a state like Michigan pay more than drivers in almost all other states, while drivers in Ohio pay significantly less.
Your driving record and age can affect the cost of insurance. If you own your Jeep, you will pay less than someone who is leasing or making payments on a Jeep.
If you are paying more than you think you should to insure your Jeep, take a look at why costs vary so much and what you can do to reduce your insurance expenses.
Does My Driving Record Affect My Insurance Costs?
The quick answer is yes. If you want to keep your car insurance affordable, the best thing you can do is drive safely.
You might be tempted to push your Jeep to the limits, especially off-road or in dangerous weather conditions. But, speeding and disobeying traffic rules can result in accidents and points on your license. Points result in increased insurance costs.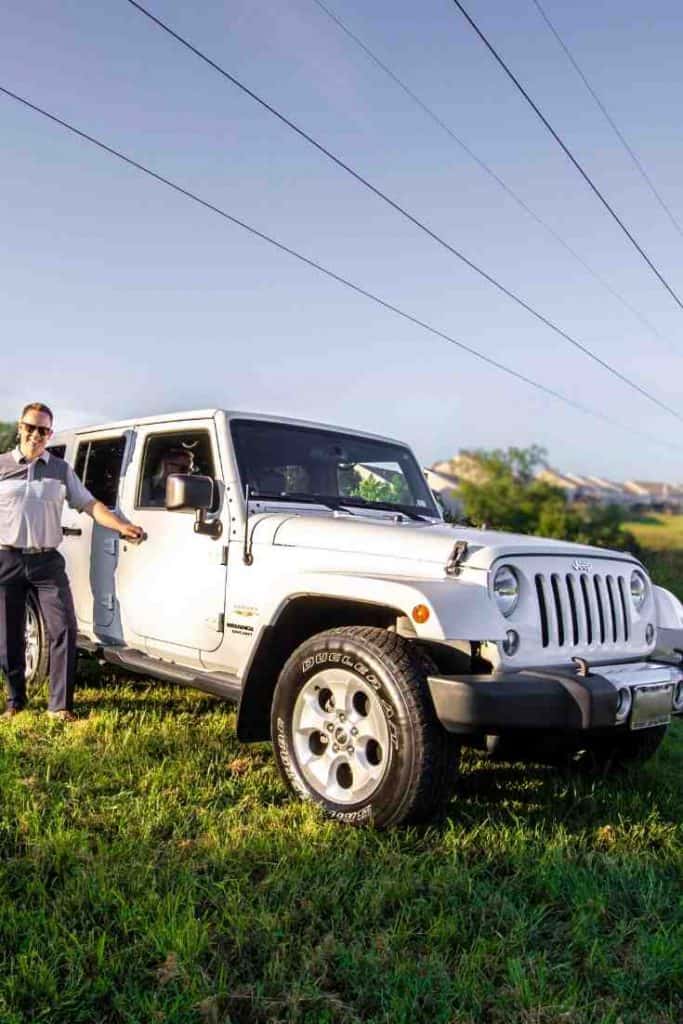 Some insurance companies are offering their customers opportunities to prove they are safe drivers. With a simple app on your phone, you can record your driving habits and your insurance company could reward you with decreased rates.
If you live in a part of the world where winter includes snow and ice, remember that your four-wheel-drive Jeep might help you get out of your driveway and down snow-packed roads.
But, vehicles with four-wheel-drive are just as likely as a two-wheel-drive car to end up in the ditch in icy conditions. If you regularly call your insurance company to get you out of ditches on snowy days, you can expect they will notice. Tow-truck drivers do not work for free, so your rates will increase.
Why Do Insurance Costs Vary?
The cost to insure a Jeep Wrangler will vary from state to state and person to person. Younger drivers might spend more to insure a Wrangler than a driver with a few decades of driving experience. Many insurance companies look at customer credit scores to determine costs, too. The price of insurance is also affected by your zip code, as some zip codes have higher theft rates than others.
Your insurance costs are also affected by how much driving you do. If your Jeep Wrangler is your daily driver and you have a long commute, your cost to insure will be higher than that of someone who only drives their Jeep on the weekends. Many Jeep Wrangler drivers do not drive young children to and from school, practice, and events, so insurance rates drop as distractions are limited.
Your insurance quote will vary based on the deductible you choose. The higher your deductible, the lower your premiums will be. But, you must be able to afford your deductible before you decide what monthly premium to pay. A $1000 deductible might give you the lowest monthly rate, but if you don't have $1000 on hand to pay for repairs, then the low rate is meaningless because you won't be able to get your car fixed.
Some states require drivers to have coverage requirements. Some even have no-fault insurance that covers everyone in the accident, even if you weren't at fault. Premiums in no-fault states tend to be more expensive than states without this requirement. Along with required coverage, you can also get add-ons like pet insurance or umbrella policies. If your basic policy does not include coverage for windshield replacement, you should add it – as the odds are good that the vertical windshield will break at some point.
Jeeps are a part of Fiat Chrysler, and the major automaker has been known to negotiate lower rates with some insurance providers. If you have other vehicles and property insured with the same company, you might be able to get a loyalty discount. Ask insurance companies how you can lower your rates, and they will tell you. Ask your car salesman about insurance deals, too.
Your car warranty might also affect your premiums. It might be worth it to buy the extended warranty, if your insurance costs drop.
Safety Features Affect Rates
As manufacturers add more safety features to new vehicles, insurance costs are dropping. The reason insurance costs are so high is because of the high cost of hospitalization for injuries. Any car repairs that you incur have a fixed cost, but fixing human bodies can take years and cost millions of dollars.
When you shop for your Jeep Wrangler, consider the safety features that can lower your premiums. These features might add to the bottom line of your new Jeep, but they will pay for themselves in insurance savings over the years. Newer Jeeps come standard with many of these safety features, especially airbags, anti-lock brakes, running lights, and seat belt pretensioners.
The features you can add include parking sensors, back-up cameras, stability control, lane-departure warning, and anti-theft devices. Be sure to mention all of the safety features before agents give you quotes.
When you buy a new car, ask your agent about some of the short-term features that Jeep includes with your purchase. Many new car buyers get roadside assistance for a year or two, if you do, your insurance premium should drop. You should also get a discount if maintenance is covered for a set period of time, as the manufacture takes care of paying for parts and labor for some procedures.
How To Compare Rates
Comparing car insurance rates has become rather easy to do. Some companies will give you immediate quotes, and some websites gather quotes from all over the Internet so you can comparison-shop without having to visit several sites. You can also call insurance companies in your area to see what is available.
What Do You Need to Get a Quote
Before an agent will give you a quote for your Jeep Wrangler insurance, you will need to share a few pieces of information. You will need your car's VIN number, your driver's license, and your social security number. The agent might need some other information, like your address and phone number.
It is also helpful to know your state's minimum requirements for insuring a vehicle. While you might want full coverage on a brand new Jeep, owners of older models might be ok with the minimums. Understanding what is required will help you recognize when agents attempt to sell you add-ons that you do not need.
Two-Door vs. Unlimited
The Jeep Wrangler Sport is generally less expensive to insurance than the Unlimited. The smaller version of the popular SUV is generally on par with other small SUVs like the Honda CR-V.
Nationally, many people spent around $2700 annually to insure their two-door Jeep Wranglers. The four-door Unlimited could have rates as high as $4000 and as low as $700 annually.
As you add features to any Jeep, the cost often increases – unless those features improve safety.
Shop Around for the Best Deal
The best way to find affordable insurance is to shop around for a product that fits your needs and budget. You should be prepared to look at three or more insurance agents, because their costs can be incredibly different. In many cases, companies that sell insurance nationally tend to be less expensive than smaller, local companies.
Some insurance companies give discounts or are built just for people who work in certain industries. For example, school teachers tend to be safe drivers, so they are often eligible for discounts. Some states also have companies that will only sell to people in certain professions – like school teachers or health-care workers.
Some people shop their insurance every time their bills arrive in the mail. All companies have slightly different business practices. You might get a discount if you pay your premiums once every six months, or once per year. You might spend more if you can only afford to pay your premiums on a monthly basis.
Remove Points ASAP
If you do have driving issues that result in points, you might be able to reduce them or wipe them off of your license by taking driving courses. Many states offer online courses; these often cost less than the rate increase your insurance will give you. Take the course, pay the fee, and have the points removed before your insurance company finds out you acquired them.