Sam's Club Auto Buying Program Vs Costco: Which One is Better For Buying a New Car, Truck, or SUV?
Since your car is likely one of your priciest investments, it's always better to use a car-buying service to become a more knowledgeable buyer. So, it's time to pin Sam's Club Auto Buying Program vs Costco to see which is best.
Knowing about these can make the stressful process of purchasing a new vehicle more automated, reliable, and less hectic. So, let's settle once and for all which will suit your needs perfectly!
Should go for Costco or Sam's Club? Let's find out!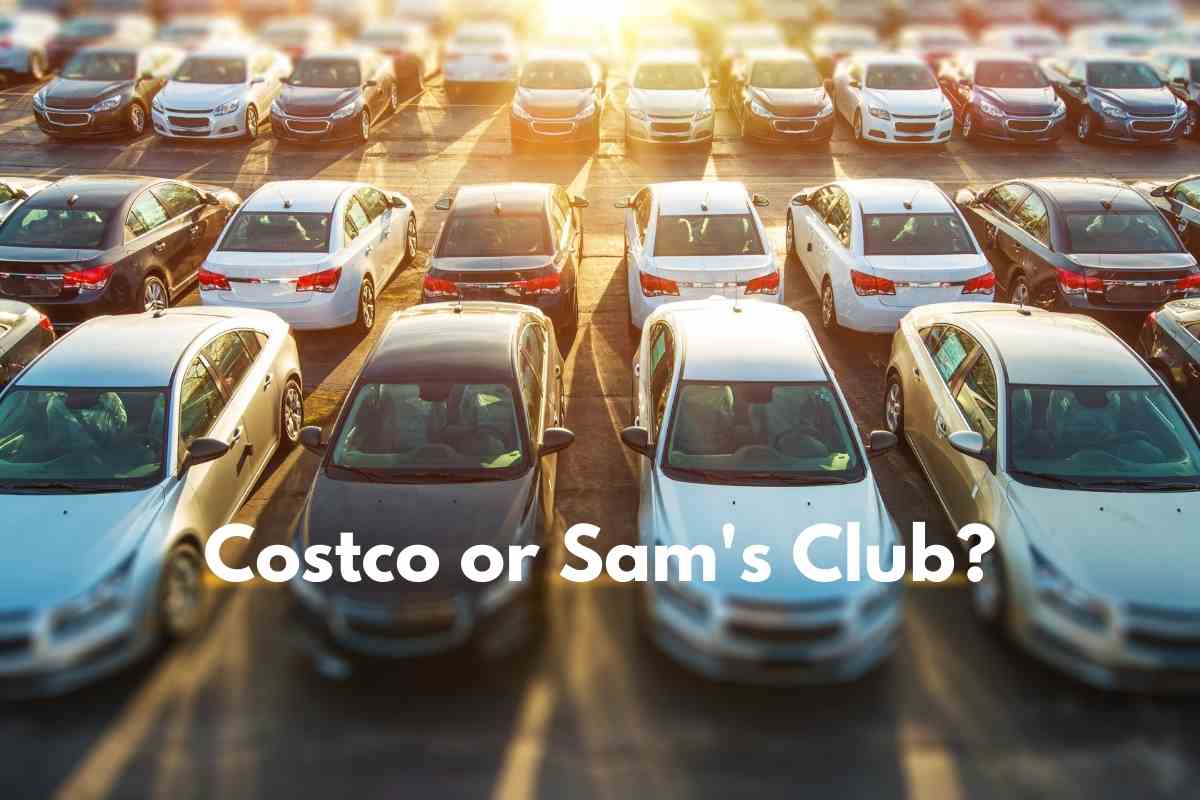 If you're in the market for new tires, you might be wondering, "Is Sam's Club a Good Place to Buy Tires?" Our comprehensive article compares Sam's Club and Costco to help you make the best decision for your tire needs.
Sam's Club Auto Buying Program Vs Costco: Which One is Better For Buying a New Car, Truck, or SUV?
Whether you are buying a new car or just upgrading your existing ride, you will often find yourself in the dilemma of Costco vs. Sam's Club. This article will help you know the benefits of each and help you decide which program is fit for you.
We'll cover the similarities and benefits of Costco and Sam's Club's auto programs. At the same time, we'll also explain why they're so different in terms of costs, locations, and brand selection.
If you pin Sam's Auto Club Buying Program vs. Costco as business models, you'll see they're very similar. So, it is hard to determine which one is better.
So, first, let us understand what a car buying service is, how it can help you reduce the stress of buying a new car, and ensure that you get a good deal.
What is a Car-Buying Service, and Why You Need It
If you have ever bought a car before, you know how stressful the process can be. Luckily, there are services and professionals available to assist you with shopping for your next car, SUV, or Truck. You may even be already enrolled in one of these services!
This article will focus on two major services: Costco and Sam's Club, and help you decide which of the two car-buying services is right for the next purchase of your new car, SUV, or Truck.
A car-buying service will help you avoid the frustration of visiting dealerships and haggling over car prices on your own. Instead, you can simply hire trained agents to evaluate your needs and shop for your next car on your behalf.
If you find a car you want, they will link you to the dealership with the best price or offer upfront pricing that is usually lower than the MSRP.
Therefore, a car-buying service is a perfect way to go if you want to stop going to dealerships, save time, or if you are just concerned about being ripped off.
The time and money you will save will almost certainly outweigh the risk of overpaying. Sometimes the services may not even cost you at all.
Although not all car-buying services are the same, it is important to find the right one for your specific needs. Consider the following options if you choose to use a car-buying service:
• Membership Car Buying Services – These are free with membership car-buying services, e.g., Costco, Sam's Club, AAA, AARP, Allstate, Credit Unions, GEICO, etc.
• Car Concierges – These includes services like CarBargains and Authority Auto
• Others: Other used car retailers online include Carvana and CarMax.
Note that your eligibility for the above car-buying services will differ, depending on where you are located in the United States and whether or not the car-buying services are offered in your area of residence.
If you are a member of a club or bank that provides car-buying services, then the Free With Membership Car-buying services like Costco and Sam's Club is a good place to start.
We will now delve deeper into the similarities and differences between Costco Auto Program and Sam's Club.
Costco Auto Program
If you are a Costco customer, you will have online access to the company's car-buying services. If you are shopping for a vehicle, start by looking into the car that you want to buy and see how much it costs elsewhere.
Next, contact the dealership to arrange for a test drive so that you can have the look and feel of the vehicle.
The dealership in Costco's network is hand-picked, as stated on the company website. This means, unlike other car dealers, Costco's car-buying services don't depend on TrueCar.
Nonetheless, the dealership pays a fee to participate, but there is no extra expense to the buyer for using the car-buying program. With the upfront subscription model, you end up saving money.
Advantages of Using Costco Auto Buying Program
Costco car-buying services offer several benefits to its clients, including:
• Costco Prices are fixed, and there is no haggling with dealers on the spot.
• Furthermore, the directory listing displays the invoice price for every car – which is the price the dealer bought the car from the manufacturer. They also display the manufacture's proposed selling price. The program's openness about each vehicle's worth makes it particularly appealing to clients.
• Costco can also review your purchasing agreement to ensure you got the agreed-upon price for your purchase.
• Another advantage of the Costco Auto Program is the wide range of options that they have. Depending on your location, the Costco Auto Program works with nearly every new car manufacturer, including Chevrolet, Honda, Cadillac, and Volvo among other high-end cars.
• In addition to the overall vehicle discount, Gold Star and Business Costco members can get a $100 coupon for parts, oil changes, plans for an extended warranty, and accessories or a 200 dollars coupon for executive members.
• The low Costco pricing comes with factory add-ons, which Costco members are eligible for manufacturer rebates.
• Costco compiles a list of all special financing deals available at dealerships, allowing you to choose the right financial plan that fits you.
How Much is the Costco Auto Discount?
This is a common question asked by existing and potential Costco members. Yes, Costco Auto Buying services offers a pre-negotiated price to its members as a discount off the invoice from the manufacturer.
This means that the final price offered is a discount off the original manufacturer invoice and will vary depending on the model and the type of vehicle purchased.
Another frequently asked question is: Is Costco Auto Program price negotiable? No, the Costco Auto program offers a pre-negotiated price.
Therefore, this means that the price quoted are fixed, and there is no haggling with the dealer at the store. Hence saving the buyer time and money.
Sam's Club Auto Buying Program
Members of Sam's Club can access the retailer's car-buying service, which TrueCar provides. Here, members may use the service to buy a vehicle completely online at a reduced price, or they can schedule for a test drive and finish the transaction in person at a reduced price.
To begin your car purchase process, you must first confirm your Sam's Club membership online. Then you can search online for new or used cars or simply look at the existing inventory.
This allows you to see how much other people have bought the vehicle and get accurate prices on the particular vehicle you want.
This car-buying service will save you over $3,445 off MSRP, as stated on the Sam's Club website.
Benefits of Sam's Club Auto Buying Program
On the other hand, Sam's Club offers a vast variety of benefits to its members. These include:
• Ability to see what people in your region pay for the same vehicle you want so that you can determine a reasonable price.
• With the Sam's Club Auto Buying program membership, you can get an upfront customized offer from a dealer online, including vendor deals and discounts.
• Sam's Club Auto Buying Program saves an average of $3,463 (subject to change) off MSRP on brand new cars and receives discounts on high-quality used vehicles.
• Drivers will also be able to take advantage of regular Sam's Club perks, such as club pricing on tires, batteries, and other accessories. Members receive free flat tire repair, battery checking, and fixing wiper blades on every car no matter where it was bought.
• Additionally, members will also get exclusive gasoline discounts at Sam's Club locations with a gas station.
Should you go for Sam's Club Auto Buying Program Vs Costco?
With all the benefits stated above, you may wonder is Sam's Club Auto Buying Program Worth it? Yes, of course, Sam's Club Auto Buying program is worth going for.
If you are looking to buy your new car, truck, or SUV, and you need a car-buying service that will not only save your money but also offer some after-sale service, then Sam's Club Auto program is the best option you have.
If you are already a member and looking for a new or used vehicle, the Sam's Club car-buying service can help you see the kind of pricing you can get upfront.
Although you might be able to get a better deal on your own, it will help you avoid the hassle of haggling with the dealer, plus the exclusive benefits of becoming a Sam's Club member.
Sam's Club Auto Buying Program Vs Costco: Which One is Better?
Are you shopping around for a new vehicle? Are you asking yourself, between Costco vs. Sam's Club, which one is better for buying a new car, truck, or SUV?
The benefits listed above will help you decide which program to go for. It is pretty safe to say that Sam's Club car-buying service could save you thousands of dollars off the sticker price of a new car while still providing fair prices on used vehicles.
On the other hand, the Costco Auto Buying Program offers low prices and additional financial plans to help you buy the car you need. This will be a plus for those who require some additional financing to purchase a car.
Consequently, both Sam's Club and Costco Auto programs offer very attractive benefits to their members. It is, therefore, important for you to evaluate all the benefits listed here and find the service that will fit both your financial abilities and your taste of the car, truck, or SUV you need.
Also, most importantly, go for the services that are available in your location.
Have you ever wondered about the pros and cons of purchasing tires from Walmart? Discover the facts in our article, "Is It Bad to Buy Walmart Tires?" If you're also considering Costco or Discount Tire for your tire needs, our in-depth analysis, "Buy Tires at Costco or Discount Tire?" will guide you to the right decision for your vehicle and budget.
Conclusion
A car-buying service is an excellent option if you want to save money when buying your car. There are many different providers of the auto buying program.
Costco and Sam's Club are among the most popular free with membership Third-level Car-Buying Services.
Each comes with unique features and packages for its clients. As such, consider all the specific features and offers provided by Costco and Sam's Club before you choose one that fits your specific needs.
Different clients have different unique tastes, needs, and financial capacities when purchasing a vehicle. Thus, the choice of car-buying service for a new car, truck, or SUV will differ from one person to another. The best car-buying program is the one that exactly fits your need.