What's the Best Gas Truck for Towing?
This post may contain affiliate links. As an Amazon affiliate, I earn from qualifying purchases.
For most truck owners, towing capacity is the most important attribute a truck can have.
After all, some trucks are only useful if they can haul your boat or your trailer.
For those who don't want to deal with a diesel engine but still prioritize towing capacity, this list is for you. Keep reading to find out about the best gas-powered trucks for towing.
The gas-powered trucks that can consistently tow the most are the Chevrolet Silverado, the Ford 250, The Ram 2500, and the Nissan Titan. These trucks can each haul impressive loads despite not having a diesel engine. They haul anywhere from 9,000 lbs to 14,000 lbs.
Let's take a look at each of these impressive trucks.
They each made it onto this list because of their superior towing capabilities, but they have a lot of other great features to offer as well.
Gas Trucks
A truck's towing capacity is dependant on the truck's engine.
Truck engines run in order to rotate a shaft that spins the wheels.
The stronger the engine, the more leverage the truck has in turning these wheels.
This leverage or force is called 'torque' and it is the most important factor in how much weight a truck's engine can haul.
Trucks can be easily divided into 2 categories: the trucks that run on normal gasoline and the trucks that run on diesel.
Their engines are different and their strengths and weaknesses are different as a result.
Generally, diesel trucks are more powerful.
The diesel fuel powers an engine in such a way that the rotations on the crankshaft are longer, giving each piston more pressure on the crankshaft.
Unfortunately, diesel engines also come with a few drawbacks.
First of all, diesel fuel is more expensive than gasoline. It produces more carbon dioxide, and as a result, is taxed more heavily.
Diesel engines are also harder to maintain and clean.
Because of these reasons, most cars run off of gasoline.
Gasoline is cheaper and more efficient.
Though it lacks some of the power of diesel, automotive engineers continue to improve the output of gasoline engines.
In most cases, the hauling capabilities of a gasoline-powered truck are enough for any job, while also helping truck owners save on fuel expenses.
Here is a rundown of some of the most powerful gasoline-powered trucks out there today.
These are all powerful and reliable vehicles that run on standard gasoline.
The Chevrolet Silverado has been a popular car for years.
This truck is tough and reliable, offering everything that consumers need.
Depending on the year and some of the other specifications, a Chevrolet Silverado could haul loads that weigh anywhere from 8,000 pounds to 10,000 pounds.
This truck model comes with a variety of engines, some of which run off of diesel fuel.
Before you buy, be sure that you are getting the type of engine that best suits your needs.
Owners and critics of the Chevrolet Silverado recommend the models sold in the early 2000s, specifically before 2006.
Some of the engines get a pretty poor gas mileage, but the reliability pays for itself over time.
Ford produces reliable and powerful trucks.
When it comes to torque, the Ford F-250 produces as much as 475 foot-pounds of torque, even from the models with gasoline engines.
That amount of torque translates to around 12,000 pounds of towing capacity, making the Ford F-250 one of the most capable gasoline-powered trucks on the market.
This particular model of truck has been improving for years.
The newest models are more reliable than ever, though you will get a great value for any year.
The recommended years for the Ford F-250 are the years after 2011.
The trucks before this period had a different kind of engine that simply isn't as reliable as the more recent ones.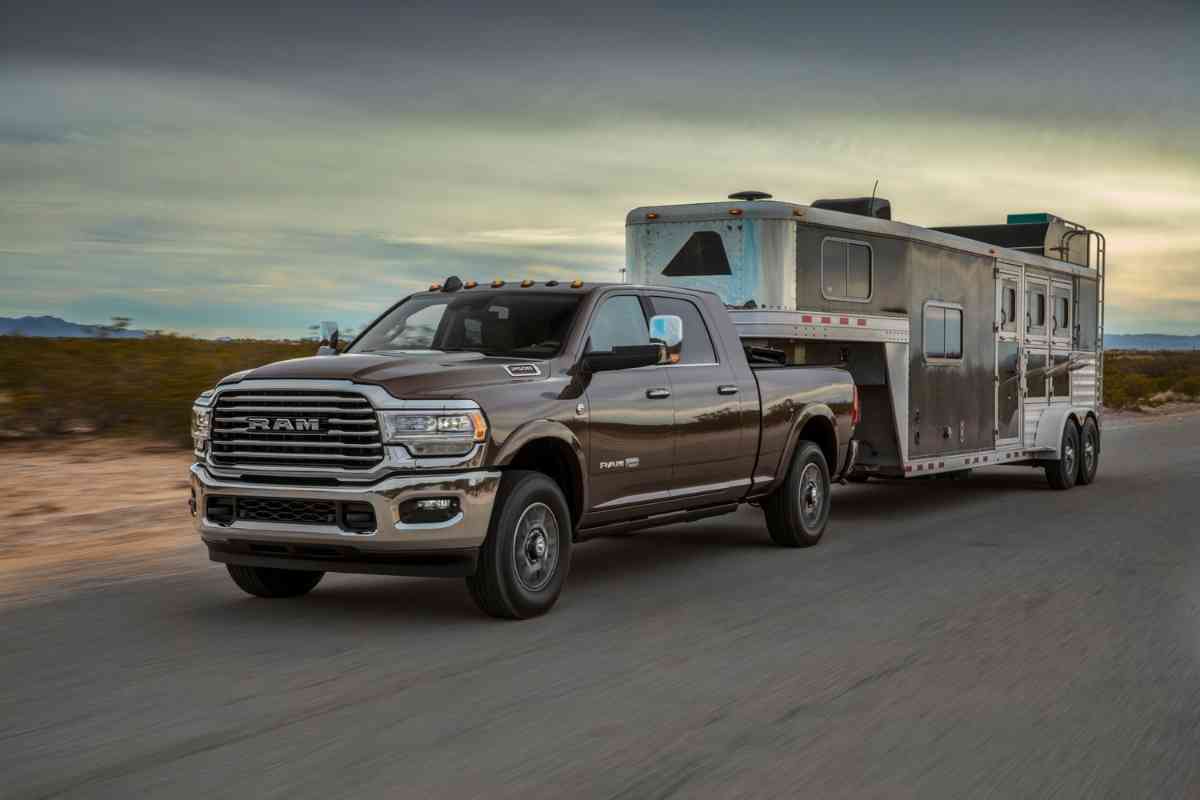 Dodge's Ram trucks have been famous for their power since the 1990s.
Though the most famous are diesel-powered and were sporting a super reliable engine, Dodge also has some gas-powered trucks that do some great work.
The Ram 2500 is a tough truck that can haul upwards of 12,000 pounds, with the most recent models capable of towing 14,000 pounds or more.
As with the Ford F-250, the Ram 2500 has been steadily improving for years.
The current 6.4 L V8 engine is an impressive one.
It produces 429 foot-pounds of torque while avoiding some of the issues that challenged previous engines of the Ram 2500.
If you are shopping for a gas-powered Ram truck, look for a vehicle that was made after 2017 to get the best engine and the most strength.
Nissan Titan
A final contender for the most powerful gas-powered trucks is the Nissan Titan.
This truck is set up with a 5.6 Liter V8 engine and is capable of producing up to 413 pounds of torque.
The truck is a great pick for someone that needs power but also wants to save on gas.
Compared to some of the other gas-powered trucks that were built for power, the Nissan Titan gets much better gas mileage.
In addition to making the gallons stretch, the Nissan Titan can carry up to 9,400 pounds, which should cover most of your hauling needs.
Some editions of this car suffer somewhat in terms of reliability, so thoroughly investigate any car you want to buy long before you purchase.
Towing With Gas Trucks
Of all of the trucks discussed here, the Dodge Ram 2500 is the most powerful gas-powered truck.
Although it suffers somewhat in the field of gas mileage, it can't be matched in terms of horsepower and towing capability.
As long as you secure the right years and the right engines, you will be able to avoid paying for diesel while still being able to tow over 5 tons of material.
With that said, there are several great options for powerful trucks.
Though some people are of the opinion that you need a diesel truck in order to get enough torque and hauling capability, the truth is that there are also some powerful trucks out there that run on gas.
Determine how much power and towing capacity you need and go from there.
If you can satisfy your needs with a gas-powered car, you could save a lot of money over time by not needing to buy diesel fuel.