Can a Ford F150 Tow a Toy Hauler?
The F-150 is an iconic vehicle that is a mixture of toughness with modern class. It's got some great towing capabilities that we are going to talk about today and still lets people feel comfortable when riding inside the cabin.
As far as full-size pickup trucks go, the F150 is one of the best options on the marketplace. Ford has worked tirelessly to make sure that they can match up with the competition and many consumers want to drive this vehicle as a daily truck as well as taking it on adventures.
One frequent question that get asked is whether the Ford F150 is strong enough to tow a toy hauler?
Can the F150 Tow a Toy Hauler?
Can the Ford F150 tow a toy hauler? Generally speaking, yes the Ford F150 is capable of pulling a toy hauler that weighs from anywhere 5,000 pounds up to 10,000 pounds. The exact numbers that you are able to pull will depend on a number of factors that include which engine you have in your truck, what your rear axle ratio is, and a various number of other factors as well.
You should be careful to pay close attention to what your truck is capable of when it comes to additional factors like extra cargo, weight in the truck itself, and you should not be tricked by anyone giving you fake answers at the dealership.
The F150 Stats
The F150 is often referred to as a "Half Ton" truck. However, that doesn't mean that it can simply tow a half ton. This generally speaks to the payload of the suspension system and the weight that the truck itself can hold.
This is a different number than towing weight and really is not the same as some of the other math that you need to do when it comes to figuring out a towing setup that is safe for you.
The payload that the F-150 can hold can affect towing ability, but it is not the be all end all of the statistics. The F-150 can tow anywhere from 5,000 to 12,000 pounds, although the upper range is a bit misleading as it refers to a completely optimized and empty vehicle that is only being used for towing.
Most people want to actually have some passengers or cargo with them in the truck; so today we're going to be focused more on toy haulers and the F150's capability when it comes to that department.
Some people think that payload is completely irrelevant and that is not the case. Your payload determines how much weight your actual truck can hold.
However, that will affect your towing capacity as well. You will also see documentation about the tongue weight, or how much weight that the hitch equipment puts on to your F150.
For an F150 that has a higher tongue weight, you will see a lot more stability in your ride overall when towing. You won't have as much sway to the back of your trailer when you are driving or when going around curves.
This is avoided by placing too much weight at the back of the trailer, which if you think about physics makes a lot of sense that this would create a dangerous situation.
However, if your tongue weight reaches a certain point, you lose performance when trying to pull a trailer and it becomes hard to haul your load.
If you really overload things when it comes to tongue weight, you could see a hitch that will actually fail and cause a big disaster when you are driving.
Ford recommends having a tongue weight that is around 10% of the actual trailer weight along with any cargo or additional weight that you are hauling.
If you are sticking with a toy hauler that weighs anywhere from 5,000 to 10,000 pounds, you can assume an acceptable tongue weight to be anywhere in the 500 – 1,000 pound area, with a little bit of leeway to go slightly higher than 10% if necessary.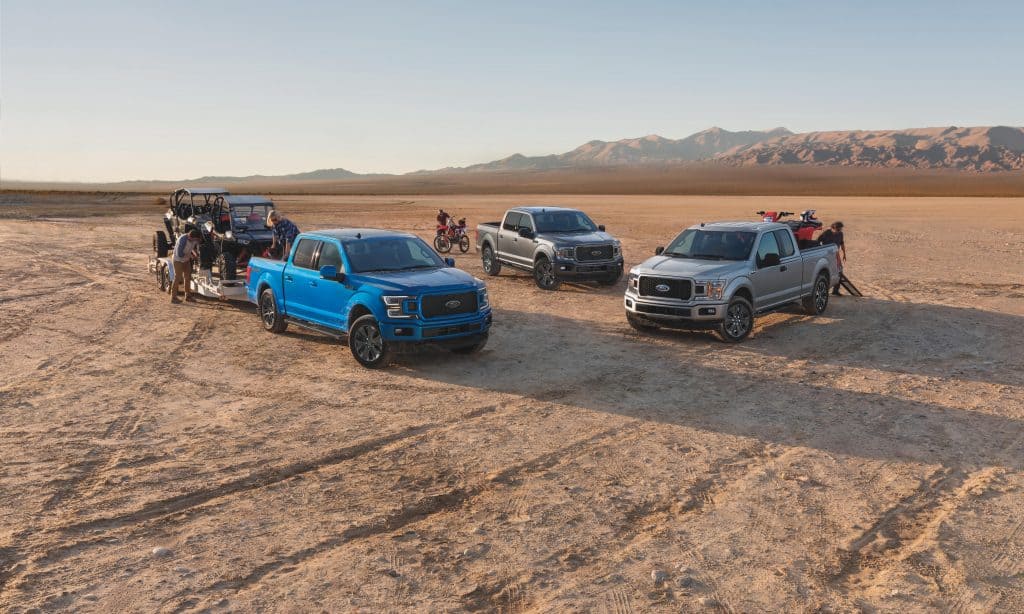 The Effect of a Diesel Engine
It is not going to be easy to find an F150 that has a diesel engine. They aren't floating out on the marketplace very often. Usually, you will see a diesel engine in larger trucks like the F250 or F350 models from Ford.
However, for vehicles that do have diesel engines, they will probably see an increase in the amount that they are able to tow. This comes from an increase in power as well as torque.
You'll also get better fuel mileage which will be a big hit with certain consumers. These increases aren't the biggest numbers in the world, so it's better to focus on other advantages that you can get with your F150.
The increase in price probably isn't worth the struggle to find a diesel engine, even if you are able to afford it.
Especially for people who tow casually, it really doesn't make sense to find a diesel engine.
The Effect of Four Wheel Drive
For all intents and purposes, four-wheel drive may not be that important depending on what kind of situation you will be driving in.
Some F150's come with rear-wheel drive which means that your power will always be sent to the rear two wheels. However, there are many trim packages that come with four-wheel drive, which can be a significant upgrade for some drivers.
The real important factor to consider here is whether or not you're going to be traveling in environments that don't have clear paved roads. If you are driving in winter conditions, it would make more sense to get four wheel drive so that your tires can grip the road easier when those conditions hit.
Another environment where four wheel drive comes in handy is when you are driving on loose gravel or other conditions that aren't the best or aren't solid ground.
If you are considering hauling a toy hauler around, you will probably be adventuring into some conditions where there is gravel or mud so it may be worth it to upgrade your drive package.
Towing a Fifth Wheel Trailer
The F150 is able to haul a fifth wheel trailer, however it cannot haul every fifth wheel trailer out there. Ford actually recommends against it, but it will depend on the individual weight of each trailer.
You'll need to be careful to check the payload requirements of your vehicle because you will need a goose-neck hitch to actually attach the toy hauler on to the F150.
If you are wondering how big of a camper can an f150 EcoBoost pull, you may want to think bigger if your goal is to simply pull the biggest toys. Because if you are completely sold on hauling a larger fifth wheel trailer, you may want to think about a bigger truck.
An F150 can do the job if you are careful, but for the full variety of fifth wheel trailers; you could need a higher towing capacity. Will you be able to tow a travel trailer with a F150? It simply depends on the weights involved.
F150 Towing Capacity
The F-150 has a long history of being a successful truck when it comes to towing abilities as well as popularity in the marketplace. There's a reason that these things happen; because the F150 has been delivering at a high level for so long and these things happen in cycles.
The F150 comes in a variety of different trim packages.
There are multiples trim packages available for the F150 that include the XL, XLT, Lariat, King Ranch, Platinum, Limited, and Raptor.
It can seem a bit misleading, but the XL is the basic model that Ford offers. The Limited actually come with all of the bells and whistles and actually comes with a lot of luxury options that increase your comfort in the cabin.
The Ford Raptor is a top of the line package that is focused on customers who want to adventure frequently, and it makes sense that towing capability is a big feature there
When thinking about trim packages; you should consider the engine strength of what model you are looking at to figure out what you can tow. Obviously, if you have a stronger engine, you are going to be able to tow more weight behind your vehicle.
Your axle ratio is also important because it determines how much torque the engine power can actually produce.
Again, this is fairly important in towing. You can think of this as the acceleration of your vehicle because that's usually where you will be able to feel it the most. The axle ratio will determine how much the wheel has to turn to use the energy that the engine outputs.
The Effect of the Size of your F150
If your toy hauler is bigger than your F150 and weighs more, you may be putting yourself in a dangerous situation.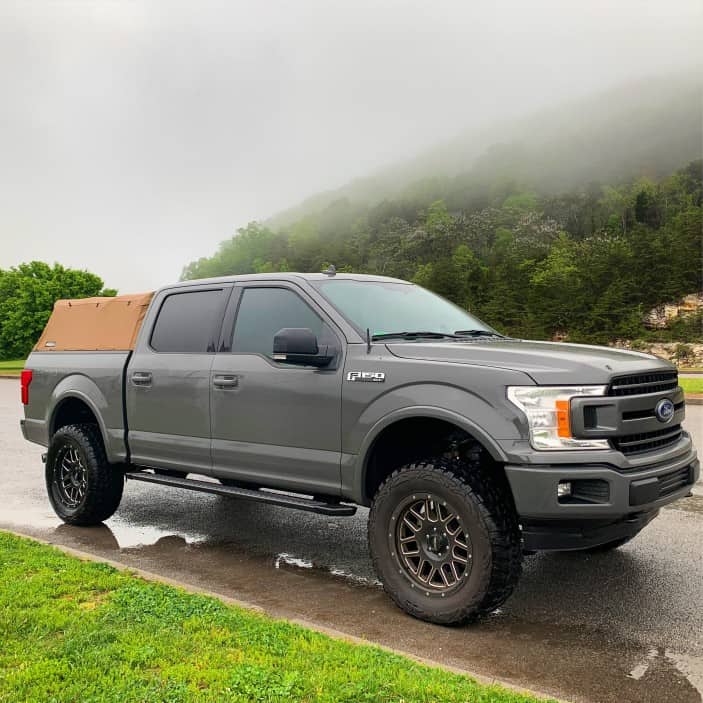 The extra weight behind your vehicle can cause problems when you are going downhill and can also lead to trailer sway which is going to make your whole setup harder to control.
At all times, you want to keep things safe so that you, your passengers, and your fellow motorists are able to navigate safely.
This applies to the length of your trailer as well. If the trailer behind your vehicle is extra long, the physics of that situation mean that the end has more potential to sway and will be harder to control. It's something to keep in mind when you look for toy haulers to make sure that you are being safe.
Payload on the F150
The F150's payload includes everything that the truck has on it. If there are passengers, any kind of cargo in the truck bed, any fuel or additional gear like that – it all counts towards payload.
While the payload may not necessarily directly impact your towing abilities, it can have certain effects. You'll also need to watch the equipment that you use to hitch the toy hauler, because that adds to your truck payload.
The payload of a Ford F150 can be anywhere between 1,680 pounds and 3,270 pounds found on some of the more expensive trim packages. This is a pretty wide range, and it speaks to the level that you need to be careful with your own setup.
You should not rely on anyone else's numbers but you should check your own numbers with your manufacturer instructions to make sure that you are getting a safe setup.
Should I get the Optional Towing Package?
Generally speaking, yes, it is a great idea to get the Towing Package that is available for certain Ford F150 models.
Ford acknowledges that a lot of people are going to want to tow things like a toy hauler when using their F150, so they have built a Towing Package specifically to give your set up advantages that it needs to be a beast when towing something and you should take advantage of it if it fits your ideal truck.
This also comes with a towing hitch which is a great feature so that you don't have to worry about anything. There is a Class IV Trailer Hitch available with the basic towing package and it's something that you'll have to pay a bit extra for if you are buying the lowest trim packages.
These packages are going to have towing capacities around 6,000 to 7,000 pounds and should give you plenty of power as long as your set up with your toy hauler stays under these numbers.
These trim packages answer the questions How much weight can a Ford F150 EcoBoost tow because they both come with the 2.7L or 3.5L EcoBoost engines.
Trailer Tow Package
The best version of the trailer comes with the Raptor model of the F-150.
This Raptor package is completely equipped to be a towing monster. You can tow upwards of 10,000 pounds with the Raptor and it has a wiring harness as well as the Class IV Trailer Hitch Receiver.
You can upgrade this package even further with a heavy duty option from Ford as well.
The Variation of F150 Power
You should be careful to make sure that whatever you are planning to haul matches whatever model setup you have. With a towing capacity that can range from 5,000 to 10,000 pounds; you need to be careful that your individual setup will work for you.
If your setup is closer to the 5,000 or 6,000 pounds you are not going to be able to pull a large RV. You'll need to stick to a smaller model of toy haulers that work with your specific towing capacity, payload, and tongue weight.
If you have a powered up set up with the biggest EcoBoost engine, then you are going to have a set up that ends up closer to the 10,000 or 11,000 towing capacity number as far as weight goes.
If you are in that Ford F150, then you are going to be able to take a fairly big camper trailer and you will have a lot more power than those in a smaller setup.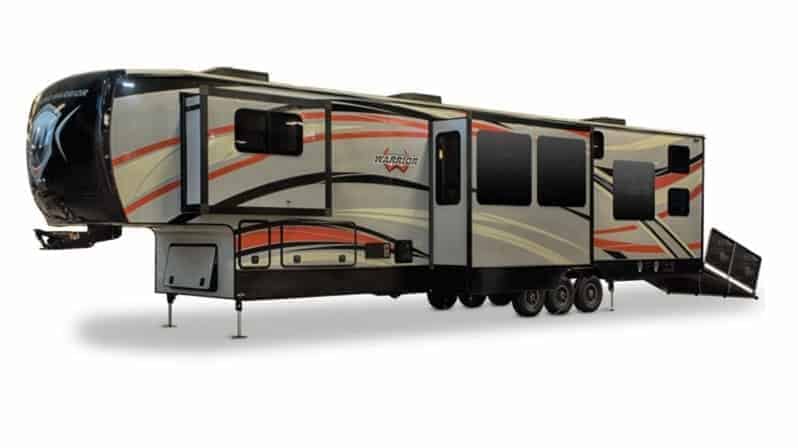 Remember, take care to make the numbers work for you to keep yourself and those around you safe.
When trying to haul a toy hauler, the F150 can do the job depending on its trim package and towing setup. You want to make sure that your payload, tongue weight, and towing capacity numbers all make sense.
You need to be certain that your tongue weight doesn't exceed 10% of your trailer weight, and if it does it should certainly not be over 15%.
All of these factors will make sure that you are safe on the road when trying to haul your toy hauler in a Ford F150 so that you can go on adventures anywhere you want to go.
Ford F150 Towing Accessories
Last update on 2023-11-15 / If you click this affiliate link and make a purchase, we earn a commission at no additional cost to you.
Can a Ford F150 Tow a Toy Hauler?