How Much Can A Jeep Liberty Tow?
The Jeep brand is known for its adventure lifestyle and with adventurous people, they often want or need the ability to tow with their Jeep.
I was cruising many of the Jeep forums and I noticed several people asking about the towing capacity of the Jeep Liberty, and they were wondering how big of a trailer a Jeep Liberty can pull.
Since a family member has a Jeep Liberty I thought I should do some research on the topic and here is what I found.
How Much Can A Jeep Liberty Tow?
So, how much can a Jeep Liberty tow? The maximum towing capacity of a Jeep Liberty ranges from 2,000 pounds to 5,000 pounds depending on the transmission (auto or manual) and towing package offered on your Jeep Liberty.
---
Jeep Liberty Towing Capacity Specifications:
---
While some people may just want to know about the towing capacity and move on, others might want to know more specifics about what they can tow, the history of the Liberty and other relevant information.
For those who want to know more. For those who don't, I might suggest reading about the towing capacity of the new Jeep Cherokee or Jeep Wrangler.
Stay with me, and let's go deeper into the towing capabilities of the Liberty.
How To Maximize Jeep Liberty Towing Ability
With a Jeep Liberty, one of the potential limiting factors is the shorter wheelbase. When you tow with a vehicle that has a short wheelbase, if something does go wrong like your trailer starts swaying back and forth, it can be more difficult to correct in a short wheelbase than with a longer wheelbase vehicle.
With this being said, the Jeep Liberty is a capable towing vehicle. Many believe the earlier Liberty's (2002 and early 2003) used a heavier duty transmission, but I was not able to verify that since the Liberty is no longer in production. This being said, I found multiple references to this, so let's assume it is true.
As some of you may know, I am an avid fan of boating. Over at thehulltruth.com, user kchace was giving advice regarding his experience towing with his 2002 Jeep Liberty. The question asked was about towing a 3,000 lb boat plus a trailer with a Liberty.
Here is what kchace had to say:
As long as your Liberty has the factory tow option, you should be good to go. I also have a 2002 Liberty and regularly tow my boat 100-200 miles at a time with no problems. I have been doing this for all of my Liberty's life, currently have 181K miles on it and its still running fine. My current setup – boat and trailer ready to go – is 4350lbs (weighed). The engine doesn't have a lot of low end power, but it *is* reliable.

One benefit to the 2002 (and early 2003's) is that they used a heavier duty transmission than later models. I wouldn't push it too hard up hills, change the fluid and (2) filters regularly and it should hold up well. Just make SURE you use the correct fluid in the tranny. Oh yeah, make sure to tow in TOW mode. (little button on the side of the shifter)

Ken

Source
I think Ken said most of everything I would have said in giving advice about towing with the Jeep Liberty. It's even better hearing from a guy with multiple years towing a boat with a Jeep Liberty.
Can A Jeep Liberty Tow A Camper?
Can a Jeep Liberty tow a camper? Yes, when a Jeep Liberty is equipped with the towing package and automatic transmission, it has a maximum towing capacity of 5,000 pounds. There are many campers that weigh less than 5,000 pounds.
3 Campers You Can Pull With A Jeep Liberty
Camper #1 – 2020 HEARTLAND PIONEER BH175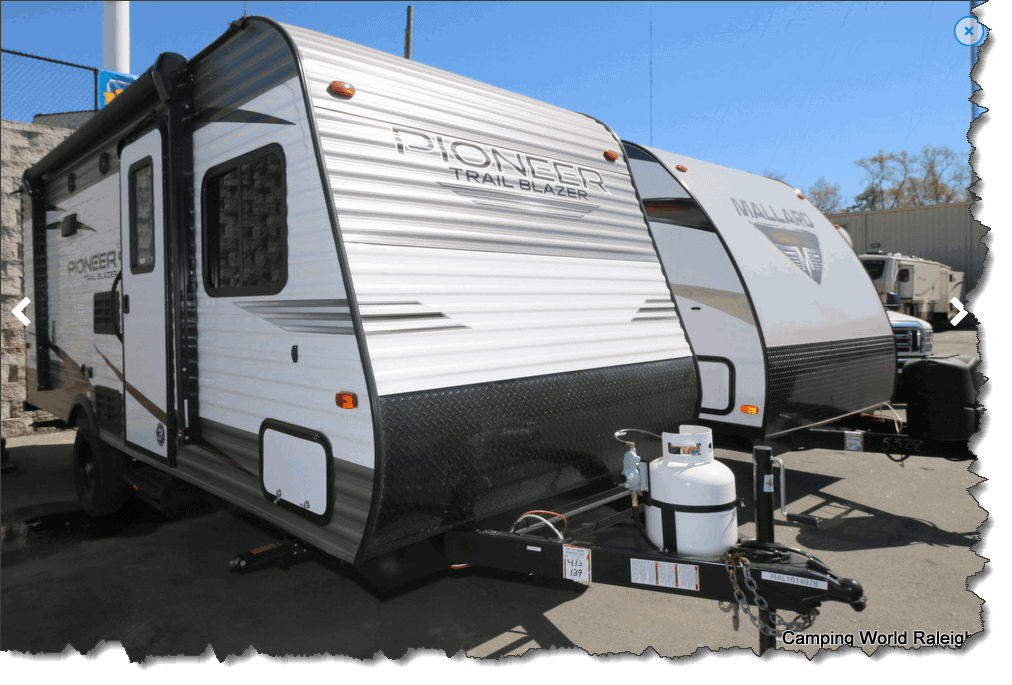 The 2020 Heartland Pioneer camper has a dry weight of 3,156 pounds and a length of 21 feet 8 inches. The best part about this camper is it offers sleeping for five people! That's pretty impressive for such a lightweight camper.
Camper #2 – 2019 COLEMAN – COLEMAN LIGHT LX 1605FB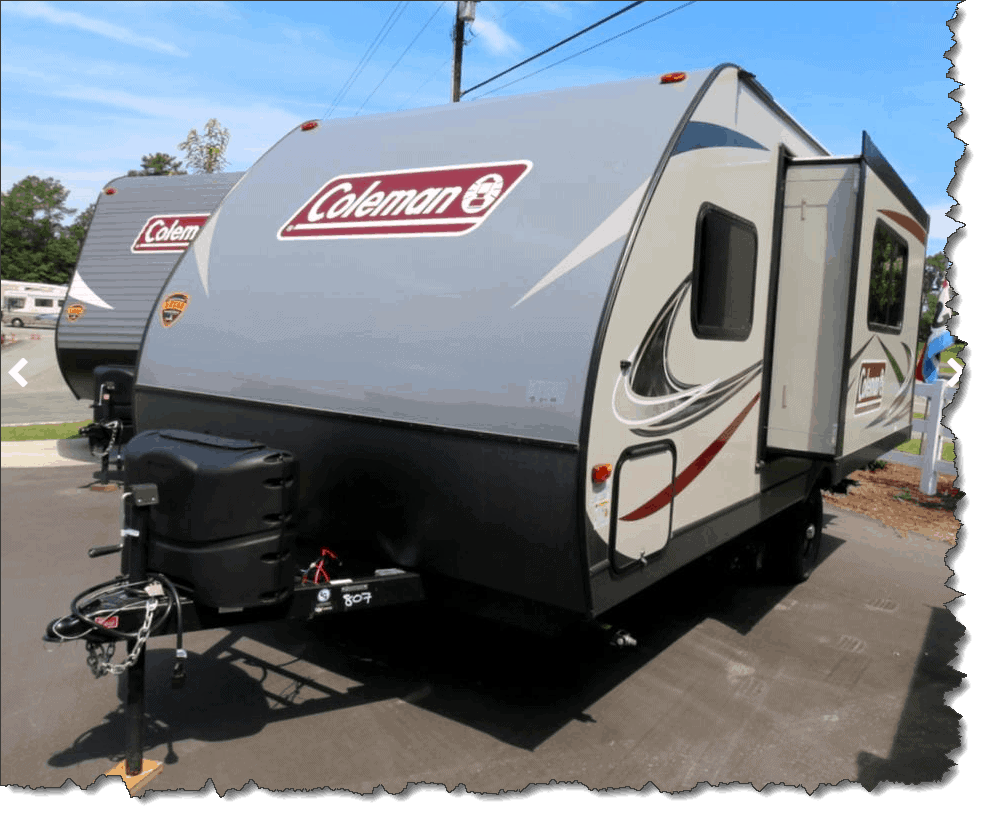 The 2019 Coleman Light LX measures 20 feet 8 inches and offers sleeping accommodations for 4 people. The camper includes one slide out and offers a dry weight of 3,794 pounds. At this weight, it gives you additional room for your gear and still stays under your maximum towing capacity on the Jeep Liberty.
Camper #3 – 2020 FOREST RIVER GREY WOLF 19SM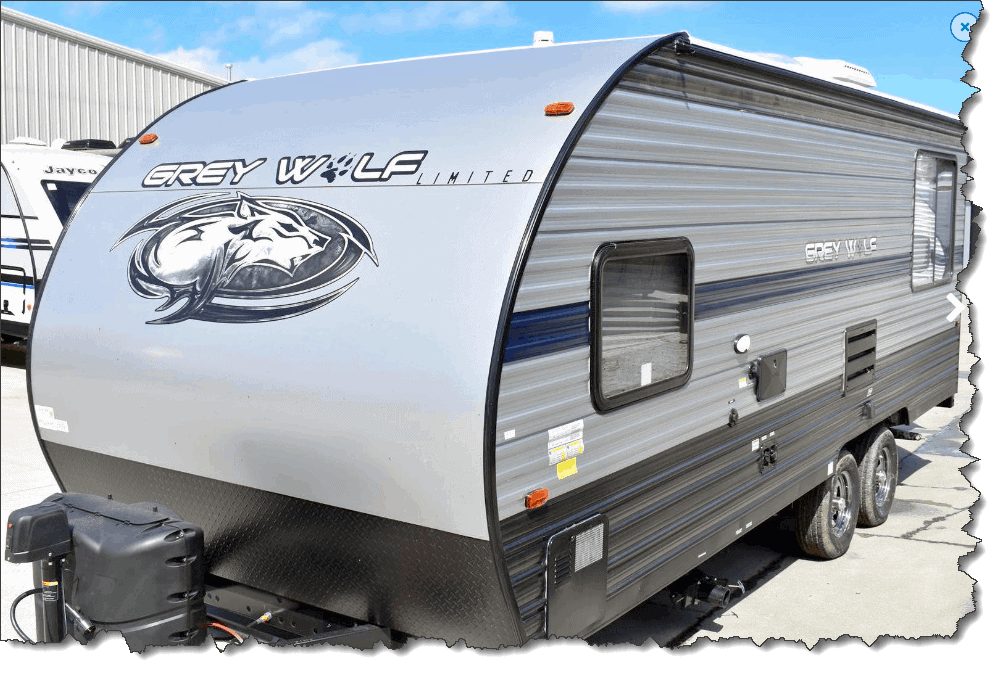 I added this Grey Wolf Limited Camper as a bit of a stretch, but it is still possible. The Forest River camper weighs in (dry weight) at 4,846 pounds. This limits your ability to tow it with gear, water, and waste on board due to the Liberty's max capacity of 5,000 pounds, but it is possible.
The Forest River camper measures 24 feet 1 inch in length and the best part of this camper is it offers sleeping for 8 people! That is more people than you can fit in your Jeep Liberty.
Okay, so this last one might be a stretch to pull with your Jeep Liberty, but it is possible to tow it and still stay under your max towing capacity when we go by the dry weight alone.
Can You Flat Tow A Jeep Liberty 4×4?
So far we have discussed the ability to use a Jeep Liberty to pull boats, campers and trailers.
What if you wanted to flat-tow a Jeep Liberty behind an RV?
Can you flat tow a Jeep Liberty? Yes, you can flat tow a Jeep Liberty with the correct flat tow setup.
What Do I Need To Flat Tow A Jeep Liberty?
If you want to flat tow your Liberty behind a motor home, here is what etrailer.com suggests for the ideal setup:
To flat tow a vehicle, you need a tow bar, base plates that mount to the vehicle and provide an attachment point for the tow bar, safety cables, a lighting solution and a supplemental braking system.

Source
Suggested Flat Bar Equipment:
(Source)
Flat Towing A Jeep Liberty Video
My father has always wanted a luxury RV, and over the past few months, we have been out shopping together. One of the topics that frequently comes up is what to use as a tow vehicle.
Thankfully, Jeep Liberty's are affordable used Jeeps and they offer the ability to be flat towed behind a motorcoach.
I thought you may enjoy seeing these two videos about flat-towing a Jeep Liberty.
Jeep Liberty Flat Tow Setup Video
Chances are if you are still reading this article about towing and the Jeep Liberty, you may own one or be looking to buy a Jeep Liberty.
As a result, I put a brief history together for you about the Jeep Liberty, where it fits into the Jeep model line up and the years the Liberty was produced.
Take a look…
History of the Jeep Liberty
Before we can get into the specifics of towing with a Jeep Liberty, we need to clarify a few points about the background of the Liberty.
Jeep produced the Jeep Liberty from 2002 until the end of the 2012 model year. There were two generations of the Jeep Liberty produced. From 2002 through 2007, the first generation Liberty is known as the "KJ".
Then the second generation Jeep Liberty was in production from 2008 through 2012 and it is known as the "KK".
FYI — Jeep models all have initials associated with their models for those that don't know.
Jeep Liberty Outside of the United States
Outside of the United States, the Jeep Liberty went by another name. It was known as the Jeep Cherokee.
The Liberty was designed as the replacement to the well known (and loved) Jeep Cherokee XJ. Once the 2012 models were produced, the Liberty nameplate was retired and the Cherokee name came back in 2013.
Okay, enough about history, let's talk about towing with a Jeep Liberty.
Closing Thoughts
The Jeep Liberty is a capable vehicle to use for towing. The maximum towing capacity all depends on how your Liberty was built.
To summarize, you can tow 5,000 pounds when equipped with the required towing package and an automatic transmission. Jeep Liberty models equipped with a manual transmission and the towing package have a maximum towing capacity of 3,500 pounds.
If your Jeep Liberty does not have the required towing capacity, you are limited to towing just 2,000 pounds.