Can You Fit a Twin Mattress In a Toyota Highlander?
This post may contain affiliate links. As an Amazon affiliate, I earn from qualifying purchases.
The Toyota Highlander is one of the original crossover SUV's that really picked up the market for third-row SUV's. This Highlander gets extra length, which is great for those who needed a little bit more space in their vehicles.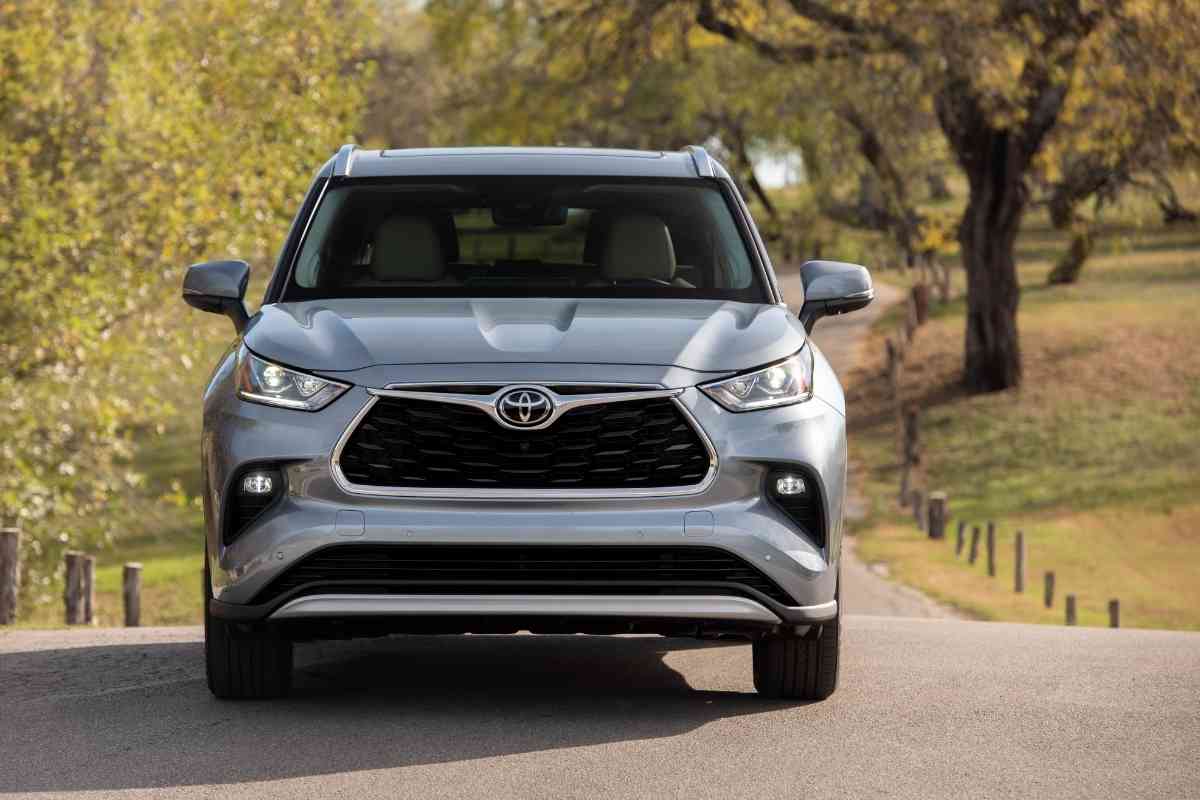 Save yourself the hassle of measuring your SUV's cargo space. Our latest article, Can A Queen Mattress Fit In An SUV?, has done the work for you!
However, today we are going to be talking about a twin mattress and whether it is a good fit for the Toyota Highlander. Some people prefer to simply take a mattress on the road with them if they are going for a long trip or an adventure, while others may have something smaller like a drive-in movie theater trip planned.
Regardless of your reasons why, let's get right down to it:
Can You Fit a Twin Mattress In a Toyota Highlander?
The answer is yes. A twin mattress does fit fairly comfortably into the back of a Toyota Highlander. A twin mattress is the smallest mattress outside of one designed for a crib, and at 38 inches by 75 inches, the twin mattress will fit into the Toyota Highlander like a glove.
You should note that it may be more comfortable to camp using a traditional pop-up tent than simply sleeping with a mattress in the Highlander.
There are a lot of things that become easier such as getting dressed in private or using a portable toilet that are a lot easier in a tent situation as opposed to a vehicle.
With that in mind, you may be more interested in getting a Toyota Highlander than you were before.
Whether you are looking for an SUV that can handle some different adventures, or you are looking for a daily driver for your large family, we are going to take a look at the Highlander and all of its features, benefits, and flaws so that you will learn more about this vehicle and if it is right for you.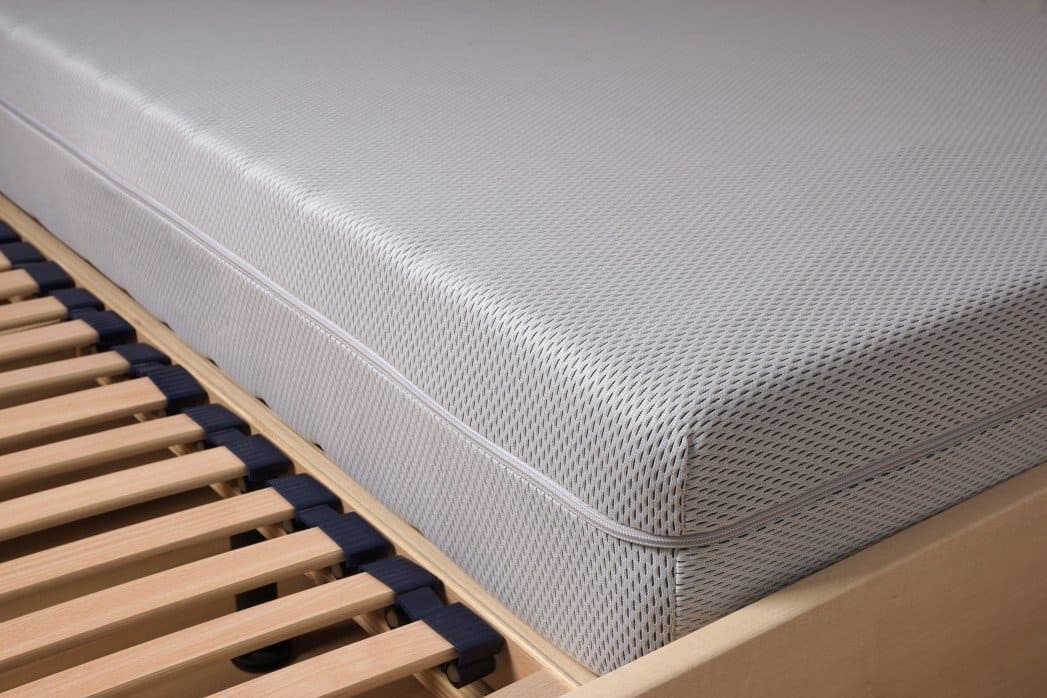 Driving the Highlander
The Highlander comes with a V6 that is going to give it a lot of power as your daily vehicle. However, it does tend to be a bit lazy if you aren't trying to speed up as much as possible.
The steering can feel a bit light at times like you need to almost oversteer. It would be great if it had a bit more of a responsive feel, however the Highlander is basically an average drive for SUV's that are this size.
To go back to the Highlander's engine, the V6 is definitely a nice model. If you are trying to accelerate as quickly as possible, this engine is going to give you a ton of power and you should be able to pass vehicles and merge into highway traffic fairly easily.
If you are looking to accelerate a bit slower, that is when you may feel like you have more trouble though. It's an odd problem, one that you almost have to drive a model to feel.
The brakes feel pretty nice as far as how much effort you need to engage them. For the most part, the brakes are right in line with other vehicles of this size, which is what you need if you need them in a pinch.
The steering wheel can be slightly frustrating at times. It's good that it doesn't take too much effort to turn the wheel because it's so big when trying to park it, however it doesn't feel amazing when driving at lower speeds.
The Highlander is somewhat average in taking turns – it matches up just fine with other cars that are its size, but just know that the large size can definitely give it some problems.
While the vehicle doesn't accelerate well when trying to ease into some speed, the transmission works quite well and driving at medium speeds feels just fine.
The driver assist features that the Highlander comes with work well with how you would want them to work. Some vehicles get carried away and start to warn you when there is no real danger, which can actually work against them. The Highlander avoids that situation.
The ground clearance that the Highlander lists as 8 inches is above most competitors in the marketplace. For a family SUV, the Highlander actually does a great job of being able to go off-road including some options such as descent control which will make off-road enthusiasts happy.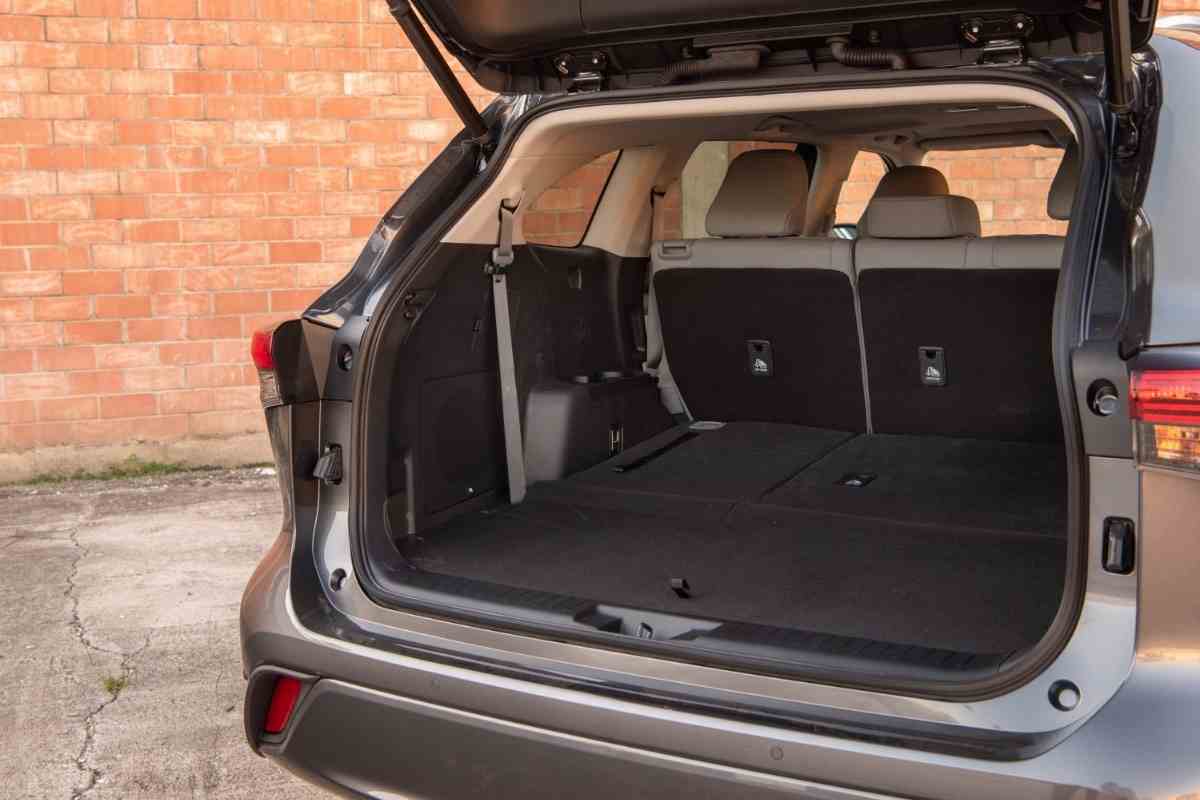 Is the Toyota Highlander Comfortable?
While the Highlander seats feel comfortable at first, they may not feel that way after a long road trip. Of course, no one loves to go on a long road trip, but it's interesting how the seats kind of "lose" performance as time goes on with your passengers sitting in them.
The Highlander does offer a comfortable ride overall due to its smooth nature, a cabin that stays fairly quiet, and a climate control system that does its job well.
The front seats are more comfortable than the rear, however at long distances they can lose some of their touch. It may be due to the fact that you can't adjust the seat bottom to your personal preference. If you're feeling an armrest on the door, you've got something very comfortable underneath you.
One of the biggest positives about the entire Toyota Highlander is the fact that its suspension is so awesome. This suspension is going to smooth out anything that interrupts your ride and keeps you comfortable all the time.
Of course, with a vehicle this size you are going to get some level of "roller coaster" effect for third-row riders, but that simply comes with the territory, and the Highlander is certainly no worse than any other SUV in its class when it comes to ride comfort.
With the ride being as comfortable as it is, it is great to see that noise and vibration are not much of a problem either. You can't guarantee to eliminate all sounds of the road, but most surfaces are handled well by the Highlander and really cut down what you can hear. Some other competitors are much worse than the Highlander in this regard.
The climate control system is intuitive and should make sense to anyone. Rear passengers are able to control their own climate with buttons on the back of the console. The vents available to the second and third row passengers should keep your entire family happy, even on longer trips.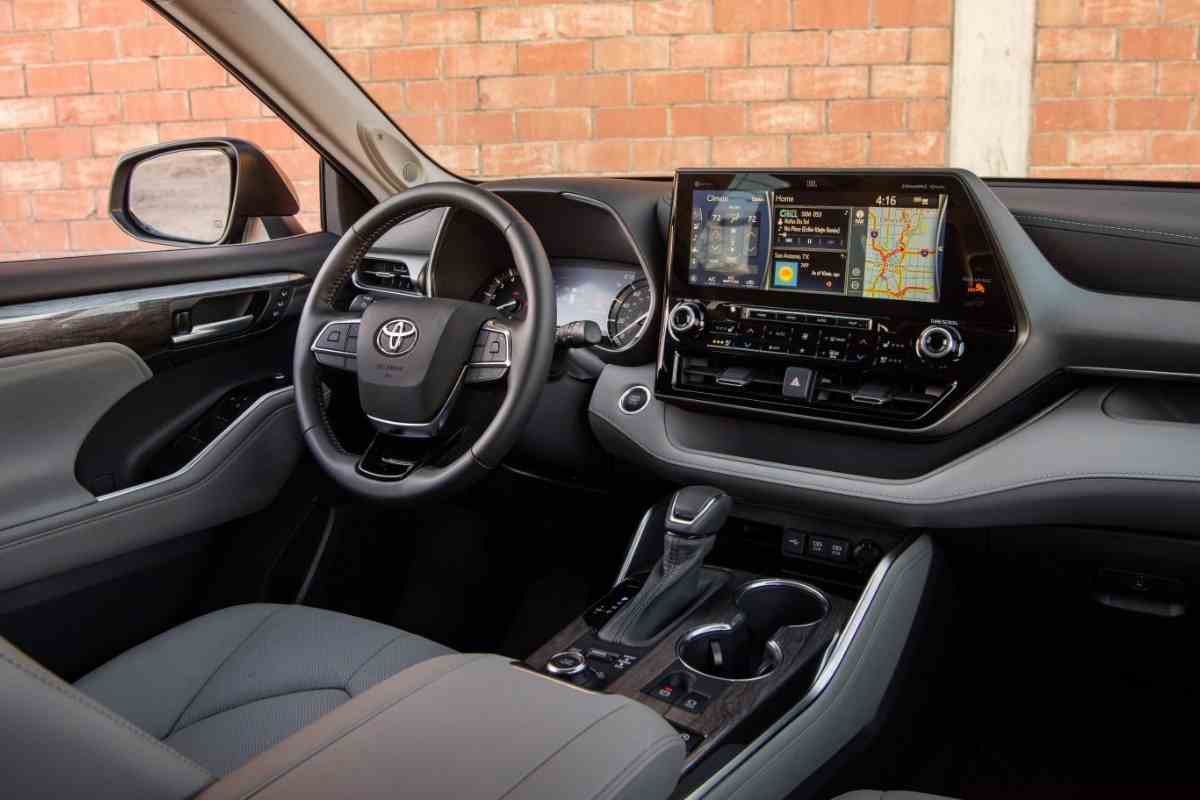 Inside the Toyota Highlander
The interior of the Toyota Highlander is somewhat hard to describe. While the first two rows of seats offer a ton of space, the third row is almost only suited to children. A lot of SUV's have the same issue, but that doesn't make it any less frustrating if you need to bring a lot of adults somewhere.
If you do have kids riding along, the doors should open fully to get them on and off quite easily. There are no visibility concerns with the Highlander, allowing the driver to see all areas of the vehicle and outside to the road quite easily.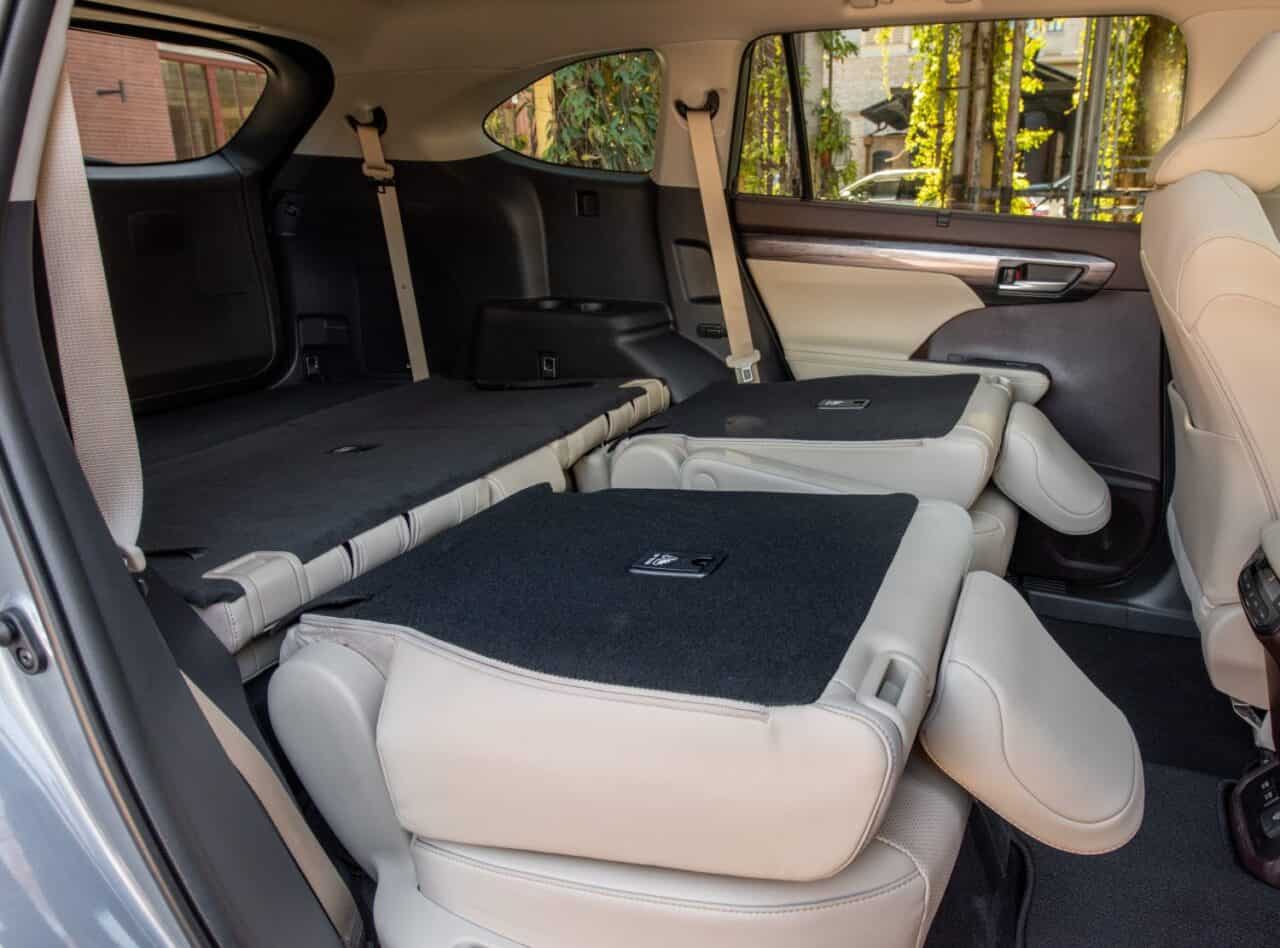 One complaint is that the dashboard can feel far away from the driver at times. This may depend on your personal size or build, but generally speaking it can be a bit of a stretch. The touch-sensitive buttons near the info screen don't work all that well and some people will have to focus just to get the setting they want.
As mentioned, the doors open to almost 90 degrees which should get all passengers in and out easily, although their size means that you may have a tough time in a crowded parking lot.
One great thing about the layout of the Highlander is that the second-row seats will slide forward which will make getting to the third row quite easy.
If you are in the driver's seat, you will find a fair number of adjustments that you can make. While it is fairly standard these days, it is nice to have a steering wheel that can tilt and telescope.
If you are someone who is taller, you may be disappointed to find that the seat bottom doesn't tilt upward which would be a setting that would help support you if you have longer legs.
When looking at most third-row SUV's, you would find a premium placed on the first two rows and the Highlander embraces that idea. You have a definite difference in the first row and third row experience, for example.
These SUV's do that because the driver's comfort is much more important than the kids who are most likely sitting in the back of the SUV. Unfortunately, the Highlander makes this more of a rule than a suggestion, as adults are really going to struggle in the back.
Related Reading
Take the guesswork out of packing for your next camping trip with our latest articles on Can You Fit a Twin Mattress In a Nissan Rogue? and What Size Mattress Will Fit In a Nissan Pathfinder | Queen, Full or Twin? Learn which SUVs can accommodate your mattress and travel with ease.
Conclusion
The Toyota Highlander is an excellent third-row SUV that has a lot to offer. The engine is quite strong although it has its weak moments when moving at slower speeds.
If you are looking for an SUV that has a lot of space, including enough for a twin mattress, then you are certainly in the right spot.