What SUV is Big Enough to Sleep in?
This post may contain affiliate links. As an Amazon affiliate, I earn from qualifying purchases.
Going on a road trip can be a fun way to get away from your busy life, more so, if you can catch some shut eye in your car. While you can sleep in the back seat of any vehicle, large SUVs are the best vehicles that let you do so comfortably. These vehicles are spacious and allow you to make further adjustments to accommodate your size. Below we have compiled a list of sport utility vehicles that are big enough to sleep in.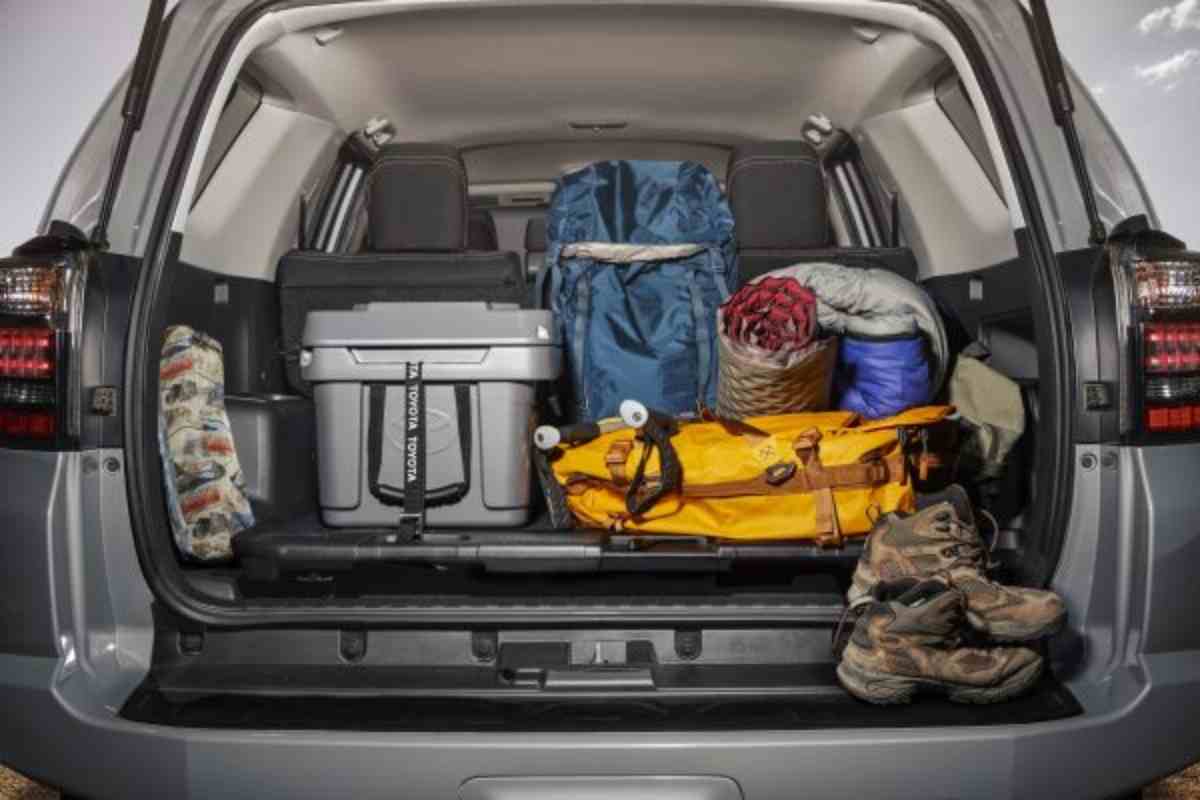 What SUV is Big Enough to Sleep in?
There are several SUVS that can accommodate one to two people in the back seat. These include the Toyota Highlander, Ford Escape, Subaru Forester, Outback, Honda CR-V, Jeep's Cherokee and Grand Cherokee, Jeep Wrangler, GMC Acadia Denali, Volvo XC90, and Chevy Equinox.
Toyota Highlander
The Highlander is a convertible with some serious cargo space. Its cargo compartment is roomy, and when the back seats are folded down, the cargo space becomes more expansive. With all this space, Highlanders can fit two average sized adults in the back, making them ideal vehicles for long road trips and camping.
This crossover SUV is available in five trims; L, LE, XLE, Limited, and Platinum. If you are looking for luxurious interior, the XLE features leather trimmed seats with heated front seats. The top trims, Limited and Platinum, have panoramic sunroofs, which are perfect for stargazing on starry nights. These two also feature heated second row seats.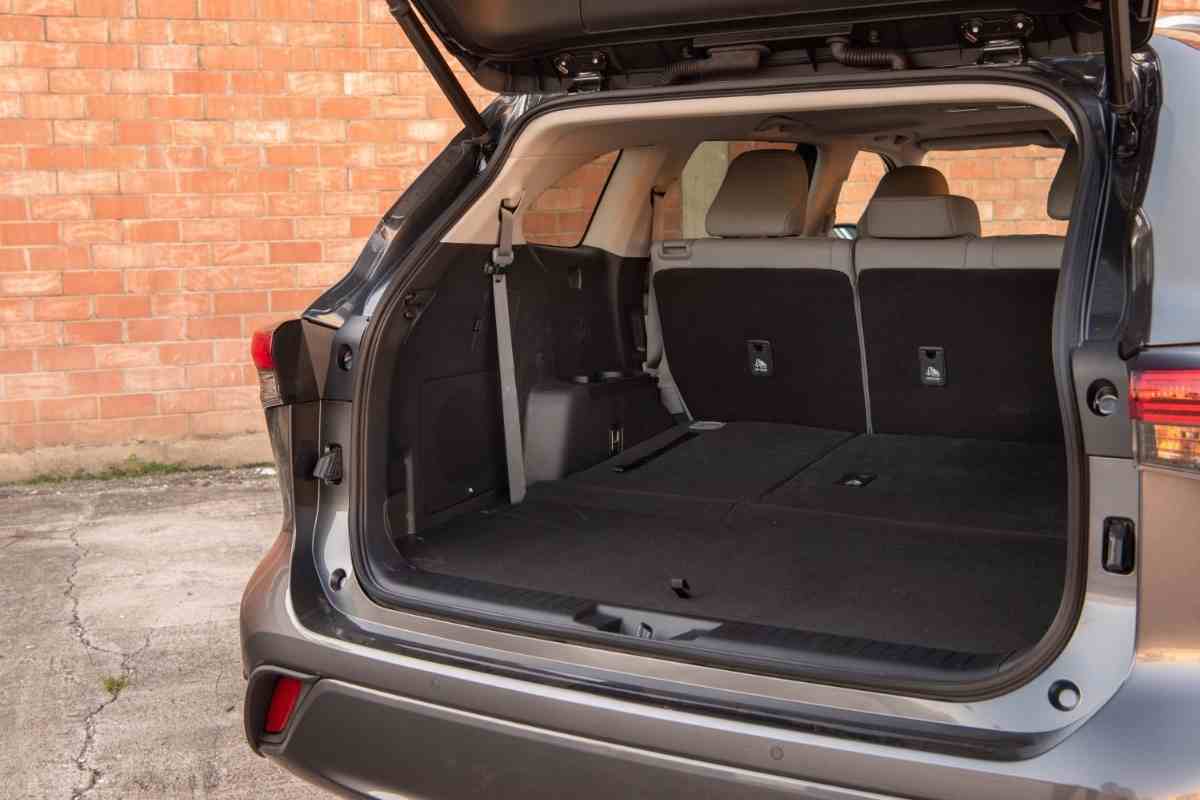 Check Out Our Article On The All New: 2024 Toyota Grand Highlander!
Ford Escape
The Escape is a compact hatchback that packs an impressive combination of powerful engine and good handling, giving this vehicle small car vibes. New models have received a face-lift and improved suspension for even smoother rides.
While this vehicle can pull a trailer for your camping adventure, you can also sleep in the vehicle for a night or two. The Escape has a maximum cargo space of 65 cubic feet when the backseats are folded, which is pretty spacious for a compact SUV.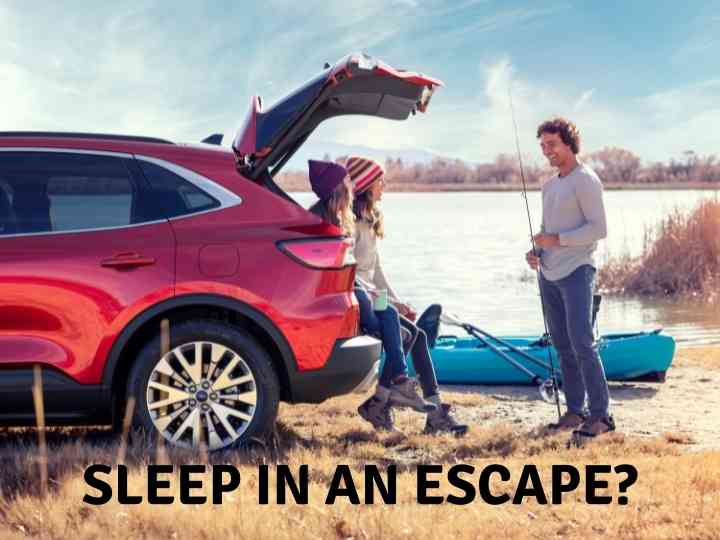 However, if you want to sleep for a longer period, there are necessary workarounds that you will have to consider. This adjustment entails bringing in a wooden frame to take up the space at the back after removing the back seats and luggage in the trunk. A mattress would then be placed on top of the wooden frame, and voila, your makeshift bed.
Subaru Outback
The Subaru Outback is popular for its go-anywhere attitude. Thanks to its all-wheel-drive, you can drive off away from civilization to any destination of your liking. This Subaru vehicle is an exceptional choice for camping and does not require you to be equipped with a camping trailer or a tent.
So, are you thinking of how to sleep comfortably in an SUV? The Outback is big enough for two adults to lay down sleeping bags and get some sleep at the back. Alternatively, you can invest in an air mattress that is custom made for your vehicle. Such mattresses fit perfectly when the back seats are folded flat. With these simple gears, you can set out for an adventure hassle-free.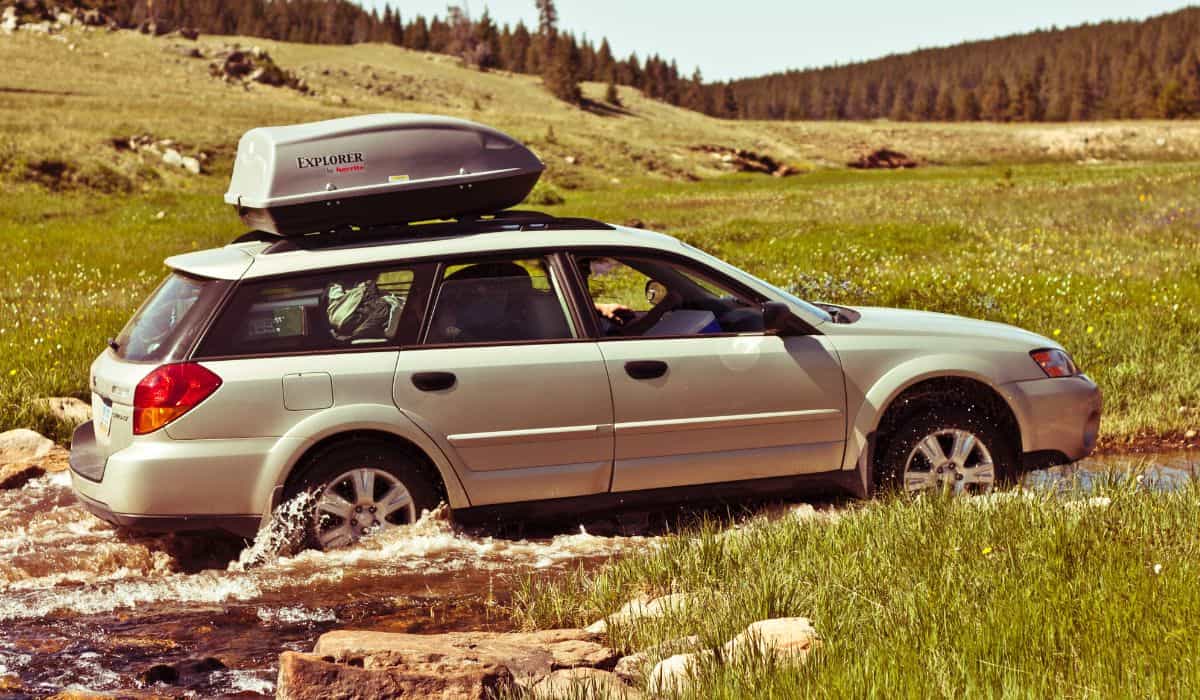 Subaru Forester
Like its close sibling the Outback, the Forester is also an SUV that is ever ready for off-road escapades. It has a vast interior space for camping gear and other recreational gears. Packing an all-wheel-drive, this hatchback can take on any terrain. While it may not be as some powerful off-road beasts, this vehicle features a smart all-wheel-drive system as well as good ground clearance to get you to remote destinations.
Apart from sleeping in the vehicle, the 2019 models have powerful roof racks. The racks can carry up to 176 pounds on the go and 700 pounds when parked. For this reason, you can set up a rooftop tent and sleep comfortably inside. When considering the rooftop tent, ensure to get the right type that will fit within the manufacturer ratings.
Honda CRV
The Honda CRV is one of the most popular crossovers in the country owing to its cavernous cargo space. This vehicle offers up to 39.2 cubic feet cargo space when all seats are up and 75.8 cubic feet between the front seats and second-row seats. When the second-row seats are folded, drivers can enjoy a maximum capacity of six feet width and 15 feet of length.
With these cargo dimensions, a twin mattress bed can be transported at the back of the CR-V, which means camping in this vehicle is a possibility. Other furniture pieces like armchairs, two-seater sofas, bookcases, and dining tables can also be transported by this vehicle.
The maximum towing capacity of the CR-V is 1500 pounds, which is another exceptional feature if you intend to tow your recreational tools. It also features roof racks to load kayaks, skis, snowboards, and surfboards.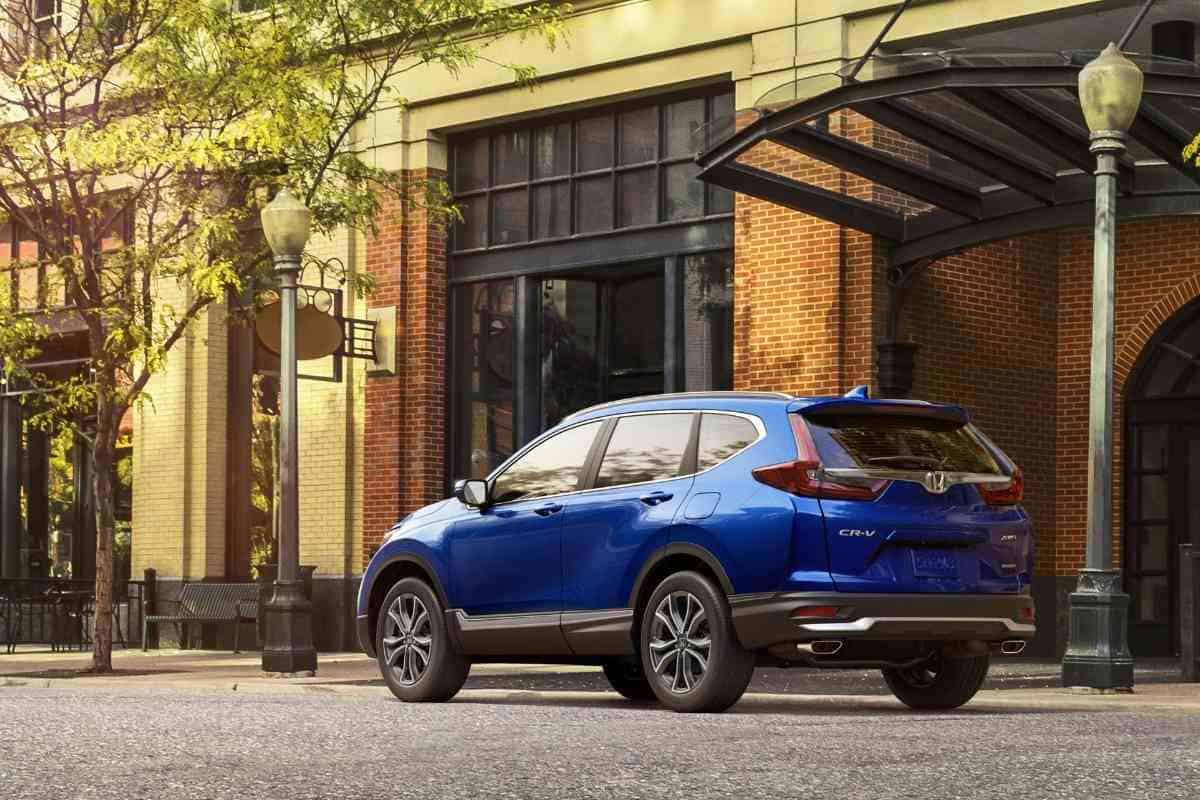 Jeep Cherokee
While the Jeep Cherokee does not offer superb fuel efficiency, it has a roomy interior that can fit a bed. With seats folded, you can sleep in a sleeping bag or lay down some sort of foam pad to level the bumps. Two average size adults can fit in the Cherokee, but not comfortably. If traveling solo, you can fit comfortably together with your gear.
Another advantage about this vehicle is its cool window design, which offers privacy, making it suitable for sleeping in.
Jeep's 2021 Cherokee model is available in nine trim levels; Latitude, Freedom, Latitude Plus, Attitude, Latitude Lux, 80th Anniversary, Limited, Trailhawk, and High Altitude. The Latitude, which is the base trim, features a 2.4 L I4 Tigershark MultiAir 2 Engine that delivers 184 horsepower and 179 lb-ft of torque.
The High Altitude is the highest trim level that features an 8.4-inch infotainment system, a double-pane sunroof, and a four-wheel-drive version.
Jeep Grand Cherokee
The Jeep Grand Cherokee is a great vehicle for camping, thanks to its killer off-road capabilities, powerful engine, and classy interior. The Cherokee features a standard V6 engine and an optional V8 engine that allows this beast to cruise smoothly in all terrains. Its maximum towing capacity is 7200 pounds.
The EcoDiesel engine offers better mileage with its 30 mpg on the highway. If mileage is not an issue, the Trackhawk has the most powerful engine and features a full-time all-wheel drive system.
With its backseat upright, the cargo space of the 2021 model is 36.3 cubic feet and when folded, the cargo space increases to 68.3 cubic feet. These dimensions allow you to fit an air mattress or two sleeping bags for two people. Unlike sleeping in a tent outdoors, sleeping in the back of the Cherokee is warm, comfortable, and safe.
Jeep Wrangler
The Jeep Wrangler offers rugged features, detachable roof, and seating capacity for five passengers, making it an excellent camping companion. Additionally, it has high ground clearance and durable tires to cruise on rocky roads. Its tires have disc brakes on all four wheels to provide superb handling.
The cargo space in this vehicle is 31.5 cubic feet when seats are upright, and when folded, the full cargo space is 70.6 cubic feet. This space is large enough for sleeping in if you are not up for the whole camping setup. Sleeping in the car is much safer and allows you to leave immediately if compelled to do so.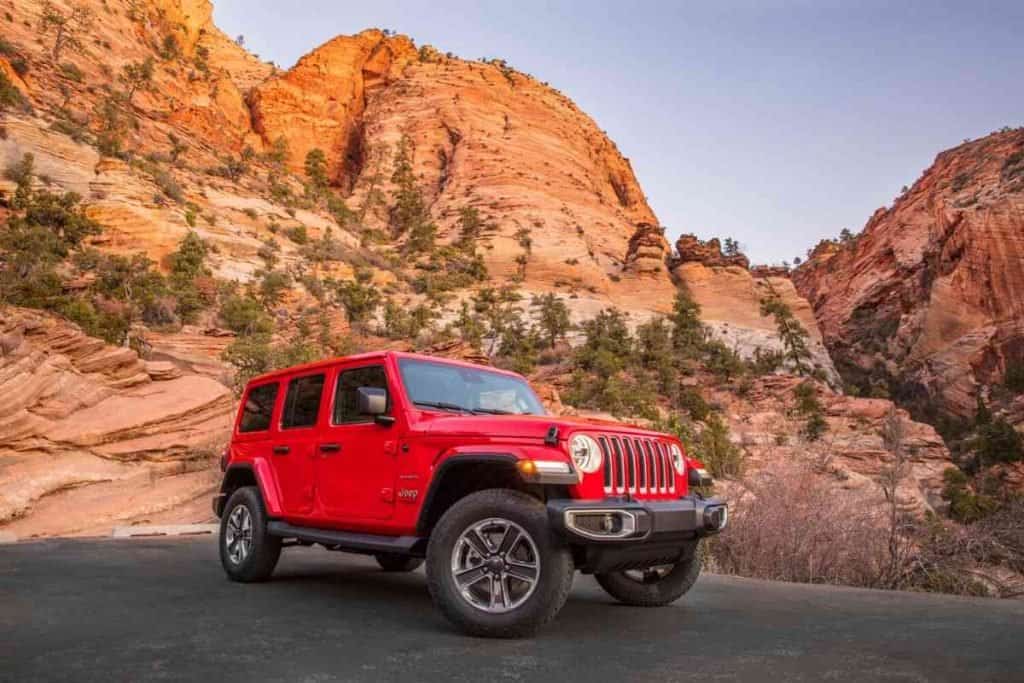 If you are forced to sleep in your Wrangler during cold nights, you can prevent freezing to death by investing in mini heaters. For effectiveness, pick a brand that is designed to the wilderness. While letting your engine run the whole night is an option, it is not a safe strategy owing to the dangerous exhaust fumes it emits.
GMC Acadia Denali
The GMC Acadia Denali is another excellent camping vehicle. Its spacious interior offers a comfortable sleeping area if you have not carried a tent. GMC Acadia Denali spots a heavy-duty suspension that keeps the vehicle grounded on rocky roads while providing a smooth ride for its occupants.
Its total cargo capacity is 79 cubic feet, which provides enough room to sleep in. Moreover, this GMC has a superb heating and cooling system that keeps you relaxed throughout your night. This cargo capacity is also suitable for carrying camping luggage such as biking equipment, tents, and coolers. Other sporting equipment such as kayaks can also fit in the boot of the vehicle.
Volvo XC90
The Volvo XC90 is a mid-size luxurious SUV that features quality materials in its cabin. The XC90 is its automaker's flagship vehicle that offers a roomy interior. All XC90 models have front- and all-wheel drives and are available in three trim levels with the standard 2.0 liter four-cylinder turbocharged engines.
This vehicle is listed as one of the best budget sports utility that is available at a reasonable price. While its MPG is not that great, its spacious interior can fit all your gears and leave space for you to sleep in.
In addition to its modern design elements, this vehicle has safety features, which improve the specs for this vehicle. This Volvo earned the National Highway Traffic Safety Administration five-star rating. Moreover, the XC90's handling comes naturally, allowing drivers to move smoothly on the road. Selectable drive modes also enhance the driver's driving experience and can be accessed via a touch wheel on the center console.
Chevrolet Equinox
In 2018, the Chevrolet Equinox was rated as the most dependable compact sport utility vehicle by J.D Power and Associates. Although it is a small SUV, it offers up to 63.5 cubic feet, which makes it ideal for sleeping in. The Equinox has a maximum towing capacity of up to 3500 pounds.
If you are wondering how to sleep comfortably in an SUV, the Chevy Equinox air mattresses are worth investing in. These inflatable air mattresses are custom made to fit the cargo space of the Equinox. They accommodate the unique shape of your back seat and are available in various materials.
The 2019 base model, the Chevy Equinox LS, offers a fuel efficient 1.5 liter turbocharged four-cylinder engine with a 32 MPG on the highway thanks to its six-speed automatic transmission.
Conclusion
Large SUVs offer practical interior space for cargo, passengers, and sleeping in occasionally. Instead of going full on-camping mode, you can join the car camping revolution that only requires a few adjustments to your back seat, and you are set. The best thing about sleeping in these vehicles is that you are assured of safety, comfort, protection from adverse weather, and of course, no extensive camp setting duties.