How Many Sets of Golf Clubs Fit In a Jeep Cherokee?
This post may contain affiliate links. As an Amazon affiliate, I earn from qualifying purchases.
The Jeep Cherokee is a great option for people who want a compact SUV while still living the Jeep Life. Newer models of the Cherokee have a lot of great tech features, and that gives them a lot of attention from people who love to go off-roading, but may have many other interests as well.
One interest that is always popular with Jeep owners is playing golf. If you're trying to take your clubs on the road with a Jeep Cherokee, read on as we'll give you all the details.
How May Sets of Golf Clubs Fit In a Jeep Cherokee?
The Jeep Cherokee has recently been upgraded to allow for two sets of golf clubs to fit comfortably in the trunk. It has around 25 cubic feet of space in the trunk which is perfect for two players' clubs to fit in the back, and if you need more room for other cargo, you can fold the rear seats down and get almost 55 cubic feet of space all together.
If you think that the Jeep Cherokee would make a good fit for you, keep reading on as we discuss some of the ways that the Cherokee is a flexible vehicle, good for many people in a lot of different kind of lifestyles.
Jeep Cherokee Storage
As mentioned, the Jeep Cherokee has recently been upgraded to get a bit more space out if its somewhat limited storage capacity.
The layout is quite clever and should be useful whether you need to pack outdoor equipment or you have hobbies in various sports like golf, baseball, or hockey.
Regardless of what you need to bring along in the Jeep, you should be covered by the various ways you can store something in the cabin.
This flexible storage makes the Jeep Cherokee for families as well. The Cherokee has done a nice job of being accessible to parents because they have child seat anchors clearly marked and they're pretty easy to get to in between the rear seatback and bottom cushion.
Jeep Cherokee On the Road
 The Jeep Cherokee drives quite well in on-road performance tests. It has a very sporty feel to it even though it's an SUV.
Part of that is related to its somewhat smaller size, however even when you adjust for that, the car is a lot of fun to drive. The steering inputs feel quite direct and are weighted nicely where there is rarely any kind of problem in that area.
As you upgrade the engine inside the Jeep Cherokee, it is obvious that you'll get more power, however the better engines definitely drive better. They have an even better feel, although the baseline package is nothing to scoff at either.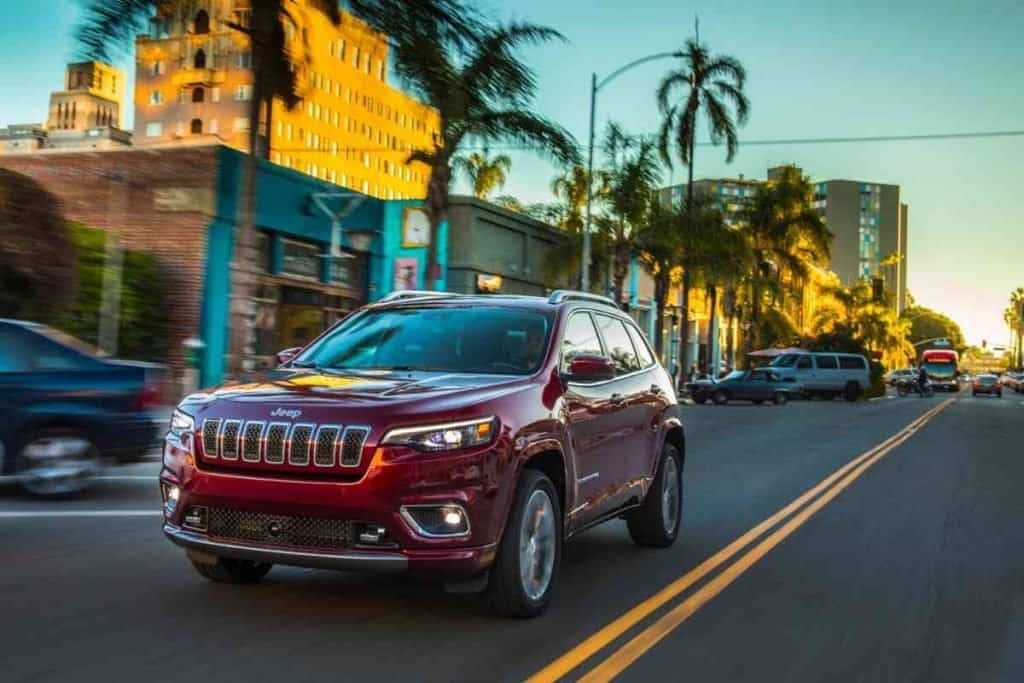 The brakes keep the Cherokee in control quite well and the response feels exactly like it should making it easy to stop quickly if you are put into an environment where you need to keep yourself or your family safe.
There are a lot of different trim packages with the Jeep Cherokee that upgrade its usage for off-roading capability.
We'll discuss those in a bit, however the Cherokee doesn't seem to struggle regardless of the upgrades that you put on to it or lose any versatility from those upgrades.
Jeep Cherokee Trim Packages
The Cherokee has 5 main trim levels. Starting with the baseline Latitude, you also have the Latitude Plus, the Limited, the Trailhawk, and the Overland.
The Cherokee is equipped with a standard 2.4 liter four-cylinder engine that has 180 horsepower. The optional engine upgrades definitely give you a lot more power and can be a lot more fun to drive.
Whatever engine you choose, you will get a nine-speed automatic transmission standard. All of the trims are available in front-wheel drive or all-wheel drive except for the Trailhawk which is all-wheel drive only because it is the dedicated package for off-roading.
Starting with the Latitude, we see a lot of equipment that has become the standard on new vehicles in today's industry. It has 17-inch wheels which service the Cherokee just fine.
It also has Bluetooth capability as well as two USB ports for charging multiple devices. The 7-inch touchscreen has got a nice design and the Cherokee utilizes Android Auto and Apple Car Play seamlessly.
When you upgrade from the Latitude to the Latitude Plus, you get some features that are going to add some comfort to the Jeep Cherokee. There are some leather inserts along the steering wheel and in the upholstery which gives an upgraded feel to the cabin.
You'll get satellite radio and an extra USB port which could stop an argument over who needs to charge what while listening to some good tunes. Another key feature for those who may be parents are the extra safety features.
While it is great for any individual to be safe, things like blind-spot warnings and rear cross-traffic alerts may take on greater meaning for those who have young ones on board. You'll also get some extra access to options that may not have been available for the Latitude for a fee.
The Limited continues to build on the features that the Latitude Plus offered. This is a great package for someone who needs a winter vehicle because you are going to get heated front seats as well as a heated steering wheel with this package.
That can really help to fight some brutal Winter mornings. Your audio and touchscreen systems also get an upgrade here, two points that can really be a big deal because they are things that you'll operate each time you take a trip in your vehicle. You definitely wat your speakers to be solid if you are someone who cares about music.
At the top end of the packages sits the Overland which is the most luxurious Cherokee model out there. It's got a ton of stuff from driver-seat memory functions to upgraded windshield and windows to make you feel at home when you're on the road.
It really feels great to ride in the Overland package and if your budget isn't an issue, this is clearly the best trim package offered for the Cherokee.
One alternate to the Overland comes from the Trailhawk. It is the off-roading focused package for the Jeep Cherokee and it has some major chops.
The advanced all-wheel drive system is huge for someone who is going to be hitting the trails every weekend in their Cherokee.
Even though the Cherokee isn't the biggest or baddest Jeep overall, it definitely gets a huge boost from the Trailhawk because it adds things like hill ascent and descent control, increased ground clearance, and a suspension that is tuned for off-road performance.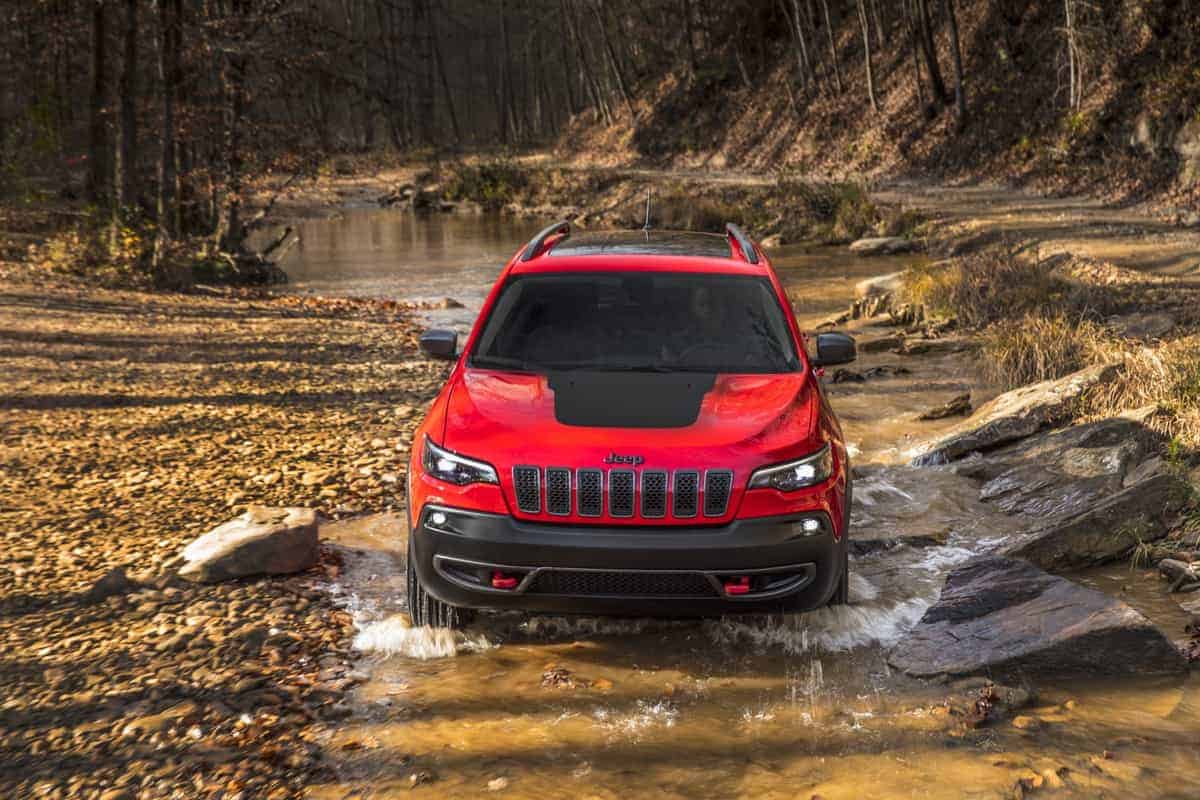 At the end of the day, if you want your Cherokee to be hitting trails regularly, the Trailhawk will just simply make sense.
Regardless of what package you choose, you'll be getting a vehicle that is great to look at, drives comfortably, and can handle some off-roading situations with ease.
At the end of the day, that mixture is what has brought people to the Jeep brand for years and why consumers continue to walk away from their purchases feeling content over what they got.
Conclusion
The Jeep Cherokee has been re-designed recently to add more usable storage space.
While there are a lot of different versions of the Cherokee that you can buy, any trim package should be able to hold two sets of golf clubs relatively easily.
If you are looking to hit the links with a partner, you can hop into your Cherokee with confidence that you will make it to tee time without having to sacrifice your clubs.
The Cherokee is becoming known for a vehicle that can handle a lot of different jobs successfully.