Is a Chevy Tahoe Good in the Snow?
All who own the iconic Chevrolet Tahoe know that this three-row, large sport utility vehicle is as comfortable as a car can get. No matter the winter trip you have planned, the Chevrolet Tahoe will most definitely get you there as safe as possible. Designed with a large and spacious cabin, the Chevy Tahoe can get you anywhere, especially during a torrential snowstorm.
Is a Chevy Tahoe Good in the Snow?
The Chevy Tahoe is a very good vehicle for driving in the snow. The combination of four-wheel drive and a heavyweight vehicle offers great traction and enough grip to get you where you need to go in snowy conditions.
Imagine this: you're gearing up for a drive through the Appalachian Mountains. You have a fabulous trip planned for your family or friends awaiting you at the top of the hill. A fantastic weekend of snow sports and skiing.
Your Chevrolet Tahoe is all packed up, ready to go. The only problem, you have never driven in the snow. The good news is, you, the driver, are equipped with the ultra-safe Chevy Tahoe to get you from point A to point B safely.
Winter Driving Can Be Scary
Driving during the winter can be terrifying. For those who have gotten stuck in the snow far from home know how serious of a problem this can be. The anxiety of getting stuck in the snow or having your vehicle veer out of control are valid concerns when planning a winter drive.
Whether you need to get to work, the store, or looking for a weekend getaway with the family or a trip with your friends, getting there safely should always be your top priority.
If you're driving during the winter months, the likelihood of running into the snow, ice, and below-freezing temperatures is likely. With the Chevy Tahoe, you don't have to worry about this.
The Chevrolet Tahoe ensures that the dangers of driving on weather compromised road smooth down to a minimum, allowing you to enjoy your ride without the horror of skating off an icy street or getting stuck in a blizzard.
The U.S. News & World Report ranks the Chevrolet Tahoe at the top of its large SUV class for both regular and snow performance.
While there are many SUV's on the market, the Chevy Tahoe promises and has proved to be the best in its class when it comes to weather performance and safety.
Why is the Chevy Tahoe Good for Driving in the Snow?
Despite its heavyweight of over 5,600 pounds, Chevy Tahoe performs like a lighter vehicle, allowing it to navigate even safer through the snow than if it were lighter car.
This combination enables the Chevrolet Tahoe to lightly graze the streets, on and off-road, while holding its ground when it comes to safety. This feature gives you both advantages of a large and small vehicle.
1. Accurate Steering and Firm Brakes
The Chevy Tahoe has accurate steering and frim breaks to give you confidence on even the iciest of roads. All Tahoe's can be manufactured with the 4-wheel drive system and antilock disc brakes for ultimate safety.
Besides, the Premier Trim Tahoe is equipped with Magnetic Ride Control, which monitors each wheel as your driving to ensure that they are performing adequately.
This system minimized body roll while handling any traction that the Tahoe may face on a snowy day. This also means that the Chevy Tahoe is in full-ride control as you drive.
2. Comfortable
Not only is the Chevrolet Tahoe great for navigating through the winter months, but it also helps you get through the winter very comfortably. The Tahoe can comfortably seat up to 9 passengers with interior features designed to keep you and others super cozy.
Every Tahoe is equipped with tri-zone automatic climate control, allowing for temperature control throughout the cabin. This temperature control ensures that everyone in the vehicle is warm and toasty for those frigid off-road trips through the woods and mountains.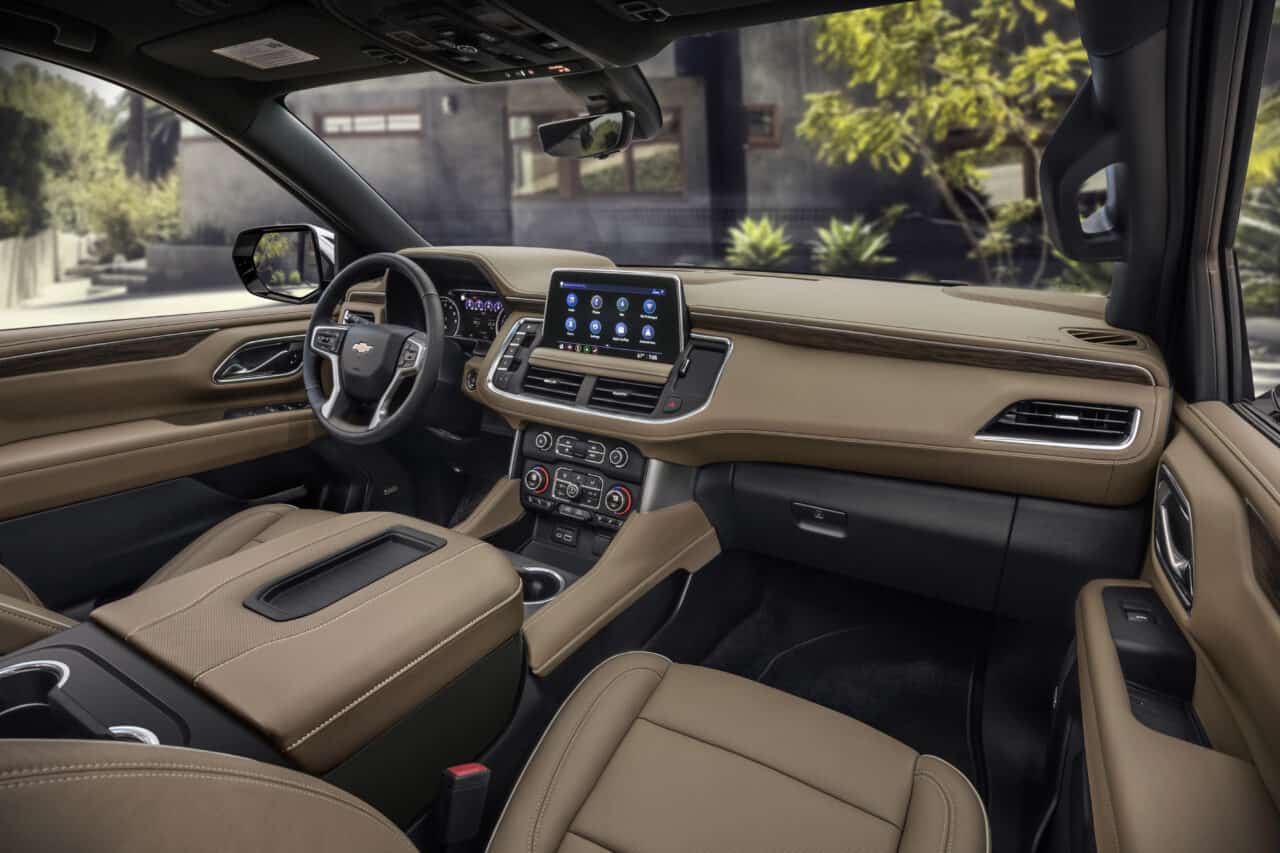 The Chevy Tahoe also features a standard remote start, which means that you can start your car through your car keys almost anywhere. This will lock your doors, turn on your parking lights, and immediately begin warming your vehicle so that it isn't freezing when you get in.
The remote start is many passengers' favorite features because it makes any winter trip comfortable once you are in your car. This feature is also great for the hot summer months when you want to cool down your car.
3. Incredibly Spacious
Not only is the Chevrolet Tahoe magnificent for safely navigating the snow and keeping its passengers warm and toasty, but it also has space for all of your winter activities. Snow days bring perfect opportunities to take family or friends up a mountain for winter activities.
This is because the Chevy Tahoe can hold pretty much anything. First off, with 45.3 inches of legroom, the front passengers have an immense amount of space to sprawl out their legs and stash any winter essentials they need.
The second row is also quite large, with 38.7 inches of headroom and 39 inches of legroom. The third row has 24 inches of legroom but compensates for its lack of legroom with 439.3 inches of hip room to avoid "get off my side" arguments.
The second and third rows can be easily split into folding seats for all of your winter essentials such as skis, snowboards, sledding equipment, presents, and Christmas Trees.
If you fold the third-row seats, you'll get 51.7 cubic feet of cargo space of a total 0f 94.7 cubic feet of cargo space with both rear rows folded down.
Even with all of the seats left unfolded, the Chevy Tahoe provides an incredible 15.3 cubic feet, which is more than enough space to pack up winter coats and other essentials.
Chevrolet Tahoe Safety Features
Many drivers from colder climates turn to the Chevy Tahoe for seamless and safe winter driving. This full-sized SUV does an incredible job of comfortably moving people and cargo safely through the winter.
1. Size
First off, the Chevy Tahoe SUV's size alone is one of its safest features. This vehicle is built to be long and wide with extra-large tires.
The Chevy Tahoe's sheer enormity gives it extra weight, improving control and traction for safe snow and ice navigation. Think of it this way, the bigger an object is, the more difficult it is for it to fall and break
2. Great Traction
A car needs to be big and strong during a snowy and icy winter drive, but it also must provide traction on the smooth roads.
Because roads covered in snow and ice offer a lot less friction than plain roads, the Chevy Tahoe's Low-Speed Forward Automatic Breaking system interferes if it feels that the driver has lost control.
3. Forward Collision Alert System
Another incredible feature is the Chevrolet Tahoe's Forward Collision Alert System. Driving through the winter months may confront drivers with poor and unsafe conditions.
Due to these poor weather conditions that drivers face in the winter, making it sometimes difficult for drivers to see other vehicles or even pedestrians crossing the road, the Forward Collision Alert System supports the driver's vision by sensing any pedestrians, other vehicles or even foreign objects that may get in the way.
Driving in the Snow
While the Chevrolet Tahoe performs fantastically on snow and ice, there are a few tips you should follow before trekking the storm.
1. Drive As Smoothly As You Can
When heading out in the snow, be as smooth as you can with your steering wheel, accelerator, and breaks.
This is important because jerking moves may cause your Chevy Tahoe to lose control. Since your tires don't have a strong grip on the road when driving through compromising weather, a strong jerk of your wheel can cause your car to spin out of control, even with a vehicle as winter safe as the Chevy Tahoe.
Tip for a steadier drive through the snow: pretend that there is a steaming cup of tea on your lap and that you cannot spill it.
2. Look Ahead
The snowier and icier it is, the farther down the road you need to be paying attention to. Imagine what your next move should be that way, you are prepared for a car that you may have missed or a deer crossing the road.
Also, keep a greater distance than you typically would between cars to minimize danger if you have to shortstop. By anticipating anything that may come your way, you will be prepared for the most extreme weather.
3. Heed Flashing Lights
Look out for flashing lights. They may be your stability-control system, letting you know that, as you turn, you may be sliding off of your intended path.
If this happens in your Chevrolet Tahoe, ease your foot back onto the acceleration until you are no longer experiencing any throttle—this will allow your car to regain its control on the road.
Also, never turn harshly in icy and snowy conditions. Always ease your foot onto the accelerator to minimize any danger.
4. Look
If you feel that your Chevy Tahoe is beginning to skid, don't panic. Don't look in the direction that your skidding but into the direction that you want to go!
Your peripheral vision will take care of what you're trying to avoid while facing the direction you want to take your vehicle in.
Racecar drivers are masters of recovering from their skids because they always focus on where they want to go.
5. Deal with Skids
All winter drivers know the sickening fear that slipping into a skid brings. Your instinct may tell you to stop the car, but whatever you do, do not hit on the breaks!
Instead, ease off the accelerator, this will cause the front tires to regain their traction.
Next, aim your wheel at where you want to go. No matter what skid you're experiencing, keep your wheels in the direction you want to go.
6. Anti-lock Brakes Are Your Friend
If all else doesn't work, use your anti-lock brakes to avoid skidding further.
Push down on the brake pedal as hard as you can, and your Chevy Tahoe's internal computer will do the rest. Keep steering as you do this to end up where you want to be.
If you are looking for the best 4-wheel drive to get you through the winter, look no further than the Chevrolet Tahoe. Not only is the Chevy Tahoe at the top of its class for overall safety, it is also great in extreme weather.