What Can A Nissan Pathfinder Tow? [Boats, Trailers, Campers, More]
This post may contain affiliate links. As an Amazon affiliate, I earn from qualifying purchases.
In the mid-sized SUV segment, the Nissan Pathfinder stands out as one of the best vehicles. The 2020 model is even better and makes a solid entry into this ever-growing market. Its elegant exterior design, coupled with a stylish interior, provides ample seating for up to seven passengers through its three rows of seats, making it the perfect SUV designed for family vacations. What makes this vehicle stand out even further is its impressive towing capabilities. One question that keeps on many driver's minds through numerous interactions with them is, what can a Nissan Pathfinder tow? That is why I embarked on a quest to find out what items it could tow behind it, and below were my findings.
What can a Nissan Pathfinder Tow?
So, what items can drivers tow behind their Nissan Pathfinder? With a maximum towing capacity of 6000 pounds on a properly equipped model, the 2020 Nissan Pathfinder is more than capable of comfortably towing fully-sized camping trailers, fishing boats, deck boats, and livestock trailers, be it for a short distance or a long haul without breaking a sweat.
When I talk about full-sized campers, I don't mean the small silver ones, which are a common sight, but those that are big enough to host your whole family with plenty of space to spare.
This type of campers usually weighs about 5000 pounds, which is safely below the maximum towing capacity. The majority of these campers are within this weight limit are compatible with the Pathfinder, so finding one should not be a problem.
Small fishing vessels are some of the items you could comfortably tow behind your Pathfinder. Most small fishing vessels usually weigh below 2000 pounds, which is way below this vehicle's maximum rating. This presents you with a whole range of vessels that you could choose from before exceeding the rating.
Deck boats are also part of the items you could tow. They are usually bigger than small fishing vessels in terms of the space they offer, allowing you to invite a couple of friends on board as you sail around the lake. The majority of deck vessels usually weigh around 4000 pounds when loaded, which is still substantially below the maximum rating.
The 2020 Nissan Pathfinder can effortlessly tow livestock trailers. They are usually lightweight and what you load up is what makes the difference. You can tow animals ranging from small goats to large bulls. It is crucial to weigh the trailer after loading up to ensure the weight is well within the car's limits.
For older models of the Pathfinder, the towing rating only differ slightly across trims. This is because they are equipped with almost similar engines.
For models made between 2017 and 2019, the maximum towing rating was still 6000 pounds with a tongue rating of 600 pounds. The tongue rating is the maximum weight that should be put on the hitch ball. The GCWR (Gross Combination Weight Rating) was rated at 11000 pounds.
However, for towed items above 3500 pounds, Nissan requires that they have their braking system for safety.
Models between 2013 and 2016 have a lower maximum towing capacity than the years before and after this period. It was set at 5000 pounds with a maximum tongue weight of 500 pounds. The GCWR was also lower and was rated for 10000 pounds, which was also lower than in previous years.
Nissan Pathfinder's made between 2008 and 2012 were different from other years, with some of the best numbers being witnessed. This was mainly because a more powerful V8 model was included during that period.
The standard V6 version still had a maximum towing capacity set at 6000 pounds, but the V8 had a 7000-pound towing rating. Tongue rating was also higher on the V8, standing at 700 pounds, while the V6 still stood at 600 pounds.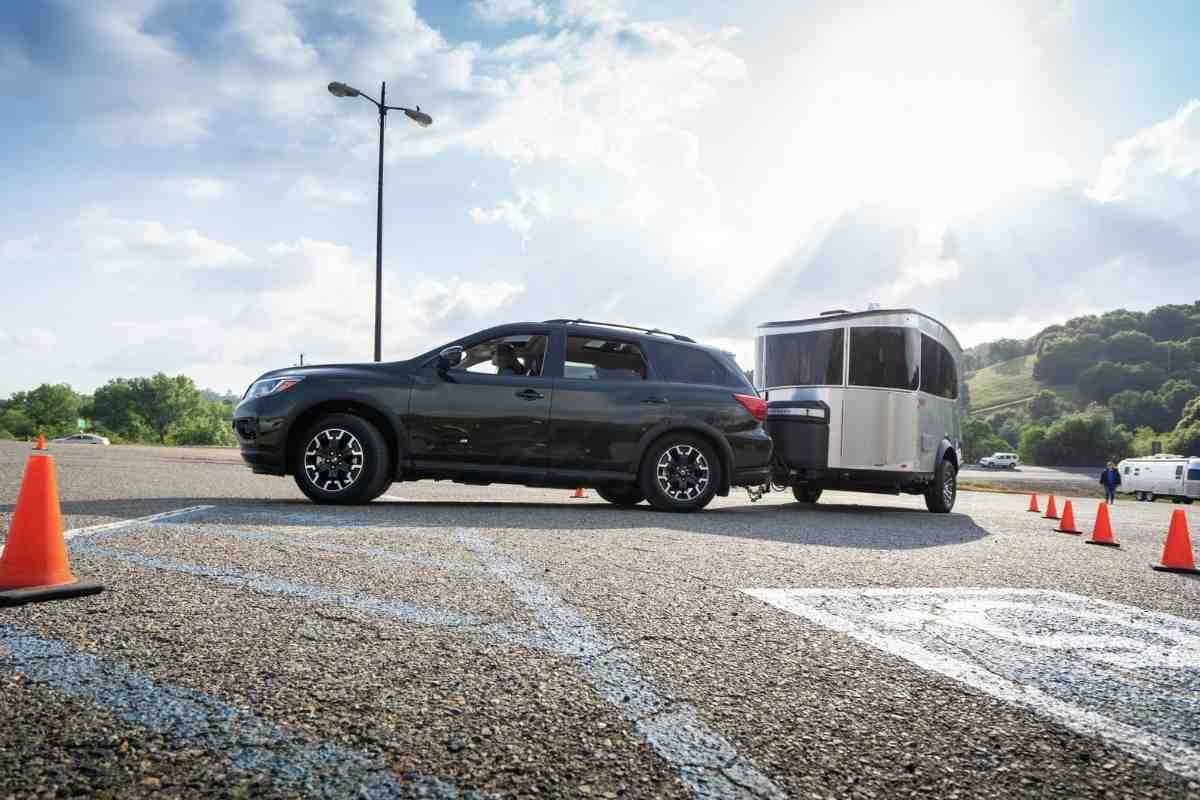 Finally, the GCWR was set at 11,133 pounds for the V6 and 12570 pounds for the V8. 2005 to 2007 models posted equally impressive figures for both the 2WD and 4WD models.
The towing capacity was 6000 pounds, which is quite substantial compared to other models in its class. The maximum tongue load was also 600 pounds for both models. There was no difference in the GCWR, which also stood at a maximum of 11133 for both 4WD and 2WD models.
2000 to 2004 models were one of the first Nissan Pathfinder models to be made and come in manual and automatic transmissions. They came with a respectable maximum towing capacity of 3500 pounds for the manual variants and 5000 pounds for the automatics.
The tongue weight limit was 350 pounds and 500 pounds for the manual and automatic transmission, respectively. Finally, the GCWR was set at 8000 pounds and 9500 pounds for manual and automatic transmissions.
What is the performance and driving impression of the 2020 Nissan Pathfinder?
This fantastic vehicle comes in a powerful 3.5-liter V6 engine in all of its trims. The engine features a direct injection system, dual overhead cams, and 24 valves in total. It can produce up to 284 horsepower at 6400 revolutions per minute.
It is also able to produce a maximum of 259 lb-ft of torque at 4800 revolutions per minute. The engine is married with a continuously variable automatic transmission that ensures smooth shifts for the excellent gas millage.
The 2020 Pathfinder has a fuel economy of 26 mpg on the highway and 19 mpg in the city. These figures are bound to change slightly when towing heavy objects.
When towing, a vehicle handles it better when equipped with good suspension, especially when you go off-road. This Pathfinder subsequently features Dual Flow Path shock absorbers with independent struts at the front of the vehicle and independent multi-link at the back, making it handle beautifully for a large vehicle.
The optional all-wheel-drive should be included if you will be doing many towing activities as it provides traction on all the wheels for unrivaled towing performance in its class.
The steering wheel feels great and offers a beautiful turning radius, which is helpful when maneuvering to attach your trailer. The secret lies in the power-assisted, electronic-hydraulic, speed-sensitive system that Nissan has adopted.
The Pathfinder also comes with vented disk brakes on all four wheels to improve your much-needed braking during towing. It features an anti-lock system that will maintain traction and not let you skid when breaking in an emergency.
The brake assist system provides more braking power in emergency stopping situations as it can react faster than an average human can.
This vehicle also features other technology such as Dynamic Vehicle Control, which can alter its power, which is essential when towing. The traction control system limits wheel spin when you put accelerate too hard, which is necessary to maintain the vehicle's high handling characteristics.
Finally, this vehicle features a tow mode that should be used when towing a heavy load. This mode instructs the engine to produce more power. The Tow mode will not damage the engine when left on but will lead to higher fuel consumption.
Does the Pathfinder come with safety features that will aid during towing?
Yes, the Pathfinder comes laden with several features that can make towing safe. Tire pressure is significant when towing for maximum traction. Under inflation causes overheating due to friction with the road, which could lead to a blowout when towing.
Over inflating, on the other hand, causes pressure on the tire, causing a blowout. That is why Nissan developed a tire pressure monitor that alerts the driver by a beep when any of the four tires is not inflated to the required level.
Hill-start assist is an important feature, especially when you are towing in a hilly area. It is a system that maintains the brake pressure for a couple of seconds as you switch from the brake to the gas pedal.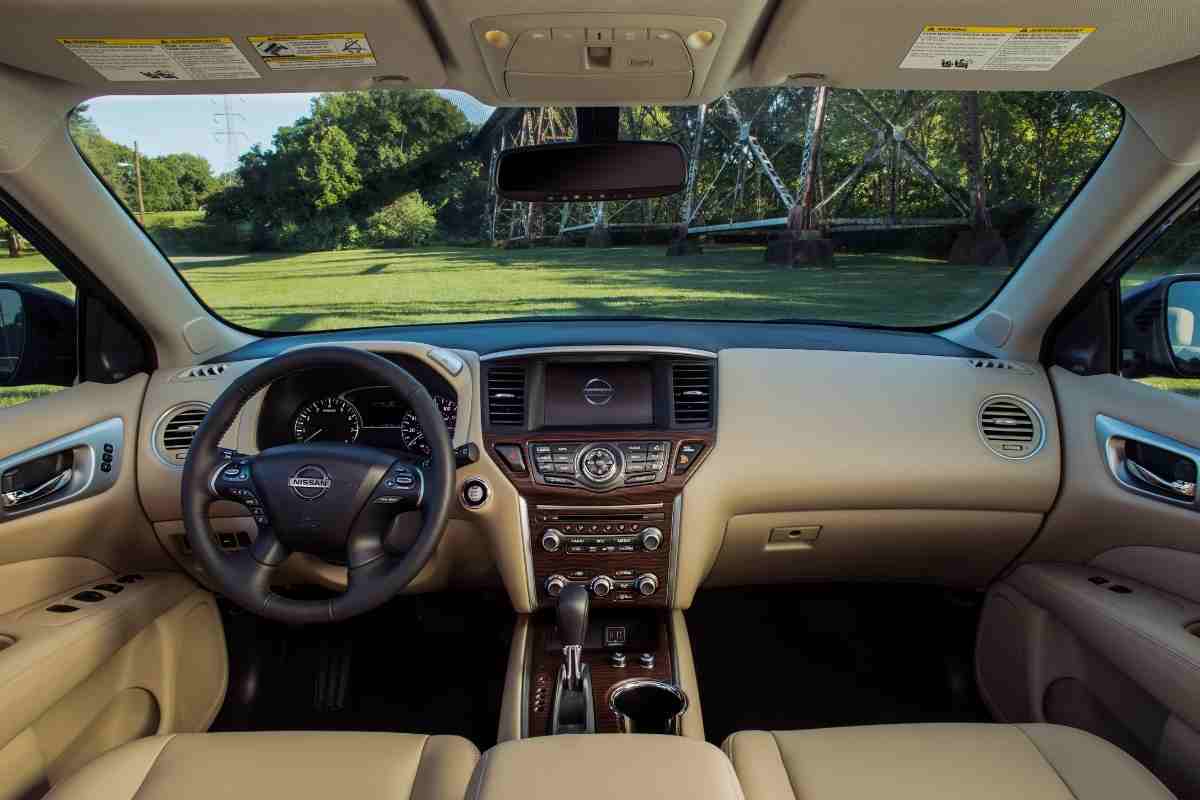 This prevents the vehicle from rolling back and going downhill. Hill descent control is also an important feature that automatically maintains a slow pace when coming down a decent without input on the brake.
What is the recommended wiring harnesses to put in a Pathfinder?
When you buy a Nissan Pathfinder without a tow package and have an aftermarket hitch installed, the next thing that you would be needing is a wiring harness. The wiring harness carries all electrical functions between the two different vehicles.
One of the easiest wiring's harnesses to instal without needing the tow package is the Curt T-Connector Wiring Harness. This is because it does not require any form of splicing to fit into your Nissan's wires.
Moreover, it does not require a direct connection run to the battery, making installation very easy. A dielectric grease for electrical connectors is also helpful in mitigating any form of corrosion in the connectors.
Conclusion
In this case, the 2020 Pathfinder or any Pathfinder is an excellent family-friendly towing machine with enormous capability.
When done correctly, this vehicle is reliable and provided ultimate comfort for all passengers inside. Most importantly, you don't have to leave anything behind on your next trip.
Reference
https://www.carmax.com/articles/flat-towing-vehicle-options-explained#:~:text=The%20alternative%20is%20flat%20towing,four%2Ddown%22%20towing).
https://www.nissanusa.com/vehicles/crossovers-suvs/pathfinder.html
What Can A Nissan Pathfinder Tow? [Boats, Trailers, Campers, More]