What Kind of Trucks Does Chevy Make?
This post may contain affiliate links. As an Amazon affiliate, I earn from qualifying purchases.
Chevy produces all types of vehicles from run-of-the-mill sedans to electric SUVs, to heavy-duty trucks. The brand is popular because of its affordability and ability to continuously please the average customer. Many truck buyers will find Chevy to be a great option.
Chevrolet has the Colorado, Silverado, and Silverado HD in their current lineup of trucks. This provides great options for anyone who needs a work truck, mid-duty truck, or heavy-duty truck. Chevy trucks are popular and affordable with reliable quality in every model they produce.
Each of these three models has different specifications that will make them each suited to different needs. Knowing exactly what you're getting from each truck will help you make an informed purchasing decision.
Colorado
The Chevy Colorado had its first generation of production from 2004-2012 and took a short break before returning in 2015 with the second generation that has been in production ever since. Chevy recently released the 2022 Colorado as their most current model.
The classic 2022 Colorado has a starting MSRP of $25,200 and almost 50 cubic feet of cargo space. It comes standard with a 2.5L 4-cylinder engine providing 191 pound-feet of torque, 200 horsepower, and 3,500-pound max towing capability.
With this engine, it is estimated that you will get about 19 MPG in the city and 25 MPG on the highway. These engine specs are great for the casual truck user, but may not impress someone who needs their truck to do some serious work. Luckily, chevy offers multiple engine upgrade options.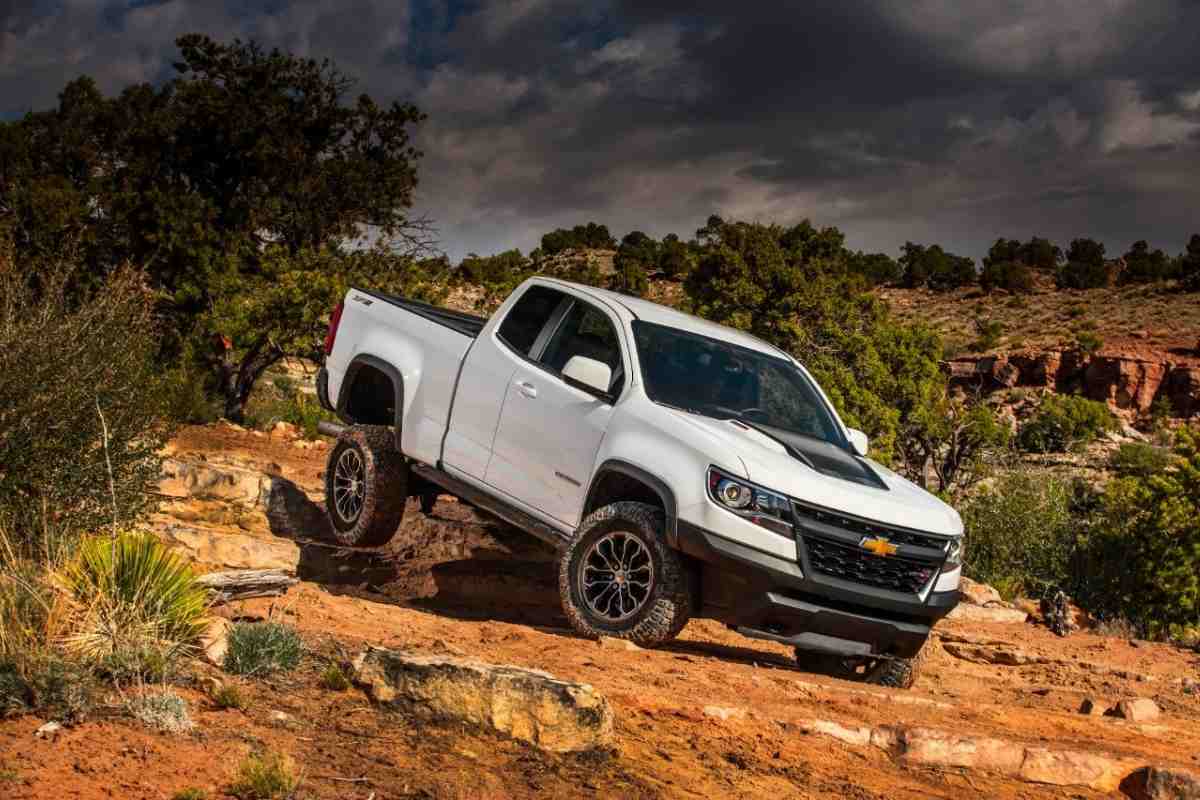 A 3.6L V6 engine may be more suitable. This engine will give you 275 pound-feet of torque, 308 horsepower, and a 7,000-pound towing limit. For only one less MPG for city driving, this engine gives you a much more powerful option that will be able to better handle large loads. If you are looking for something different, there is also a diesel option with better gas mileage, higher towing capacity, higher torque, but lower horsepower.
As for looks, the Colorado comes with seven different exterior color options, providing all the classics but also a few unique options like their orange "crush". The interior is kept classic black with either cloth or leather seats.
The colorado comes with four different model options including the WT, LT, Z71, and ZR2. Each of these models is an upgrade on each other starting with the WT and maxing out with the ZR2.
The WT updates the transmission and the engine while also adding back seat storage and folding options. The LT adds to that with a touch screen display, body-color exterior features, power adjusting driver's seat, and an improved tailgate lifting and lowering system.
The Z71 is another step up with the off-road suspension, a rear camera, an auto-lock rear differential, and an improved wheel and tire package. Finally, the ZR2 is the highest luxury option with a better off-roading package and higher clearance. (source)
Silverado
The Silverado has been a Chevy staple for over 20 years. The most current Silverado model is the 2022 LTD, very similar to the 2021 model. The 2020 LTD has a starting MSRP of $30,400 for their standard model. This provides over 89 cubic feet of cargo space. The Silverado is going to be a better option than the Colorado for anyone looking to use the bed for hauling.
Chevy boasts that their bed is the most functional. It has a powered lift and lower feature on the tailgate as well as a step feature. it comes with 12 standard tie-downs and you have to admit the capacity is pretty impressive. Adjusting cab size will also change the length of the bed, so you can get the right size for your needs.
To fit more people, you can get the crew can with either a standard bed or a short bed. A double cab also has decent seating and will come with the standard bed. If you want a long bed, the regular cab will be your best option. All cab choices have essentially the same dimensions for leg, shoulder, and headroom.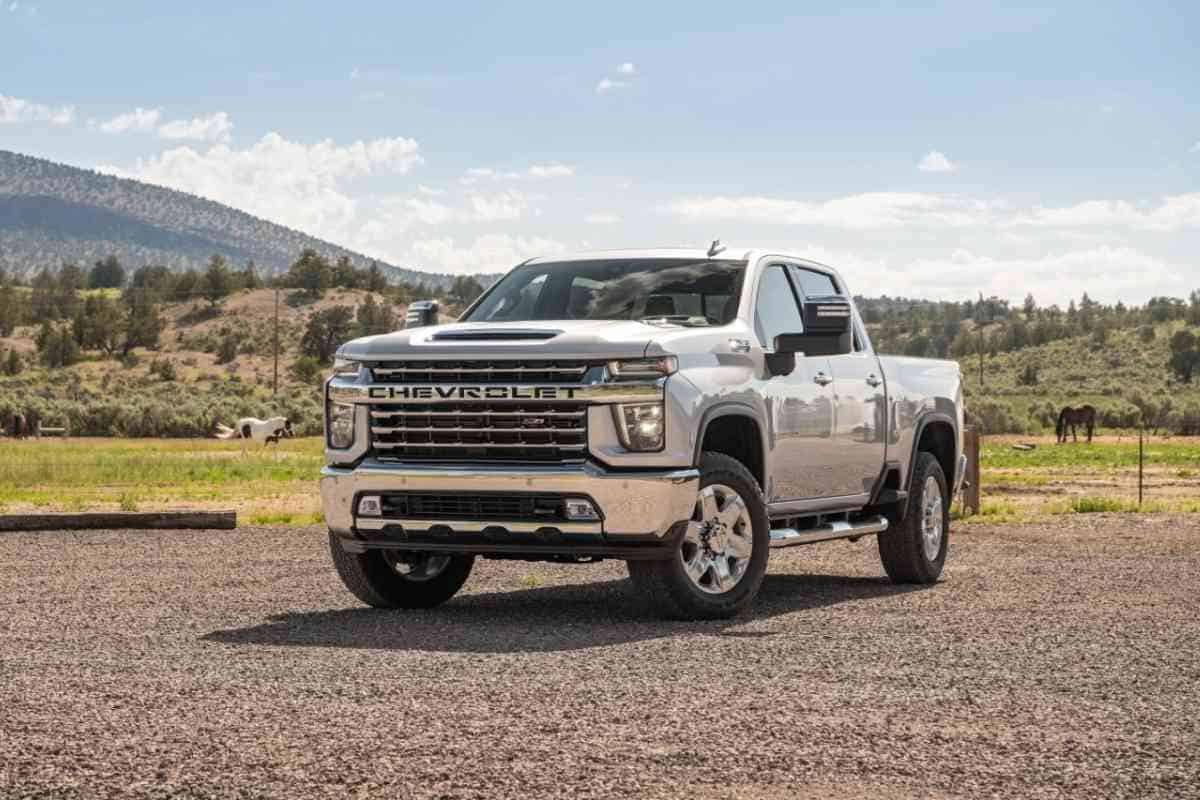 The 2021 Silverado has five different gas engine options as well as a diesel option, but the 2022 LTD comes with the Duramax 3.0L Turbo-Deisel that has 6 cylinders. It comes with a 10-speed transmission and can provide 460 pound-feet of torque. The estimated gas mileage is 23 MPG in the city and 31 MPG on the freeway. It has an impressive max trailering weight of over 13,000 pounds.
The Silverado did not skimp on color options with 10 different exterior choices in various classic blues, grays, blacks, whites, and reds. The interior can be either leather or cloth, and either black or dark grey. The 2022 Silverado LTD has 8 different model options.
You can get the Work Truck, Custom, Custom Trail Boss, LT, RST, LT Trail Boss, LTZ, or High Country. Each model has slightly different accessories to fit all sorts of different lifestyles. (source)
Silverado HD
The Silverado HD is the Heavy-Duty version of Chevy's truck lineup. It has the highest starting MSRP at $35,300 but has some serious power for what you are paying. The trailering load doesn't max out until 36,000 pounds and the available payload is well over 7,000 pounds. You could haul practically anything with this truck.
It has two engine options, either gas or diesel. The gas engine is a 6.6L V8 with 464 pound-feet of torque and 401 horsepower. Choosing the gas engine does reduce the max trailering weight, but it is still a generous limit at 17,370 pounds. The diesel engine has more horsepower (445) and more torque (910 pound-feet). The diesel engine also upgrades the transmission from 6-speed to 10-speed.
There are four different cab size options, but they all come with either the regular bed or long bed so you will not be running out of space with the Silverado HD.
It has very similar color options to the regular Silverado, with 9 different variations of blues, grays, whites, and reds. It comes with the classic black interior but also has a medium gray color option, the lightest interior choice of all Chevy trucks this year. (source)