What SUV Has the Best Resale Value?
This post may contain affiliate links. As an Amazon affiliate, I earn from qualifying purchases.
Did you know that on average, SUVs lose about 51.6% of their value within the first five years? This means that the moment you drove your brand new SUV off the dealership lot, the clock has already begun to tick. Of course, this goes for all vehicles, but the numbers do seem to increase more for SUVs.
When most people buy an SUV, they do not think about the car's resale value because they do not think about reselling a car they just bought. However, the day will come when you want to upgrade your model or you want to sell your SUV for a different make entirely.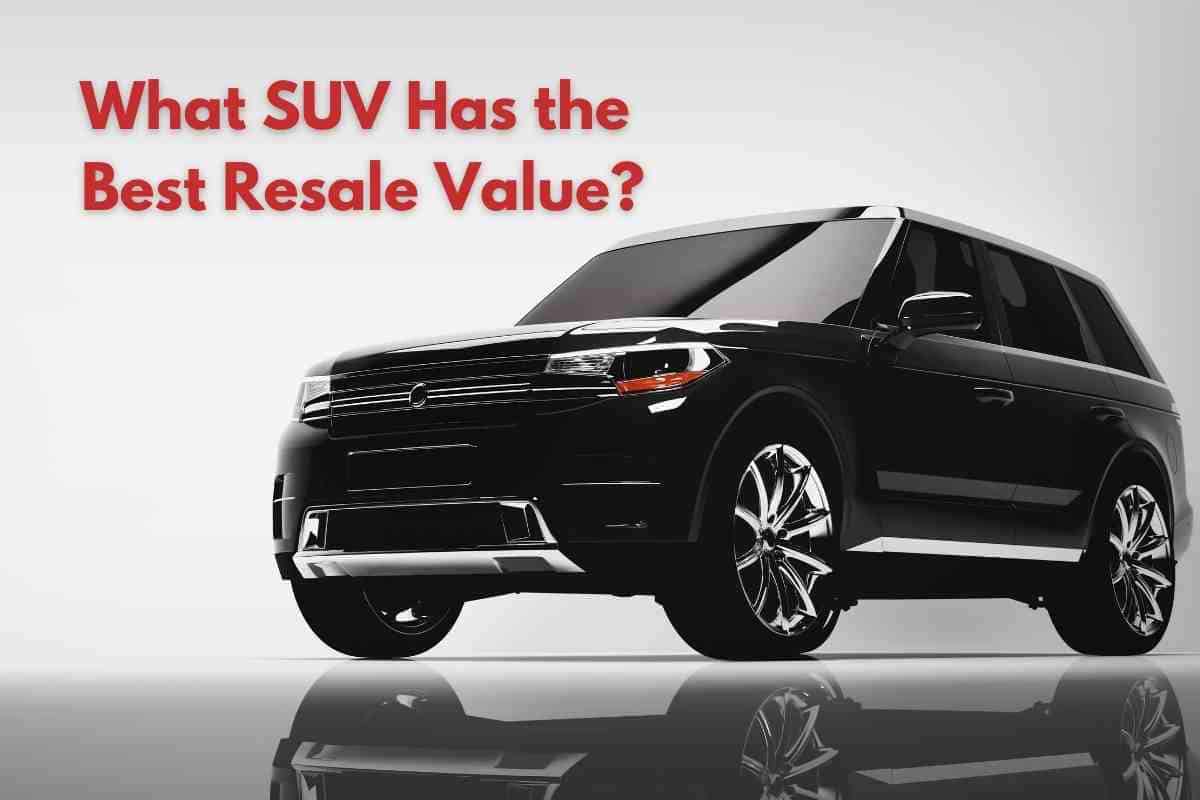 Whatever the reason is for you searching "what SUV has the best resale value," we have got you covered.
What are the best SUVs that hold their value?
The SUVs with the best resale value are the Jeep Wrangler, Toyota 4Runner, RAV4, and Highlander, and the Honda CRV. Other great options are the Mercedes G Class, Toyota LandCruiser, and Subaru Outback.
Here are the top 10 SUVs with the best resale value. 
There are many ways to talk about resale value, and the most common is the percent retained value.
This number tells us how much of the original price the vehicle still holds, usually five years after it was sold.
This will be our guide for this article, plus we'll cover other important factors that could determine resale value. 
What is the resale value of your car?
Before we dive into the top 10 SUVs with the best resale value, we should address the meaning and importance of resale value. Resale value is exactly like it sounds, the amount a certain item is expected to sell for in the future. With a car, this is very important because its value depreciates the second you drive it off the lot.
Why it is important to buy a car with a high resale value is because you do not want to be stuck with a car that no one will buy. This is why brands like Toyota and Honda are so popular. Not only are their cars reliable and more on the affordable end, but their used models sell very well.
This is why knowing the resale value of your vehicle is so important, not so much for the present time but definitely for the future.
Top 10 SUVs with the Best Resale Value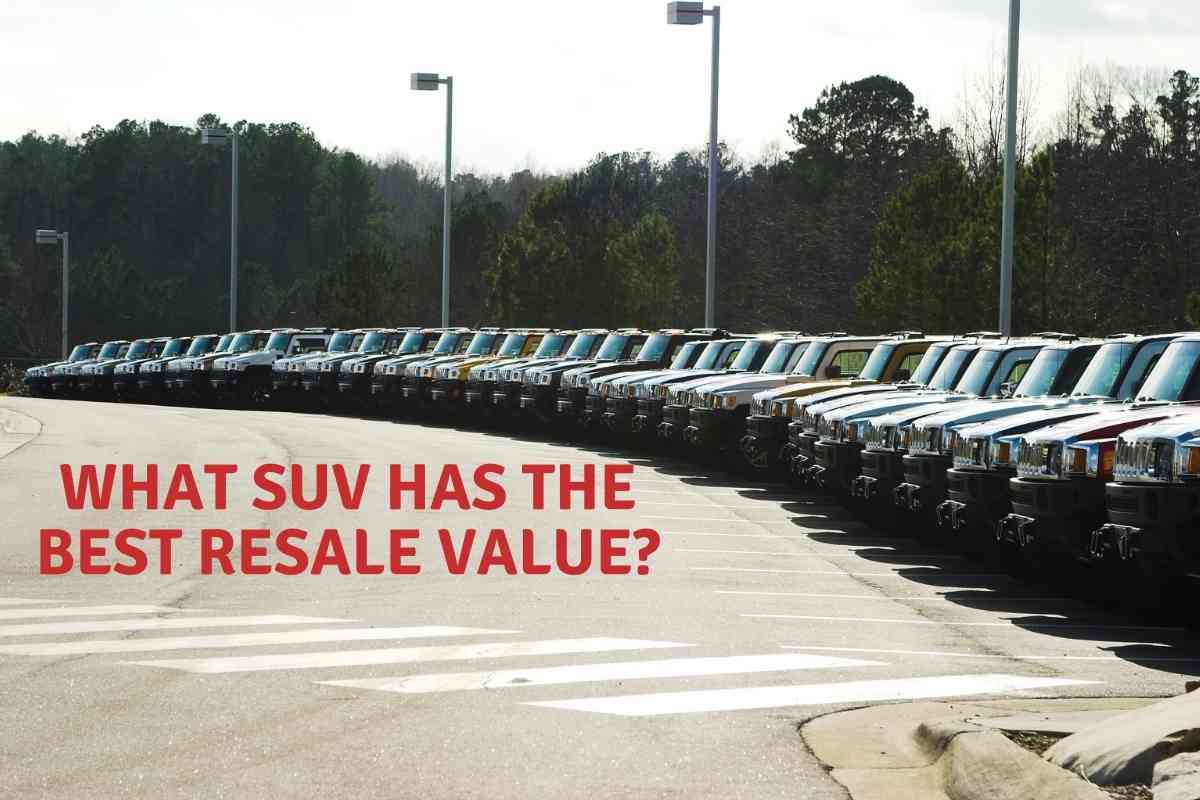 10. Subaru Outback
50.1% Depreciation
Difference $15,837.00
Why you should consider the Subaru Outback:
The Subaru Outback is the perfect hybrid between a station wagon and an SUV, and this kind of hybrid is hard to find. If you do not want to buy the 2020 Subaru Outback, then consider looking back at its previous models.
The 2019 Subaru Outback is a great option if you want to get a used car but you do not want to go back more than one or two years. The older the car, the less resale value it will have.
The 2019 Subaru Outback combined off-road capabilities with its luxurious, comfortable interior. Not to mention, it has a lot of cargo space.
9. Toyota Land Cruiser
It is no surprise that a Toyota SUV made it onto this list. Like the Subaru Outback, we will talk about the 2019 version. The 2019 Toyota LandCruiser is a full size, four-door SUV. It is an affordable luxury SUV that has great off-road performance and a lot of cargo space.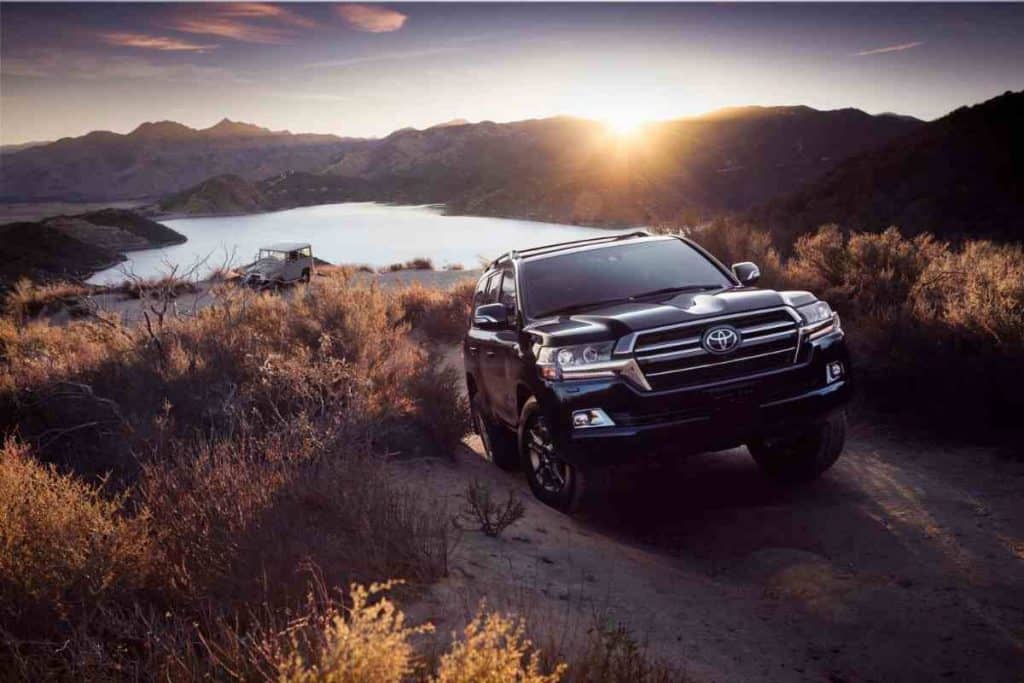 It can fit eight people comfortably, and did we mention how great its towing capacity is? The engine for the Toyota Land Cruiser is a powerful one, so you do not have to wonder about its performance capability.
If you are someone that wants the best of both worlds: a family vehicle that is also a powerful ride, then you should consider the Toyota Land Cruiser.
8. Mercedes Benz G Class (AMG)
45.9% Depreciation
Difference $69.476.00
Why you should consider the Mercedes Benz G Class (AMG):
The Mercedes Benz G Class (AMG) is a class all on its own. It balances performance and comfort well, and it is also a stylish ride.
The cabin interior is spacious and luxurious, and it also gives passengers plenty of legs room-especially those sitting in the back. It is also a fuel-efficient ride and comes with the standard four-cylinder engine.
The fact that it is a stylish ride but also a comfortable one, is one of the many reasons it holds its resale value so well. It also comes in an array of colors to choose from.
7. Mercedes Benz G Class
45.2% Depreciation
Difference $56,421.00
Why you should consider the Mercedes Benz G Class:
Whether you buy it new or used, the G-Wagon is a luxurious ride. It is one of those rare cars that both the driver and the passenger will enjoy.
We've covered a lot of SUVs on this list, but we haven't talked about the expensive end of the market. This sector is difficult to gauge for several reasons. 
First of all, it's only until recently that more brands are expanding into selling their own high-end luxury SUV. Second, their original price is so high that they're prone to fast depreciation.
However, the Mercedes G Class stands out as a luxury vehicle that maintains a good resale value.
It has a strong, sturdy exterior-steel body frame with a hot wax poured over it to help prevent corrosion.
The G-class also has a great and powerful engine. It comes with a V8 engine and a V12 engine which yields 416 to 621 HP. Aside from the powerful engine, the G-wagon is also a fun ride. The 4WD makes it smooth to ride on any terrain.
It is also a great off-roader car. In fact, it is one of the better off-road vehicles compared to other cars in the G-class. If you are someone that does not like to follow the road, then the G-Class is already calling your name.
It has classic looks, enviable off-roading capabilities, and a flurry of powerplants that challenge many sports cars. 
Those that enjoy having some creative freedom will love how customizable the Mercedes G-wagon is. It comes with plenty of optional packages that give the owner full control.
Lastly, the G-Wagon is a beautiful car that will demand attention no matter where you take it. If you are someone that likes to stand out in the crowd, then the G-wagon can help you do that.
6. Honda CR-V
44.9% Depreciation
Difference $13,487.00
Why you should consider the Honda CR-V:
When it comes to a vehicle that can keep its resale value high, then having a Honda show up should be a surprise to no one.
Honda has historically maintained high resale values thanks to its reliability and high quality. The HR-V is no exception, as it comes with the same powerplant and transmission as the Honda Civic, one of the most reputable vehicles from the brand. 
The Honda CR-V is a crowd favorite for a reason. The past generation CR-Vs were so popular in fact, that when Honda released the 2019 edition, no significant changes were made and people were not upset about it.
Honda did such a great job with their 2017 model, that they decided not to mess with a good thing after all, why fix what is not broken right? The 2019 and oLder models have the same 1.5 L inline-4 turbo engine. This engine is only available on trim levels higher than the base model.
Honda did revamp the suspension on their CR-Vs however, and with this revamp, it did reduce former issues with body roll. You can find many used CR-Vs out there on the market, and you would be surprised at how great they are despite being several years old.
The smallest SUV in the Honda lineup yields excellent fuel economy and decent cargo room. Also, the manual transmission has good acceleration and sporty handling. So, it's a versatile option for those who want the complete package. 
5. Toyota Highlander
Toyota makes another appearance on the list but this time with its Highlander. The Highlander is a crowd favorite for many reasons, one of them being how spacious and comfortable it is. That is what makes the Toyota Highlander such a great travel vehicle.
This SUV is the definition of practicality and reliability. It has hauled families across the country for years, and maintenance issues would be the least of your concerns. 
Plus, Toyota has worked to improve its interior and provide it with a more powerful engine, so it has shed a bit of its boring reputation. The Toyota Highlander has replaced the minivan in endless driveways around the country, and still, people want one. So, the resale value is high.
Not only is the Toyota Highlander a quiet ride (you will not hear any loud noises from the wind, road or engine penetrate through) but it also offers plenty of lumbar support. Last but certain not least, it comes with a powerful V6 engine. The V6 engine comes as an option for the base LE trim level, but it is standard on trim levels higher than the base.
If you do not want the V6 engine, then the base LE trim level comes standard with the 4-cylinder engine. If you opt for the V6 engine, then you can also add the all-wheel-drive to your Highlander.
4. Toyota RAV4
44.6% Depreciation
Difference $12,886.00
Why you should consider the Toyota RAV4:
Toyota is once again back on the list but this time their RAV4 is the one that makes an appearance.
The RAV4 deserves to be on this list because not only is the RAV4 a best-seller for Toyota, but it outsells every other SUV on the market! Now that is something to brag about, and this is why many drivers believe you just cannot go wrong with Toyota.
The RAV4 has an amazing fuel economy, earning up to 40 miles per gallon. The hybrid version (comes in LE, XLE, XSE, and Limited) can earn up to 41 miles per gallon city and 38 miles per gallon freeway.
If that does not sell you on the RAV4, then maybe its great safety features will. With older models, the safety features are hit or miss but not with the RAV4. You can feel safe driving this car or giving it as a gift to a younger driver.
3. Toyota 4Runner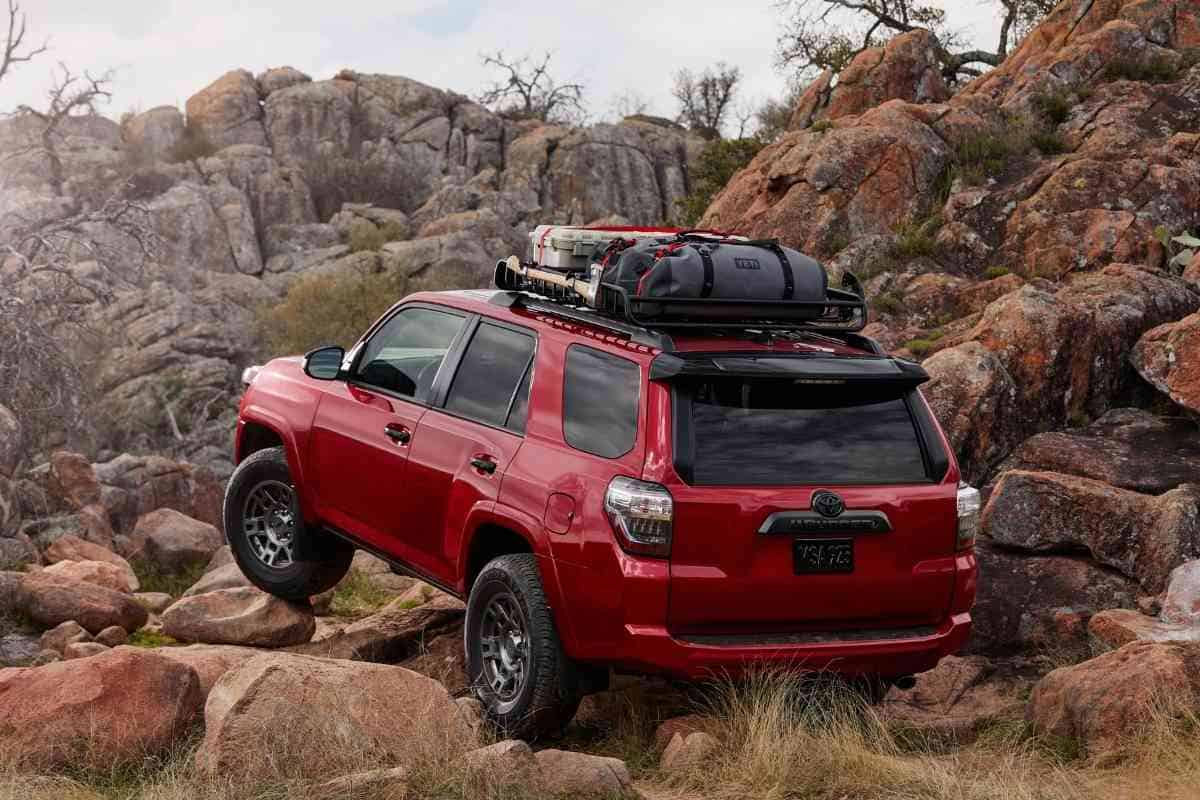 36.5% Depreciation
Difference $15,132.00
Why you should consider the Toyota 4Runner:
We promise this is the last Toyota on this list, and this time the Toyota 4Runner is in the spotlight.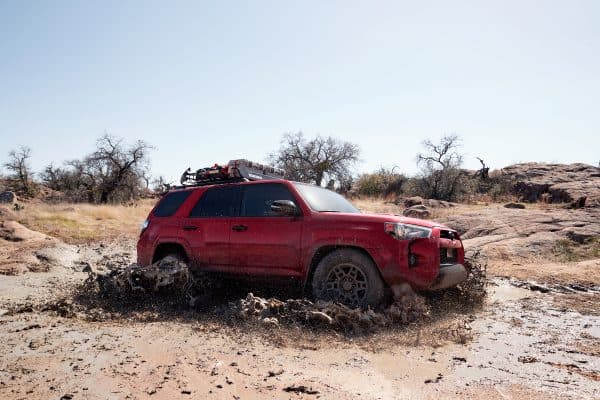 The Toyota 4Runner has an equation that hasn't changed in years, which makes it great. The Toyota 4Runner is a great off-road drive with its part-time four-wheel-drive system. It also comes with a "crawl control" electronic traction control system.
Not only that, but it also comes with Toyota's Multi-Terrain Select traction control system which will allow you to adjust settings based on terrain-rain, snow, rock, sand, and so much more.
2. Jeep Wrangler
31.5% Depreciation
Difference $10,203.00
Why you should consider the Jeep Wrangler:
Jeep Wranglers are known in the SUV world and for good reasons too. They maintain their resale value because their off-road performance is said to be second to none.
One main reason the Jeep Wrangler holds its value so well: It's its DNA. The Wrangler has iconic looks and an off-roading capability that no brand can match. In addition, it's one of the few SUVs available with stiff-axle suspension and actual low-range gearing. 
The Jeep Wrangler's engine is also famous. If you maintain it well, its tried-and-true powerplant will not let you down. The Jeep Wrangler's engine is also famous. If you maintain it well, its tried-and-true powerplant will not let you down. 
This car will take you anywhere you want to go, and it does so in style and comfort. It comes available in either a two-door or four-door and it also gives you the ultimate open-air experience.
If you are worried about spending a lot of money to fix your Jeep Wrangler, you do not have to. The parts needed and repairs for the Jeep Wrangler are fairly affordable.
1. Jeep Wrangler Unlimited
30% Depreciation
Difference $12,188.00
Why you should consider the Jeep Wrangler Unlimited:
Last on this list is the Jeep Wrangler Unlimited. The Unlimited is quite different from the original Jeep Wrangler, especially when it comes to style.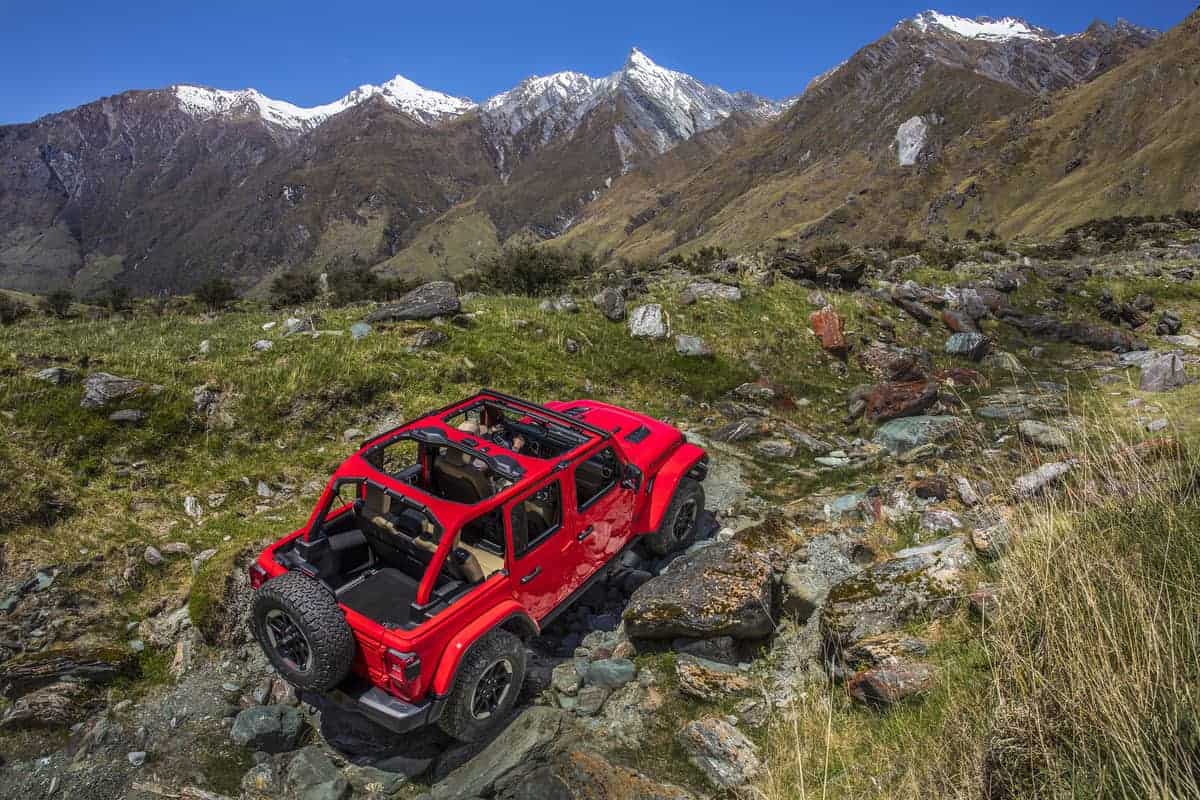 It is a higher quality trim level, and it comes in an array of fun colors making it a fun ride. The Black and tan edition is quite a color contrast that is interesting to the eye while still keeping the classic cabin appearance.
If you like the look of the original Jeep Wrangler but want something a bit more updated, then the Jeep Wrangler Unlimited might be an SUV that you should consider looking into.
Honorable Mentions
The Subaru Forester is the go-to choice for all-around versatility. It comes with excellent ground clearance, plus Subaru's famous AWD system. It's also a pleasure to drive, as it handles excellent and provides more than enough power. 
This SUV has also earned top ranks regarding reliability in magazines such as Consumer Reports and JD Power. So, you know you're getting a complete package. 
The only downside could be that its looks might come off as a bit bland. Bland aesthetics aside, the Subaru Forester provides excellent cargo room and interior for an SUV in its category. 
However, it also comes at a premium, as Subaru vehicles are more expensive than the competition. Still, all these factors give the Forester an excellent 56.8% retained value.
It's hard to argue with Lexus's quality in the game, and the NX is no exception. The smallest SUV in its lineup comes with everything you'd expect from the luxury brand. 
An excellent interior combines with decent cargo room and handling to offer a complete package. The other strong selling point is that it comes with a level of reliability that only Lexus can provide.
This brand has ranked on top of the rankings for years when it comes to this aspect. So, you know that you're not getting a clunker. There is a twist to this story. One model stands out regarding resale value, and it's a big difference. 
If you want the best-retained percentage, you're better off with the hybrid. The NX300h has an impressive 58.1% retained value, while the non-hybrid version comes at a lower but still respectable 55.1%.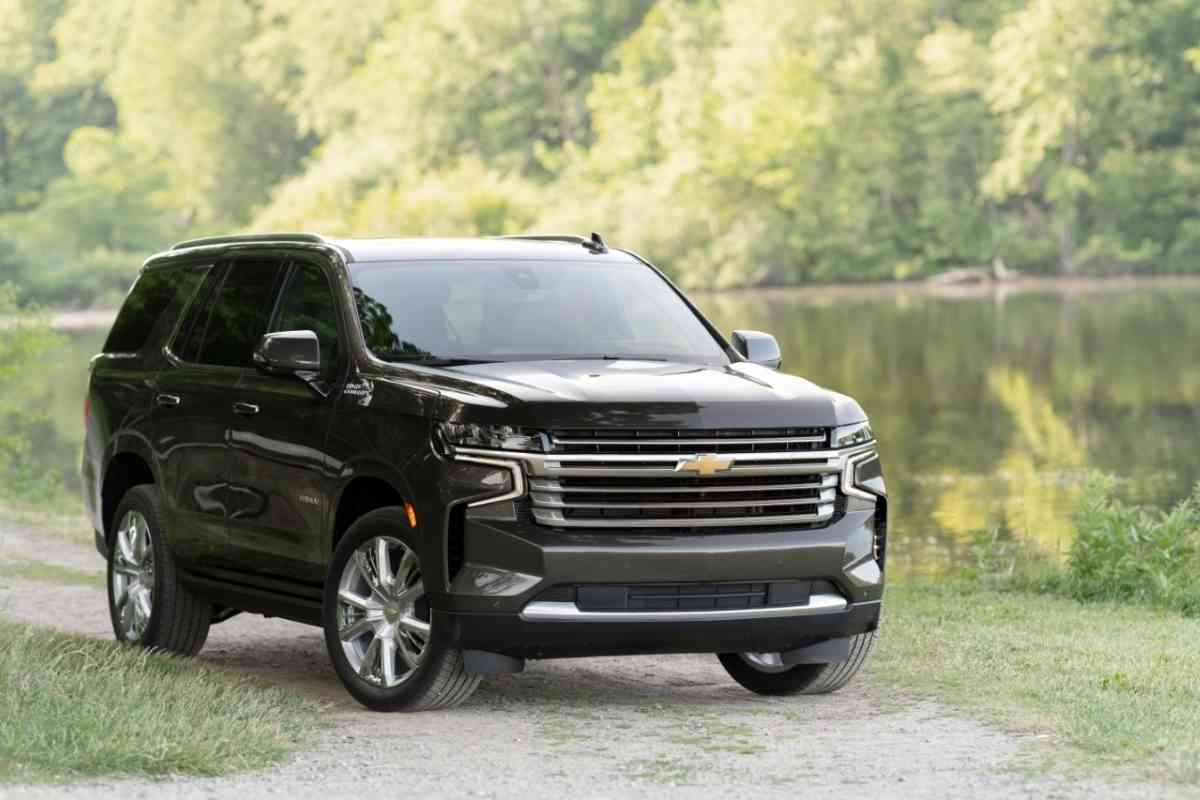 The Chevrolet Tahoe has built quite a reputation over the years. After all, it does check several marks, including a spacious interior, a powerful engine, and off-roading ability. 
Plus, its engine can take a beating and go for thousand of miles. This history has earned the Tahoe a cult following of sorts. We say "of sorts" because many people love it and are willing to pay big bucks for used models in pristine conditions. 
This means that the market for the Chevrolet Tahoe is very much active. As a result of its reputation and a bubbling market, the Chevrolet Tahoe has a 59% retained value. Such a value places it among the top in the full-size SUV sector. 
Plus, spares are still relatively cheap and easy to get with so many of them out there. 
Luxury full-size SUV: Lexus LX
The Lexus LX combines luxury, versatility, and reliability. So, it's no surprise that it has held its value relatively well. Plus, don't let its wide rims fool you. This SUV can hold its own in challenging terrain. 
While its engine is on the aging side, Lexus has managed to squeeze 380 hp, so it moves adequately. The interior is comfortable and luxurious, everything you'd expect from the brand. In addition, the third-row seats are spacious enough for adults to ride in comfort during long trips. These features allow Lexus to have a 58% of retained value. 
People know that the Lexus LX is reliable and comfortable. So, they're willing to pay big bucks.
How do cars hold their resale value?
What brand the car manufacturer does play a huge part in their resale value. Toyota and Honda vehicles both hold their resale value well, and that is apparent by how both of those manufacturers were on the list. However, how well you take care of your car also plays into its resale value.
It does matter if you drive a reliable car that most car enthusiasts know will be an excellent second-hand car if the exterior or interior of the vehicle is trashed. Make sure to take your car in for maintenance so the engine is running smoothly, and try to keep your interior as clean as possible.
It may sound like a hassle, but it will help you in the long run. A lot of buyers will ask you to dock down your asking price if they see rips on the seats, spillage, or stains on the carpet, as well as an engine that looks like it will break down any second.
The Final Verdict
If you are looking to buy an SUV but want to know its full potential resale value, then we hope you have found this list helpful.
Do keep in mind that resale values do change often, but luckily not by much as long as the vehicle is in good shape. Stick to brands that you know are reliable, but make sure to also do your part.
If you take care of your car and it is a good quality car, then it will hold its resale value. If you are looking to buy a used SUV, then you should also keep those two things in mind.