How Much Lift Do You Need for 35-inch Tires on a GMC Sierra Pickup Truck?
This post may contain affiliate links. As an Amazon affiliate, I earn from qualifying purchases.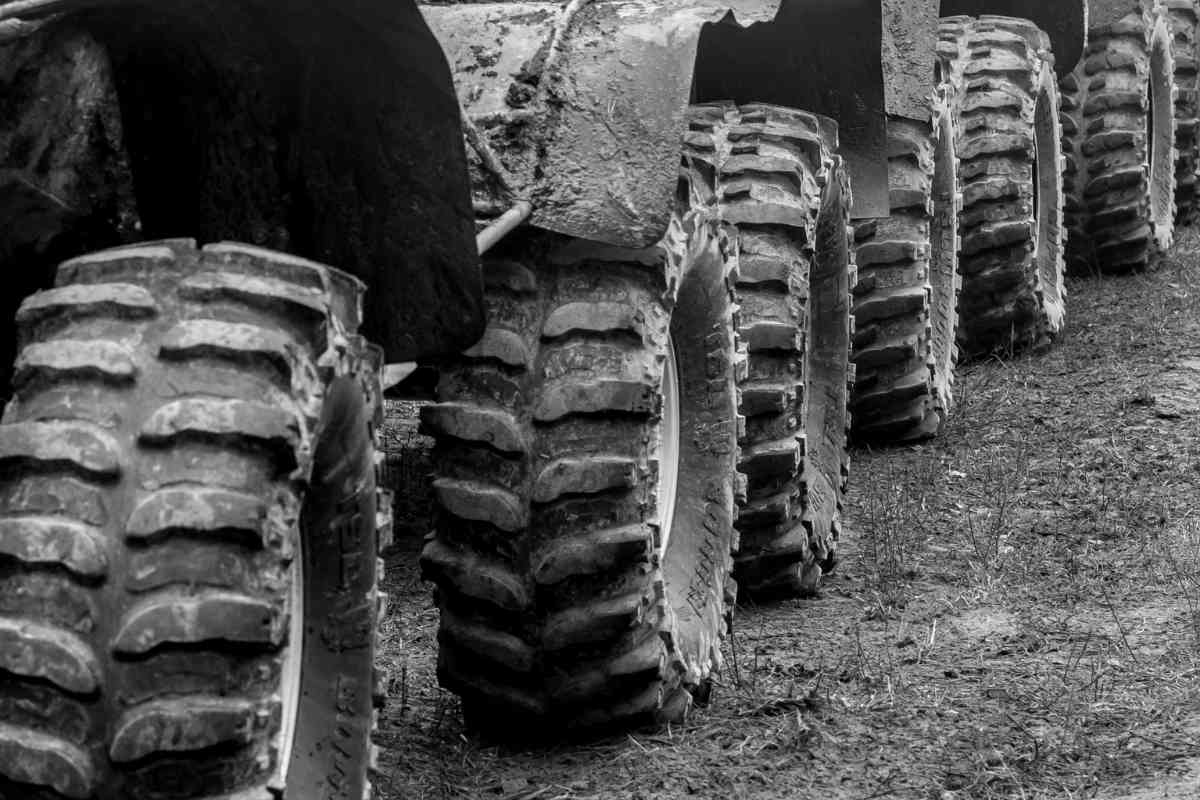 One of the great things about having a truck is the ability to lift your truck to have large tires. If the tire is too big to fit, you can lift the truck.
To fit 35-inch tires on a GMC Sierra, there needs to be at least a 6-inch lift on the truck. The exact lift amount will depend on the year of the truck. Having the proper lift is crucial because it avoids tire rubbing. A smaller lift is possible when trimming the fenders.
Now that you know how much you need to lift your GMC Sierra, you need to figure out how you want to lift it. Keep reading to learn about the different ways you can lift a truck!
The Basics of a GMC Sierra
Before doing anything to your truck, you need to know the specifics of your GMC Sierra.
The average tire size for a GMC Sierra Pickup is 235/65R17, or 17-inch tires.
So, putting on 35-inch tires is doubling the size of the tires on your GMC Sierra.
The sizing is different depending on the year of your truck, so it is important to know about the tires your truck currently uses. For example, a 2000 GMC Sierra will require 16-inch tires, while some versions of the 2010 GMC Sierra require 20-inch tires. It is all dependent on the style and year of your truck.
How to Lift Your Truck
Now that you know what size tires your truck has, how do you get it to fit 35-inch tires?
The most common way is to lift your truck. Lifting your truck is just what it sounds like. It is making the body of your truck taller so you can fit larger tires. You can lift the truck yourself if you have the time and resources. If not, professionals can also do this for you.
Lift Kits
To lift your truck by yourself, you will want to purchase a lift kit. Because you have to lift your GMC Sierra at least 6 inches, you will have to make some modifications to the truck, such as steering components and installing taller shocks.
You can buy a lift kit anywhere, such as local car shops or even online.
If you decide to lift the truck by yourself, you will want to have a buddy or two help you as well.
Other Modifications You Need When You Lift a Truck
As mentioned above, with a 6-inch lift, there are some other modifications that need to be made to fit 35-inch tires on your GMC Sierra.
Steering components
Taller shocks
Re-gearing
Driveshafts
Speed sensors
Extended brake lines
Steering Components
When lifting your truck a large amount, you will have to think about re-adjusting the steering components on your truck. Usually, the steering knuckles and control arms will have to be extended. Sometimes they even have to be relocated so your truck can function properly.
Taller Shocks
It only makes sense that you will need taller shocks when lifting your truck. The higher your truck is, the taller your shocks need to be to work.
Re-gearing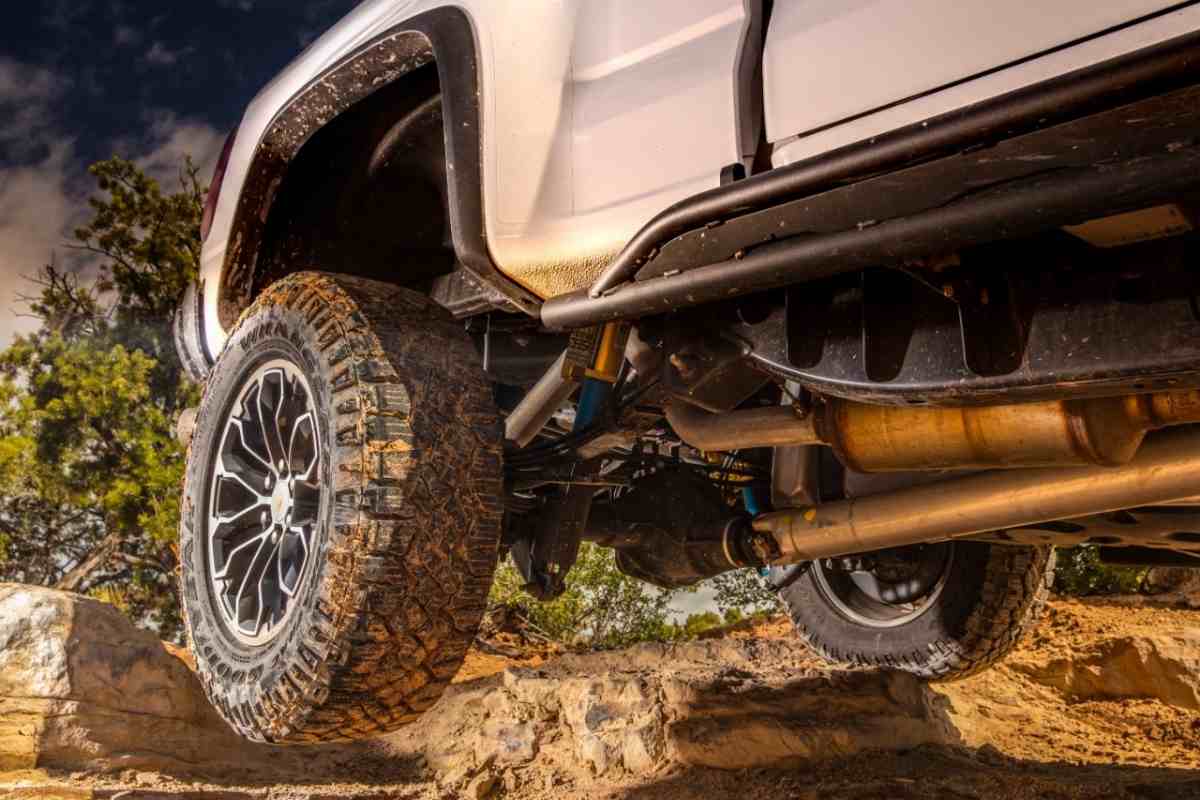 Re-gearing has to be done when lifting your truck more than 2 inches in tire diameter.
You will have to swap out your pinion gears and stock ring for lower ones. If you do not make this change, your truck will struggle to keep up and the gas mileage will be horrible.
Also, if the gearing is incorrect, it can lead to early transmission failure.
Driveshafts
Modifying the driveshafts is important with a lift that is bigger than 6 inches. Since the GMC Sierra requires that large of a lift to fit 35-inch tires, it is a good idea to make this modification to your truck.
Without proper driveshafts, you can lose axle power and it can cause damage to your truck.
Speed Sensors
When swapping tire sizes, it is important to make sure you recalibrate the speedometer so you can know the correct speed you are going.
Other sensors rely on knowing the vehicle's speed, so for the best function of your truck, you should get the speed sensors on your GMC Sierra readjusted to match your new tires.
Extended Brake Lines
When adding height to your car, it is important to either extend your brake lines or reroute the existing lines.
If you do not adjust the brake lines, it can cause serious damage and injury to you and others.
Tire Rubbing
So you have lifted your truck and made all of the proper modifications, but your tires are still not working properly.
When adding tires that are double the size of the regular-sized tires used on a GMC Sierra, the fender and bumper can be in the way for the tire to fit completely. When this happens, the tire will rub on the body of the car, causing damage to the tire and the car.
You can check for tire rubbing by looking at the wheel wells. A flashlight is helpful for you to see inside the wheel well. You will be able to see rubbing on the well where the tire is making contact.
Tire rubbing can be quite dangerous. If your tire is rubbing against the well, it can cause damage to your truck and your tire. The tire can be damaged, which is dangerous to drive on. It can also affect the suspension and steering.
To fix the problem, you can trim the fender and bumper of your truck. You can have this done professionally, or you can do it yourself, depending on how confident you are in making those kinds of adjustments to your car.
The video below shows step-by-step what to do if you are wanting to trim the well yourself. It also shows what tire rubbing looks like on the well of your truck.
Pros and Cons of Lifting Your Truck
Before you decide to put in the time and money to lift your truck, you should think about the pros and cons of lifting your truck. There are many reasons to put larger tires on your truck and lifting your truck, but sometimes it does not always outweigh the cons.
Pros
There are certainly many pros for getting larger tires and lifting your truck. You may even be lifting your truck for work purposes. It all depends on your life and job situation.
Higher clearance
Appearance
Safer in hazardous weather
Increased towing ability
Higher Clearance
When you lift your truck, you are able to drive over things you may not usually be able to clear with a smaller car. For example, if you are off-roading, smaller trucks could struggle with driving over a specific object or in certain terrain. With a higher truck, there will not be many things that you cannot clear and you're less likely to get high-centered.
Appearance
A lifted truck with big tires looks cool. Your truck is larger than other cars and will get the attention of other people on the road. If you are wanting a cool truck and care about the appearance of your truck, lifting your truck is one way to do it.
Safer in Hazardous Weather
If you live in an area where you get a lot of snow or have icy roads, having large tires and lifting your truck might be helpful. Larger tires typically do better with icy road conditions, so you will not have to worry (as much) about getting stuck in the snow.
Increased Towing Ability
This pro depends on your life situation and what you need your truck for. If you are using your truck as an everyday car and will not have to tow things, then maybe lifting your truck is not the best option for you.
But, if you have a job where you need to tow things or if you find yourself towing a lot, lifting your truck is a great option. A lifted truck can generally tow a lot more than a regular truck.
Cons
Of course, it depends on your life and why you want to lift your truck, but there are some cons that may keep you from putting larger tires on your truck.
Warranty
Harder to drive
Cost
Gas mileage
Warranty
Some warranties are cancelled out if you modify your vehicle, and lifting your truck is a large modification.
If you are wanting to keep the warranty on your GMC Sierra, you may want to check with your dealership before lifting your truck.
Harder to Drive
When your truck is high up and lifted, you are, obviously, not close to the ground. The lower the car is on the ground, the easier it is to drive.
As a truck is lifted, the center of gravity is changed. If you are used to driving a car lower to the ground, a lifted truck is a completely different feel.
Cost
Lifting a truck requires a lot of modifications, which can become expensive. As changes are made to your car, you have to buy new parts, and sometimes have to get them professionally installed. Lifting a truck does not come cheap.
Gas Mileage
Larger tires give you more power on your GMC Sierra, but it will affect your gas mileage, which is another cost.