Odor Elimination with this Professional Secret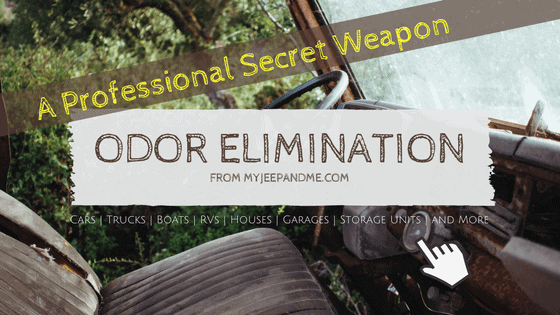 Everybody knows that professionals have a few secret tricks up their sleeves for
odor elimination and clean up, right?
Disclosure: This is

not

a paid endorsement — I personally purchased the product discussed with my own money from Amazon after much research and the recommendation of a professional flood and fire remediation expert
Got odors?
In a recent conversation with one of these pros, he disclosed one of his best secrets for eliminating stubborn odors. This pro will remain nameless, but he works in the fire and flood remediation business. Think about how hard it is to get the smell of burnt wood out of a building. Well, this is one of his secret weapons, and he gave me permission to share it with my readers.
photo courtesy of Dawn Armfield — Phoenix AZ
Not only does this work to help remove fire odors, but it works on bad odors caused by mold, mildew, cigarette smoke, old food and more!
So what is this super secret professional odor elimination product that I am talking about?
It's not a spray, wipe or liquid that tries to cover up odors, and it's not a magic wand either… 
It is a professional grade ozone generator!
When I first heard the word "professional" I thought expensive. I expected it to be $400, $300, or even $200, but it's not.
Before we talk about how much it costs, let's discuss how it works and what it does.
There are tons of articles talking about the science behind how an ozone generator works. For our purposes, we will talk in the simplest terms. The generator produces ozone which breaks down the source of the odor so it is removed, not just covered up. This is why it works so well in old vehicles, boat cabins, RVs, or in used cars saturated in cigarette smoke.
So how do I use the ozone generator you ask?
Here's what I did…
I have a 1987 Jeep Grand Wagoneer. I recently installed new carpet and new headliner but the seats were 30 years old and still held on to that "old car smell". It wasn't a bad smell, but just not quite as fresh as I would like it.
To use the ozone generator, I simply ran an extension cord to the generator, closed all of the doors and windows and turned the on the timer for a 2-hour "shock treatment". I decided to do this at night. I turned on the generator and went to bed. Then, when I woke up Saturday morning, I simply opened the Jeep windows and the garage door to let it air out.
Following a shock treatment with the ozone generator, it has the smell of a fresh rainfall. This wears off over time and you are left with a clean car smell.
Imagine you found a car in good mechanical condition, but it had a strong smell of smoke — What would you do?
If you forgot and left your windows open in your car overnight and it rained — What would you do?
You stored your boat or RV over the winter and when you opened it up for the season, it has that musty smell — what would you do?
If it were me, I'd first clean out the car, boat or RV. Once I vacuumed up any dirt and dust, I would do a shock treatment using the ozone generator.
Here are a few other tips that I learned from my experience and from the reading I have done:
Start with a 30-minute shock treatment first. A two-hour treatment I performed was overkill based on how mild my "old car odor" was. Remember, you can always do it again for longer.
Don't run the ozone generator more than 8 hours at a time. It could start to break down materials like plastic and you do not want that to happen.
Do not be in the room or vehicle while the ozone generator is working. Let it run without being disturbed. Then let is sit for 30 minutes before entering the area where the generator was running.
Here's a Bonus Tip to Odor Elimination:
Once you have successfully run the ozone generator and eliminated the odor, you may still want the fresh scent from other products to give a pleasant smell to your vehicle.
For this purpose, I have two suggestions:
#1, try one of the new car scent or leather scent sprays that I wrote a blog post about here
#2, use a scent bomb similar to this Eagle One spray
I have used both of these methods and they both work well. It really comes down to which one sounds like it will fit your needs the best. I would probably lean toward the Eagle One spray. My wife and kids liked this scent better.
So how much does it cost?
We have discussed what it is, how it works, and how to use it, but I realized as I was just about to wrap up this post that we never discussed price.
As I mentioned before, when I read the word "Professional", I instantly thought expensive. To me, I expected the ozone generator to cost $400, $300, or even $200, but it's not.
The cost of the Enerzen 3500 mg Commercial Ozone Generator is normally $119.95, but I didn't pay that much. After I did the research to determined this was the right unit to buy, I watched it on Amazon and when the price dropped I paid just $69.95 with free shipping through Amazon Prime.
That's all for this post, but if you found this helpful, please help me help you by using one of these links [Amazon, eBay] to buy your goods! Any purchase you makes helps me continue to expand this blog. Thanks again for your generosity and help.
Keywords: Odor Elimination, Removed cigarette smoke, mildew smell, remove odor from, Ozone Generator