Is a Chevy Silverado Good in Snow?
This post may contain affiliate links. As an Amazon affiliate, I earn from qualifying purchases.
If you live in a climate that has a lot of snow and ice in your yearly forecast, you're going to need a vehicle that performs well when temperatures get cold. Your vehicle should be one that you feel confident driving in and confident that you and your family will be safe inside.
The Chevy Silverado has a nice reputation along with a recent re-design that helps it stand out against other competitors. It's a large truck so it's known for getting a lot of work done on and off the road as there are multiple packages that can increase its ability to get things done quickly.
So, is the Silverado a great truck for the snow? Let's take a look at this vehicle and find out:
Is a Chevy Silverado Good in the Snow?
The Chevy Silverado does well in the snow when compared to other pick uo trucks when equipped with four wheel drive. It is also advisable to add some weight to the bed of your truck during winter driving conditions to help the rear wheels grip in the snow.
As a large truck, the Silverado has considerable size that can help it drive in poor conditions. Size isn't all that matters of course, and the handling and steering of the Silverado should be up to the task.
Even if you don't get the best and biggest off-road package, you should be able to opt for four-wheel drive and have a functional pickup truck that works well in the cold.
Keep reading to see everything about the Silverado so you know if this will be a good vehicle for you and your needs.
All About the Chevy Silverado
As a cold climate large pickup truck, the Silverado has a lot to offer. It's been recently re-designed which means it has a newer feeling than some other pickups on the marketplace.
It's got some excellent marks in acceleration and ride quality which is becoming more and more necessary for those who do more driving in their pickup than simply doing work.
If you get a Silverado with the 5.3 liter V8, you'll have a model that has acceleration and braking that is definitely acceptable for what you are looking for regardless of whether it is your daily driving or your towing capabilities.
The transmission works in tandem with the engine quite well shifting smoothly at all times and making the most of the engine's power. That's great news for potential Silverado owners.
At times, the steering might feel a bit light for some individual's preferences. The handling feels nice overall though and your truck is going to feel just fine going through turns.
As far as bumps and off-roading go, the Silverado's considerable size makes it able to handle most trails and most situations with a lot of ease – however there are also trim packages that can upgrade your ability in those areas.
If you are looking at the interior of the Silverado, you may not be super impressed with the quality of the seats.
Compared to some rivals, it may not quite measure up, however you shouldn't be too concerned as the support is still found in the seats.
When driving on the highway, the ride is quite smooth and the truck's suspension has the ability to deal with most impacts. If you're on a back road, the truck can get rather bouncy.
When dealing with the climate control, some customers have gotten frustrated due to the small controls but the cooling and heating system works well to keep things moderate in the cabin.
The engine sound is quite muted as well for a truck this size, all of these factors make it a nice truck for a family man or someone who has to use the Silverado for work and for daily driving.
Inside the Silverado
The Silverado has a lot of space inside due to being such a big truck. If you have four or five adults, they should be pretty comfortable in the Silverado. That means the back is big as well and has a lot of legroom. You can get to either row easily, even though the rear doors could open a bit wider for more ease.
The driver's seat is power-adjustable and should have enough range to accommodate any kind of driver. It's not necessarily easy to see out of the Silverado due to the size, and the windshield pillars are thick so it is not the easiest vehicle to drive as far as visibility goes.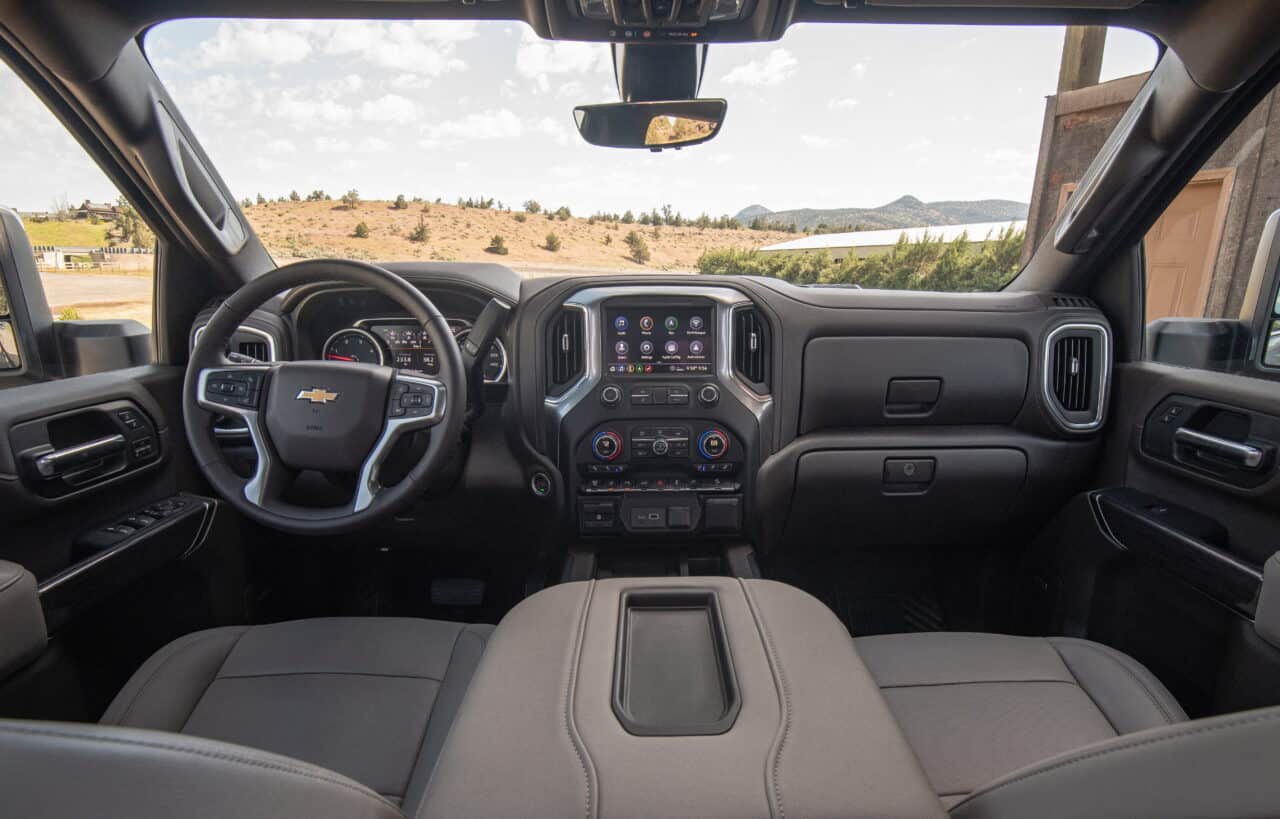 The Silverado has a lot of high-tech features available, but most of them are tied to the higher trim level packages. You've got a good amount of safety features with the Silverado including emergency braking and a lane assist feature. The blind-spot monitoring system seems to work pretty well too.
As with most new vehicles, Apple Car Play and Android Auto come standard. There are some USB ports available, although as people continue to add devices it may not be quite enough for comfort. The voice recognition system is somewhat useless as it doesn't do a great job with natural speech.
Other Info About the Silverado
The Silverado can reach some pretty impressive towing capacities. Some of the trim packages will push up towards 10,000-pound tow ratings which means that it can haul almost any kind of camper or trailer behind it.
The payload is also a strong rating with some models getting up over 2,000 pounds.
The bed is deeper and wider than most of its rivals and has more tie-downs as well. All of this adds up to equal one of the best work truck environments that can be found anywhere on the market. This is an extremely impressive truck for someone who needs to get a lot of work done.
Back inside the Silverado, the truck has a bit of limited space as far as smaller compartments go. Child seats are a pretty easy fit, although loading up kids will be a bit difficult due to the height of the Silverado.
The Silverado averages around 18 miles per gallon which isn't the best of any vehicle by far, but for its class is a fair rating. If you are looking for the best fuel mileage in a Silverado, you should opt for the diesel-fueled six cylinder model.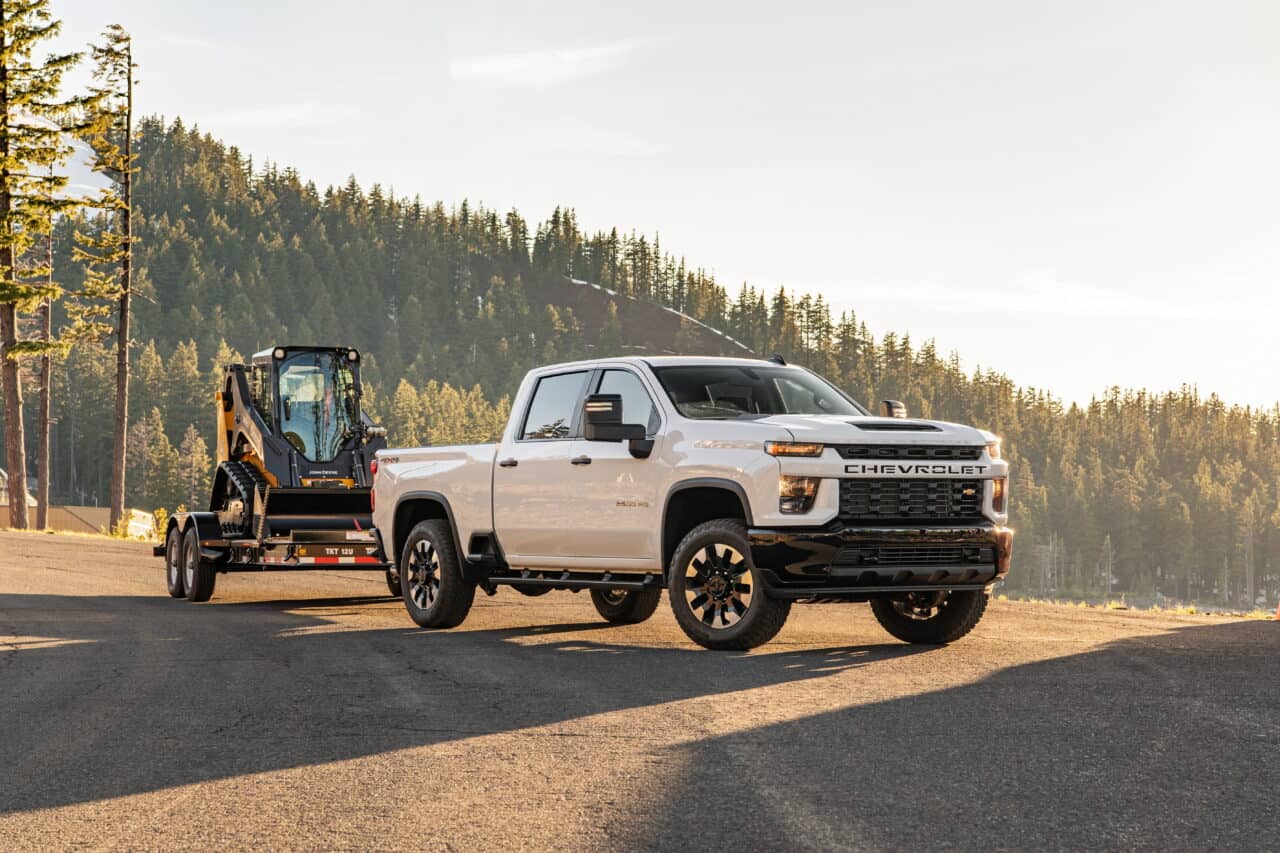 The Silverado has a five year / 60,000 mile warranty which is also reasonable for the industry.
Silverado Trim Levels
The Silverado has a ton of customization options, including a whopping 8 trim levels:
Work Truck (WT)
Custom
Custom Trail Boss
LT
RST
LT Trail Boss
LTZ
High Country
That's a lot of different options and should help customers find the model that fits them best. The base model is the "WT" or Work Truck model that comes with a 4.3 liter V6 engine and a six speed transmission.
There aren't as many bells and whistles with the WT, but as the name suggests it is certainly capable of getting to work.
The Custom level adds a few comforts and the Custom Trail Boss is obviously suited to off-roading. As the lowest level that is tailored for those who are looking for a work truck that can hit trails, we would expect it to be fairly popular among a big portion of the customer base.
The LT model builds a nicer engine into the Silverado, and the RST actually adds some functionality to the back of the truck including a power-locking and power release tailgate.
The LT Trail Boss is an absolute beast with a 5.3 liter V8 engine and a 10 speed automatic transmission. The LT Trail Boss includes a trailering and suspension package that make it one of the best as far as an off-roading option for any kind of truck.
At the top end, the LTZ and the High Country are two of the nicest Silverado models. The High Country has a ton of crazy features like wireless phone charging and front and rear parking sensors for those who want a little bit more help in that area.
Whichever trim package you decide on, you should also be sure to get the safety options that will help you feel safe when driving the Silverado. Vehicles have come a long way with these safety packages and the Silverado has a lot of options in that area.
If you are planning on driving in inclement weather, these safety features can actually help you stay protected from other drivers who are really the cause of the problem many times during Winter driving.
Conclusion
The Silverado has considerable size and comfort when it comes to a capable pickup truck that can get a lot done.
The vehicle is able to do pretty well in winter weather, especially when it is a Silverado that has four wheel drive available.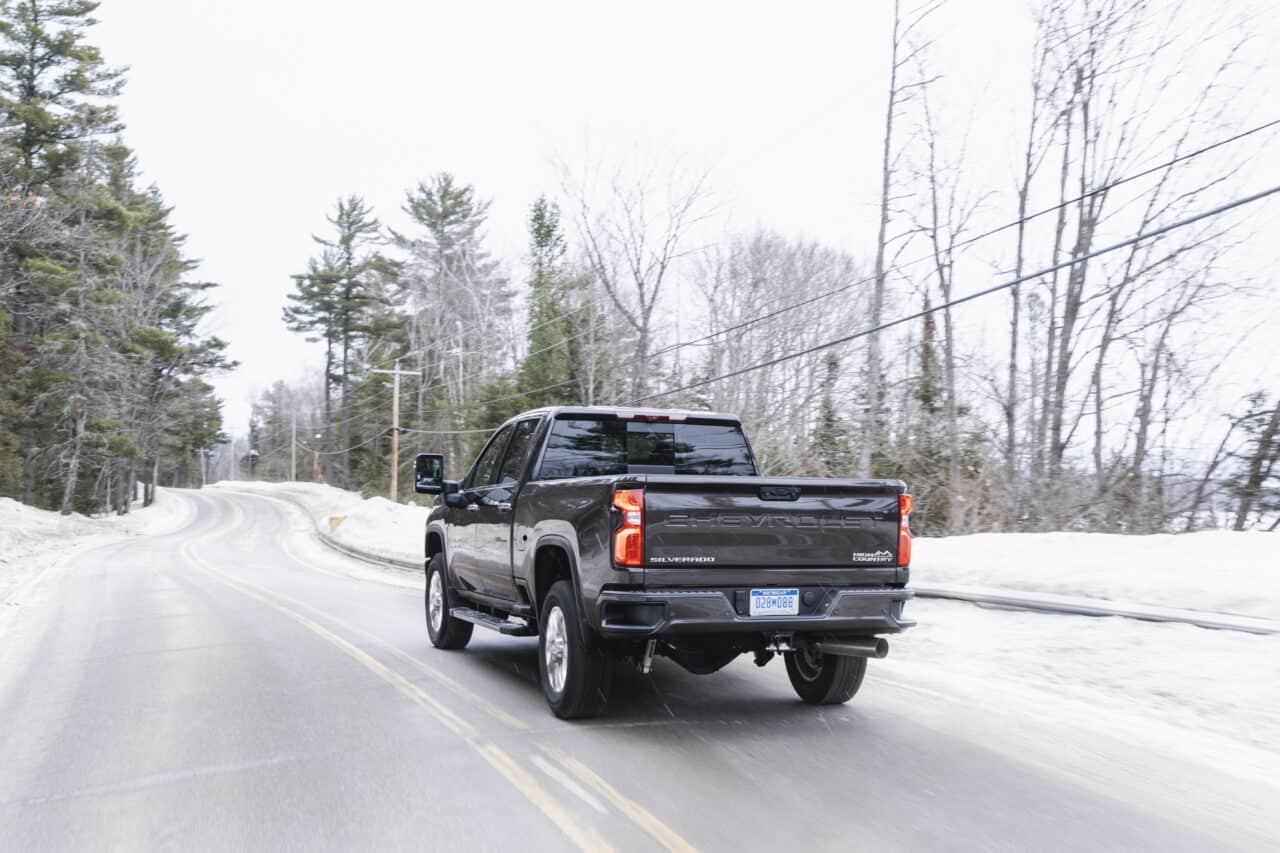 Regardless, you may want to decide to upgrade to a higher trim package that gives you more features as well as safety options that will help you stay safe in any environment.
If you are someone who is going to put a ton of miles on your truck, the Silverado is a reliable vehicle that can handle whatever environment you put it into.