7 Amazing Truck Campers You Can Put On A Short Bed Truck!
This post may contain affiliate links. As an Amazon affiliate, I earn from qualifying purchases.
If you are thinking about going on an adventure, you probably have considered attaching a truck camper to the bed of your truck.
This is one of the easiest ways to get out into the wilderness, but it isn't always so easy. For some people, a truck camper may be more of a challenge. If you own a short bed truck, you know that you have less space to deal with and that you may run into more problems. So, is this even possible? Let's break it down:
Can You Put a Camper On a Short Bed Truck?
Putting a camper on a short bed truck can be done, but it may be a bit tricky. You will have to keep your tailgate down because the camper will extend beyond the truck bed and overhang where the tailgate would have been.
This can cause some performance problems when handling your pickup truck. You should also keep in mind that some weight considerations may be thrown off when it comes to your axle setup as well.
If you've been thinking that you want to put a camper on a short bed truck, keep reading because we have some of the best models that can help you do that!
These are some models that should work well specifically for your short bed truck.
2020 Lance 650
The Lance 650 is one of the newest models when it comes to short bed campers. There are also a lot of them that get released on the marketplace so you shouldn't have too much trouble finding this model.
This is a camper that is designed to specifically fit onto a short bed truck, either a 5' or 6' model.
The frame is built from aluminum so that is durable but stays lightweight so your truck can handle the weight.
The windows and roofing have a lot of attention to deal and are made with durable materials that will last long into the future.
One of the comforts of the Lance 650 is its electronics and appliances that come standard with the unit. You'll get a heating system along with a water heater so that you stay warm, as well as air conditioning to stay cool.
For those looking to travel across different environments, that makes the 650 a big winner. It also has Bluetooth audio and microwave for some more comforts from home.
The mattress is another strong point, if you are looking for a model that is strong when it comes to sleep, the memory foam mattress that comes with the Lance 650 is quite nice, and most will like it more than the mattress that comes with other models.
NuCamp Cirrus 820
NuCamp is known for being one of the best producers of truck campers that have a high level of innovation and are some of the most stylish in the industry.
Unfortunately, the 820 will be a bit heavy for some as it weighs in at 2,540 pounds. It's got a large floor plan that spans 18 feet and can house three people quite comfortably.
For a truck camper, this is one of the most impressive statistics and it means that customers looking for campers with a lot of space in a smaller truck bed are going to be quite happy.
On top of those impressive numbers, the Cirrus 820 also offers a lot when it comes to the features of the camper as well. You have a wet bath, a queen size bed, and a dinette which makes sense considering how much space you have with this model.
You've also got a hydronic central heating system that should keep you warm even if you are planning on camping somewhere with a colder climate.
The LED lighting is one of the strengths of the model because you'll always have nice illumination that both gives a better feel to the overall camper but is also useful as well.
If you are looking for a spacious camper that comes with everything you need to stay comfortable, you should consider this camper.
The counter space isn't great and the bath may be a bit flimsy, however overall you have a great model here that offers a ton of space and is great for a family camper.
Four Wheel Camper Hawk
This is a great model for someone who wants to buy a short bed camper with a mind to their financials.
While no camper is going to be super cheap, this one actually does a great job of giving you the amenities that you need while still being affordable.
The Camper Hawk works great with most full-size truck beds. If your truck is on the shorter side, you may have a problem but generally speaking this works pretty well.
This is a fairly light camper at 1,800 pounds listed as the wet weight. It's got a nice amount of space for your sleeping and for your personal needs.
What helps keep it light is its ply and aluminum construction which could give people concerns about the build quality, however everything looks to be in reasonable order here.
Most people will look here for a budget option, however that's not a bad thing. It is a good space to look for beginners and people who are new to the industry.
Bigfoot 25C9.4SB
This is honestly one of the biggest models in this industry space due to its extremely high dry weight of 2,980 pounds. Bigfoot definitely applies to the big size of the camper.
The Bigfoot is a model that has some truly amazing construction and it has a fiberglass clam-shell along with 1.5 inch insulated walls. These both lead to a comfortable indoor environment as well as a camper that should hold up over the years.
The floor plan also has an impressive length, it's over 9 feet long which means that you are going to have a long camper to work with when it comes to family space.
You have a big dinette, kitchenette, and a 6-cubic foot fridge that is going to be key in having great meals when you are far away from home. No other model on the list can boast a great kitchen area like this.
One other feature that is nice to have is a 110-volt outlet as well as USB and a 12-volt outlet in the dinette area which is going to be great if you have any little ones that have devices that need frequent charging; you should have the space to do that.
One thing about the Bigfoot outside of its considerable size, it is also a pretty expensive camper as well. It's got a price tag that is quite high and that may scare away some buyers who need to worry about a budget.
Northstar Arrow 8.5U
This truck camper is one that is wood-framed and has fiberglass finish for a smooth finish. This is a camper that is well-made and Northstar can stand behind this camper as one of their best offerings.
The features and amenities in the Northstar Arrow are quite nice. You have a north-south queen bed with an 8 and a half foot floor plan that has plenty of space.
It's also got a wet bath, a 3 foot cubic fridge, and a 36=gallon fresh water tank. It doesn't have a lot of room for battery storage, so you may end up having to conserve more power than you are used to.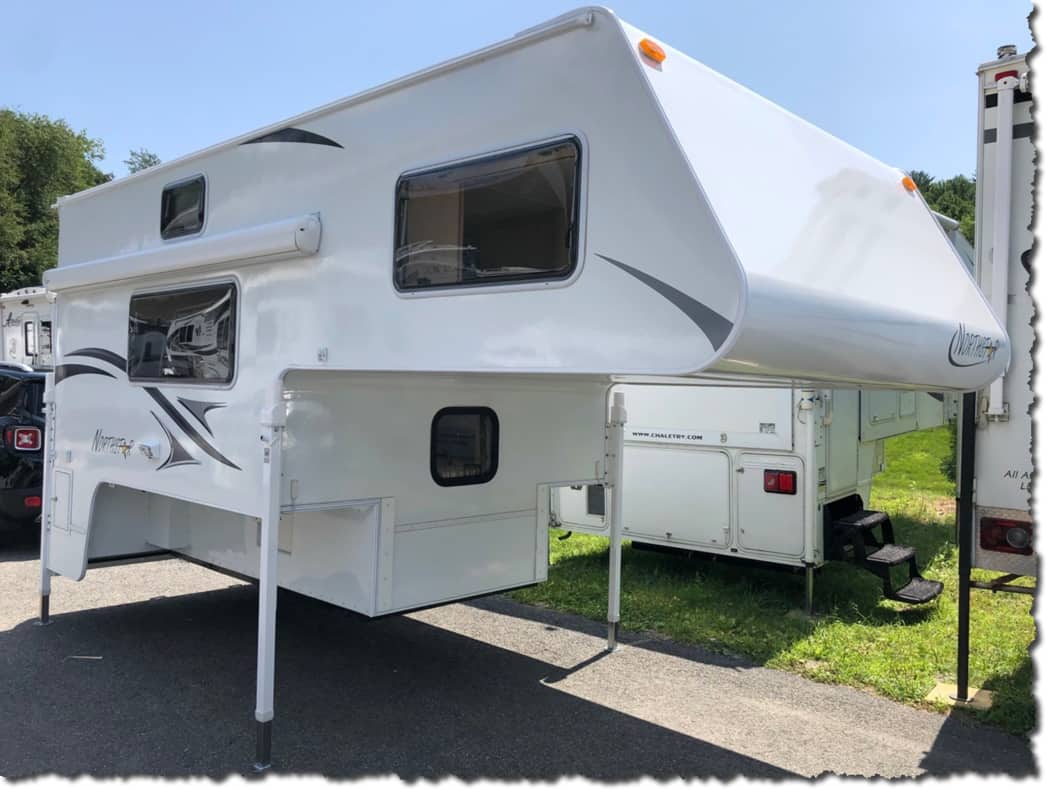 One of the biggest draws for the Arrow is the fact that it isn't a slide-out camper.
Slide-out campers can often add a lot of weight and can be really hard to deal with. For those looking to avoid a slide-out, this model should be high on your consideration list.
On top of that, it has a great design that leads to great weight management, essentially keeping the center of gravity on your whole set up lower than with some other campers.
ALP Adventurer 89RB
The ALP Adventurer is another large short bed truck camper that comes in with a dry weight of 2,648 pounds. That's a large number that will scare off a lot of people as well as the smaller company ALP.
It's got a wood and fiberglass base which makes it ideal for a one-ton truck, this is a pretty serious camper so if you are looking for something that is great for a smaller truck, you may not be in the right place with this model.
The floor plan has over 8 and a half feet of space which is jam-packed with features. It's got a north-sound queen bed which is fairly standard for campers of this size.
However, the 7 cubic foot fridge has a ton of space which means that you can store a lot more food than in other campers.
For those looking to go on very long trips, this is a big deal because you have a lot more convenience here than you would if you have a camper that has less fridge space.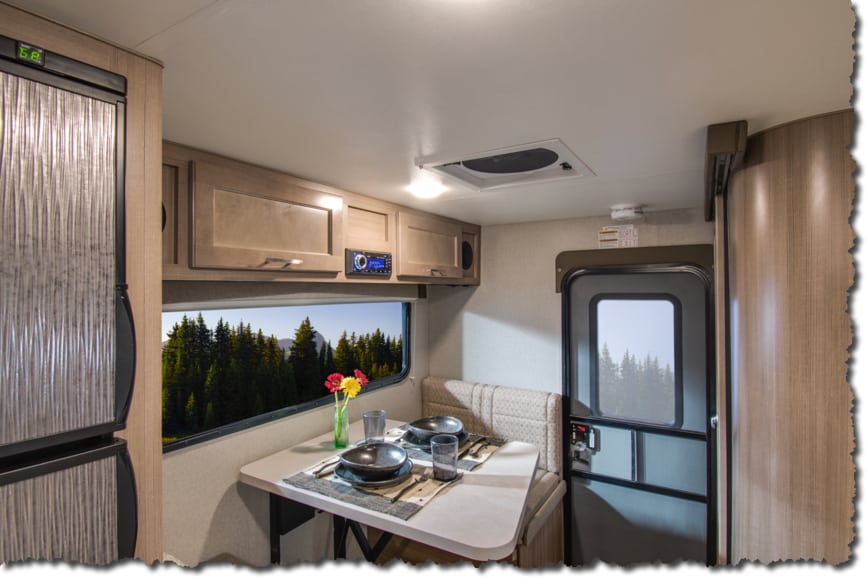 On top of the convenience, the Adventurer has a lot of attractive areas on the inside.
The hardwood maple cabinets, in particular, add to a lot of the ambiance of the camper and you really feel more at home in this camper than in some others.
The biggest plus is that you have a lot of space here with the Adventurer, and the interior is both luxurious and spacious meaning that many buyers will be drawn to the experience inside of the camper.
You may need to make some adjustments if you are looking to bring this camper on a short bed truck; so just be aware of that and make plans to do more research or to meet with a dealer who can help you figure out what a proper setup might look like.
Arctic Fox 865
This camper is a massive one that will eliminate it right away for many people, however it does work for both short-bed and long-bed truck owners.
Interestingly enough, this camper has some mandatory features that make it weigh a lot. It weighs 4,200 pounds when looking at dry weight. That's a massive number that a lot of trucks may not be able to deal with.
However, if you can deal with that kind of weight; you may want to consider the 865.
It's a really big camper with a high ceiling and a lot of space. There is all kind of water space here with the Arctic Fox as well as a 6-gallon water heater that should keep you good to go regardless of what you need.
The Arctic Fox honestly feels like a slide-out camper but it doesn't even have one. That's a big compliment to a model that has a ton of space. The wet bath has a fiberglass construction that is well put together.
FAQ
Can you put a long bed camper in a short bed?
Generally speaking, it is going to be very difficult to make that happen. There are different setups that you can do to make this work, but it may not be the best situation.
You may have trouble trying to maneuver or trying to get everything hauled in the correct way. You should check with your manufacturer instructions as well as your dealer to make sure that you can put any camper onto a truck that you may already own.
Can a half ton truck carry a camper?
A half ton truck could be able to carry a camper, it will simply depend on many specifics. You have to make sure that you are carrying a truck camper that has an appropriate payload for your vehicle.
One thing that is important to watch is that you are not trying to carry too much. Not only is it unsafe to carry a load that is too big for your vehicle, but you are also going to cost yourself money in the long run because you're putting extra stress on your truck.